MLB's Biggest Disappointments of the Year
Jim Rogash/Getty Images

Baseball season is nearing its end, and it's been a year full of smiles and cries. This year, however, some of the cries were less out of disappointment and more out of pure shock. Some regularly talented players and teams took terrible dives in 2012, and fans are STILL trying to figure out just what went wrong.
The sad truth about baseball (like most every sport) is that consistency at the highest level is a most difficult endeavor. Thus, if a regular superstar has an "off year" by his standards, he is immediately labeled a disappointment. One can only imagine how fans of the Boston Red Sox felt this season under new manager Bobby Valentine virtually all year long.
Boston's 2012 is just the tip of the iceberg when it comes to this year's biggest disappointments. Believe it or not, there may or may not be some teams or players who fared worse.
Begin Slideshow

»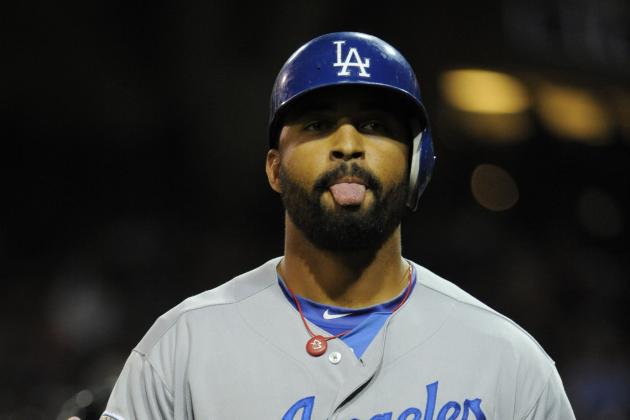 Denis Poroy/Getty Images

Before we continue, allow me to say that Matt Kemp isn't a bad player by any means. In fact, he's probably the best player in all of baseball. The man can hit for average and for power, he's a phenomenal fielder and has blazing speed. Last year, after batting .324 with 39 home runs, 126 RBI and 40 steals, he finished second in MVP voting to Milwaukee Brewers outfielder Ryan Braun.
That said, it's understandable as to why Kemp's 2012 campaign can be viewed as disappointing. Though he hit .303, a nagging hamstring injury limited him to 106 games, ending with just 23 homers, 69 RBI and nine stolen bases on the year. He proved to be a big loss when he was twice forced to the DL with his hamstring, as the Dodgers lost 11 of 12 games during his second stint.
Given how Los Angeles has a new-look team that most fans only dream of, one can only hope that Kemp is back in top form next year.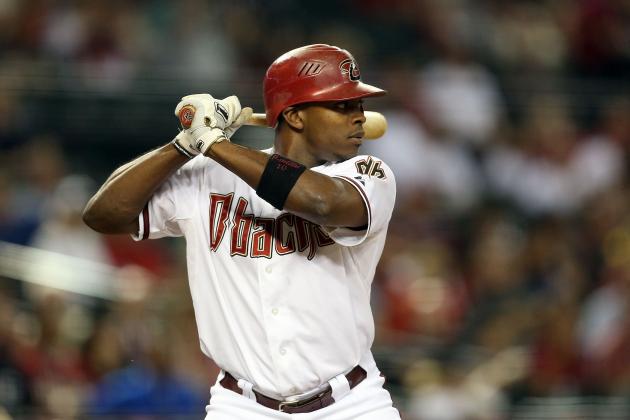 Christian Petersen/Getty Images

Like Kemp, Upton is a fine outfielder who can hit for a decent average and has good power and speed. He broke out in 2011, batting .289 with 31 homers, 88 RBI and 21 steals. Entering 2012, there was no indication that he wouldn't build upon that year as his Arizona Diamondbacks looked to win another NL West title.
Unfortunately, Upton got off to a slow start and never really got out of it. He ended up hitting .280 on the year, but his home run and RBI totals dropped to 17 and 67. He also stole just 18 bases.
The saddest part is that Diamondbacks management appears to have given up on Upton already, as his name has popped up in a number of trade rumors. Regarding that front, we'll have to wait and see what happens this winter.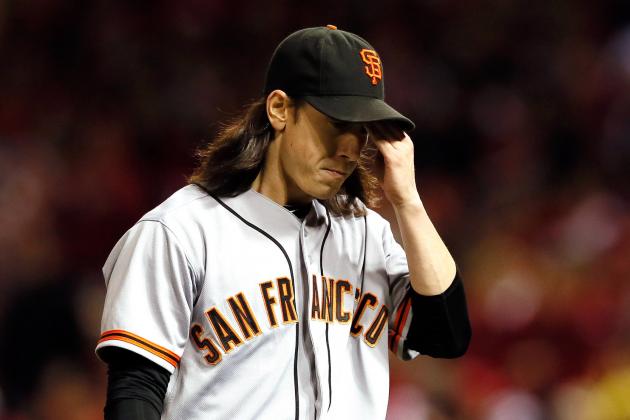 Kevin C. Cox/Getty Images

Tim Lincecum was one of the best pitchers in the game, and the fans loved him, even if they didn't root for his San Francisco Giants. Entering spring training, the lanky right-hander known as "The Freak" already had two NL Cy Young Awards to his name, along with his 2010 World Series ring.
Suddenly, in 2012, Lincecum's usual dominance deserted him.
Over the course of just 186 innings—his lowest total since his rookie year in 2007—Lincecum went 10-15 while posting a career-worst 5.18 ERA and 1.47 WHIP. He also gave up 23 longballs and walked 90 batters, both career worsts. His inconsistency relegated him to a bullpen role for the NLDS, and in Game 4 of the NLCS, he lasted just 4.2 innings and gave up four runs on six hits, walked three and just struck out three in his start opportunity.
Needless to say, it was a season to forget for The Freak.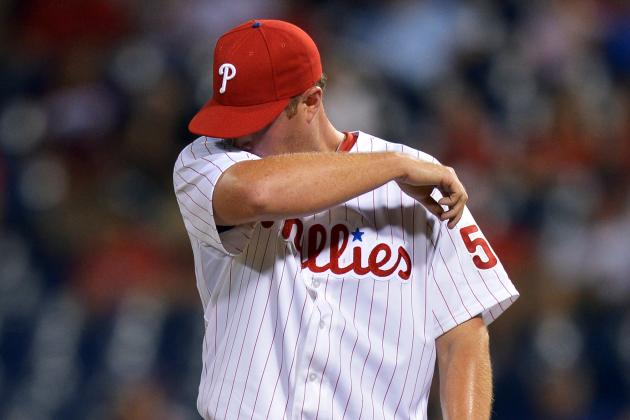 Drew Hallowell/Getty Images

After finishing with the best record in baseball in 2011, the Phillies entered 2012 with higher expectations after being eliminated in the NLDS.
Yet it was an uphill battle from the beginning, as first baseman Ryan Howard was still recovering from tearing his Achilles while making the final out of the aforementioned playoff series, and second baseman Chase Utley's knees were an issue yet again. Thus, to start the season, Philadelphia was without its two best bats.
Naturally, the team struggled. Pitching ace and 2010 NL Cy Young Award winner Roy Halladay missed nearly two months with a strained lat muscle and finished the season 11-8 with a 4.49 ERA, his worst since becoming a full-time starter. Even worse, left-hander Cliff Lee fell victim to the lack of offense and didn't get his first win of the season until July 4. He finished the year with a 3.16 ERA, 207 strikeouts and 1.11 WHIP, but his record was a paltry 6-9.
The team started playing better once Utley came back in late June and Howard in early July, but it was too late. Philadelphia finished the season 81-81 and in third place in the NL East.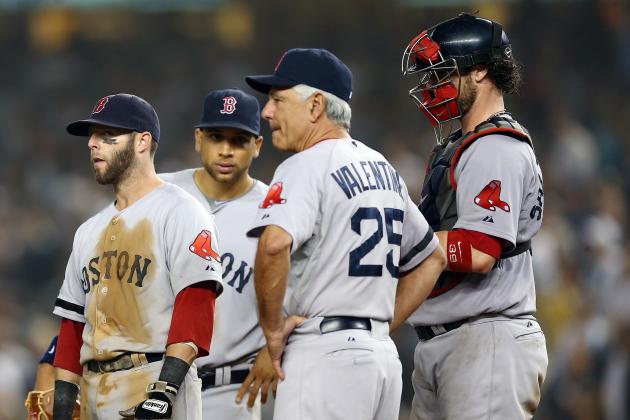 Elsa/Getty Images

After the 2011 season ended with a horrific collapse later headlined by the infamous chicken-and-beer debacle that saw manager Terry Francona and general manager Theo Epstein essentially forced out, the Red Sox needed a fresh start and a new attitude. Thus, they hired an Epstein disciple in Ben Cherington at GM and the fiery Bobby Valentine to be the head of the clubhouse.
It was thought that Valentine's no-nonsense approach would light a fire under Boston and keep them contending for the AL East title per usua. But such was not to be.
In reality, the team never responded to the brash and outspoken Valentine, and the season seemed doomed from the get-go. In July, some of the players even met with team ownership and asked that Valentine be fired, though the owners took no action in that regard.
Granted, the number of players Boston had on the disabled list didn't help Valentine at all, but there's no way that anyone could have seen this disappointing season on the horizon. In the end, Cherington and team management gave up on the season and ended up trading Adrian Gonzalez, Carl Crawford (right after he had Tommy John surgery), Josh Beckett and Nick Punto to the Los Angeles Dodgers for a group of prospects.
Finally, after the last game of the season was played, Valentine was fired after a 69-93 season. It was Boston's first losing season since 1997, and those 93 losses were the most for the team since 1965.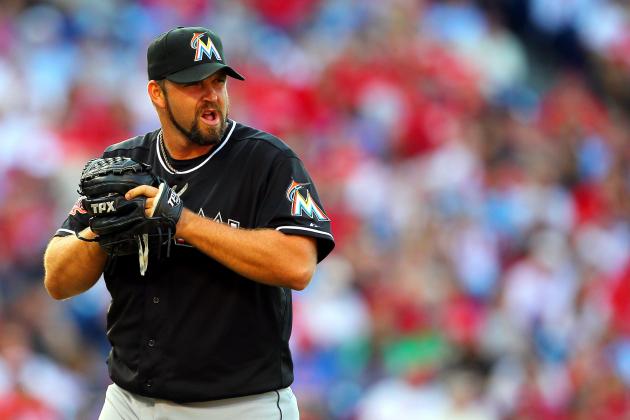 Rich Schultz/Getty Images

After doing a phenomenal job as the San Diego Padres closer for three years, Bell signed a three-year, $27 million contract with the Miami Marlins. Unfortunately, both he and the Marlins ended up being major disappointments.
Bell ended up blowing three saves in April and another one in early May before finally losing the closer's job in mid-July, at which point he had 19 saves on the year. He finished the year out as a middle reliever/setup man and posted a 5.09 ERA and 1.55 WHIP.
Even worse, his future in Miami is unclear, as his name has popped up in a trade rumor involving New York Yankees third baseman Alex Rodriguez.