NBA Fantasy 2012-13: Rankings and Projections for Top 10 Sleepers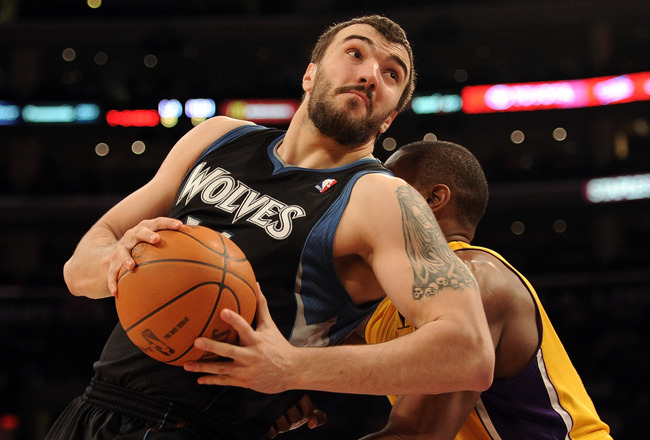 Harry How/Getty Images
As you head into your fantasy basketball draft this year, you should go in with one goal in mind: snatching up as many sleepers as possible to give you the best shot at a fantasy championship.
Assuming you don't do anything too crazy in the first few rounds, you're almost guaranteed to get NBA players who will make major contributions to your team.
It's those middle rounds where you make or break a championship contender.
Here, I've highlighted 10 fantasy basketball sleepers for the upcoming 2012-13 season. I've defined a sleeper as someone who's ranked outside of the Top 40 (according to an aggregate of ESPN, Yahoo! Sports/Rotowire and HOOPSWORLD preseason rankings) with the exception of one player who does fall into the Top 40 but should be grabbed at least one round earlier than where he's ranked.
In addition to ranking these sleepers, I've also included a projection of their regular season stats and which round I'd feel comfortable taking each player.
(If you're looking for even more sleepers, check out my recent Top 25 list.)
10. Ersan Ilyasova, SF/PF, Milwaukee Bucks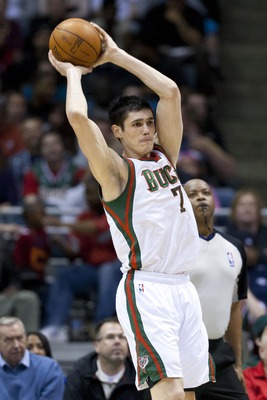 Jeff Hanisch-US PRESSWIRE
2012-13 Projection: 33.6 MPG, 50.2 FG%, 42.4 3FG%, 16.2 PPG, 9.8 RPG, 1.2 SPG, 1.1 BPG, 0.8 APG
Having signed a five-year, $40 million extension in the summer of 2012, Ersan Ilyasova effectively locked up the Milwaukee Bucks' starting 4 spot for the next half-decade.
That should only be a boon to his already burgeoning fantasy value.
During the 2011-12 season, Ilyasova averaged 13 points and 8.8 rebounds in only 27.6 minutes per game for the Bucks, and shot 45.5 percent from three-point range to boot.
He put up 29 points and 25 rebounds in a game against the then-New Jersey Nets this past February and proved that he could put up a consistent double-double with starter's minutes.
Yahoo! Sports/RotoWire ranked Ilyasova 23rd overall, HOOPSWORLD slotted him 40th and ESPN had him 53rd, making him a consensus late fourth-round pick. I can't see him getting fewer than 32-35 minutes per game, making him worth a late third-round pick in my eyes.
9. Kenneth Faried, PF, Denver Nuggets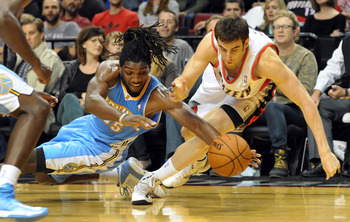 Steve Dykes-US PRESSWIRE
2012-13 Projection: 30.4 MPG, 52.3 FG%, 14.1 PPG, 10.8 RPG, 1.4 BPG, 1.2 SPG, 1.1 APG
It's tough to call Kenneth Faried much of a sleeper anymore, as he's got the potential to step into major minutes this season for the Denver Nuggets with Al Harrington now in Orlando.
In only 22.5 minutes per game in 2011-12, Faried averaged 10.2 points, 7.7 rebounds, one block, and nearly one steal and one assist per game. Extrapolated to a per-36 minute average, Faried put up a 16.4 and 12.2 per game stat line with over a block and a steal per game.
Now, he's only backed up by Anthony Randolph, who has yet to fully unlock his considerable potential during his four-year career. While Danilo Gallinari could see a few spot minutes at the 4, there's at least 30 minutes per game at power forward that are Faried's for the taking, provided he can keep up his hot start from his rookie season.
Assuming Faried can carve out 30 or more minutes per game, his per-game statistics should all take a significant jump in 2012-13, making him an extremely attractive mid-round fantasy pick.
Yahoo! Sports/RotoWire had him ranked highest at 47th, ESPN had him not far behind at 56th, but HOOPSWORLD had him the lowest of the three by far at 81st overall, making him a consensus early seventh-round pick.
If "The Manimal" is still available in the sixth round of your league's draft, grab him without hesitation.
8. JaVale McGee, C, Denver Nuggets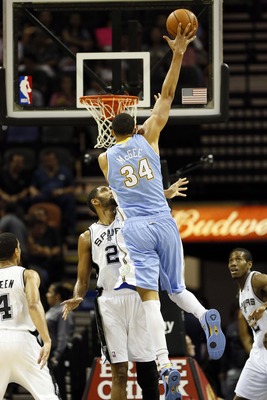 Soobum Im-US PRESSWIRE
2012-13 Projection: 32.3 MPG, 58.9 FG%, 15.8 PPG, 10.2 RPG, 2.5 BPG, 0.9 SPG, 0.6 APG
After being traded to the Denver Nuggets in the middle of the 2011-12 season, JaVale McGee finally appeared ready to fulfill his massive potential.
McGee's minutes were touch-and-go last season (20.6 MPG in the regular season with Denver, 25.9 MPG in the playoffs), but he's primed for much bigger things with a full offseason under his belt.
He's been surrounded by nothing but hard workers since coming to the Nuggets, as Eddie Matz touched upon in a recent article for ESPN The Magazine. That's a breath of fresh air compared to his time with the Washington Wizards, where he became known more for his YouTube clips than his ability to contribute to a winning basketball team.
McGee averaged 8.6 points, 9.6 rebounds and 3.1 blocks in 25.9 minutes per game in the Nuggets' first-round series against the Los Angeles Lakers in the 2012 playoffs, which helped earn him a four-year, $44 million contract in the summer of 2012.
Now, after spending three weeks with Hakeem Olajuwon for tutelage, McGee comes back ready to dominate. Olajuwon has said so himself.
Yahoo! Sports/RotoWire has McGee ranked 48th, HOOPSWORLD has him 55th and ESPN has him lowest at 69th, making him a consensus late sixth-round pick. I'm expecting big things from McGee this year (as my projections suggest), which means I'd take him in the late fifth or early sixth round over someone like Amar'e Stoudemire.
7. Gordon Hayward, SG/SF, Utah Jazz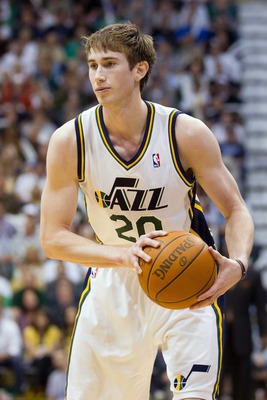 Russ Isabella-US PRESSWIRE
2012-13 Projection: 34.2 MPG, 46.6 FG%, 39.1 3FG%, 15.8 PPG, 5.2 RPG, 3.8 APG, 1.2 SPG, 0.8 BPG
Gordon Hayward seemed like a massive reach as the No. 9 pick in the 2010 draft at the time, but the Utah Jazz should only be feeling more and more confident about their selection.
Hayward broke out after the 2012 All-Star break, averaging 14.1 points, 4.2 rebounds, 3.1 assists, 0.8 steals and 0.5 blocks in 32.9 minutes per game for the Jazz.
He shot 48.2 percent from the field, 42.2 percent from three-point range and 86.3 percent from the free-throw line, putting him perilously close to the vaunted 50-40-90 club.
Despite Alec Burks lurking as a talented backup 2, Hayward should be able to earn himself at least 30-32 minutes per game in 2012-13, with the ability to slide to small forward at times. If he can maintain his elite shooting averages, he'll be one of the Jazz's most valuable offensive weapons this coming season.
Yahoo! Sports/RotoWire ranked Hayward 58th, ESPN has him 72nd and HOOPSWORLD has him 91st overall, making him a consensus mid-eighth-round pick. I'd be more than happy to grab him in the seventh round, if not the sixth, in my drafts this year.
6. Klay Thompson, SG, Golden State Warriors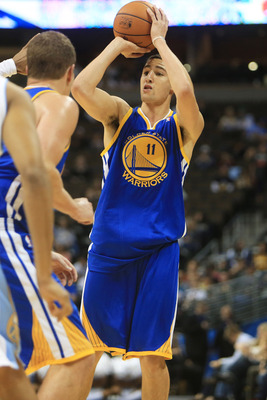 Chris Humphreys-US PRESSWIRE
2012-13 Projection: 34.2 MPG, 45.6 FG%, 40.8 3FG%, 18.8 PPG, 4.2 RPG, 3.3 APG, 1.4 SPG
With Monta Ellis now playing for Milwaukee, second-year guard Klay Thompson should be able to pick up right where he left off in the second half of the 2011-12 season for the Golden State Warriors this coming year.
After the 2012 All-Star break, Thompson averaged 17.0 points, 3.1 rebounds, 2.6 assists, two three-point field goals and a steal in only 30.9 minutes per game.
Now, he's only got Brandon Rush (who might start at small forward) as the only viable option to back him up. In other words, 30.9 minutes per game should be the floor for Thompson this coming season, not the ceiling.
You'd like to see Thompson raise his post-All-Star shooting average of 44 percent in the high-40 range in 2012-13, but it's difficult to complain about a rookie who shoots over 40 percent from three-point range on over four tries per game.
With the Warriors making their first serious push toward the NBA playoffs in years, expect Thompson to step up and play a major role in his sophomore season.
Yahoo! Sports/RotoWire ranked Thompson 51st, HOOPSWORLD had him 61st and ESPN had him 62nd, making him a consensus late sixth-round pick. I'd personally expect Thompson to be a top-10 shooting guard this season and pick him in the late-fifth or early-sixth round without question.
5. Damian Lillard, PG, Portland Trailblazers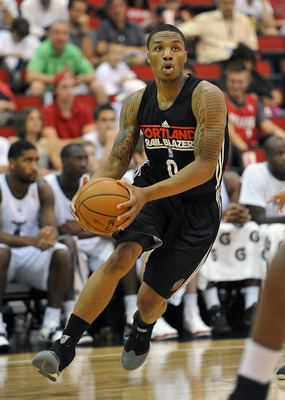 Jayne Kamin-Oncea-US PRESSWIRE
2012-13 Projection: 33.4 MPG, 45.6 FG%, 37.2 3FG%, 15.1 PPG, 5.3 APG, 3.8 RPG, 1.2 SPG
Of all the players on this list, Damian Lillard might be the toughest sleeper of all to project, simply because he's the only rookie to make an appearance here.
The Portland Trailblazers selected Lillard with the No. 6 overall pick in the 2012 draft, then executed a sign-and-trade to dump incumbent starter Raymond Felton less than two weeks later.
With only Ronnie Price and Nolan Smith to back him up, Lillard should be set for at least 30 minutes per game, even as a rookie.
Granted, the NBA's just a tad different than Weber State and the Big Sky conference, but Lillard's performance at the Las Vegas Summer League should begin to erase some of those doubts. Lillard averaged 26.5 points, 5.3 assists and 4.0 rebounds per game over the course of four games, earning him co-MVP honors with Josh Selby of the Memphis Grizzlies.
There's no way he's averaging 26.5 points per game against NBA competition every night, but take roughly half of that point total and keep the assists and rebounds around that level, and you've still got a solid fantasy contributor.
Lillard was ranked 62nd by HOOPSWORLD, 84th by ESPN and not ranked at all by Yahoo! Sports/Rotowire, making him a consensus late 10th-round pick or early 11th-round pick. Personally, I'd be targeting Lillard over guys like Rodney Stuckey and Mo Williams and would happily grab him in the seventh or eighth round.
4. Glen Davis, PF/C, Orlando Magic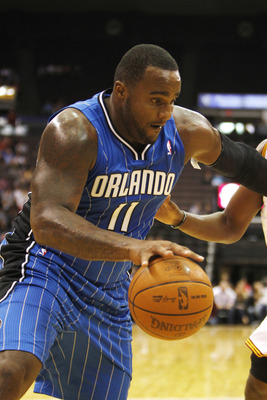 Frank Victores-US PRESSWIRE
2012-13 Projection: 33.4 MPG, 47.5 FG%, 15.8 PPG, 8.3 RPG, 1.1 BPG, 1.0 APG
When Dwight Howard went down with his back injury toward the end of the 2011-12 season, Glen Davis stepped right into his role as starting center and managed to hold his own.
Davis started every game for the Magic in the month of April, averaging 16.4 points, 8.8 rebounds and 1.4 steals in only 31.4 minutes per game.
In the Magic's five-game postseason series with the Indiana Pacers, Davis stepped it up even more, averaging 19 points, 9.2 rebounds and 1.2 blocks in 38 minutes per game.
Last I checked, the Magic didn't get any stronger this summer by trading Howard away. Nikola Vucevic, Gustavo Ayon and Al Harrington will all share the frontcourt with Davis this season, but as the longest-tenured of those four, the Magic will likely count on him to take on a major leadership role in this rebuilding season.
ESPN and HOOPSWORLD both ranked Davis 85th in their preseason rankings, but Yahoo! Sports/RotoWire left him out of their top 150, making him a consensus 11th-round pick. Personally, I'd take him in the eighth or ninth round and feel more than comfortable with him as my backup PF/C.
3. Tyreke Evans, PG/SG/SF, Sacramento Kings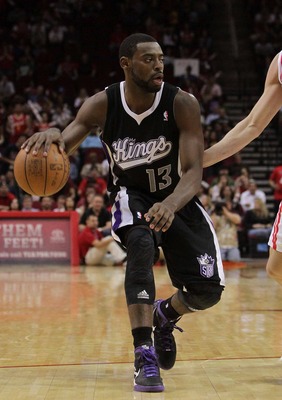 Troy Taormina-US PRESSWIRE
2012-13 Projection: 36.4 MPG, 46.8 FG%, 18.4 PPG, 5.8 APG, 5.1 RPG, 1.6 SPG, 0.5 BPG
Tyreke Evans averaged 20 points, five rebounds and five assists per game as a rookie before regressing in each of the past two seasons. He now enters a contract year in 2012-13.
Any questions why he's fantasy dynamite waiting to happen?
Evans struggled with injuries during his sophomore season in 2010-11, then had trouble adjusting to the small forward position in 2011-12 to make room for No. 60 pick Isaiah Thomas in the starting lineup.
This coming season, Sacramento Kings coach Keith Smart has acknowledged that Evans will get back to running the offense more, which should help his drive-and-kick game get back into gear. Evans also heads into 2012-13 with more confidence in his jumper, as he told Cowbell Kingdom in a recent interview.
If Sacramento were to sign Evans to a contract extension before Oct. 31, he'd drop a few spots on this list; however, NBA.com is reporting that this scenario is "unlikely." With the motivation of earning a new contract, a theoretically improved jump shot and the freedom to get back to what he's comfortable with offensively, I'm projecting a big season from Evans in 2012-13.
Yahoo! Sports/RotoWire ranked Evans 45th, HOOPSWORLD had him 46th and ESPN put him 55th, making him a consensus late fifth-round pick. Given his three-position eligibility, I'd happily snatch him up in the fourth round over someone like John Wall.
2. Nikola Pekovic, C, Minnesota Timberwolves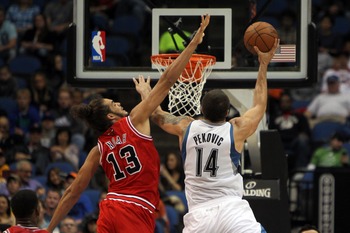 Brace Hemmelgarn-US PRESSWIRE
2012-13 Projection: 35.6 MPG, 55.8 FG%, 18.7 PPG, 10.3 RPG, 1.9 APG, 1.2 BPG
The more I hear about Nikola Pekovic this preseason, the more I think he's primed to be one of fantasy basketball's breakout stars in 2012-13.
Pekovic averaged 18.5 points, 9.9 rebounds and nearly a block per-36 minutes in 2011-12 for the Minnesota Timberwolves, and will begin the season as the unquestioned starter with Darko Milicic now playing for the Boston Celtics.
Budding superstar Kevin Love recently praised the way Pekovic has developed his passing ability, according to the official Timberwolves site, which suggests that Pekovic's assist totals could be on the rise this season, too.
With only Greg Stiemsma playing behind him, Pekovic has no excuse not to average at least somewhere around 35 minutes per game for the Timberwolves in 2012-13, nearly 10 minutes more than he averaged in 2011-12.
And with Love now out until at least mid-December due to a broken hand, the T-Wolves will only be forced to rely upon Pekovic more for frontcourt leadership, making him a truly dynamic sleeper option in 2012-13.
HOOPSWORLD ranked Pekovic 79th in their preseason rankings, while ESPN had him 80th and Yahoo! Sports/RotoWire put him 86th overall, making him a consensus early ninth-round pick. I'd gladly select Pekovic in the seventh round, given the Love news. If he falls to the eighth, he becomes even more of a value pick.
1. Kawhi Leonard, SG/SF/PF, San Antonio Spurs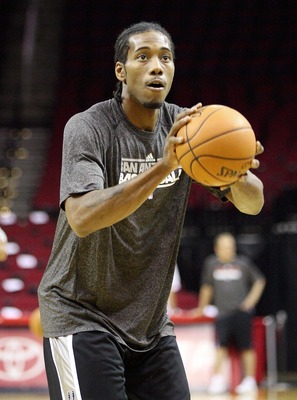 Troy Taormina-US PRESSWIRE
2012-13 Projection: 31.6 MPG, 51.8 FG%, 38.2 3FG%, 12.2 PPG, 7.8 RPG, 1.6 SPG, 1.4 APG, 0.6 BPG
Based on what San Antonio Spurs coach Gregg Popovich and fellow Spurs players have been saying about Kawhi Leonard in the 2012 offseason, he's my personal favorite fantasy sleeper heading in 2012-13.
This summer has been a veritable love-fest for Leonard, who exploded onto the rookie scene in 2011-12 with 7.9 points, 5.1 rebounds and 1.3 steals in only 24 minutes per game.
Popovich said that Leonard was "going to be a star" in a mailbag on NBA.com, while Tim Duncan told the San Antonio Express-News that Leonard would be handling the ball more and getting more involved with the pick-and-roll this year.
If Leonard can handle the extra burden, why wouldn't Popovich try to rest Duncan and some of his older teammates during the regular season, just like he did in 2011-12? The days of Leonard only averaging 24 minutes per game have come to an end, friends.
I'm expecting Leonard to average at least 30 minutes per game for the Spurs in 2012-13, with significant statistical improvement across the board. Fear the rookie-to-sophomore leap.
Yahoo! Sports/RotoWire ranked Leonard 63rd, ESPN had him 100th and HOOPSWORLD ranked him 112th, making him a consensus early 10th-round pick. Seeing as he's eligible for three positions in certain (at least ESPN) leagues, I'd be more than comfortable scooping up Leonard in the eighth or ninth round of a fantasy draft this season.
Keep Reading