Predicting the Baltimore Orioles 2013 Opening Day Starting Lineup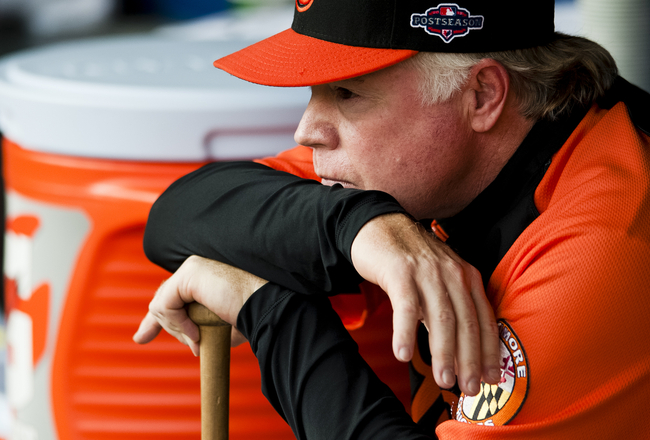 Cooper Neill/Getty Images
For the first time in 15 years, the Baltimore Orioles are going to enter the start of the season with the knowledge that they were a winning team the year before. With that knowledge, comes the expectation, from players and fans alike, to win again.
Being that the offseason has just started for the O's, GM Dan Duquette and manager Buck Showalter still have plenty of time to decide on the transactions they are going to make. In this article, I'll be going over what the starting lineup could possibly look like next year. Let's begin, shall we?
Batting First, Playing Right Field, #21, Nick Markakis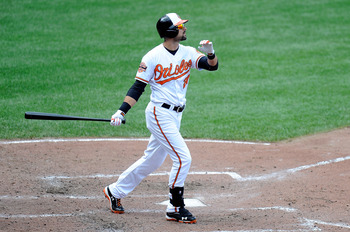 Greg Fiume/Getty Images
One interesting decision Buck Showalter will make at the beginning of next season is choosing the leadoff hitter. The options are certainly plentiful and injuries may play a huge part in his decision. Will it be McLouth? Markakis? Reimold? Roberts? Somebody else?
I'll go with Nick Markakis.
Markakis struggled before his first stint on the DL last season. Upon his return, he was immediately slated in the leadoff spot, where he prospered. Batting leadoff this season, Markakis averaged .335 in 54 games and helped sparked the Orioles to life.
Batting Second, Playing Shortstop, #2, J.J. Hardy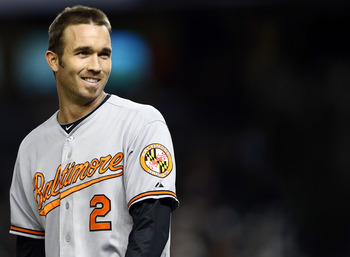 Al Bello/Getty Images
I was very tempted to put Manny Machado right here, but I just couldn't do it. By the end of the season, I think that you'll see Machado somewhere near the top or the middle of the order. As for game one, J.J. Hardy will be in the two hole.
Hardy was superb in the field last season. However, he had a rough time at the plate, batting only .238. His power also took a dive, as he hit 22 homers in 158 games last season, as opposed to 30 in 129 in 2011. That being said, I suspect Buck will keep Hardy batting second…for now.
Batting Third, Playing Center Field, #10, Adam Jones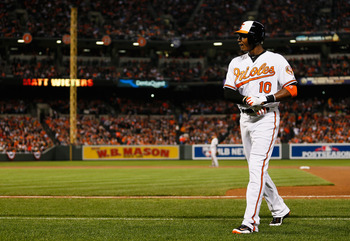 Rob Carr/Getty Images
On Opening Day next year, the O's face Tampa. That means, more likely than not, David Price will be on the mound. Adam Jones did bat clean-up for most of the season last year and the same could happen in 2013. However, against a lefty, Showalter will probably place Jones in the third spot.
Jones had his best season in 2012, setting career bests in literally every category. He was also the only Oriole to play in all 162 games. His 87 RBI seem slightly low for someone who was a clean-up hitter last year, but his 103 runs were good for 5th in the AL.
Batting Clean-Up, Catching, #32, Matt Wieters
J. Meric/Getty Images
Not much surprise here, especially since Adam Jones is batting third.
In 2013, Matt Wieters will be entering his 5th season in the majors. That makes me feel old.
Wieters only batted .249 last season, but did increase his career best in homers by one (23). Unless Showalter changes his thought process on the O's lineup after the disaster that was the ALDS, Wieters will be batting clean-up on Opening Day.
Batting Fifth, Playing First Base, #12, Mark Reynolds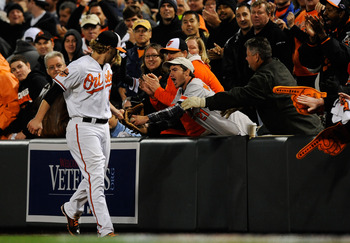 Patrick McDermott/Getty Images
Yes, I think Mark Reynolds will be in a Orioles uniform in 2013.
If you were not aware, the Orioles have a team option on Mark Reynolds' contract next year. They can either pay him $11 million, or let him go. I don't think Reynolds will get that $11 million, but I do think he works out a new deal with the organization. He wants to stay, and I think the Orioles want him to stay.
Reynolds was a revelation at first base last season. For how mediocre Reynolds was at third, he was equally as brilliant at first.
At the plate, Reynolds was his usual, inconsistent self. It looked as if his 2012 season would be a disaster, until he hit 8 homers in 7 games in early September. That surge not only helped Reynolds' stats look a bit better, but it also played a major role in the Orioles surge to the postseason.
Batting Sixth, the Designated Hitter, #19, Chris Davis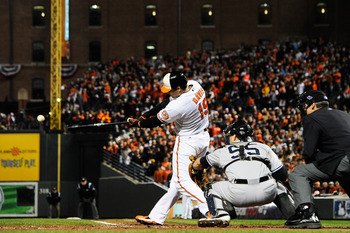 Patrick McDermott/Getty Images
If Mark Reynolds returns to the O's to play first, Chris Davis will DH most of the time. Unless the O's sign a solid right handed batter or have Wilson Betemit return, both which I doubt, Davis will even DH against lefties, which will probably be the case on Opening Day.
Davis' late surge got him the team lead in both homers and RBI. He has devastating power, but continues to be inconsistent, sometimes becoming invisible in the Orioles lineup.
Davis could easily hit 40+ homers in 2013. He could also easily reach 200 Ks. The Orioles will accept the good with the bad when it comes to Davis
Batting Seventh, Playing Third Base, #13, Manny Machado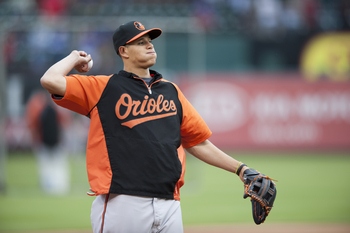 Cooper Neill/Getty Images
Well that started off rather well.
The performance of Manny Machado in 2012, on the field and at the plate, was inspiring. Given the circumstances, the 20 year-old was sensational in the way he handled himself on and off the field.
After playing only 2 games at third in the minors, the highly touted prospect was called up to play that position in the majors. In 51 games at third, Machado had a .967 fielding percentage. If eligible, that would have been good for 5th best at third base in the MLB.
Machado was also solid at the plate. A .262 average, 7 HR and 26 RBI performance in only 51 games was very nice to see. Hopefully, Machado will be able to avoid the sophomore slump and continue to prosper.
Batting Eighth, Playing Second Base, #1, Brian Roberts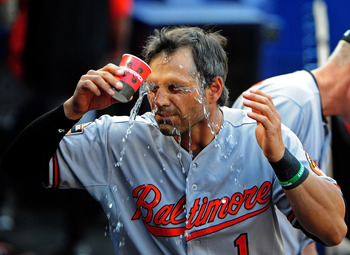 Scott Cunningham/Getty Images
My best guess is that Brian Roberts will be ready for Opening Day. Maybe that's being optimistic, but who knows with Roberts.
Personally, I hope the O's sign a second baseman, namely Kelly Johnson. Even if they don't sign anyone, I think Robert Andino and Ryan Flaherty make a decent duo splitting the time at second, and would be more effective than Roberts. However, if healthy, I think Buck will let Roberts have his shot at second. I just hope he doesn't bat leadoff.
There's not much that can be said about Brian Roberts. He has played a total of 115 games in the last 3 seasons combined. It honestly feels like he's played less than that.
Batting Ninth, Playing Left Field, #9, Nate McLouth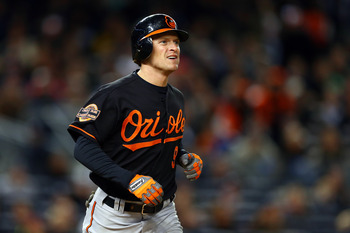 Elsa/Getty Images
The most unexpected star of the Orioles last season was, no doubt, Nate McLouth. After being designated for assignment by the Pirates in late May, he was signed by the O's to a minor-league contract shortly after.
After 47 games in AAA, McLouth was called up to the majors and played extremely well in their postseason run. He was arguably the MVP for the O's in the postseason, batting .308 and driving in 5 runs.
Nate McLouth is a free agent. However, I think he fits in this Orioles lineup too well not to re-sign. So unless he wants an obscene amount of money, I think McLouth will return.
Tonight's Starter, #39, Jason Hammel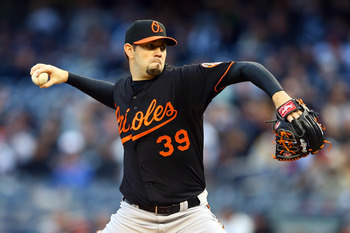 Al Bello/Getty Images
Does anyone honestly think that the Orioles will sign a true ace? Maybe now that they actually have a winning team, they will. That being said, I still doubt it.
I think as Showalter showed in his decision to start Hammel in game 1 in the ALDS, that Hammel is the "ace" of this pitching staff.
Hammel was very impressive in his first season with Baltimore. If it wasn't for injuries, Hammel may have led the team in wins in 2012. Still, a solid 3.43 ERA, nearly a strikeout per inning, and a 1.25 WHIP were all personal bests, and I see him having the best chance to start Opening Day for the O's.
Review/Conclusion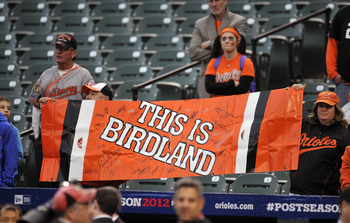 Joy R. Absalon-US PRESSWIRE
Markakis 9
Hardy 6
Jones 8
Wieters 2
Reynolds 3
Davis 0
Machado 5
Roberts 4
McLouth 7
Starter - Hammel
As of right now, that's how I see the Orioles starting lineup on Opening Day 2013. Obviously it's early and a lot can change from now until April.
Personally, I don't think the Orioles will make any drastic changes. They'll stick with what got 'em here. Please feel free to comment on what you think/hope the O's lineup will look like next year.
Keep Reading

Baltimore Orioles: Like this team?