The 13 Sexiest Videos of Female Athletes Dancing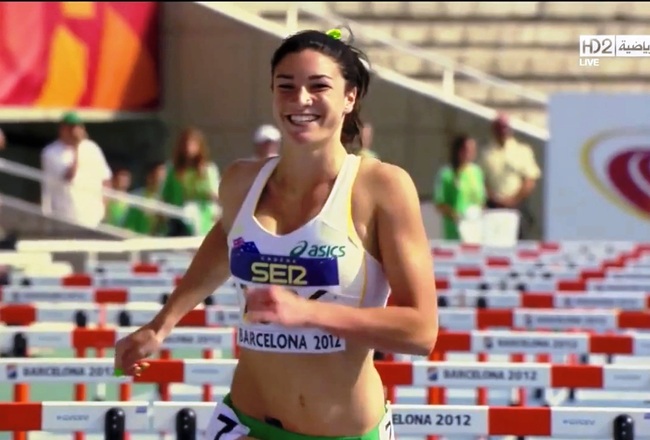 Image via u2know.net

Ever since Michelle Jenneke nearly broke the Internet with her dance-sprint-win routine, we've wanted more. Well, the on-camera, sure-to-be viral sightings of the Australian hurdler haven't surfaced as fast as the online masses have wanted.
But not to worry; there's plenty of other good stuff out there. From swimmers to boxers to soccer players, there's plenty of sexy to go around.
Enjoy.
13. Laila Ali: Boxing
Not too many people realized what a hottie Laila Ali was until she went on Dancing with the Stars back in 2007.
I was always a secret fan of hers, but I wasn't sure the rest of you would have agreed with my crush. I think it is time to start agreeing and showing her some love.
12. Michelle Jenneke: Track and Field
Wait a minute; this isn't the video I was expecting. She now has become a female athlete/dancing queen.
If she makes it to Rio in 2016, I am buying a shirt.
11. Hope Solo and Alex Morgan: Soccer
After watching this video, don't even try to say you didn't like it. At worst, you might think it was cheesy but when you realize you just got to watch Alex Morgan and Hope Solo dance around to a video game, it becomes that much more awesome.
Hot female athletes dancing is always a great sign.
10. Natalie Coughlin: Swimming
Following her performance at the 2012 Summer Olympics in London, Natalie Coughlin has become one of the most decorated female Olympians of all-time.
She might not be back for the 2016 games, but that doesn't matter because she will retire with 12 Olympic medals, three of them gold.
9. Maria Sharapova: Tennis
The spectator that was chosen to dance a little dance with the beautiful Maria Sharapova was easily the luckiest person at that tennis match that evening.
Hands down the luckiest man.
8. Oregon Cheerleaders
Everyone has Gangnam Styled at least once in the past year. And if you say you haven't, you are either lying or returning from Mars because this thing has been all over the world.
It is bigger than The Beatles on The Ed Sullivan Show.
7. Caroline Wozniacki and Dominika Cibulkova: Tennis
Normally, you have to pay double for action like this.
Caroline and Dominika give a new name to double's tennis.
That's it. I'm out after two jokes. But feel free to add your own.
6. Dallas Stars Ice Girls
Yep, I am not a fan of the NHL lockout.
Nope, I am not a fan of Ice Girls having nothing to do with their spare time. This video makes perfect sense in a less-than-perfect world. Awesome.
5. Misty May: Beach Volleyball
I spent this entire video trying to focus on the dance when all I could see is that insanely hot dress on Misty May.
How have I not watched Dancing with the Stars before today?
4. Gina Carano: MMA
Gina Carano? Dancing?
And she looks even sexier than before. I just wish I knew how to dance, then maybe I could clean up with women like Gina. Well, women named Gina at least.
3. Anna Semenovich: Figure Skating
Do I have any clue as to what they are saying? No.
Since when do we need to listen to beautiful women running around dancing in a sexy evening gown? Honestly.
2. Miami Dolphins Cheerleaders
Now that I know what the ladies are saying, I would much rather this song be in Russian.
How many times have you heard this song and it looked so dang beautiful? Seriously, how many?
1. Michelle Jenneke: Track and Field
I was so upset when I heard that Stephanie Rice might be heading to retirement following a bad showing at the 2012 Olympics.
But then Michelle Jenneke, another Australian athlete, came into the picture. It's not that I am dropping Stephanie Rice for someone new, it's just that I need my fill of sexy Australian athletes and Michelle fits the bill.
Her warmup is nothing short of incredible.
Keep Reading