2013 NFL Draft: 10 Prospects in Need of a Big Second Half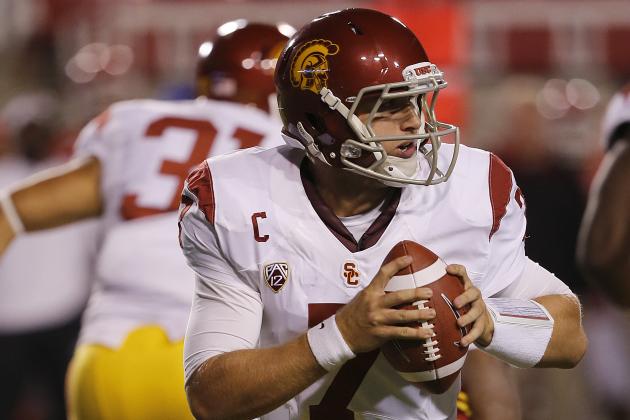 George Frey/Getty Images

We've reached the midway point of the college football season and with less than two months remaining on the schedule, plenty of high-profile prospects still have a lot to prove.
While draft stocks can rise and fall slightly during the offseason, for many of these prospects this is the last chance to make a positive impression on scouts, coaches and front office personnel at the next level.
Here are 10 prospects who need to step up their game over the final weeks of the season in order to save their falling draft stock.
Begin Slideshow

»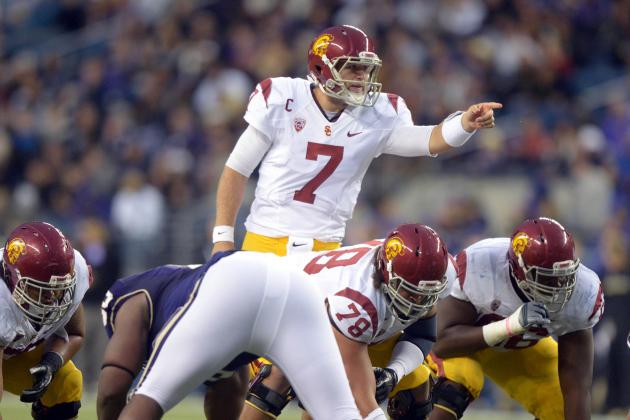 Kirby Lee-US PRESSWIRE

Barkley reminds be of Colt McCoy, in both good and bad ways.
Like McCoy he's a strong leader, smart with the football and accurate on short and intermediate routes. But both quarterbacks also lack the ability to throw the deep ball.
I've charted two of Barkley's games so far this year and in those games it was clear that the USC coaching staff simply didn't trust Barkley to throw the ball down the field. 53 percent of his passes were thrown no more than five yards down field.
When they did trust Barkley with the deep ball, he completed just six of 18 attempts with two interceptions.
These numbers must improve for Barkley to maintain his top-10 status.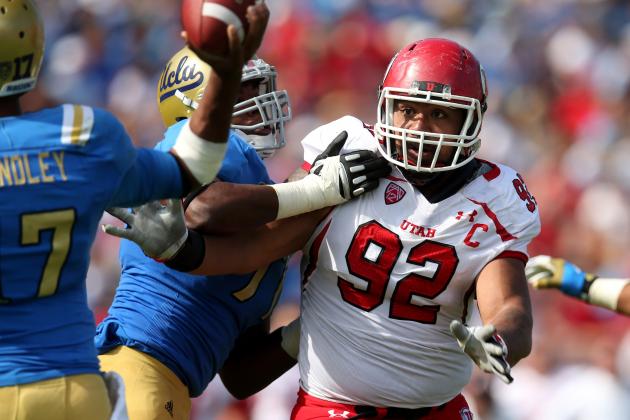 Stephen Dunn/Getty Images

Star Lotulelei entered the year as one of the candidates to go No. 1 overall. But some sub-par showings against mediocre opponents have caused his stock to drop and he's fallen behind fellow nose tackle Johnathan Hankins on most big boards.
Lotulelei turned in a strong performance against USC a few weeks ago but he needs to show more consistency before earning a top-10 grade.
The Utes have a relatively light schedule the rest of the way and scouts will expect Lotulelei to dominate.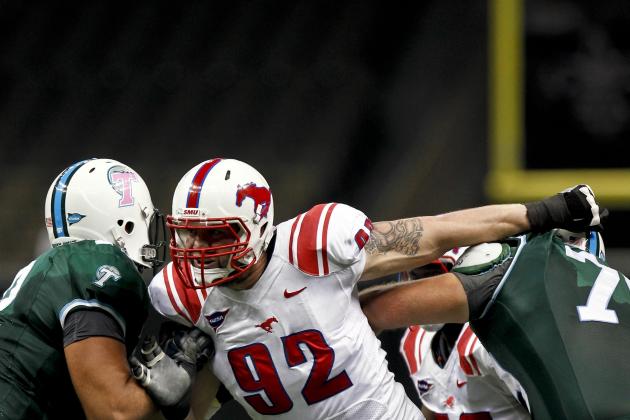 Derick E. Hingle-US PRESSWIRE

Hunt may be the most disappointing prospect in the game.
He's a physical freak and most scouts expected big things from him in 2012. But Hunt continues to fall short of expectations, disappearing for extended periods of time in nearly every game.
Hunt will be one of the most talked-about prospects at the combine and his raw talent is so impressive he's all but guaranteed to be a top-100 selection. However, if he doesn't step up in the second half of the season there will be serious concerns about his NFL readiness.
Rob Kinnan-US PRESSWIRE

David Amerson stumbled out of the gate, struggling against Tennessee star Justin Hunter in the Wolfpack's season opener, and has failed to recover.
In addition to his poor play, Amerson was called out by his own coach earlier this year, who felt that he was distracted by off-field issues.
Amerson clearly has the skills to play at a high level but he needs to get back on the right track. The Wolfpack face a favorable schedule down the stretch, so there's no reason Amerson can't dominate the ACC as he did in 2011.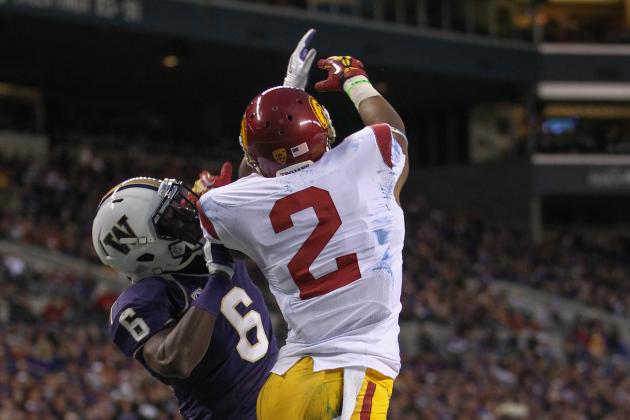 Otto Greule Jr/Getty Images

Woods has posted decent numbers, but he's taken a back seat to Marqise Lee this season.
The Trojans have scaled back Woods' role and use him primarily on screens and short slants. While he's done an adequate job in this role, he hasn't been running the types of routes that are frequently used at the next level.
Unfortunately, part of Woods' issues are out of his control due to USC's offense but he needs to take advantage of the opportunities he gets to make plays down the field.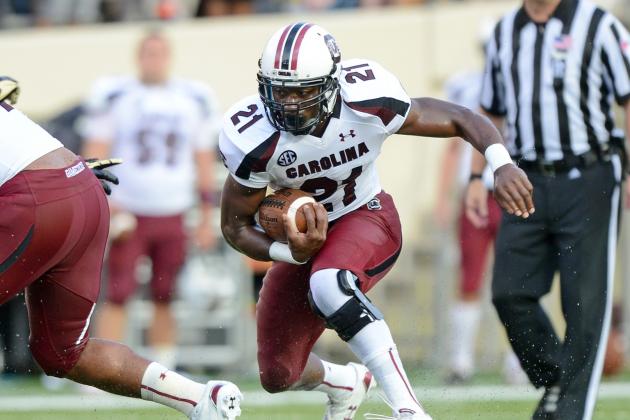 Don McPeak-US PRESSWIRE

Lattimore returned from a knee injury and has helped carry South Carolina this season, but it's clear that he isn't as explosive as he was in past years. And to make matters worse, Lattimore suffered a hip injury and is questionable for the Gamecocks showdown with Florida on Saturday.
If Lattimore misses any more time with injuries his stock will take a hit. And even if he stays on the field, he needs to continue to show improvement in his quickness and agility.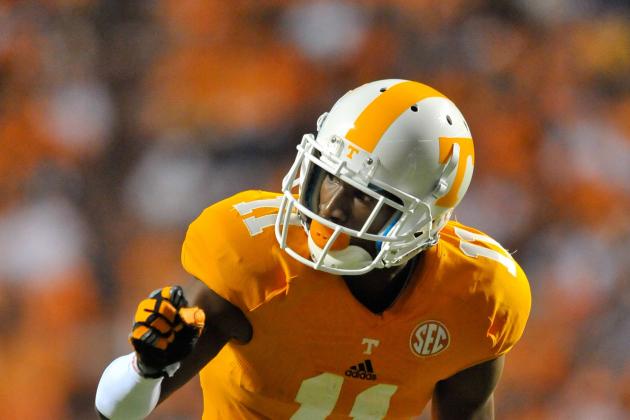 Jim Brown-US PRESSWIRE

In terms of raw talent Hunter is the premier wide receiver prospect in this year's draft class. However, he has been inconsistent this year and some are beginning to wonder if he's ready to make the jump to the next level.
Hunter has a knack from coming up with the big catch but he also has a tendency to lose focus and drop some easy passes.
Comparisons to A.J. Green will be hard to ignore when Hunter enters the draft, but if he doesn't improve his consistency his draft stock won't rise nearly as high as Green's did in 2011.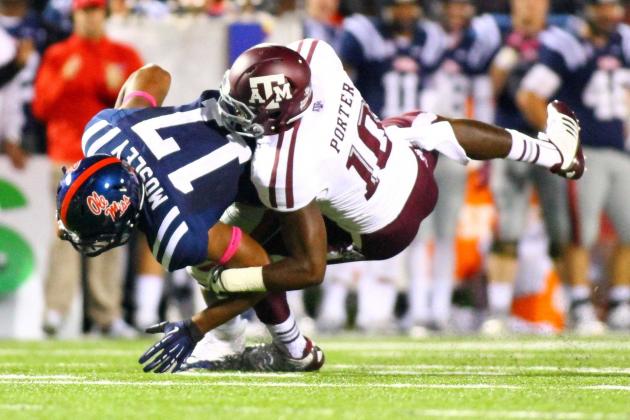 Spruce Derden-US PRESSWIRE

Porter was supposed to be the star of the Aggies defense this year but he has been overshadowed by Damontre Moore.
Porter has been ineffective as a pass-rusher this season, recording only a half sack.
He is still one of the more well-rounded linebackers in this draft class, which should land him a spot in the top 100 picks, but if he doesn't show the ability to shed blocks and get into the backfield against SEC offensive lines then he won't climb into the first round.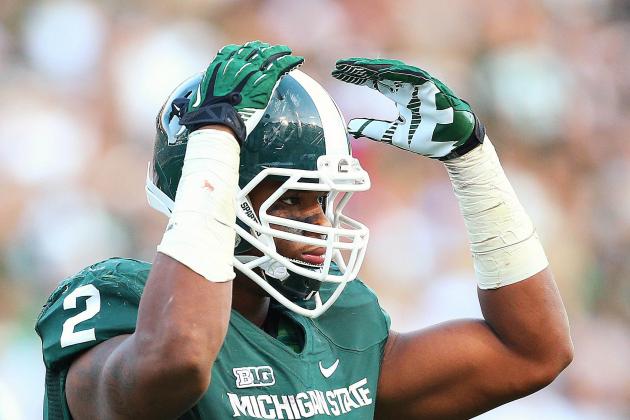 Mike Carter-US PRESSWIRE

Gholston has fallen well short of expectations, recording just five tackles for loss and one sack this season. While he isn't the most explosive defensive end, those numbers must improve for him to maintain his status as a potential first-round selection.
With Gholston failing to meet lofty expectations this season it's impossible not to think of his cousin Vernon, one of the biggest draft busts in recent memory.
At least part of Vernon's issues were caused by his work ethic, and some scouts will definitely wonder the same about William if these struggles continue.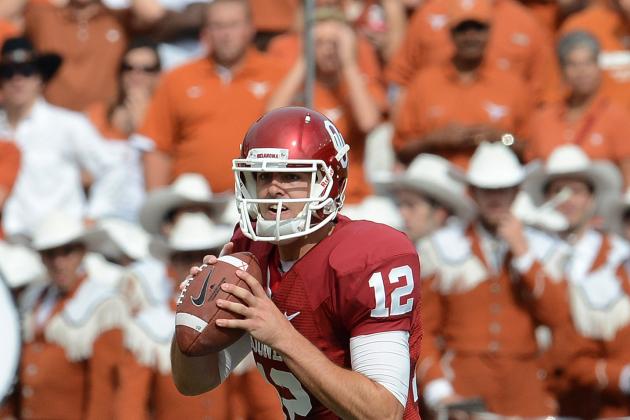 Matthew Emmons-US PRESSWIRE

This is the end of the road for Landry Jones. Despite years of lofty expectations, he's failed to elevate his game to an elite level.
Jones started the second half of his senior year off on the right foot with a big win over Texas, but he'll need to build upon that performance to have any hope of climbing as high as the second round of the draft.
Based on his performance thus far, Jones is a mid-round prospect but he clearly has the raw tools necessary to improve his stock if he closes out his career on a high note.