Yankees vs Tigers: Bombers Swept by Detroit, What Went Wrong in ALCS?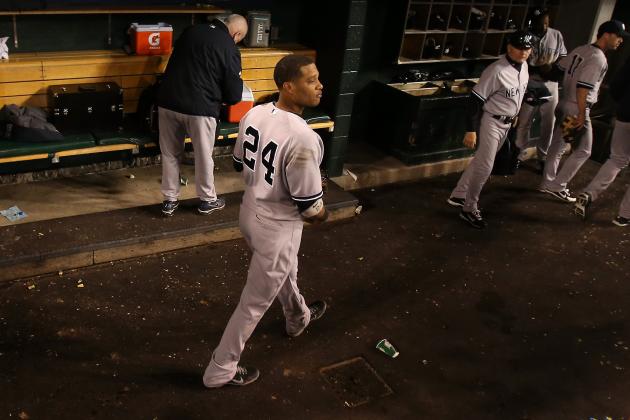 Jonathan Daniel/Getty Images

The 2012 season for the New York Yankees is officially over.
After winning 95 games in the regular season, winning the A.L. East and beating the Baltimore Orioles in the ALDS, the Yankees came into the American League Championship Series as the favorites by many to knock off the Detroit Tigers.
That was not the case, as for the third time in six years, Detroit ends the Yankees season as they knock off the Bombers 8-1, and they move on to play in the 2012 World Series by sweeping the ALCS.
Tigers designated hitter Delmon Young was named the 2012 ALCS Most Valuable Player.
CC Sabathia got the ball for the Yankees in Game 4, but was chased in the fourth inning after allowing six runs on 11 hits and allowed two home runs while lasting 3.2 innings.
The Tigers have now become the new Los Angeles Angels of the playoffs for the Yankees; the team they can't seem to figure out how to beat in October. First, it was in the 2006 ALDS, then it was last year in the 2011 ALDS, and now, the 2012 ALCS can be added on.
Will the Yankees ever figure out how to beat Detroit in the postseason? Who knows.
With the series and season now over for the Yankees, what went wrong for them in the ALCS against Detroit?
Oh, where to begin.
Begin Slideshow

»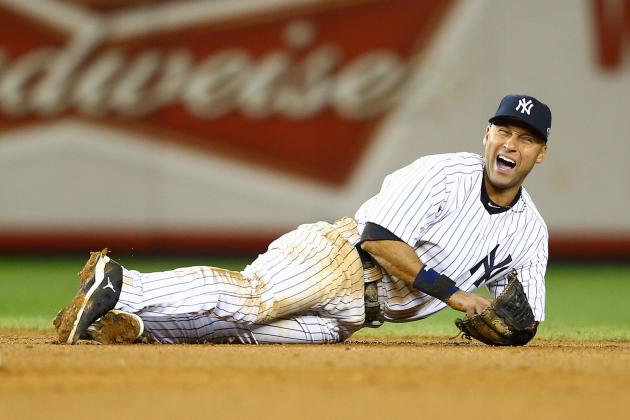 Al Bello/Getty Images

Heading into the ALCS, Derek Jeter was having a tremendous postseason for the Yankees.
He was hitting .333 and just continued to defy Father Time as a 38-year-old shortstop who was playing like was 28, but in the 12th inning, it all changed.
Tigers shortstop Jhonny Peralta hit the ball to Jeter at shortstop and when he went to go field it, he tumbled to the dirt at Yankee Stadium and could not get up as he was writhing in pain.
After being helped off the field, it was revealed after the game that Jeter had suffered a fractured ankle on the play and not only would miss the rest of the postseason, but would be out 4-5 months and would need surgery.
With an offense that was struggling in the postseason, losing your best hitter in the playoffs may have been the crushing blow.
And if you don't believe me, following Game 1, the Yankees managed to score all of two runs between Games 2, 3 and 4.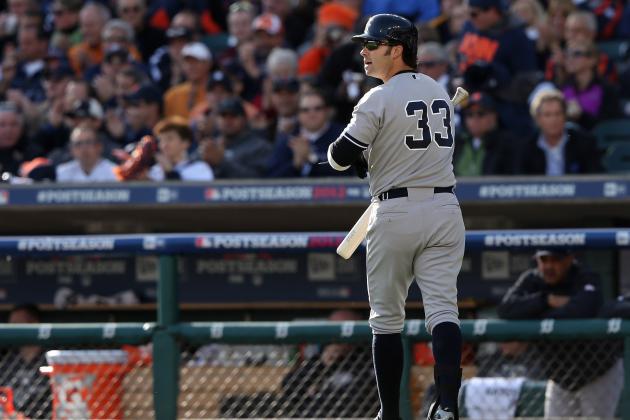 Leon Halip/Getty Images

For the third straight year at the end of October, I am sitting here writing about how awful Nick Swisher played in the postseason.
It's nothing new for Swisher, but I think it's safe to say we've all seen the last of him in pinstripes.
Against the Orioles, he hit .111 with five strikeouts as opposed to two hits (2-for-18) with 5 strikeouts.
And then against the Tigers, it was another dreadful appearance, hitting .230 (3-for-13) with 5 strikeouts and two RBI.
Overall, that's a .161 average for a guy who wanted "Jayson Werth money" in free agency this winter.
If Swisher still thinks he can get that kind of contract, he's out of his mind, and he won't be finding it from the Yankees.
The Yankees can spend less money on a right fielder who might actually be able to produce in October.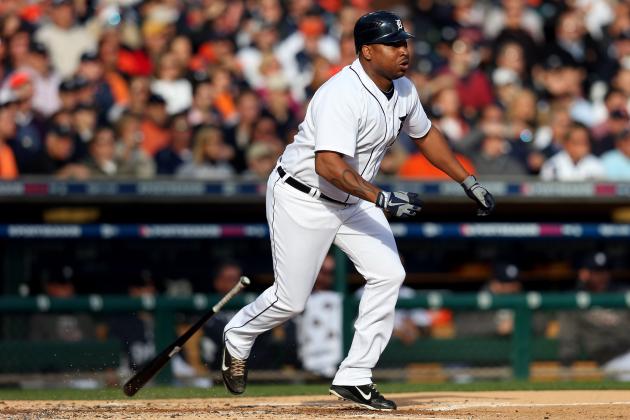 Jonathan Daniel/Getty Images

Last year in the 2011 ALDS, I had written about how Delmon Young killed the Yankees with a lot of big hits.
And again in the 2012 ALCS, Young continued to be a Yankee killer in the postseason by having another great series against them.
Young hit .294 (10-for-34) with two home runs and eight RBI and came up with a lot of big hits in the series.
In Game 1, Young was 3-for-6 with an RBI single, a home run, and hit the go-ahead RBI single off David Phelps in the 12th inning that put Detroit up 5-4.
In Game 3, Young put the Tigers on the board with a solo home run off Phil Hughes in the bottom of the fourth inning that made it 1-0.
In Game 4, Young again put the Tigers on the board first with an RBI single off CC Sabathia with two outs in the first inning, putting them ahead 1-0.
For his efforts, Young also won the 2012 ALCS MVP Award.
In the World Series, the Tigers will hope that Young's clutch hitting will continue against the Cardinals or Giants.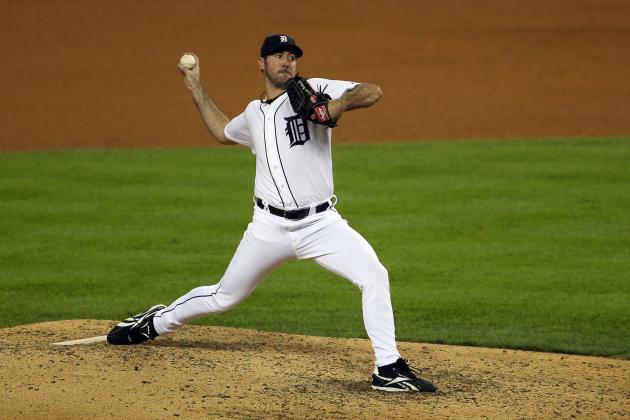 Leon Halip/Getty Images

Any team that wins a championship has to have good pitching.
Against the Yankees, the Tigers starters had a very good series:
In Game 1, Doug Fister went 6.1 innings, allowed no runs on six hits, walked four and struck out five.
In Game 2, Anibal Sanchez went 7 innings, allowed no runs on three hits, walked three and struck out seven.
In Game 3, Justin Verlander went 8.1 innings, allowed one run on three hits, walked none and struck out three.
In Game 4, Max Scherzer went 5.2 innings, allowed one run on two hits, walked two and struck out 10.
The Tigers starters were 3-0 in the ALCS and could have been 4-0 if not for Jose Valverde's blown save in the ninth inning of Game 1.
They went 27.1 innings and allowed two runs total during those innings, which is a big reason why the Tigers are headed for the Fall Classic and the Yankees are going home.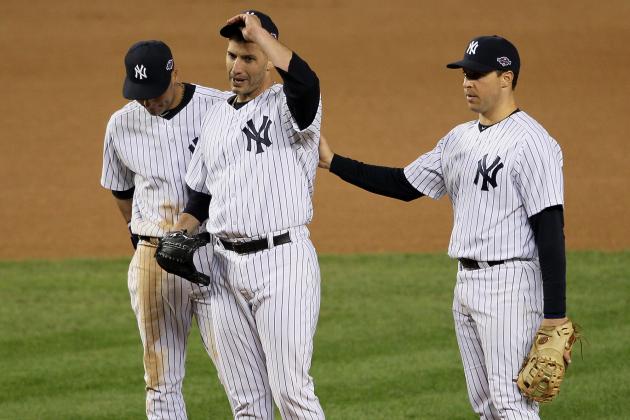 Alex Trautwig/Getty Images

The Yankees starting rotation was very good in the postseason.
But the problem was they were betrayed by the offense, who couldn't give them an ounce of support.
Andy Pettitte showed everyone that at age 40, he still has the big-game ability to pitch in the playoffs. In two starts, Pettitte went 13.2 innings, allowed five runs on 14 hits, struck out 10 and had a 3.29 ERA.
In Game 1, he left the game down 2-0 after pitching seven solid innings and would have taken the loss if not for the ninth inning rally.
Hiroki Kuroda was very good as well. In two playoff starts, Kuroda went 16 innings, allowed five runs on 10 hits, struck out 14 and had a 2.81 ERA.
In Game 2, Kuroda went 7.2 innings and struck out 11 Tigers batters, but also left the game at 3-0. If not for a bad call by an umpire in the 8th inning, it would have been 1-0. Either way, Kuroda still got no run support.
Phil Hughes left Game 3 with his back stiffening up on him in the fourth inning. He went three innings, allowed one run on three hits, walked one and struck out three and got the loss.
CC Sabathia was having a great postseason up until Game 4. He was 2-0 with a 1.53 ERA before the game in Detroit.
The Yankees ace got roughed up in Game 4, allowing six runs on 11 hits and struck out three in the loss.
Even if Sabathia had decent stuff, the Yankees offense only mustered up one run, so he never had a chance to begin with in this game.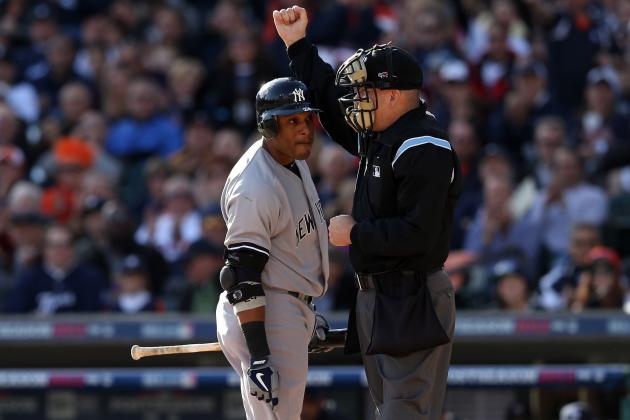 Leon Halip/Getty Images

The Yankees managed to score a total of six runs in four games in the ALCS against the Detroit Tigers.
One word can describe that effort: pathetic.
Nick Swisher ended up hitting .230 (3-for-13).
Robinson Cano ended up hitting .055 (1-for-18).
Mark Teixeira ended up hitting .200 (3-for-15).
Alex Rodriguez ended up hitting .111. (1-for-9, I'll get to him in a little bit.)
Raul Ibanez ended up hitting .230 (3-for-13).
Curtis Granderson ended up hitting .000 (0-for-11).
Russell Martin ended up hitting .142 (2-for-14).
Eric Chavez ended up hitting .000 (0-for-8).
13-for-101 between all of those hitters, which averages out to .128.
And that's why the Yankees only scored six runs and didn't win a single game in the ALCS.
Again, one word: pathetic.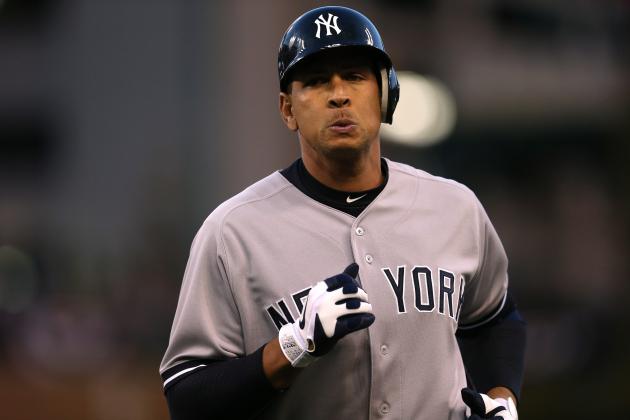 Jonathan Daniel/Getty Images

Mark my words, Alex Rodriguez will not be a Yankee in 2013.
After his latest failed efforts in the 2012 playoffs, the Bombers and Brian Cashman will be looking to trade him.
If you ask me right now, I think he ends up getting dealt to the Miami Marlins and the Yankees pay for most of the rest of his five years and $114 million to play in south Florida.
Against the Baltimore Orioles in the ALDS, he went .125 (2-for-16) with no home runs and nine strikeouts.
Against the Detroit Tigers in the ALCS, he went .111 (1-for-9) with no home runs and three strikeouts.
Combined, that's .120 (3-for-25) with no home runs, no RBI and 12 strikeouts.
When Eric Chavez is getting more playing time over A-Rod and he did not get a single hit in the postseason, you know that means your manager and general manager have no faith in you whatsoever.
And that's what has become of A-Rod. The nine-year marriage is likely over between the two.
And when A-Rod no longer wears pinstripes, it'll be about time.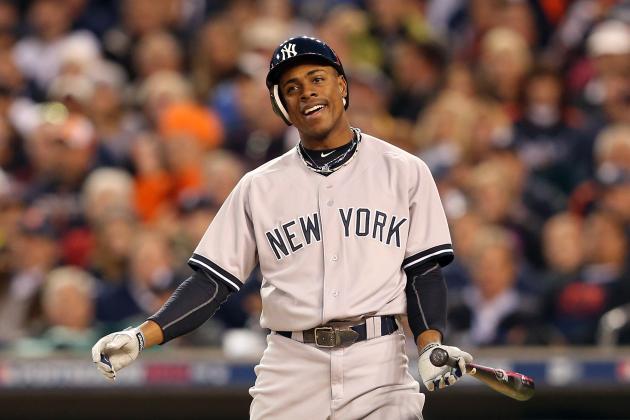 Leon Halip/Getty Images

First off, I'd like to congratulate the Detroit Tigers on winning the ALCS and getting back to the World Series. They were the better team in the series and deserved to win.
With that said, where do the Yankees go from here?
Like I mentioned in the previous slide, the rumors of Alex Rodriguez potentially getting traded will now be a main focus of the winter.
The Yankees also have some free agents they have to deal with.
Nick Swisher is a free agent, and I think he will be let go.
Ichiro Suzuki is also a free agent, but I see him being brought back, or at least, the Yankees will attempt to bring back.
The same goes for Raul Ibanez, who was signed for $1.1 million this year, and with all of the big home runs and hits this postseason, has earned a little bit of a pay raise for 2013.
Russell Martin is a free agent and the Yankees have to figure out if they want him back as their catcher.
Rafael Soriano has one final opt-out in his contract and could use it in order to become a closer again after having a terrific 2012 season.
Andy Pettitte and Mariano Rivera are both free agents, and they have to both figure out if they want to come back for 2013 or not (I think both are back.)
Hiroki Kuroda is also a free agent and he has likely earned a pay raise as well for the job he did in the regular season and in the playoffs.
Plus, the Yankees have to figure out if they want to lock up Robinson Cano and Curtis Granderson to long-term contracts; both players will be free agents after 2013.
There are a lot of questions that the Yankees, Brian Cashman and Joe Girardi have to figure out before spring training and Opening Day of 2013.
The loss of the playoffs will sting for a while. But eventually, Cashman and Girardi will have to get back to game-planning in hopes for that 28th World Series.
Stay tuned, Yankees Universe.