College Football Recruiting 2013: Top Uncommitted Defensive Backs & Predictions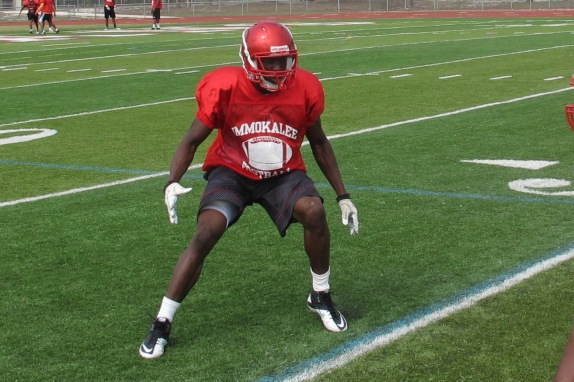 247Sports.com
Let's turn our attention to the board and look at the defensive backs, shall we? Looking at the board there looks to be several top back end defenders who remain uncommitted for the 2013 recruiting class.
For this read, I would like to give you the top 10 uncommitted defensive backs left on the board and also take a stab at making predictions for where they are headed. This should be fun and exciting read, as this is a very talented safety class of prospects in particular.
If your favorite school still needs a DB for this class, here are the top 10 guys left.
Begin Slideshow

»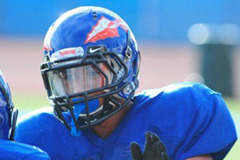 247Sports.com
Hunt is not the biggest cornerback in the world at 5'9", 175 pounds. However, he plays bigger than his listed size and reminds me a little bit of Cortland Finnegan.
Hunt tripped to Nebraska last week and also is looking at Cal and Arizona, per Scout.com. I think he will end up in Berkeley, as the Bears have a nice campus, good academics and he could stay in-state.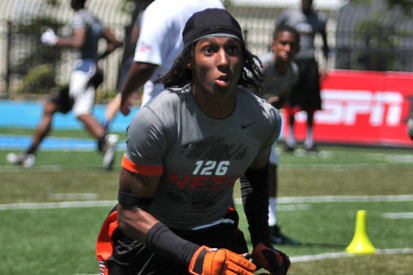 247Sports.com
Moore is a tall cornerback at 6'2", 185 pounds and plays with quick feet, ball skills and big-time athletic ability. He can fit in several different schemes and could also become a great free safety.
Per 247Sports.com among other outlets, this is a Notre Dame vs. UCLA standoff. UCLA could have been the leader, but a trip to South Bend has quelled that notion.
This is a tough call, but I think Moore will settle on the Bruins after all.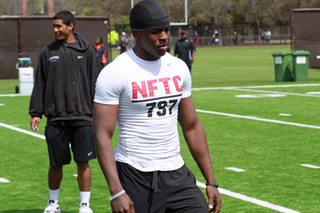 247Sports.com
Johnson is a 5'10", 180-pound cover corner that plays physical and stout. He is from California and loves to press at the line to re-route.
On the recruiting front, Greg Biggins at Scout.com is reporting that Washington has joined Stanford and UCLA as the core suitors for Johnson's services. He also will trip to Oklahoma this fall too.
Something about Stanford and Johnson has me thinking he will sign there.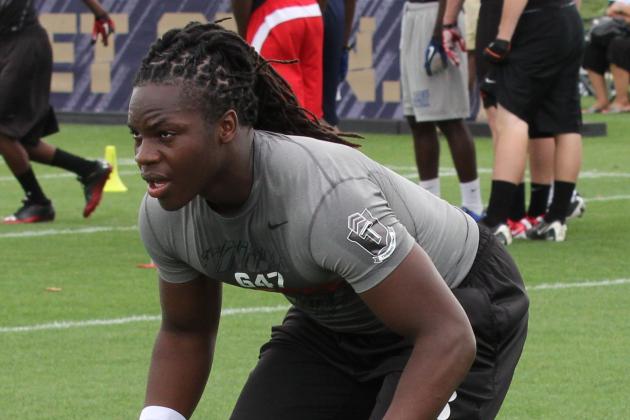 247Sports.com
At 6'1", 210 pounds, Harris is a big-time hitter from Florida. He plays very physical and has the ability to be an extra enforcer in the box vs. the run. His speed is solid in coverage, but playing the run is where Harris excels.
In my estimation, this is a Florida vs. Texas battle. Scout.com also tosses in Florida State and Oklahoma in the hunt, but they're behind the first two in my opinion.
Texas is my prediction.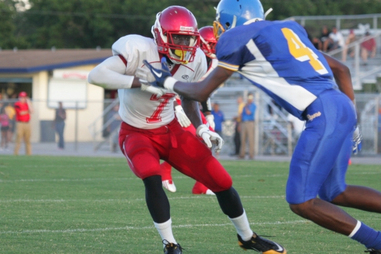 247Sports.com
As is appears right now, the profile on 247Sports.com shows Notre Dame and Clemson leading a group that includes Alabama, Michigan State, Nebraska and Boise State.
Alexander is perhaps the toughest recruit to read, but I'm going to guess that he will sign with Notre Dame.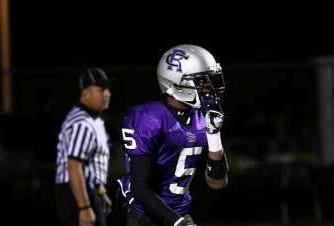 247Sports.com
Goodman stands 6'2", 190 pounds and is from Southern California. He has excellent athleticism, plays instinctive in coverage and has the tenacity to squeeze into the box fiercely to stop the run.
I happen to think USC is where he probably wants to go, but the Trojans' recruiting appears to be full at the moment. Look for him to kick the tires on LSU, Washington and UCLA as he waits around to see what happens with USC.
Washington or UCLA could be the choice if there is no movement with the Trojans.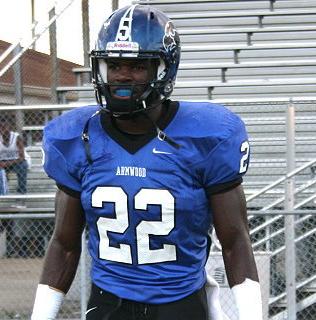 247Sports.com
McQuay is a 6'1', 185-pound free safety prospect from Florida. He is a fluid back end defender that has great play smarts, awareness and instincts vs. the pass. He shows great ball skills and is what I refer to as a "natural interceptor."
Like Goodman, I think McQuay probably is leaning towards USC at this point. Michigan and Florida State could be the fall-back options, along with Vanderbilt and Oregon.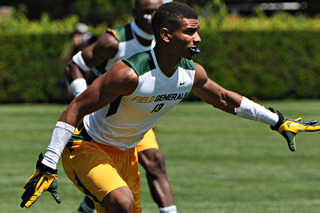 247Sports.com
I list Willis as a DB because right now the 6'2', 200-pound cornerback plays on the perimeter but he has safety size already and will likely grow into a FS in college. He is a big cover man, but has great hips, transition quickness and speed.
He has a ton of offers, as many are coming hard after the Arizona product. However, in his latest talk with Scout.com he mentioned Notre Dame, LSU, Nebraska, Arizona State and Arizona.
Arizona State is the hometown school, but I think he will sign with Notre Dame.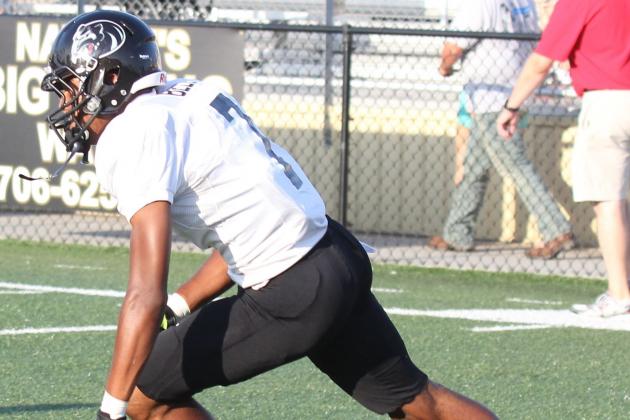 247Sports.com
Bell stands 6'0", 190 pounds and can play both safety spots and even some zone corner. He has excellent speed, instincts and tremendous ball skills. Bell also is a vicious hitter at times, too.
He's narrowed his list down to a widely known and accepted top three of Tennessee, Alabama and Ohio State. Each of those three schools have great advantages, and Bell has done a great job of researching and asking questions of all three.
I believe Tennessee will land him.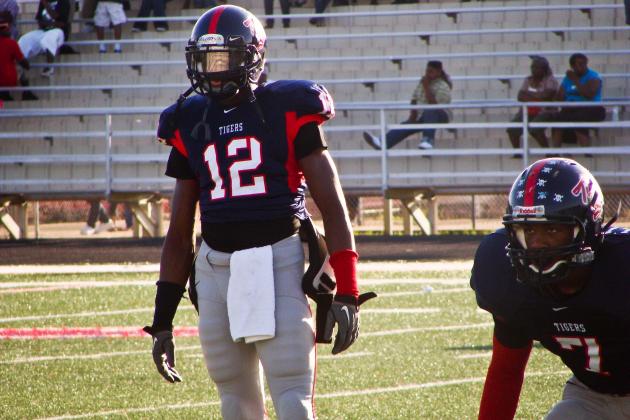 247Sports.com
Conner is an ultra-competitive, athletic and primetime safety from Mississippi that stands 6'1', 200 pounds. He has the physical tools and play instincts to develop into an All-SEC safety at the next level.
Ole Miss, LSU, Alabama and Mississippi State are the clear-cut main four schools in this race, and I think the Rebels will land him before this recruiting cycle ends.
Edwin Weathersby has worked in scouting/player personnel departments for three professional football teams, including the New York Giants, Cleveland Browns and the Las Vegas Gladiators of the Arena League. He spent a year evaluating prep prospects & writing specific recruiting and scouting content articles for Student Sports Football (now ESPN Rise-HS). A syndicated scout and writer, he's also contributed to WeAreSC.com, GatorBait.net and Diamonds in the Rough Inc., a College Football and NFL Draft magazine.