John Cena, AJ: The 10 Most Awkward WWE Stories This Year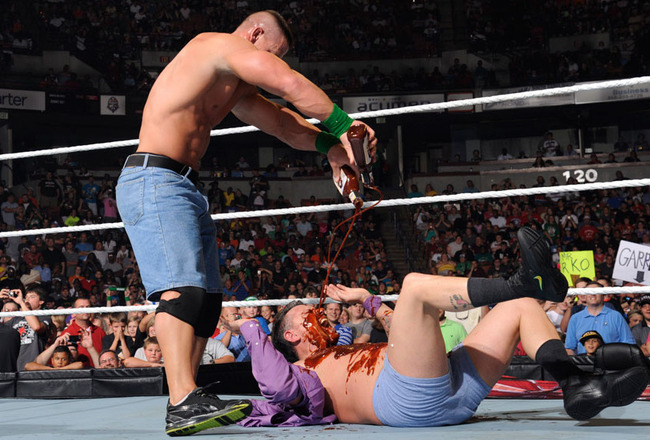 photo from wwe.com

Wrestling isn't often known for its nuanced, multi-layered story arcs.
Occasionally, we do get some great stories that keep fans talking for years. But it seems those instances are pretty rare.
Let's face it, WWE storylines are often just downright embarrassing and awkward to watch.
This year has been no exception.
With the added hours of WWE programming every week, there's more time than ever for some bad TV. Sometimes these stories make no sense. Other times they're suddenly dropped without notice, and some moments just make you groan.
There are still a couple months left of TV to go before 2013, but let's celebrate a little early and take a look back on the 10 most awkward stories of the year so far.
#10: AJ Becomes GM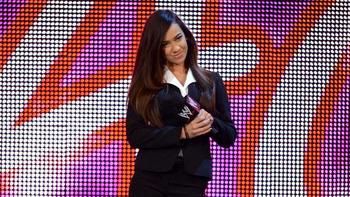 photo from wwe.com
Daniel Bryan and AJ were set to marry on Raw 1000.
The two had a long, crazy relationship that saw them both trying to take advantage of each other numerous times.
Eventually, things cooled down. AJ came to her senses and realized her love for Daniel Bryan. But shockingly, a WWE wedding didn't end well. AJ confessed she had accepted a different proposal earlier that day.
Vince McMahon came out and announced that AJ was the new GM of Raw.
A couple things didn't make sense right off the bat.
First, how did Vince McMahon gain power again? Was Triple H okay with this? Did the Board of Directors ever watch a single episode of Raw that AJ was on? If so, in what way did they feel AJ was qualified to take over?
None of these questions were ever answered, and AJ went from being a fun, compelling TV character to a boring authority figure within a short time.
Along the way, she's had a Vickie Guerrero feud dropped, had an Executive Coach for a week and appears to change from heel to face depending on what segment she is.
The whole thing has been bad and quite awkward. For the sake of AJ's career, hopefully it ends soon.
#9: Cody Rhodes. Must. Remove. Mask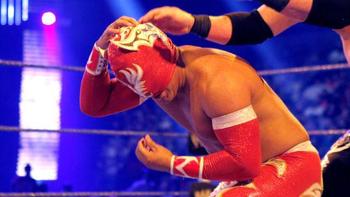 photo from tumblr.com/tagged/cody-rhodes
Cody Rhodes really had it out for Sin Cara.
Why? Because he thought he was ugly and wanted to prove it.
That was it.
Out of nowhere, Rhodes kept trying to remove Sin Cara's mask during one of their matches. He just kept on trying over and over again to no avail.
The problem is, WWE didn't give the fans any reason to care.
There was no historical context for what masks mean to luchadors, or what it personally means to Sin Cara. Actually, Sin Cara never talks, so it was hard to get into the story at all.
Rhodes later backed up his claims of Sin Cara's hideous face with an artist rendition that he showed multiple times. It wasn't funny, and it didn't draw any real heat either.
The angle hasn't really gone anywhere the past few weeks. Maybe WWE finally realized it wasn't working. Maybe we'll never find out if Sin Cara is ugly or not, and that sounds just fine.
#8: Brock vs. Cena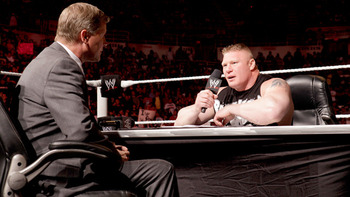 photo from wwe.com
What made Brock vs. Cena pretty awkward was how rushed it was.
What could have been a WrestleMania main event was instead the headlining match on Extreme Rules.
WWE hadn't brought back Paul Heyman as Brock's mouthpiece yet, so he was left to do all of his own promos. While he's a decent talker, the content of what he said was pretty bad.
In Brock's lengthiest promo, they had him basically hold up the show until John Laurinaitis gave into his demands. There was no reason for the Raw GM to be involved in the feud, but it was done anyway.
Brock demanded a bunch of ridiculous incentives be added to his contract, including that Raw would be renamed to Monday Night Raw: Starring Brock Lesnar if he won.
They basically gave away the finish of the match right there, as WWE wasn't going to rename their flagship show for any length of time.
In the end, WWE probably threw buckets of money away by not hyping this match more and made it feel a lot less special than it should have.
Oh well, there's always next time when one of the most famous athletes in the world, who can actually wrestle, agrees to come into WWE for a match.
#7: Eve vs. Teddy Long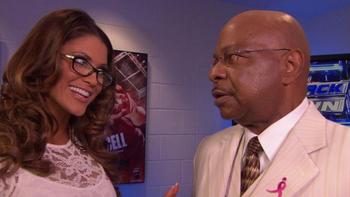 photo from wwe.com
Anyone in the world can see that Eve is pure evil (and dare I say pretty good looking), except for Booker T.
Each week on SmackDown, Booker seems to buy into whatever Eve is selling, and instead blames her obvious shenanigans on Teddy Long.
Where exactly is this feud headed? A match? Very doubtful, but it does get more TV time than most undercard wrestlers do.
Recently the feud heated up a notch. Kaitlyn was attacked backstage by someone mysterious. We found out later that the attacker was blonde.
Can we see the footage? Oh, we can't? OK then.
Now we're supposed to believe that it was someone in a blonde wig, maybe it was even Teddy Long wearing the wig. Does anyone care?
Why bother watching a match when we can see three people (two who never wrestle) fight over power on WWE's second-rate show instead?
#6: Two Guys, a Girl and a Sock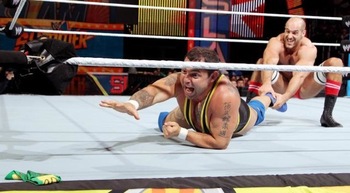 photo from wwe.com
I'll do my best to explain this one.
Santino's sock hand fell in love with Aksana. Aksana didn't love the sock hand back. When the sock was on Santino's hand, it seemed to give him super powers. Without the sock, Santino was impotent.
This was a story presented to WWE audiences in 2012.
It went on for weeks (it felt like years), as Cesaro would fight Santino, and at some point in the match, Santino would become distracted by Aksana. Well, the Cobra was distracted and Santino couldn't control it. Every match this happened.
Apparently Santino's right hand has a mind of his own, but only when he puts the sock on it.
The story mercifully ended when Cesaro dumped Aksana with no storyline build up and no follow up. Actually there was no end to the feud. Maybe it's still even happening, who knows?
Anyway, Santino regained the use of The Cobra sock with no explanation. Don't ask why. Sometimes it is just best to let things go.
#5: Embrace the Hate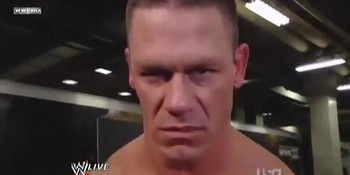 photo from m.cltampa.com
When Kane returned from injury, he was on the warpath. He set his sights on perennial boy scout John Cena.
Cena was being booed by half the crowd every week. An average man would have snapped, but not Cena. He wouldn't even admit that the fans were getting to him.
Kane tried to explain to Cena that it was best to just embrace the hate.
The story became more unnecessarily complicated and comical by the week. Zack Ryder and Eve were both added to the mix for good measure.
Cena then made out with Ryder's girlfriend right in front of him while he was in a wheelchair and a neck-brace. He was literally like five feet away.
Who are we supposed to hate again?
Ryder then went on to be horribly beaten by Kane in more ridiculous ways each week. It didn't really build to any real heat between Kane and Cena though, which is what it was meant to do. It just ruined Ryder's character by making him look so incompetent.
After the big match between Kane and Cena, the entire story was dropped. Cena moved on to fight The Rock at WrestleMania and Kane moved on to Orton.
These days, Kane himself doesn't embrace the hate anymore as he's too busy being the tag team champions.
#4: Big Show Sad. Then Big Show Mad.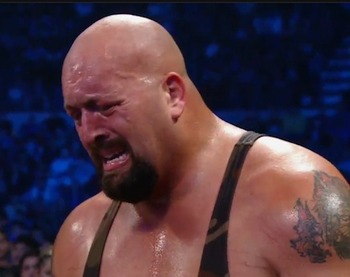 photo from prowrestlingroundup.com
The Big Show was fired. Fans everywhere rejoiced, but sadly it wasn't real.
In a completely non-bullying way, The Big Show made fun of Laurinaitis' voice backstage. Johnny found out and was upset. He had a few choice words for the giant.
After Show profusely apologized for his actions, Laurinaitis decided to can him anyway.
Like a true tough man who you'd want to pay money to go watch at an arena, Show cried his eyes out. Don't worry, he didn't stay away for long. He later joined up with the man who fired him.
When Show returned, he was angry because no one stood up for him while he was being fired. He called out John Cena personally for it. Hey, he did have a good point there.
Wait, who were we supposed to hate again?
The worst part of the feud was when Big Show interfered on Laurinaitis' behalf at Over the Limit. Cena could have beaten Laurinaitis any time he wanted to, but instead toyed with him for nearly 20 minutes.
Basically, Cena looked like an idiot for losing to his boss.
The next night, Cena claimed he would have lost anyway because Big Show would have interfered had he tried to pin Laurinaitis any sooner. Apparently, the Big Show can run down to the ring, slide in and break up a pin-fall all within three seconds.
The announcers then had to cover up the other plot holes. They said that Big Show verbally agreed to a contract over the weekend (but didn't actually sign the contract), as the Board of Directors previously stated that no wrestler on the roster could interfere on Laurinaitis' behalf.
This story wasn't too well thought out. Because of this, it wasn't too good either.
#3: The GM Is Revealed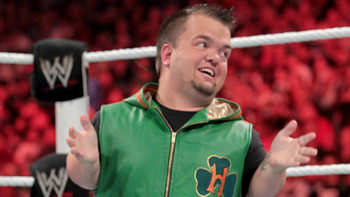 photo from prowrestlingroundup.com
After months of not mentioning the Anonymous Raw General Manager in any capacity, WWE decided to pull back the curtain and reveal who it was.
Maybe they should have kept this mystery unsolved.
Yes, in a hilarious twist of fate, it wasn't Kevin Nash, Jim Ross, Triple H, Paul Heyman or any of the other suspects who fans speculated upon, it was Hornswoggle.
Are you laughing yet?
WWE wasted hours of TV time on this angle, only to drop it and then reveal it again out of nowhere. It was Sherlock Santino himself, who went on the case to catch the real culprit.
For fans that speculated, paid attention or looked for clues as to who was the Anonymous GM, well their time was wasted.
You can thank Vince McMahon's short attention span, lack of caring about details and terrible sense of humor on this gut buster of a reveal.
#2: John Cena vs. Michael Cole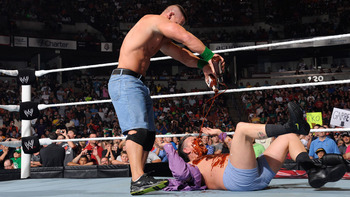 photo from wwe.com
You should Be a STAR and not be a bully. Unless someone smaller than you is annoying, then feel free to beat them senseless.
That is the lesson that WWE taught us when John Cena faced off against the mighty Michael Cole.
On the June 4 Raw, John Cena had the chance to face anyone he wanted on the entire roster. He decided to choose a guy who posed no physical danger to him whatsoever.
He picked an announcer.
Not only did Cena then proceed to beat up Michael Cole, but he stripped him down to his underwear for some reason never explained. For good measure, he then poured J.R.'s barbeque sauce (which Jerry Lawler conveniently had on hand) all over him.
It was awkward, disturbing and made fans questions why they still watch wrestling.
Even after this beating, Cole still didn't turn face. It wasn't until the real life heart attack of Jerry Lawler that Cole finally stopped doing his heel schtick.
So in the end, this match was pointless, and fairly horrifying to watch to say the least.
#1: Natalya Blasts the Pants Cannon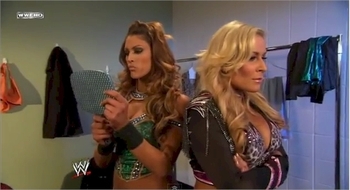 photo from jasonrivera.com
Natalya Neidhart is beautiful, part of a legendary wrestling family, a former Divas champion and is possibly the best women's wrestler in the entire company.
Oh, and apparently she has uncontrollable flatulence.
During the early part of the year, we were treated to some odd backstage segments with Natalya. All of these skits ended with an obscene noise happening out of nowhere.
Natalya was the source of the vicious stink bombs, and all of the other wrestlers would act ridiculously overly disgusted when they went off. They were apparently so vicious that it caused Santino to vomit and may have actually killed Hornswoggle.
This may be the cruelest gimmick ever handed to a wrestler in WWE history. Not even Lita, Trish Stratus or Sable could have made this thing work.
WWE showed how cutting edge it was with this storyline. Children everywhere may have enjoyed it, but for everyone else, it was truly an embarrassing time to be a wrestling fan.
What was the pay off to this story? I don't know. It was never explained, but at least Vince McMahon probably got a few chuckles out of it.
Keep Reading