CM Punk, Ryback, Attitude Era Draft, Latest WWE News & Rumors on Ring Rust Radio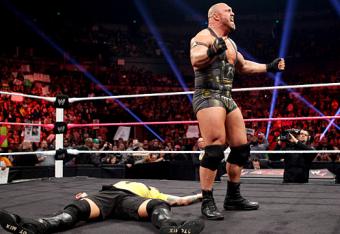 Photo courtesy of WWE.com

Ring Rust Radio is the best wrestling show on the airwaves, and this week was no different. With strong opinions on CM Punk, Ryback, the Ring Rust Radio Attitude Era Draft and more, this is where you need to get all of your weekly WWE nuggets.
Bleacher Report featured columnists Michael Cahill, Brandon Galvin, Mike Chiari and Donald Wood give the lowdown on all things going on in the wrestling world.

With another unpredictable episode of Ring Rust Radio in the books, you can't afford to miss another second of the action. Catch us LIVE every Tuesday at 6 p.m. ET (some language NSFW) or follow us on Twitter @RingRustRadio.
We may just read your questions and comments LIVE on the air. Visit our new website at RingRustRadio.com and you can also email us here: RingRustRadio@Yahoo.com.
(Some language NSFW)
Upcoming Guests/Events
Oct. 23 - Attitude Era Draft card reveals
Oct. 30 - Bleacher Report Video Game Expert Brian Mazique
Ryback to Face CM Punk at Hell in a Cell
Pretty much every WWE fan was expecting to see CM Punk defend his WWE Championship against John Cena at Hell in a Cell, but we were thrown a curveball on Monday as Cena stepped aside in favor of Ryback.
It appeared as though Ryback was a solid Plan B all along and the WWE will have to go with him. We can only speculate at this point, but Ryback's selection would seem to mean that Cena's elbow simply hasn't healed as quickly as hoped.
Question on Everybody's Mind: Was Ryback the Right Choice?
It wouldn't be unfair to call Ryback the hottest thing going in the WWE today as he has been getting massive crowd reactions and is constantly being talked about. The WWE seemed to be building toward Punk vs. Cena again based on the finish at Night of Champions, but Ryback is going to receive a chance to possibly solidify himself as a main-eventer instead.
A lot of people seem eager to see what Ryback can accomplish on the big stage, but does that mean that the WWE was right to give him a WWE Championship match so soon?
Ring Rust Radio's Take
Ryback's inclusion is interesting for sure, but there is too much that can go wrong at this point.
Either Ryback is going to win the WWE Championship, which would be the wrong decision, or he is going to lose to Punk and lose much of his mystique in the process as his undefeated streak goes by the wayside. The likely scenario is that Brock Lesnar interferes on Punk's behalf, but a loss is a loss, no matter how you slice it.
It's still possible that an attack angle is crafted that allows Cena to get in the match if he's ready, but it does look like we'll be getting Punk vs. Ryback.
Brandon Galvin brought up a great point on the show, saying that Punk vs. Cena should have been announced in order to draw more pay-per-view buys, and then he could have been laid out just before the match and replaced with Ryback. It would have been deceptive, but it probably would have been more lucrative as well.
Rumor Mill: John Cena's Affect on PPV Buy Rates from Wrestling News Source (via Wrestling Observer)
TNA Bound For Glory Aftermath
TNA's biggest pay-per-view of the year took place on Sunday as Bound For Glory emanated from Phoenix, AZ. The crowd was certainly hot for the event and it was great to see a venue other than the Impact Zone, but there are differing opinions about whether that actually led to a good show.
There were some decent matches, however, the poor build-up put Bound For Glory in a hole that was tough to dig out of.
Question on Everybody's Mind: Was Bound For Glory a Quality PPV?
Bound For Glory is supposed to be TNA's version of WrestleMania, so the show needs to be judged with that in mind. Bound For Glory should have been head and shoulders above anything else that TNA has produced over the past year. Perhaps some fans believe that TNA did, in fact, deliver, but Ring Rust Radio's panel felt like the event ultimately fell flat.
Ring Rust Radio's Take
As much as it may seem like Ring Rust Radio piles on TNA, it is very difficult to defend Bound For Glory. In a vacuum, matches like Rob Van Dam vs. Zema Ion, Samoa Joe vs. Magnus and Jeff Hardy vs. Austin Aries were good, but a lack of build, poor booking decisions or sometimes even both marred many bouts throughout the night. The biggest theme of the night was TNA booking out of fear.
I firmly believe that RVD and Hardy were given titles to prevent them from going to WWE and Devon was revealed as a member of Aces & Eights for the same reason. The Devon reveal was surprising, but it wasn't impactful at all, so that certainly came up short. Also, if Aries is going to be the next face of the company, then he should have come out on top at the biggest event of the year.
This is the second year in a row where TNA had the chance to elevate a younger star, with Bobby Roode serving as an example last year, and the company has twice given the win to a guy who simply didn't need it. TNA is in shambles and Bound For Glory only proved that even further.
RRR Attitude Era Draft
A couple months ago, Ring Rust Radio decided to conduct a draft in which we selected from the current pool of WWE, TNA and ROH stars. After that draft, we each came up with our own fantasy cards and allowed you, the fans, to vote on who did the best job. It was so well received that we decided to do it again, but this time we utilized the Attitude Era of 1998-2001.
Anyone who competed in WWF, WCW or ECW was eligible to be selected and it made for a very entertaining draft. Each of us will formulate our respective fantasy cards over the next week, but here is what everybody's roster looks like currently.
Question on Everybody's Mind: Who Did Everyone Draft?
WWF (Brandon Galvin)
Owner: Vince McMahon
Steve Austin
Bret Hart
Kurt Angle
Owen Hart
Chris Benoit
Mankind
Raven
X-Pac w/ Tori
Ken Shamrock
The Acolytes (Faarooq & Bradshaw)
Harlem Heat (Booker T & Stevie Ray)
Val Venis
Shane Douglas w/ Francine
Sabu w/ Bill Alfonso
Goldust w/ Terri Runnels
Impact Players (Justin Credible & Lance Storm) w/ Dawn Marie
Rhino
Too Cool (Grandmaster Sexay & Scotty Too Hotty)
Rikishi
D'Lo Brown
Yoshihiro Tajiri
The Godfather
Steve Corino
Super Crazy
The Gangstas (New Jack & Mustafa)
ECW (Donald Wood)
Owner: Paul Heyman
Bill Goldberg
Randy Savage
Rob Van Dam
Hardy Boyz (Matt & Jeff) w/ Lita
Dudley Boyz (Bubba Ray & D-Von)
Taz
Diamond Dallas Page w/ Kimberly Page
Jeff Jarrett w/ Debra McMichael
Ultimate Warrior
Arn Anderson
British Bulldog
Bam Bam Bigelow
Terry Funk
Vader
Ted DiBiase
Mike Awesome
Masato Tanaka
Jerry Lynn
Tommy Dreamer w/ Beulah McGillicutty
Mark Henry
Fit Finlay
Jim Neidhart
2 Cold Scorpio
The Great Muta
Kevin Sullivan
nWo (Mike Chiari)
Owner: Eric Bischoff
Hollywood Hulk Hogan
The Undertaker w/ Paul Bearer
Shawn Michaels
Sting
New Age Outlawz (Road Dogg & Billy Gunn)
Rey Mysterio Jr.
Kevin Nash
Curt Hennig
Legion of Doom (Animal & Hawk)
Big Show
Dean Malenko
William Regal
Juventud Guerrera
Perry Saturn
The Sandman
Steve Blackman
Al Snow
Billy Kidman w/ Torrie Wilson
Gangrel w/ Luna
Vampiro
Ultimo Dragon
Stevie Richards
Kaientai (Taka Michinoku & Sho Funaki)
Psychosis
La Parka
WCW (Michael Cahill)
Owner: Vince Russo
The Rock
Triple H w/ Stephanie McMahon
Edge & Christian
Ric Flair
Chris Jericho
Eddie Guerrero
Scott Hall
Steiner Brothers (Scott & Rick)
Lex Luger
Jake Roberts
Sid Vicious
Rowdy Roddy Piper
Shane McMahon & The Mean Street Posse (Pete Gas, Joey Abs & Rodney)
Big Boss Man & Bull Buchanan
Headbangers (Mosh & Thrasher)
Holly Cousins (Hardcore & Crash)
Konnan
Spike Dudley
Test and Albert w/ Trish Stratus
Chyna w/ Miss Kitty (The Kat)
Chavo Guerrero Jr.
Buff Bagwell
Marc Mero w/ Sable
Ahmed Johnson
Ring Rust Radio's Take
Who drafted the best Attitude Era roster?
It is important to note that two trades have been made since Tuesday's draft. ECW sent Jerry Lynn, Mark Henry, Fit Finlay, The Great Muta, 2 Cold Scorpio and Kevin Sullivan to WCW for Lex Luger. Also, WCW traded Kane and Big Boss Man to nWo for Big Show.
With or without those trades, everyone certainly has an interesting roster. Feel free to place your vote for who you believe did the best job in the draft, but that won't be the end of RRR's Attitude Era Draft.
Keep an eye out next week for an article that will reveal each of our fantasy cards using our rosters so we can find out once and for all who is truly the king of the Attitude Era.
Check back for more on World Wrestling Entertainment as it comes, and visit Bleacher Report's Wrestling Page to get your fill of WWE/TNA. For more Wrestling talk, listen to Ring Rust Radio for all the hottest topics.

This article is
What is the duplicate article?
Why is this article offensive?
Where is this article plagiarized from?
Why is this article poorly edited?