The SEC matchup between the South Carolina Gamecocks and Florida Gators this weekend will play a huge role in who comes out of the SEC East. It will help clear up the SEC Championship picture and could play a part in the BCS National Championship as well.
There is no question this game is big for college football this season and will play a part in the standings, but this matchup between these two teams is much bigger than that. This game will either make or break head coach Steve Spurrier and could determine how quickly this South Carolina program becomes a national powerhouse.
South Carolina had its best season in program history last year, winning 11 games, winning a bowl game for the first time since 2006 and finishing the season ranked ninth in the AP Poll.
Despite returning one of the more talented teams in the country and getting back a healthy, top-notch running back in Marcus Lattimore, South Carolina was still considered disrespected in the preseason poll in 2012.
The Gamecocks remained at No. 9, even behind programs such as Michigan and Florida State, teams that either had bigger question marks or hadn't proved as much as South Carolina did the year before. Even as the team began the season with six straight victories, many weren't quite ready to believe in South Carolina.
And then when the loss occurred to LSU last weekend, many were given the reason to doubt this program even more.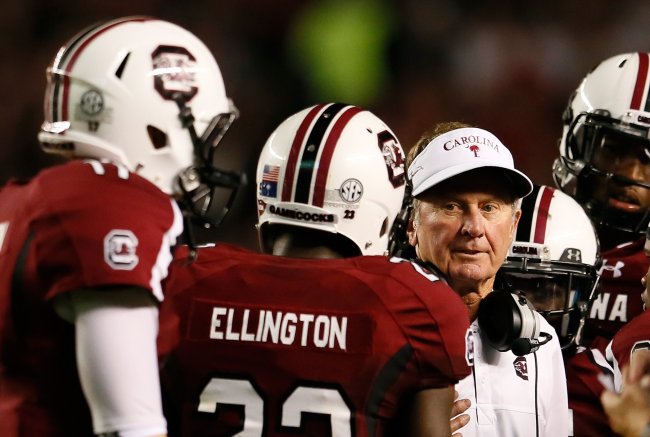 Kevin C. Cox/Getty Images
That's because South Carolina hasn't accomplished much throughout its history in the SEC to be considered a powerhouse that deserves respect. This program has never appeared in a BCS bowl game, has yet to win an SEC title and has a 5-12 all-time bowl record.
Although the SEC has had college football in a stranglehold for the past several years, nobody looks at South Carolina the same way they look at an Alabama, LSU, Florida or even Tennessee. We are talking about a program that just won the most games and finished in the Top 10 of the AP Poll for the first time in program history.
It is hard to believe in a program that has never been here before or proved much of anything to the rest of the college football world. Nobody cares if Lattimore is the best running back in the country or Jadeveon Clowney is going to become the next Bruce Smith.
Until the Gamecocks start knocking off powerhouse programs and can consistently remain in that national championship spotlight, the Gamecocks will always be an afterthought in the sport of college football.
Which brings me to head coach Steve Spurrier, who is committed and in the process of turning this program around. Currently in his eighth year at South Carolina, Spurrier struggled to get the ball rolling in the first few years but appears to have found some of that coaching magic he had in his back pocket.
Since 2011, the Gamecocks are a combined 17-3 and look like a program that can compete with anybody in the country, as the recruiting has drastically improved as well. The fans are even starting to take notice of the change that is going on, as the head coach mentioned during the 2012 SEC media days (via myfoxal.com):
A lot has changed at South Carolina in seven years. Yeah, I got a couple good friends that have been there for 30, 40 years and so forth. One of the guys said, We used to come to the ballpark hoping for a good game. If we're playing Florida, Georgia, Tennessee, we were just hoping for a good game, not get blown out. Now we sort of come to the ballpark thinking we're going to beat those guys. We're sort of mad if we don't.

I said, That's the way you're supposed to feel, mad or a little upset if you don't beat them.
But the truth is that this isn't the first time Spurrier has been able to turn a program around.
Back in 1990, he became the head coach of the Florida Gators, his alma mater, and quickly led the school to its first conference championship in 1991. A program that had a sketchy bowl history and had never won a national championship was soon competing year in and year out and has become the national powerhouse that it is today.
Spurrier left Florida with seven SEC East titles, 122 wins and a national championship he won back in 1996. He also laid the foundation for the program to be successful and go from barely making a bowl game to currently being ranked No. 2 in the latest BCS rankings.
Now the sides have shifted, and Spurrier is trying to build another program basically from the bottom up. He is certainly on his way, but he can take things one step further this weekend with a victory over the team where it all got started.
"Obviously Coach Spurrier winning a Heisman trophy here and his 12 years as head coach here will probably never be repeated," said Florida coach Will Muschamp, according to Charles Bennett of greenville.com.
"You look at six SEC titles and the 1990 season, had the best record in the SEC, and national championship (1996), and he really put Florida on the map as far as winning championships in football."
The matchup this weekend will play a role in who comes out of the SEC this year, but will play a much bigger role in determining the fate of the South Carolina program.