Penn State vs. Iowa: Complete Game Preview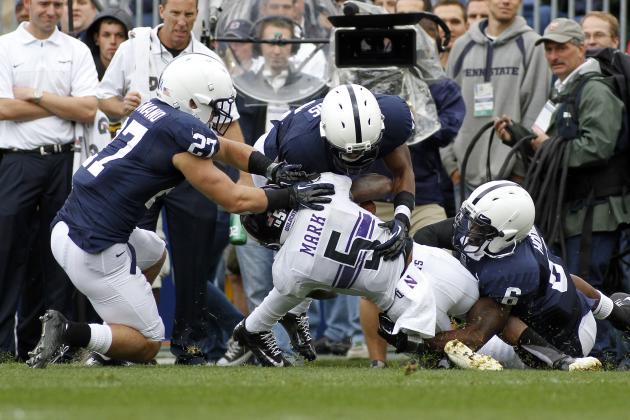 Justin K. Aller/Getty Images

Going into Saturday's matchup, Penn State and Iowa are almost in two completely different situations on the field, and yet they're kind of similar.
The Nittany Lions (4-2, 2-0 Big Ten) are coming off a bye week in which they allowed players like Bill Belton and Nyeem Wartman heal up.
The Lions headed into the bye following a thrilling and trademark victory over then-ranked Northwestern, 39-28. With that, they extended their winning streak to four straight games and should be abound with confidence.
On the other hand, the Hawkeyes (4-2, 2-0 Big Ten) should be feeling just "alright" about themselves at this point.
Although they're are coming off an overtime winner against Michigan State at Spartan Stadium, Iowa could probably be in a better position.
Not only did its offense sputter against a instantly-lowly Spartans (i.e. James Vandenberg), but also, its two losses against Iowa State and Central Michigan probably shouldn't have happened.
However, both teams are undefeated in the Big Ten thus far, and Saturday should be a grind-it-out bloodbath.
Let's take a look at the upcoming prime-time game.
Begin Slideshow

»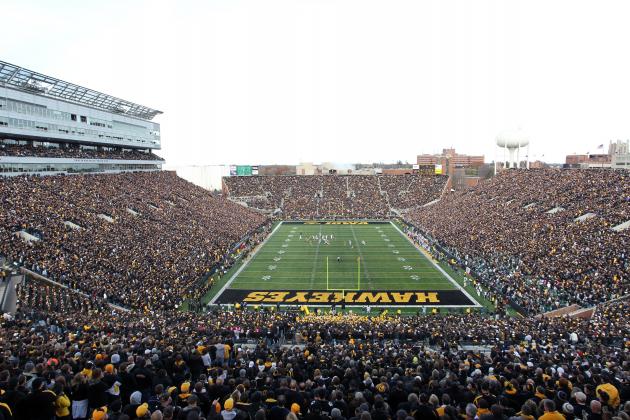 Reese Strickland/Getty Images

Who: Penn State at Iowa
When: Saturday, 8 p.m. (ET)
Where: Iowa City, Iowa
Stadium: Kinnick Stadium
TV: Big Ten Network
Radio: Hawkeye Radio Network and Penn State Sports Network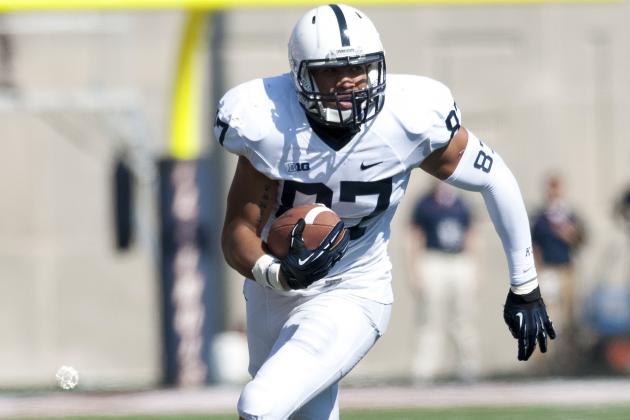 Bradley Leeb-US PRESSWIRE

Offense
QB: Matt McGloin
RB: Bill Belton / Zach Zwinak
WR: Allen Robinson
WR: Brandon Moseby-Felder
TE: Kyle Carter
TE: Matt Lehman
LT: Mike Farrell
RT: Adam Gress
RG: John Urschel
LG: Miles Dieffenbach
C: Matt Stankiewitch
Defense
DE: Deion Barnes
DE: Sean Stanley
DT: Jordan Hill
DT: DaQuan Jones
LB: Gerald Hodges
LB: Glenn Carson
LB: Michael Mauti
CB: Stephon Morris
CB: Adrian Amos
S: Stephen Obeng-Agyapong
S: Malcolm Willis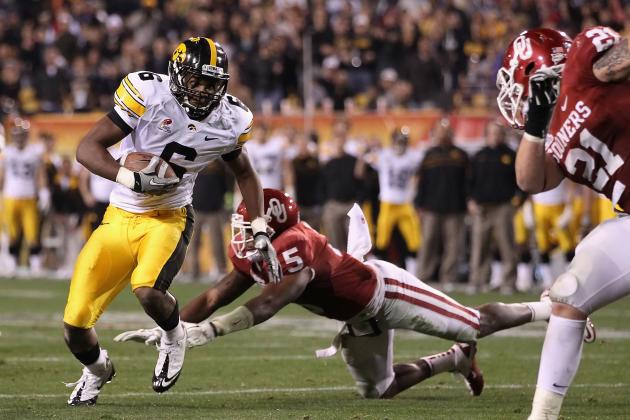 Christian Petersen/Getty Images

Offense
QB: James Vandenberg
RB: Greg Garmon
FB: Brad Rogers
WR: Kevonte Martin-Manley
WR: Keenan Davis
TE: C.J. Fiedorowicz
OT: Brandon Scherff
OT: Brett Van Sloten
OG: Matt Tobin
OG: Andrew Donnal
C: James Ferentz
Defense
DE: Joe Gaglione
DE: Dominic Alvis
DT: Steve Bigach
DT: Louis Trinca-Pasat
LB: Christian Kirksey
LB: Anthony Hitchens
LB: James Morris
CB: Greg Castillo
CB: Micah Hyde
S: Tommy Donatell
S: Tanner Miller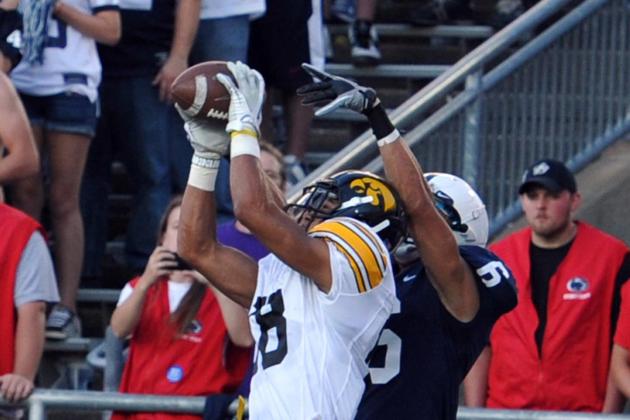 US PRESSWIRE

A win this Saturday would do wonders for both squads.
When you look at Penn State, who honestly thought that six games into the season, it'd be 4-2?
Historically, especially in the past decade, the Nittany Lions have been just dreadful against the Hawkeyes.
Since 2000, Penn State is 2-8 against Iowa (didn't play in 2005 and 2006).
Even more worrisome, the Lions haven't won a game in Iowa City since 1999, making their record at Kinnick Stadium 0-4 in the past decade or so.
So given that, a win at Iowa would be huge for the Lions, making their record a sterling 5-2 heading into their biggest game of the year, an Oct. 27 meeting with Ohio State.
Also, for those who are keeping tabs on Bill O'Brien's chances at National Coach of the Year honors, a win here would almost certainly solidify at least a .500 record by seasons end (an accomplishment in the eyes of many).
For the Hawkeyes, fans would love to see the home team pull out a win and further its record to 5-2.
Despite two painful non-conference losses, a win against the Lions would put them at 3-0 in the Big Ten, priming them for a cushy position in the conference elite.
The Legend Division is the better of the two in the Big Ten this year, with teams like Nebraska, Michigan, and Northwestern posting good, but not spectacular, seasons in 2012.
Considering this, the Penn State game could be a difference-maker for the Hawkeyes if they want to go to the Big Ten Championship Game at year's end.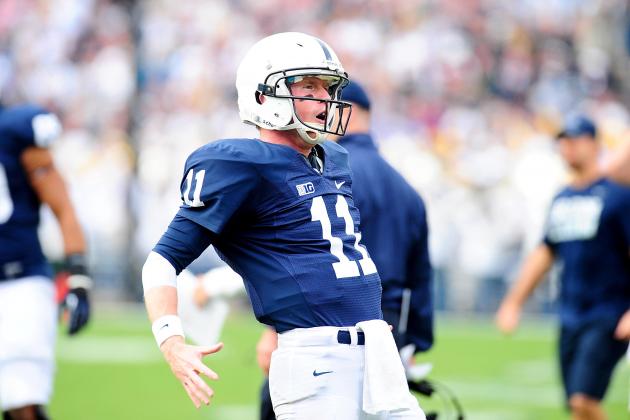 Evan Habeeb-US PRESSWIRE

Key Player: Matt McGloin
Yes, that is Matt McGloin stealing Aaron Rodgers' discount double-check move, but the way the former walk-on is playing, he can keep doing it if he feels like it.
McGloin's transformation from mediocre, unreliable signal-caller to one of the conference's best has been the most surprising thing to come out of the Big Ten all year.
The senior is posting pretty gaudy numbers: 1,499 passing yards, 248.9 yards per game (best in Big Ten) and 17 total touchdowns (12 passing, five rushing).
However, McGloin will need to be on his game this weekend against a Hawkeyes defense that's surrendered a little more than 17 points per game.
Also, the only road tests McGloin has faced this year has been at Virginia and Illinois—not exactly hostile crowds.
McGloin should expect the noise and a crazy crowd at Kinnick on a Saturday night, which will make it difficult to make play adjustments at the line of scrimmage in O'Brien's offense.
Don't expect McGloin to have the type of game he did against Northwestern, but he will need to keep limiting mistakes (only two INTs so far this season) and play efficient football under center.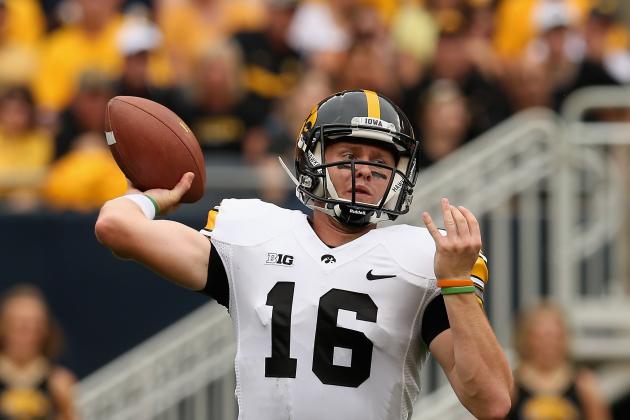 Jonathan Daniel/Getty Images

Key Player: James Vandenberg
So, it looks like Iowa running Mark Weisman will be out against the Nittany Lions on Saturday. Weisman is medically cleared to play, but it remains to be seen if Kirk Ferentz will play his banged-up back.
How important is Weisman to the Hawkeyes offense? On 100 attempts, he's pounded out 631 yards and eight rushing touchdowns.
With Weisman out, where will Iowa's offense come from?
Well, considering the secondary is the weakest and thinnest part of the Lions defense, it might be smart to sling the ball around the field with James Vandenberg.
Vandenberg, a senior, hasn't looked pretty in the pocket this year, throwing just two touchdowns compared with three picks.
Ranked at the bottom of the Big Ten's passers, Vandenberg is coming off a loathsome game against the Spartans (134 passing yards, no touchdowns, one INT).
Despite this, the signal-caller has been efficient over the course of the season with a 106.6 passer rating and a 57.4 completion percentage.
Look for Vandenberg to get back to his 2011 form and try to spread the field against the Lions with the help of wideouts like Keenan Davis.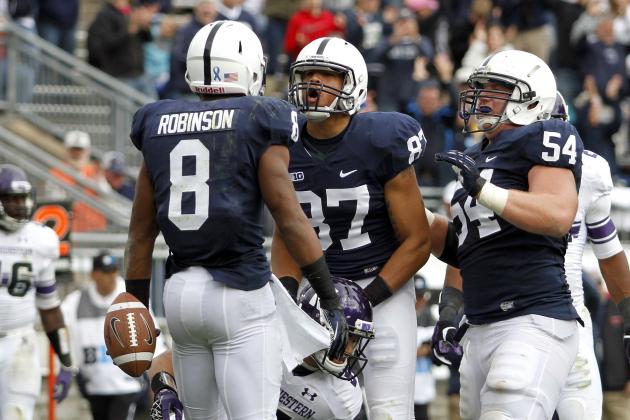 Justin K. Aller/Getty Images

Penn State will win this game if it maintains a balanced offense.
Heading into Iowa City and pulling out a win will be tough, but McGloin and company will move to 5-2 if they're able to keep their composure and poise on the road in a night game.
Look for Penn State to come out and try to establish the running game against a team that's allowed over 150 yards on the ground per game.
If Bill Belton can hold onto the ball and Zach Zwinak is able to pick up extra yards after contact, expect the Lions to come up with short, manageable third downs, something that's absolutely crucial on the road in college football.
With Iowa's Mark Weisman most likely out, look for Lions defensive end Deion Barnes to pin his ears back and create havoc.
And considering it's become a science and not gamble, don't be surprised if Bill O'Brien goes for it on fourth down a few times and succeeds.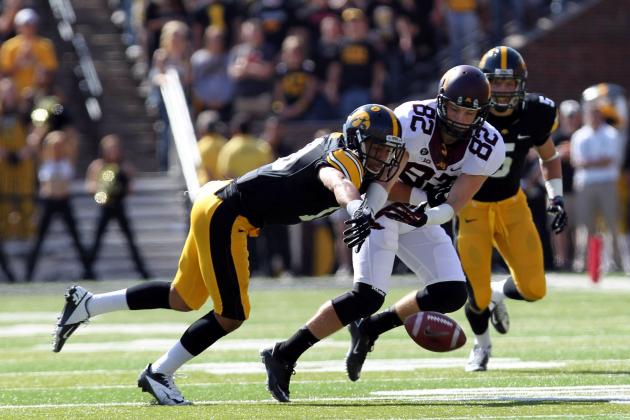 Reese Strickland-US PRESSWIRE

With Weisman out, Vandenberg and Iowa's defense are going to have to step it up.
As previously mentioned, look for Vandenberg to continue passing efficiently, but also taking some deeps shots down the field against Stephon Morris and inexperienced but emerging cornerback DaQuan Davis.
Ranking 102nd in passing defense, Micah Hyde and the Iowa corners will need to tighten up against Allen Robinson and Penn State's plethora of tight ends.
If the Hawkeyes are able to keep the Lions' passing attack in check and take away the run game, Vandenberg will be able to just manage the game and not force plays.
Also, make sure to keep an eye on the Iowa crowd. A night game at 8 p.m. in Kinnick Stadium? Not that fun for the away team.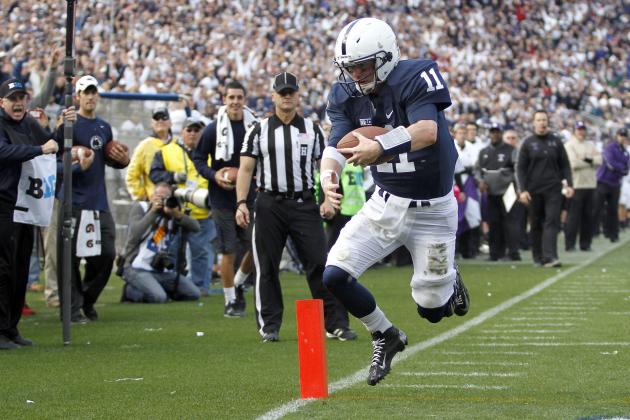 Justin K. Aller/Getty Images

While James Vandenberg has the physical tools and mindset to manage a game, I think that potentially losing Mark Weisman will be too much for the Hawkeyes to overcome.
With the Lions riding high right now, Matt McGloin is leading the charge, and will do so in Iowa City.
I think that the Lions offense will come out rattled in Kinnick and McGloin may turn the ball over early, but look for the senior to have a stellar second half to lead the Lions to a victory.
Prediction: Lions 24-20