Winners and Losers of the 2013 SEC Football Schedule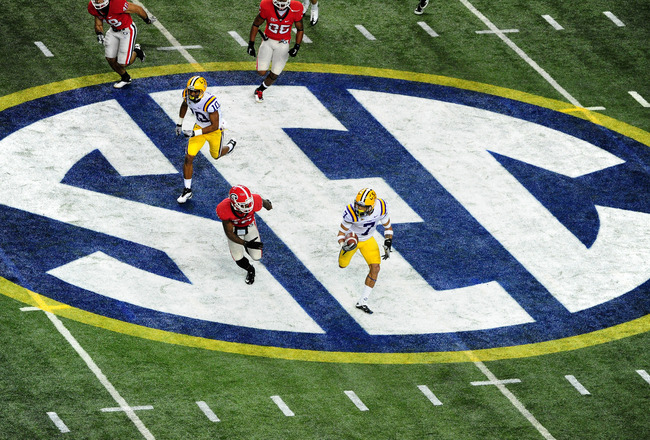 Scott Cunningham/Getty Images
The SEC already voted on keeping its 6-1-1 format that features six division games, one permanent cross-division rivalry and one rotating cross-division game when the format was voted on in June at the SEC spring meetings.
We also knew that Arkansas and South Carolina were ditching each other as permanent cross-division rivals in favor of Missouri and Texas A&M, respectively.
We found out on Thursday that those permanent cross-division games won't be implemented until at least 2014, as the SEC has announced its 2013 conference schedule.
Who are the winners and losers of the 2013 SEC football schedule? Let's take a look in this slideshow.
Winner: Alabama Crimson Tide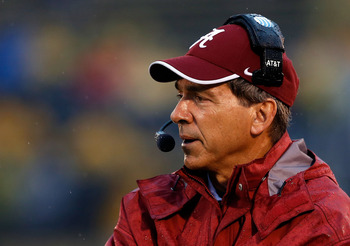 Alabama head coach Nick Saban
Jamie Squire/Getty Images
Alabama is in the driver's seat for the 2012 BCS national championship, and if the 2013 SEC schedule is any indication, a three-peat isn't outside of the realm of possibility.
The Crimson Tide will open with Virginia Tech in the Chick-fil-A Kickoff Game and open SEC play two weeks later at Texas A&M. That will be Alabama's toughest SEC road game by far.
Alabama will travel to Kentucky on Oct. 12 before closing the SEC season on the road at Mississippi State on Nov. 16 and at Auburn on Nov. 30. While the Bulldogs are 6-0 this season, that's not exactly a tough road slate.
The middle of the season features Arkansas, Tennessee and LSU all coming to Tuscaloosa to play. Not a bad deal if you can get it.
Loser: Arkansas Razorbacks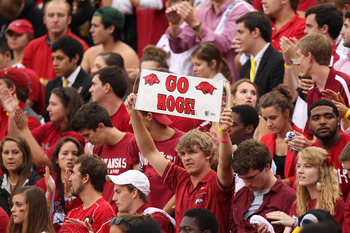 Nelson Chenault-US PRESSWIRE
While Alabama got a relatively easy SEC road draw in 2013, the Arkansas Razorbacks were dealt a bad hand.
How does this October sound? Oct. 5 at Florida, Oct. 12 vs. South Carolina and Oct. 19 at Alabama.
It sounds like the Hogs will need to take a break after running that gauntlet, which they will in the final week of October.
Regardless of who the coach is, the loss of quarterback Tyler Wilson and wide receiver Cobi Hamilton was going to make the 2013 season a rebuilding season anyway. Throwing in a new head coach and a brutal October stretch doesn't help matters.
Buckle up, Razorbacks—it's going to be a bumpy ride.
Winner: Steve Spurrier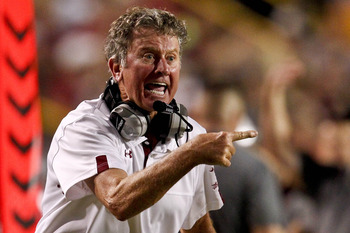 South Carolina head coach Steve Spurrier
Derick E. Hingle-US PRESSWIRE
South Carolina head coach Steve Spurrier is never one to mince words, and lately the Georgia Bulldogs have been in his crosshairs.
In April, Spurrier expressed his disappointment to ESPN.com that his team's game vs. South Carolina was moved to midseason because of Georgia's seemingly annual early-season suspensions. Then at SEC Media Days in July, Spurrier expressed his dismay that Georgia drew Ole Miss as its rotating SEC West opponent, while his Gamecocks were forced to travel to LSU.
Maybe Spurrier's foot-stomping paid off, because not only did Georgia draw LSU out of the SEC West, South Carolina's game with the Bulldogs was moved back to Week 2, when they typically have several players suspended.
South Carolina's home schedule isn't exactly star-studded, with Vanderbilt, Kentucky and Mississippi State making the trek to Columbia before the Gamecocks close SEC play on Nov. 16 vs. Florida. But the Head Ball Coach did get the "Suspension Bowl" moved back to Week 2, which I'm sure will please him.
Loser: Georgia Fans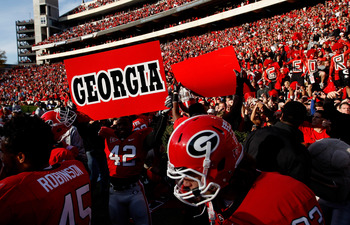 Kevin C. Cox/Getty Images
Georgia's early-season matchups with South Carolina and LSU between the hedges will be a nice way to start the season, but the Bulldogs better enjoy them, because SEC football won't last long in Athens.
After the Tigers visit Athens on Sept. 28, there will only be one SEC game played at Sanford Stadium between then and Nov. 23 (Missouri on Oct. 12).
One SEC home game in nearly a two-month span.
The reason is simple: Georgia's game vs. Auburn that should have been played in Athens based on the usual rotation will be played on the Plains in 2012 and '13.
Georgia got the short end of the stick in 2013, but considering how easy its SEC schedule was in 2011 and is this season, I suppose that's karma.
Enjoy September, Dawg fans, because it's the most SEC fun you'll have in the Classic City in 2013.
Winner/Loser: LSU Tigers
LSU RB Jeremy Hill
Ronald Martinez/Getty Images
LSU's cross-division opponents will make an SEC title very difficult.
The Tigers face Florida, their permanent cross-division rival, in Baton Rouge but must travel to Georgia to face a Bulldog team that will likely be in contention for the SEC East title.
LSU opens the SEC season with five straight games: Sept. 21 vs. Auburn, Sept. 28 at Georgia, Oct. 5 at Mississippi State, Oct. 12 vs. Florida and Oct. 19 at Ole Miss.
If they can survive that stretch—and that's a big "if"—then look out, SEC.
LSU has bye weeks the week immediately prior to facing Alabama and immediately following the trip to Tuscaloosa.
That will allow the Tigers to go all out in preparation for the Tide and then heal up for a week before the rest of the season.
Not a bad setup, but surviving that early-season stretch will be tough.
Loser: Auburn Tigers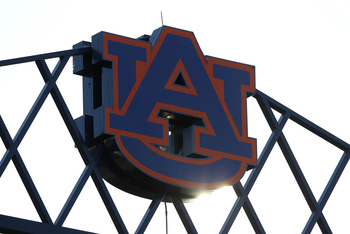 Mike Zarrilli/Getty Images
While Auburn will benefit from having "Amen Corner" (Georgia and Alabama) at home in 2013, getting to that point will be a bit of a challenge.
The Tigers will play at Texas A&M on Oct. 19, take a week off, visit Arkansas on Nov. 2, travel to Tennessee on Nov. 9 and then host Georgia on Nov. 16.
That's just mean.
Couple that with the fact that the Tigers may be breaking in a new coach, or at the very least a new offense, in 2012, and that makes the stretch run doubly difficult.
Winning on the road in the SEC isn't easy, and if Auburn wants to go into its final two SEC games on a hot streak, it better learn how to win on the road.
Loser: Tennessee Volunteers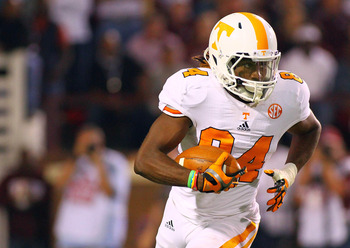 Tennessee WR Cordarrelle Patterson
Spruce Derden-US PRESSWIRE
Whether it's Derek Dooley or someone else roaming the sidelines on Rocky Top in 2013, things won't be easy out of the gate.
The Vols' first four SEC games are at Florida, vs. Georgia, vs. South Carolina and at Alabama all before November.
Dooley or not, that sounds like an 0-4 start in the SEC. The remaining four SEC games for the Vols (at Missouri, vs. Auburn, vs. Vanderbilt and at Kentucky) all take place in November, but the early-season gauntlet will test the patience of Vol Nation.
Keep Reading