10 Signature Post-Fight Celebrations in MMA Today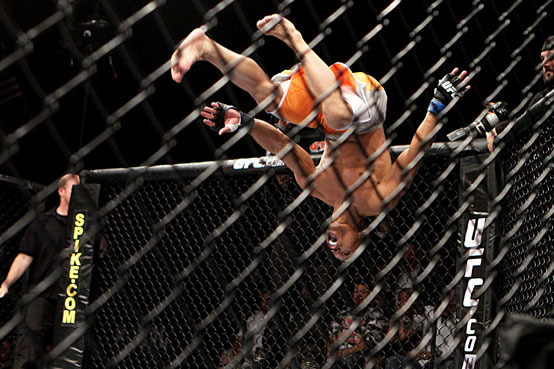 Photo credit: Tracy Lee for Yahoo! Sports
Would that the average desk jockey could douse himself in coffee every time he or she successfully met a deadline. The heightened morale would far outlast the first-degree burns. Would that we could vault atop our desks and shake our fists at the sky upon completion of a seamless PowerPoint presentation! That's the kind of world I want to live in.
Maybe that's why I enjoy a good post-fight celebration so much. I celebrate a good celebration. Just because "it's a business" doesn't mean people shouldn't enjoy their work.
Many of the classic post-fight celebration practitioners are gone. Sadly, we'll likely never see Tito's grave digger or Liddell's high-octane revelry again. Good thing, then, that we have a new garde of revelers.
Here are the 10 best signature celebrations among active fighters.
Begin Slideshow

»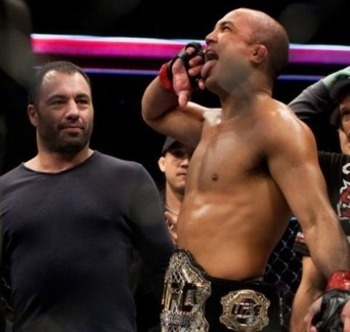 Photo credit: URDirt.com
This one, in which B.J. Penn licks his opponent's blood off his gloves, is certainly worth noting. He did it after beating Sean Sherk and Joe Stevenson. It might be the most iconic post-fight moment ever.
Hey, maybe I'm just not hardcore enough. To me, consuming the blood of your vanquished opponent is just a bit, eh, familiar. Even my Roman gladiator friend thought it was a little over the top. Personally, I'm not even sure I'd classify it as a celebration.
As a capper, Penn once said in an interview that "I have got to stop doing that." Are those the words of a man taking pride in his handiwork? No.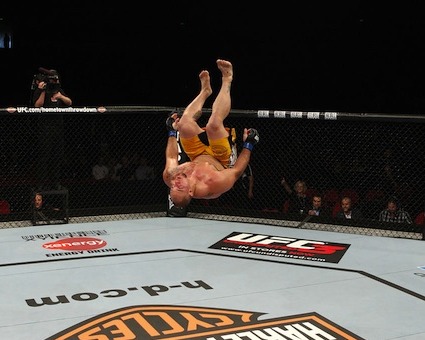 Photo credit: Josh Hedges/Zuffa LLC/Zuffa LLC via Getty Images
Shawn Jordan landed a standing backflip after pounding out Oli Thompson back in March. Not bad for a heavyweight.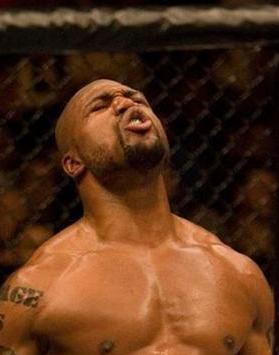 Photo credit: Lexani Tires/UFC
It's simple, but so nasty. It's as signature as signature gets in the post-fight celebration realm.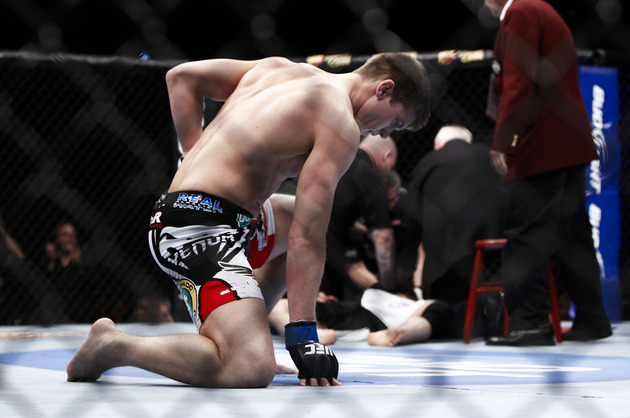 Photo credit: MMA Headliner
After notching a spectacular head-kick knockout on Dan Stittgen in his UFC debut, champion kickboxer Stephen Thompson did some kind of spinning, twisting flip thing in the center of the cage. He then capped it by landing in perfect Tebow position.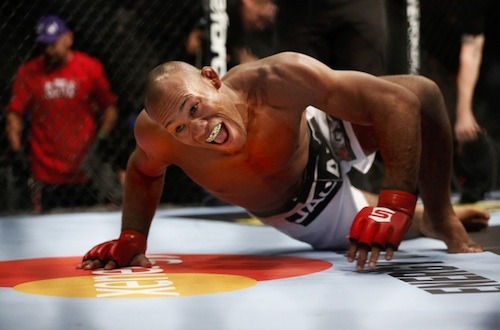 Photo credit: K.C. Alfred via U.T.
Ronaldo "Jacare" Souza acts out his Portugese nickname ("alligator") with his post-fight revelry, in which, you know, he acts like an alligator.
Here he is in August, tromping around all reptilian-like after knocking out Derek Brunson at Strikeforce: Rousey vs. Kaufman.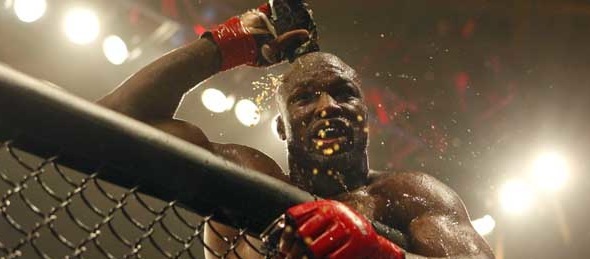 Photo credit: Cage Potato
This photo never fails to get me thinking about two things. Firstly, the stickiness that would necessarily accompany an energy drink shower. Secondly, the part during John Belushi's Joe Cocker impersonation from Saturday Night Live, when he pours the beer on himself (2:00 mark in the video if you care). Now I just feel old.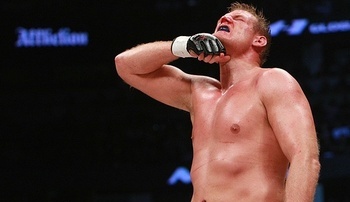 Photo credit: Sherdog
The throat slash is a signature celebration. As evidenced by his action figure, Thiago Silva is known for it, too. However, Josh Barnett gets top billing here for doing it a little longer.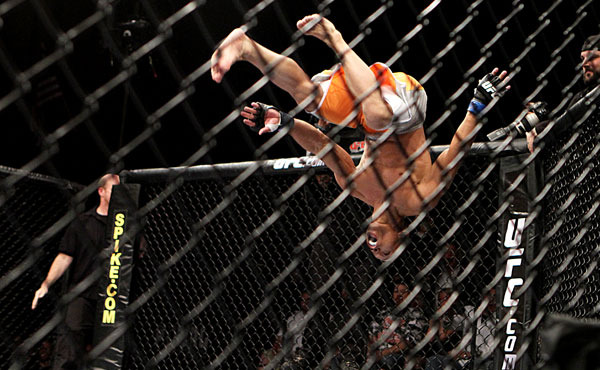 Photo credit: Tracy Lee for Yahoo! Sports
John Dodson might be one of the best pure athletes in the UFC, and he proves it every time he wins a fight. Dodson runs up one of the cage posts, launches into a back flip and then pulls off a midair half-twist so that he lands (on his feet) facing forward. He's an annoying dude, but credit where it's due: This is awesome.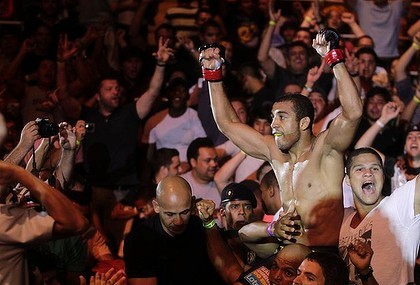 Photo credit: Reuters
The UFC featherweight champion emphatically finished Chad Mendes in front of his countrymen at UFC 142 in Brazil. In the ensuing seconds, Jose Aldo was so caught up in the emotion that he tore off into the crowd to celebrate with his fans.
Probably not the safest thing in the world. Probably not something that should be encouraged (and it wasn't). But an irresistible moment nevertheless.
Ryan Jimmo is a pop-and-lock master. Watch him show off his chops in this video.
He did the damn thing in the Octagon, too, following his UFC debut, in which he knocked out Anthony Perosh and banked himself a Knockout of the Night payment. Electric.
After he knocks a chump out, Charles Bennett likes to do a back flip off the top of the cage. And not just one back flip off the top of the cage. Two back flips off the top of the cage. You just can't beat that. How can you beat that? You can't beat that. At least not without drinking someone's blood.
Showtime starts at 4:20.

If you ever just want to talk about post-fight celebrations, but don't know where to turn, Scott Harris is there for you on Twitter.