Every Thursday on The SEC Blog, we will feature questions from the Bleacher Report inbox, Twitter and email.
Do you have a question for next week's Q&A? Send it to SEC lead writer Barrett Sallee via the B/R inbox, on Twitter @BarrettSallee or at bsallee@bleacherreport.com.
You've got SEC questions, and I've got SEC answers. Thank you, everybody, for your questions this week. And if I didn't get to them this week, they are still saved and will be used in the future.
And we're off:
@barrettsallee If A&M beats LSU what do you think of their odds to win the west?

— Ian Ray (@ufailowell) October 16, 2012
It would be unlikely, but still certainly possible.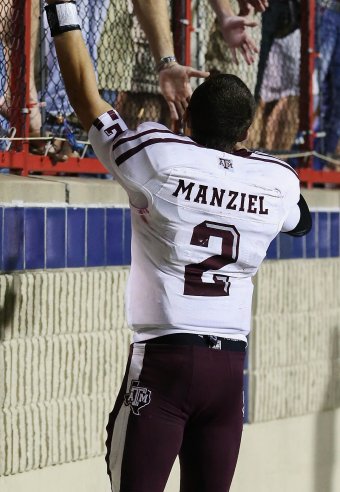 Kevin Jairaj-US PRESSWIRE
The Aggies would still have to beat Alabama in Tuscaloosa—which is a tall order—and probably win out the rest of their SEC games, which includes a road trip to Starkville to play No. 12 Mississippi State the week prior to heading to Tuscaloosa.
It depends on how Texas A&M looks against LSU. Quarterback Johnny Manziel has exploded onto the scene with his video game numbers, but the one time that we've seen him against a fast, physical defense (vs. Florida), he was average at best.
Head coach Kevin Sumlin and offensive coordinator Kliff Kingsbury will have to have to adjust their game plan a bit against the Tigers, and if it's successful, then the Aggies' chances of winning the West increase tremendously.
Because of the fact that Texas A&M's only real test was the Gators, I'd approach them with cautious optimism and then see what happens vs. LSU.
If the Aggies light up the Tigers, then watch out, Alabama.
Texas A&M vs. Louisiana Tech highlights
@barrettsallee If UF wins this saturday do they win the SEC east even though they still got UGA?

— Fill Maia (@FILLtheDRILL) October 16, 2012
Yes, absolutely.
The last time we saw Georgia, its offensive line was getting pushed around by South Carolina, which has a ridiculously athletic front seven—just like Florida.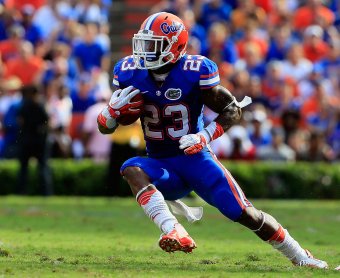 Sam Greenwood/Getty Images
Georgia's offense stole a ton of headlines early in the season, but we learned vs. the Gamecocks that its biggest question from the offseason—its offensive line—still is remarkably average.
I wrote earlier this week that I feel that the South Carolina vs. Florida game is the de facto SEC East championship game, and Georgia's offensive line is the biggest reason why.
Well, that, and Florida has established itself as one of the top teams in the country by running the ball and playing defense. And rarely do those two aspects of the game take a day off at the same time.
@barrettsallee Can Mississippi state be a contender for the SEC Championship?

— John Pittman (@JohnGPittman) October 18, 2012
Probably not, but the 6-0 start by the Bulldogs certainly makes me question it a little more now than I did at the beginning of the season.
Does Mississippi State have a legitimate shot at winning the SEC West?
The 41-31 win over Tennessee win last weekend in Starkville was the signature win for Dan Mullen's crew. But while that was a nice win, was it an indicator that the Bulldogs are ready for the big boy table in the SEC West.
I don't think so.
Tyler Russell has been very good at quarterback this season, and LaDarius Perkins has successfully made the transition from a changeup back to a reliable, every-down back. That, coupled with one of the best secondaries in the country, has the Bulldogs in the discussion.
But being in the discussion is different than contending. If they beat Alabama next week, then yes, the Bulldogs are a contender for sure. Until then, they are still a bit of a mystery.
@barrettsallee with new BCS rankings, what's the possibility of another all SEC Natl Championship? And if possible, who?

— Ashley

Gulick

(@bamagrl83) October 18, 2012
It's not impossible, but it's not at all likely.
It took an extraordinary set of circumstances to make the BCS National Championship Game an all-SEC affair last season, and with so many prominent, name-brand teams in the discussion this season, it's not likely.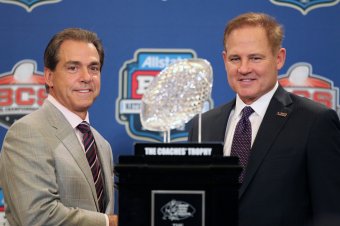 Matthew Emmons-US PRESSWIRE
Computers have taken away from the beauty contest a bit, but two-thirds of the BCS equation is still made up by the human polls. And unless there's no other option, I have a hard time believing that voters would allow an all-SEC title game in consecutive seasons.
Is that fair? Probably not.
The two best teams in the country were from the SEC last season, and that very well could be the case again in 2012. And after all, the BCS was designed to match up to best two teams in the country for the title.
But the threat of a monopoly and backlash from across the country will prevent that from happening this season unless there really is no other realistic option.