Red Zone Touchdowns: How Does Your Team Want to Score?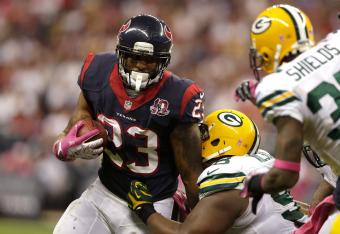 Arian Foster
Scott Halleran/Getty Images
It should not have been a surprise when, in last Sunday night's game between the Green Bay Packers and the Houston Texans, Houston running back Arian Foster scored on a pair of one-yard TDs and that Green Bay receiver James Jones scored on a six-yard reception and an 18-yard reception.
Foster and Jones are currently ranked 1-2 in the NFL in red zone (20 yards and under) touchdowns through Week 6. Foster has tallied eight red zone scores this season, while Jones is close behind with seven.
Through the games of October 15th, there have been 299 red zone touchdowns scored and 123 of them have been via passes—58.9 percent. While most teams are getting into the end zone via passes from the red zone, a smaller percentage of teams still depend on the ground game to score when they get inside the 20-yard line.
To illustrate that point, let's check the box scores from the start of the 2010 season until today. There have been 2066 red zone touchdowns—1214 of them via passes, or 58.8 percent (pretty darn close to the percentage we see for this season). Take a look at each team's red zone TDs (also noted is the player that leads each team in red zone TDs since 2010):
Team, red zone TDs, via run/via pass (player with most red zone TDs)
New England Patriots: 104, 42 run, 62 pass (Rob Gronkowski, 24)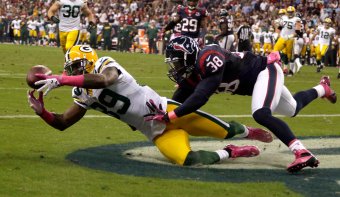 Scott Halleran/Getty Images
Baltimore Ravens: 93, 48 run, 45 pass (Ray Rice, 26)
Green Bay Packers: 88, 24 run, 64 pass (Greg Jennings, James Jones, John Kuhn, 12)
New Orleans Saints: 88, 23 run, 65 pass (Jimmy Graham, 16)
Atlanta Falcons: 83, 29 run/54 pass (Michael Turner, 23)
Detroit Lions: 77, 24 run, 53 pass (Calvin Johnson, 18)
New York Giants: 76, 37 run, 39 pass (Ahmad Bradshaw, 21)
Chicago Bears: 75, 26 run, 49 pass (Matt Forte, Greg Olsen, 11)
Houston Texans: 75, 39 run, 36 pass (Arian Foster, 32)
San Diego Chargers: 75, 34 run, 41 pass (Mike Tolbert, 21)
Carolina Panthers: 73, 43 run, 30 pass (Cam Newton, 16)
Philadelphia Eagles: 73, 32 run, 41 pass (LeSean McCoy, 26)
Buffalo Bills: 72, 21 run, 51 pass (Fred Jackson, 14)
New York Jets: 66, 28 run, 38 pass (Shonn Greene, 10)
Minnesota Vikings: 62, 33 run, 29 pass (Adrian Peterson, 25)
Indianapolis Colts: 61, 21 run, 40 pass (Reggie Wayne, 9)
Cincinnati Bengals: 60, 19 run, 41 pass (Cedric Benson, 13)
Dallas Cowboys: 60, 12 run, 48 pass (Dez Bryant, Jason Witten, 12)
Pittsburgh Steelers: 60, 28 run, 32 pass (Rashard Mendenhall, 21)
Denver Broncos: 59, 23 run, 36 pass (Tim Tebow, 11)
Washington Redskins: 57, 24 run, 33 pass (Santana Moss, 8)
Oakland Raiders: 54, 29 run, 25 pass (Michael Bush, 15)
San Francisco 49ers: 53, 30 run, 23 pass (Frank Gore, 15)
Tampa Bay Buccaneers: 53, 16 run, 37 pass (Mike Williams, 11)
Tennessee Titans: 53, 18 run, 35 pass (Chris Johnson, 12)
Miami Dolphins: 52, 23 run, 29 pass (Anthony Fasano, 8)
Jacksonville Jaguars: 50, 19 run, 31 pass (Maurice Jones-Drew, 17)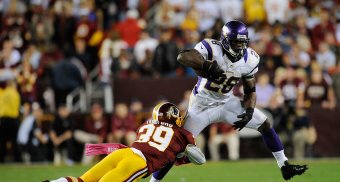 Patrick McDermott/Getty Images
Seattle Seahawks: 49, 26 run, 23 pass (Marshawn Lynch, 19)
Kansas City Chiefs: 47, 18 run, 29 pass (Dwayne Bowe, 12)
Arizona Cardinals: 44, 20 run/24 pass (Chris Wells, 12)
Cleveland Browns: 39, 19 run, 20 pass (Peyton Hillis, 14)
St. Louis Rams: 35, 14 run, 21 pass (Steven Jackson, 9)
As you review the list above, consider this:
* Notice how some teams seem to depend on their running game for red zone scores (ex: Minnesota with Peterson), some on receivers (Packers with Jennings and Jones tied for team lead), some on their QB (Carolina with Newton) and others on their tight end (New England with Gronkowski). There is quite a bit of diversity when it comes to how a team wants to score in the red zone.
* Seven teams have had one player score 30 percent or more of their red zone TDs since 2010: Foster (Houston) 42.7 percent; Peterson (Minnesota) 40.3 percent; Lynch (Seattle) 38.8 percent; Hillis (Cleveland) 35.9 percent; McCoy (Philadelphia) 35.6 percent; Mendenhall (Pittsburgh) 35.0 percent; Jones-Drew (Jacksonville) 34.0 percent.
* Seven teams have scored more TDs via run than pass since 2010: Baltimore, Carolina, Houston, Minnesota, Oakland, San Francisco and Seattle.
* Seven teams have scored more than two-thirds of their red zone TDs via passes since the start of 2010: Dallas (80 percent); New Orleans (73.9 percent); Green Bay (72.7 percent); Buffalo (70.8 percent); Tampa Bay (69.8 percent); Detroit (68.8 percent); Cincinnati (68.3 percent).
Follow Jerry on Twitter @StatsonTapp
This article is
What is the duplicate article?
Why is this article offensive?
Where is this article plagiarized from?
Why is this article poorly edited?