UFC 154 Early Betting Odds and Predictions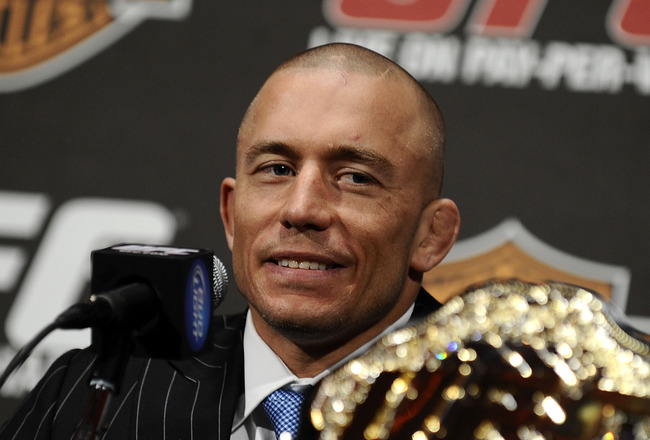 Jeff Zelevansky/Getty Images
Barring any unexpected injuries, we now know the shape of the card that will take place as the UFC returns to the Bell Centre in Montreal for UFC 154 in November.
Headlined by the long awaited return of Georges St-Pierre and featuring another crucial welterweight match between Johny Hendricks and Martin Kampmann, UFC 154 will decide the future of the division.
If GSP wins and defeats Carlos Condit to unify the title, then there's the mouth-watering prospect of a superfight between him and Anderson Silva just around the corner.
Those distractions aside, there are other key battles taking place on November 17 that shouldn't be overlooked.
Here are some early predictions and betting odds.
Mark Hominick vs. Pablo Garza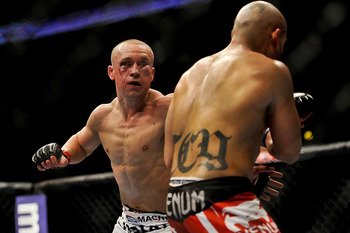 Paul Abell-US PRESSWIRE
It's no exaggeration to say that Mark Hominick is staring into the abyss. Since his unlikely title shot against Jose Aldo, he's lost two more fights, putting him on a dangerous three-fight losing streak.
The situation isn't entirely his fault. The KO to Chang-Sung Young in seven seconds was one of those unlikely and difficult to predict events that happens in a sport with six-oz gloves. And against Eddie Yagin, Hominick fought his heart out in a difficult to swallow split decision loss.
However, for the calibre of fighter he is, he should have beat Yagin, and his lack of ability to take a shot was demonstrated throughout the match.
Still, his opponent, Pablo Garza, is coming off two straight losses himself and is under the same amount of pressure to turn his fortune around.
Betting Odds were not available at the time of publishing.
Prediction: Mark Hominick by decision.
Cyrille Diabete vs. Chad Griggs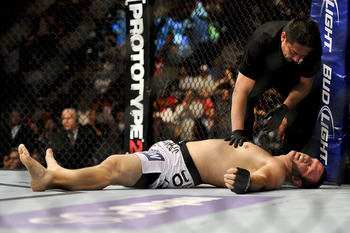 Paul Abell-US PRESSWIRE
Cyrille Diabete is a veteran of the sport, having fought across Europe, the US and Japan.
With an 18-8-1 record he has an experience advantage over the 11-2 Chad Griggs as well as a height and reach advantage.
However, since Griggs lost to Travis Browne, he has dropped to light heavyweight for this fight from heavyweight, so he will be quite the physical specimen for the Frenchman to deal with.
Diabete is a world-class striker with outstanding Muay Thai, but he has been susceptible to submissions time and again in his career. Both Alexander Gustafsson and Anthony Perosh were able to submit him in the second round.
However, Griggs is no ground specialist—he's a power puncher. With that in mind, we can expect an unpredictable stand-up fight between the two.
Betting Odds were not available at the time of publishing.
Prediction: Cyrille Diabete KO Round 2
Francis Carmont vs. Tom Lawlor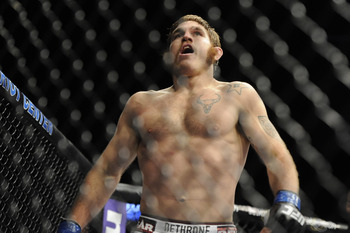 Rafael Suanes-US PRESSWIRE
French native and Montreal resident Francis Carmont has been an impressive force in middleweight since he joined the UFC last year.
He's gone three-for-three, and at UFC 154 he's set to take on the inconsistent Tom Lawlor.
A TUF alumni, Lawlor dropped to middleweight in 2009, but has failed to string together more than one win in that time. What's more, two of those wins were against Canadians, which means that Carmont, who trains alongside GSP at Tristar Gym, is sure to be a crowd favourite.
A win for the Frenchman could see him hitting the big time. Carmont has wicked submissions as well as great stand-up, and at 6'3" he has both a size and reach advantage.
Betting Odds were not available at the time of publishing.
Prediction: Carmont via submission in Round 2.
Johny Hendricks vs. Martin Kampmann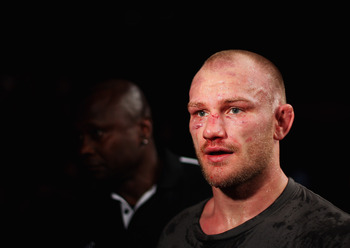 Mark Kolbe/Getty Images
Two of the hot contenders for the welterweight contender spot, Johny Hendricks and Martin Kampmann are coming off important wins—Hendricks against Jon Fitch and Josh Koscheck, and Kampann against Thiago Alves and Jake Ellenberger.
The bookies favour Hendricks by a margin, but Kampmann is the much more experienced fighter with an equally well-rounded game.
Kampmann's impressive TKO win over Jake Ellenberger, another top contender in welterweight, showed that he has all it takes to deal with Hendricks.
Betting odds: Johny Hendricks (-140) Martin Kampmann (+120)
Prediction: Martin Kampmann, decision
Georges St-Pierre vs. Carlos Condit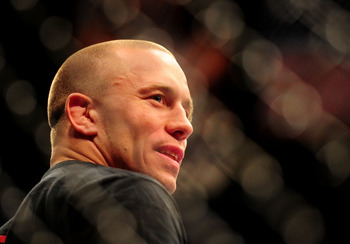 Mark J. Rebilas-US PRESSWIRE
It's not surprising that Georges St-Pierre has opened as a heavy favourite in his welterweight return after recovering from a year-long injury.
Widely regarded as a top-three pound-for-pound best fighter in the world, GSP is largely expected to unify his welterweight title with that of Carlos Condit's interim belt.
But that might be presumptuous. Condit is young and hungry and has earned his No. 1 spot—not only beating Nick Diaz in his last outing, but also only dropping one match in 14.
Still, GSP is one of the most brilliant mixed martial artists of our time and will be fighting in his home city of Montreal. Unlike Diaz, St-Pierre is methodical in his preparation for each fight, and it's unlikely he'll be leaving anything to chance.
The real question is whether he truly has recovered from his ACL injury and how far ring-rust will play into the equation.
Betting odds: Georges St-Pierre (-360) Carlos Condit (+300)
Prediction: Georges St-Pierre gets his first TKO in years in the third round
Keep Reading