NFL Week 7 Picks Against Spread: Get Ready for Two Blowouts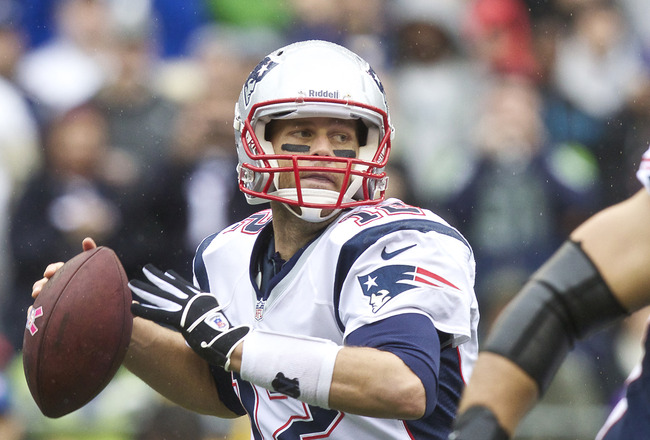 The Patriots are 11-1 coming home off a loss, with the average win by 19 points
Stephen Brashear/Getty Images
NFL underdogs continued to cash it in, as twelve of the 14 underdogs covered the spread in Week 6 culminated with Denver's historic comeback on Monday night.
As a matter of fact, only the favored New England Patriots failed to cover the spread as one of my five picks in last week's article, as Green Bay, Buffalo and Denver all won outright while Dallas covered the number coming off the bye week.
But that theme could change in Week 7 as a few of the NFL's top teams are coming back home off a loss.
We'll take a look at one of those teams in New England, coupled with a Packers team that may have just got the freight train started.
But first we'll head west to Oakland and start with an unlikely underdog coming off the bye week and a blowout.
With 54 prediction articles in the books and a record of 35-17 with a couple ties, I'll put these three teams to the test and look to win two of them against the spread.
Read on for the reasons why, and good luck!
Jacksonville (+4) at Oakland: Jags Could Give Raiders Taste of Their Own Remedy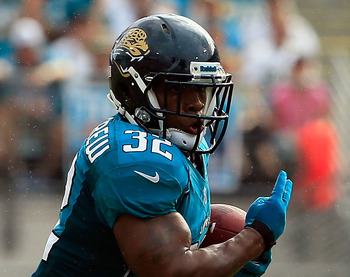 Jacksonville will need a big game out of Maurice Jones-Drew, but expect them to be the more focused team.
Sam Greenwood/Getty Images
When something leaves a bad taste in your mouth, the best thing to do is wash it out with something good.
Not many folks gave the Raiders a chance at Atlanta last week, especially after they suffered a 37-6 loss to the Broncos in their previous outing.
For folks who were "still alive" in their survivor pools and hadn't yet used the Falcons, Week 6 seemed like a fine time to use them up as a 10-point favorite.
Those folks surely got a little nervous because the Falcons trailed most of the game. It took a 55-yard field goal from Atlanta's Matt Bryant to win it.
This week the Jaguars find themselves in familiar territory, but they are coming off an even worse loss to Chicago (41-3).
But like the Raiders in Week 6, they have an extra week to think about it.
Oakland's bad loss at Denver left the Raiders red-eyed and fired up, and just as well, with extra time to use the negative energy toward a game plan to beat the Falcons. The result was an improved effort as an underdog at Atlanta, and they almost won the game.
But now Jacksonville can take a page out of that strategic playbook.
For Oakland's sake, lets hope it isn't Carson Palmer's.
After all, Jacksonville's current offensive coordinator, Bob Bratkowski, was also the coordinator for Carson Palmer for all eight of Carson's years in Cincinnati, a lengthy coach-player relationship, which is rare in this day and age.
Bratkowski doesn't have much to work with this season, as Blane Gabbert has been ineffective in two years, and the Jaguars offense is dead last in the NFL.
On the positive side, they held the Bears offense out of the end zone through the first three quarters, so at least the unit is showing some punch.
But the key was the final score.
Jacksonville has had two weeks to think about their 41-3 loss at Chicago which featured a pair of interception returns for touchdowns, and that kind of loss is enough to leave a bad taste in the mouth of any team.
Jobs are now at stake, especially Blane Gabbert's. The offensive line must shape up or ship out. And the defense needs to step up too.
At least, for Jacksonville, they are getting Oakland coming off its best statistical effort of the season, so one must wonder how much gas they'll have left in the tank for this game.
Like Buffalo last week with a win at Arizona after a 45-3 loss at San Francisco, this is a winnable game for the Jaguars.
And like Oakland in its valiant effort at Atlanta after its blowout at Denver, look for the Jaguars to come in as the more focused team off the bye week and take the points in what could be a low-scoring game in Oakland.
Take Jacksonville to cover 4 points.
Green Bay (-5) at St. Louis: Rams Offense Can't Keep Up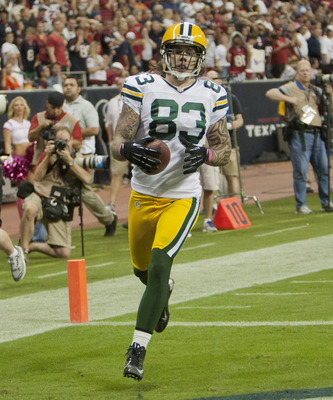 The Packers should be favored by at least a touchdown.
Bob Levey/Getty Images
While the Packers were busy scoring 42 points against Houston, one of the NFL's best teams, the Rams were busy scoring, well, a couple of touchdowns in their 17-14 loss.
Actually, make that just one touchdown and a two-point conversion along with a couple of field goals.
But these days, that's normal for the Rams.
After a 2-14 season, the Rams have started 3-3 and are a league leading 5-1 against the spread, which is a constant reminder to give a closer look to bad teams at the beginning of the following season when it comes to covering the spread because they are undervalued (the opposite is true for very good teams, such as last season's 15-1 Green Bay Packers, who have started 2-4 against the spread).
But the Rams' three wins have come over a pair of rookie quarterbacks and a now-inept Cardinals offense in a game in which Sam Bradford was just 7-of-21 passing.
The Rams actually scored two touchdowns in their Thursday night win over Arizona.
They will likely need to score two more for this game.
But the problem is, touchdowns don't come easy for the Rams.
Take away the game against the Redskins, and the Rams have scored a total of four offensive touchdowns in their other five games combined.
That's less than the Packers scored in one game at Houston.
Three weeks ago the Rams were actually a top play as they caught a Seattle team coming off an emotional high and favored on the road with a rookie quarterback.
The Rams won the game, but the offense couldn't even get in the end zone. Facing a second down from the Seahawks three-yard line, the Rams eventually needed to rely on a fake field goal for their only touchdown of the game.
The week before that in Chicago, they couldn't find the end zone at all.
And in NFL's opening week against Detroit and Matt Stafford, the Rams got an interception return for a touchdown while the offense only found the end zone one time.
Last season the Rams scored 30 points just one time and had a whopping 13 games where they scored one touchdown or less.
That won't cut it against the Packers.
Aside from Sam Bradford having no superstars in the cupboard to throw to, Stephen Jackson is minimally effective. A normal game for him is to have a run of 15 yards and 20 other runs of about two yards.
The Rams have some capable cornerbacks, notably Janoris Jenkins and Cortland Finnegan, but the Packers' receivers seem to have emerged after a slow start to the season.
Randall Cobb and James Jones had huge catches in their game against the Texans to go along with Jordy Nelson's three touchdown catches.
This is an offense that had its coming out party at Houston, and the drinks are just getting started.
Green Bay might end up being the No. 1 consensus play this weekend among the public, but they also won't be this little of a favorite again this season against such a weak team, so jump on the bandwagon anyway while the number is low.
Take Green Bay to cover 5 points.
New England (-10.5) vs. N.Y. Jets: Rex Ryan Strikes Again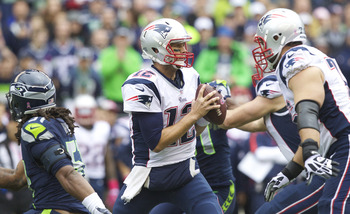 New England got surprised by the Cardinals, so expect them to take no prisoners in their second opportunity as a double-digit home favorite.
Stephen Brashear/Getty Images
Oh, Rex Ryan.
The flight from Seattle back to Boston is long enough.
Imagine how much longer it is when every person on the team plane is coming off a tough loss on a long touchdown pass from a rookie quarterback.
But leave it to good ol' Rex to add fuel to the fire rather than to the Patriots' airplane.
It's not enough that Bill Belichick is 11-1 at home coming off a loss. It's not enough that the Jets already got humiliated by the 49ers and have three wins against a pair of rookie quarterbacks and the Bills.
"I want them to know—and they know—I think we're going to beat them," said the often outspoken Jets coach.
So much for the element of surprise.
Speaking of which, back in 2007, nobody realized in August that the Patriots would go 16-0 during the regular season.
There were no preseason expectations, and they opened the season on an against-the-spread tear. The following season expectations were high, and odds makers kept them at .500 against the spread for the first half of the season.
So this season, much like the Eagles last season with their "dream team" status, the Patriots were deemed the team to beat. But despite all the hype, they sit at 3-3 and opened up at home against the Cardinals a 13-point favorite after an easy win at Tennessee.
But in the NFL, teams tend to lose just when you think there's hardly a chance.
Most people probably got knocked out of their survivor pool by using up the Patriots in Week 2, just as they lost out when they took Dallas against the expansion Houston Texans back in the opening week of 2002. (Houston also surprised everyone again in 2003 when they defeated the Dolphins in the season opener as a 13-point underdog.)
This will be the Patriots' second try as a double-digit home favorite, but after the surprising home loss to Arizona, expect them to take no chances and open the flood gates on the less talented Jets who haven't defeated a winning team since 2010.
As for the Jets pulling out all the stops, they already tried a fake punt against the Colts where Tim Tebow floated a pass over the defensive line when he looked like he was going to run for it, so the Patriots will be ready for that.
The quietest hunter usually catches the deer, and Rex Ryan is going into Foxboro with bells on.
Look for the Patriots who, after a loss, are 11-1 at home with the average win by 19 points, to make it one more.
Take New England to cover 10.5 points.
Follow Mark all season at www.TheFallMiracle.com
Keep Reading