Seahawks vs. 49ers: Full Preview, Predictions and Analysis for Thursday Night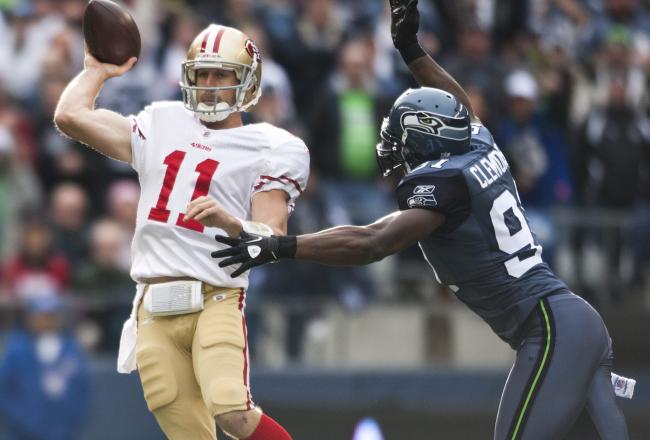 Jay Drowns/Getty Images
It's a huge NFC West battle in Week 7, as the Seattle Seahawks travel to San Francisco to take on the 49ers on Thursday Night Football. Both teams are tied with the Arizona Cardinals for first place in the division and will be looking to control their destiny tonight.
The Seahawks (4-2) are coming off a fantastic win at home against the New England Patriots. Not only did they stymie Tom Brady, but they did so with swagger, standing up to the Patriots like few teams have done in recent years. With one of the best defenses in the entire league, the 'Hawks look to keep Alex Smith in his own personal tailspin.
The 49ers (4-2) were home last week as well, but lost in fantastic fashion to the New York Giants in a rematch of last year's NFC Championship Game. Jim Harbaugh and company hope to right the ship, but can they do so against a tough, physical defense?
These divisional rivals know everything about one another. So who will win on Thursday night?
Key Storyline No. 1: Which Alex Smith Shows Up This Week?
Before the Giants debacle, Smith had an 8-1 touchdown-to-interception ratio. That Smith isn't the Smith 49ers fans know and despise. A Smith who isn't throwing interceptions or wallowing in mediocrity is confusing and strange.
The Smith on display against the Giants? That's the Smith everyone figured would show up in 2012.
Whichever Smith shows up on Thursday night could decide the outcome of this showdown.
Key Storyline No. 2: Is Russell Wilson the Real Deal?
Wilson has as much hype as any rookie not named Robert Griffin III, but he hasn't always statistically delivered this season. Seahawk fans don't want to admit it, but that defense and running game have far more to do with their four wins this season than Wilson.
Against a great Arizona defense earlier in the year, Wilson struggled. Against an even better Dallas passing defense, the Seahawks shone brightly as Wilson played the game-manager role to perfection.
The 49ers' D has as much talent as anyone the Seahawks will face this season, and Wilson will need to step up his game if the Seahawks want to win at Candlestick.
Keys for the Seattle Seahawks on Offense
Run. The. Ball. Period.
The 49ers' 13th-ranked rushing defense looks more fearsome than it actually is. NaVorro Bowman and Patrick Willis are great at scraping across the field, but three-to-four yards at a clip is still great position for later downs.
Add in the Marshawn Lynch "Beast Mode" factor and the occasional 20-yard scamper (as much as Lynch "scampers"), and all of a sudden, the 49ers don't have any answer except putting Smith in a shootout against the Seahawks' defense.
If the Hawks let Bowman and Willis tee off as pass-rushers, this one will be over in the first quarter.
Keys for the San Francisco 49ers on Offense
The 49ers' offense needs to work the short-to-intermediate routes in the middle of the field.
Smith lacks the elite arm strength to fit the ball into whatever tight windows Richard Sherman and Brandon Browner might give him. He also lacks the truly elite touch to drop long passes over Kam Chancellor and Earl Thomas.
So, if the 49ers have any hope of passing on Thursday night, it will need to be over the middle against a rookie like Bobby Wagner or catching the Seahawks on an ill-timed blitz.
Whatever Colin Kaepernick can contribute will be gold as well. Yards come at a premium against the Seahawks, and getting them "cheaply" with gadgetry or special packages isn't taboo anymore. It's just good football.
Keys for the Seattle Seahawks on Defense
If the Seahawks want to win the battle on defense, they need to make the 49ers offense as one-dimensional as possible. For much of this season, however, that's been easier said than done.
Last week notwithstanding, Smith has beaten the teams that dared him to do so. The Seahawks have the added benefit of being able to match up well on the outside, though, and (as mentioned) can keep the long ball in front of them as well.
The Giants were able to force Smith into poor decisions (almost by reputation alone) because of their fearsome front. If the Seahawks can do the same, this should be an easy win.
Keys for the San Francisco 49ers on Defense
The 49ers, much in the same way, need to make sure Wilson is the one who beats them.
I'm not harping on Wilson, but he's been up and down this season, just like any rookie. The Seahawks have been able to help him along with a light workload and a high volume of high-percentage throws. Still, there have been games where he's been under 60 (even 50) percent and barely over 100 total passing yards.
The Niners do not have the same talent in the defensive backfield that the Seahawks boast, but they have better linebackers and should be able to do the opposite of what was said above—crowd the middle of the field with zone coverage, making Wilson either pass into tight windows or progress to lower-percentage throws.
Blitz early and connect.
Wilson is fantastic on the move, but Willis, Bowman and Aldon Smith have the athleticism to track him down. If Wilson is "on" (better: if the 49ers allow him to be "on"), the 49ers will lose two straight at home.
Bold Prediction No. 1: "Beast Mode" Will Be in Full Effect
As mentioned earlier, the 49ers' rush defense is more bark than bite this season. While it's thought of as hard-nosed and stout, it's actually given up a lot of yards to backs who don't have Lynch's talent.
Look for Lynch to acquire a lot of Skittles tonight and a bunch of high praise from Mike Mayock as he rumbles through countless arm tackles.
Bold Prediction No. 2: Randy Moss, 0 Catches
On the other side of the ball, look for Moss to be held without a catch for the second time this season.
Whoever matches up with Moss, whether it be Sherman or Browner, is not going to give him an inch. It's clear that Moss doesn't have the elite downfield ability that made him so dynamic for so long, and even if he were to get loose, the safeties will be there to help.
This physical, tough and stout coverage will not only shut down Moss, but it will bring out the worst in him. Do not be surprised if the "Good Soldier Moss" we've seen is replaced by a bout of pouting or pacing.
Player of the Game Prediction: Vernon Davis
While Lynch is going to have a great day for the Seahawks, look for Davis to match his effort for the 49ers.
The Seahawks have been vulnerable to the tight end this season, and Davis is the best one they'll face in terms of vertically attacking and pressing the seam. (Especially if you remember that Rob Gronkowski has been banged up.)
Expect Davis to find the end zone at least once and consistently loosen up the Seahawks' D.
Final Score Prediction: 49ers 28, Seahawks 17

Michael Schottey is the NFL national lead writer for Bleacher Report and an award-winning member of the Pro Football Writers of America. Find more of his stuff alongside other great writers at "The Go Route."
This article is
What is the duplicate article?
Why is this article offensive?
Where is this article plagiarized from?
Why is this article poorly edited?