The 10 Best Starting Point Guards in the NBA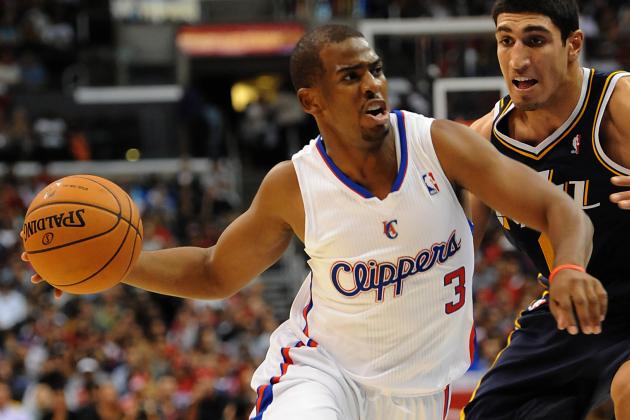 Jayne Kamin-Oncea-US PRESSWIRE
Chris Paul is the league's best starting point guard, but where do the rest rank?
Point guards are the floor generals and catalysts behind the highlight plays we love to see on a nightly basis.
There is no question that a select few of the league's best point men are on a different tier than the rest.
Find out where your favorite playmakers rank among the 10 best starting point guards in the NBA.
Begin Slideshow

»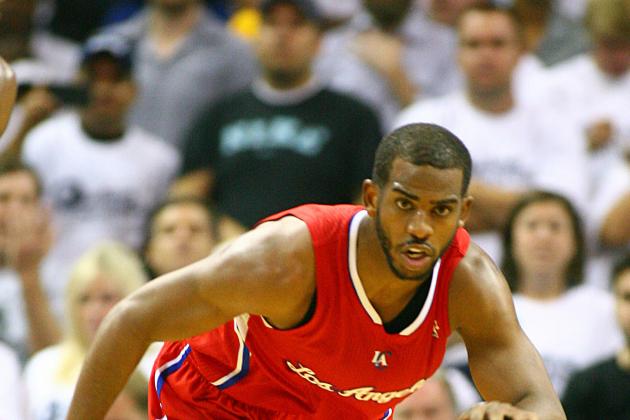 Spruce Derden-US PRESSWIRE

Chris Paul is undoubtedly the best all-around starting point guard in the league.
Paul makes the game's toughest position look easy.
His brilliant basketball IQ, pinpoint passes, array of scoring moves and fiery competitive drive is often frustrating for opposing defenses.
His understanding for the flow of the game is uncanny.
Paul can run half court sets like clockwork, or if need be, he can kick the tempo up and lead teams on the break.
He runs the offense like a grandmaster caliber chess player—he sees outcomes 10 steps before they happen.
He can finish with either hand, catch and shoot, spot up or knock down shots off the dribble whilst being heavily contested.
Plain and simple—Paul is a supremely intelligent basketball player with elite level offensive skills.
He's always talking, always encouraging teammates and never stops competing.
Paul is adept at forcing turnovers whether it's playing the passing lane or knowing when to reach on man-to-man defense.
Paul also led the league in steals among point guards.
His virtually perfect balance of offense and defense is what makes him the league's best point man.
Greg M. Cooper-US PRESSWIRE

Rajon Rondo is often criticized for the lack of range on his jumpshot, but despite his admittedly poor long-range game, he makes up for it in other areas.
As far as total rebounds are concerned, Rondo led the league at his position in the rebounding category with over five per game.
He was also the league leader in assists with 11 per game.
Rondo also had six triple doubles last season—more than any other point guard.
Rondo's uncanny ability to get to the rim and finish is a nightmare for most defenses.
If he isn't scoring when he penetrates, he can easily dish it out and tear apart defenses with his passing game.
Rondo is also a ferocious on-ball defender and can force turnovers at times.
If Rondo polishes his jumpshot he could easily become the best point in the league.
The games where his jumper were going in were often games he dominated single-handedly.
His mix of immaculate handles, dexterous finishing moves, IQ and overall toughness make him the leagues runner up for best point guard.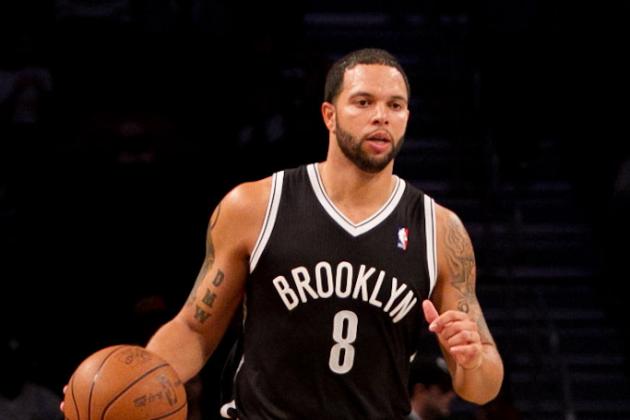 Debby Wong-US PRESSWIRE

Deron Williams is similar to Chris Paul in the regard that both are incredible scoring and passing guards.
Very few in the league at his position possess an array of scoring moves that he does.
He is a great shooter off the dribble or in transition, and his quick first step blows by most defenders.
His 6'3, 209-pound frame helps him finish at the rack with ease using either hand.
He's a very tough match-up and if he isn't lighting you up himself, he's helping his teammates do so.
Just as Chris Paul often does, he can take over games and impose his will solely off of his passes.
Williams at times can get a little trigger happy, but considering his overall brilliance, he makes up for it.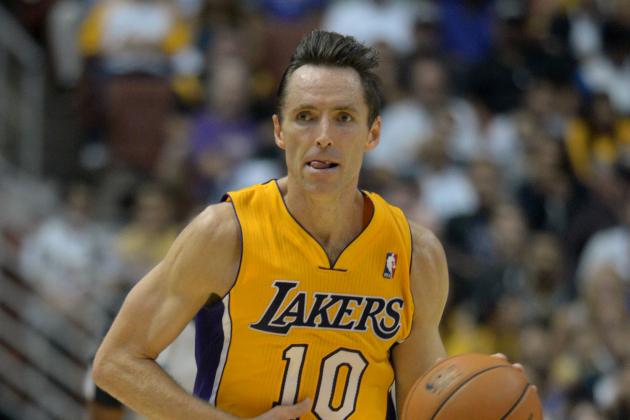 Kirby Lee-US PRESSWIRE

Often considered this generation's "Pistol" Pete Maravich, Steve Nash continues to entertain us with his incredible passing ability.
Very few in NBA history have run the point with such ease than Nash has.
He knows how to play the pick-and-roll to perfection and his ability to read and react to defensive adjustments is second to none.
He seldom fires up bad shots but always puts his teammates in the best position to make a play.
There is no doubt that he's arguably the best passer in the league at the point guard position.
Unfortunately, Nash is a defensive liability, but considering how much brings to the table on offense, it's not a bad compromise.
He is a brilliant marksman from anywhere on the floor, and as far as pure point guards go, very few have been as solid as Nash has been throughout his career.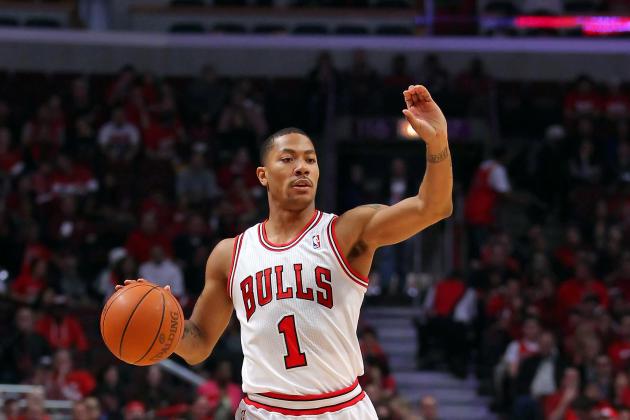 Dennis Wierzbicki-US PRESSWIRE

Despite the fact he'll be absent for much of this early season, Rose gets the benefit of the doubt.
Assuming Rose has the same explosiveness before his injury, he's still going to be a monster.
Aside from Russell Westbrook, no one can finish at the rim like Derrick Rose at the point guard position.
His incredible vertical and speed made him a tough match-up for most opposing guards.
Rose's incredible handles and adept footwork allow him to weave his way past defenses and wreak havoc.
He improved his jumpshot, but he was still prone to forcing shots early in the shot clock.
If Rose can shake his injury woes and perfect his craft, he'll continue to improve as one of the league's brightest young stars.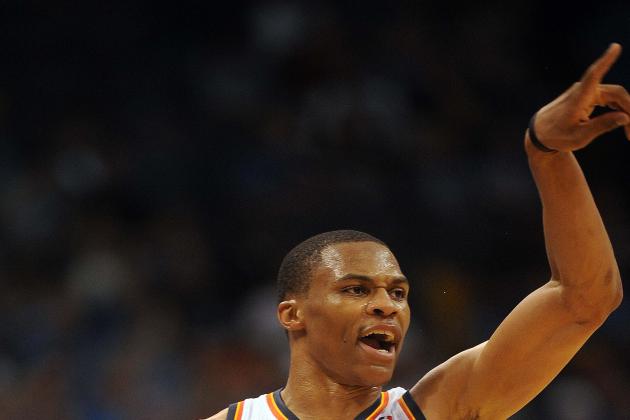 Mark D. Smith-US PRESSWIRE

Although he isn't quite a pure point guard, Russell Westbrook (similar to Derrick Rose and even Deron Williams) represents the new generation of hybrid guards that blur the line between the 1 and 2 positions.
His vertical and speed allow him to blow by most defenders and throw down monstrous slams—an ability seldom found in most point guards.
His stop-and-pop free throw line jumpshot is money most of the time, but his jumper is often his biggest weakness.
His cringe-worthy habit of forcing terrible shots is the source of much of his criticism, but Westbrook can definitely improve on his decision making.
Westbrook finished 24th in the league as far as assists go, and a team needing a dependable floor general needs to see more of a pass-first mindset at times.
He's also a solid defender and is a one man freight train on the fastbreak off of turnovers.
Westbrook needs to improve on his playmaking, but he makes up for it with his brilliant scoring ability.
Soobum Im-US PRESSWIRE

The Spurs' deadly pick-and-roll offense is as lethal as it is thanks in large part to Tony Parker.
His solid mid-range jumper, floaters in the lane and dazzling display of scoring moves make him very tough to stop in the paint.
Parker is a solid offensive player, but at times, he's a liability on the defensive end.
Parker is definitely one of the quickest lateral players at his position, and his quickness also aids in penetrating defenses and dishing the ball out to shooters.
Parker could continue to work on the range of his jumper, but for now, most of the damage he does will be done in and around the paint.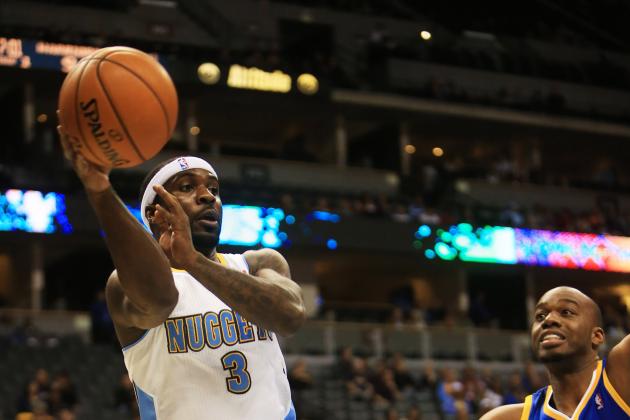 Chris Humphreys-US PRESSWIRE

Ty Lawson is the prototypical scoring point guard.
He is a decent passer, but he'd much rather fulfill the scoring obligations himself.
He can hit the long ball and easily pull up from mid-range and knock down shots if given the opportunity.
Combine his shooting touch with a flurry of dribble moves and quick feet, and you have a pure scoring machine that fits right in with a Nuggets team that loves to run.
He's also one of the fastest at his position, and his soft touch makes him one of the best one man fast-break players in the league.
Lawson isn't an elite player, but he's a solid option at point guard if placed in the right system.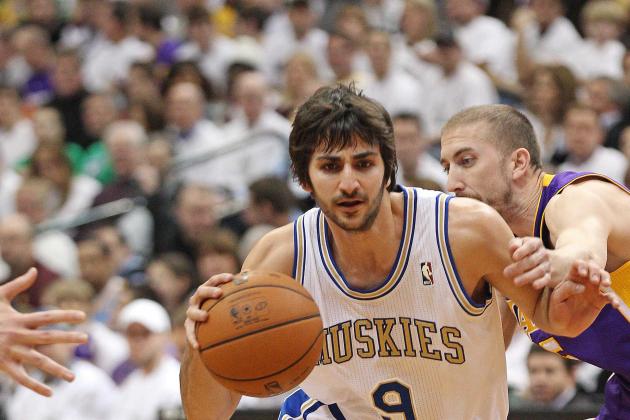 Jesse Johnson-US PRESSWIRE

Before coming into the league, Ricky Rubio had a reputation for his ability to make incredible plays in the Euroleague.
Similar to Steve Nash, Rubio is a pass first type of point guard who isn't going to light you up, but will definitely run the offense efficiently.
Rubio could certainly work on improving his jump shot and hopefully bounce back following his injury last season.
Prior to his injury, Rubio helped run a Timberwolves offense that seemed to fire on all cylinders when he was in the lineup.
Rubio has tremendous potential, but it is mostly dependent on whether or not he can stay healthy for a full season.
David Richard-US PRESSWIRE

Filling the shoes of LeBron James is no easy task, but the incredibly talented Kyrie Irving is doing a solid job so far.
Despite the sub-par rebuilding year, Kyrie demonstrated he is an incredible scorer and can easily become a balanced point guard in due time.
He's an outstanding shooter, a very deceptive ball-handler, and makes the game easier for his teammates.
Like most young point guards, Kyrie is going through the growing pains of learning to command and be a leader on the floor.
Despite his weaknesses, the rebuilding seasons will only serve to refine Kyrie's skills and decision making.
For a fan base desperate needing hope, Kyrie Irving gives hope to a Cavaliers franchise in that they have found their premier point guard of the future.