Power Ranking Ex-UFC Champions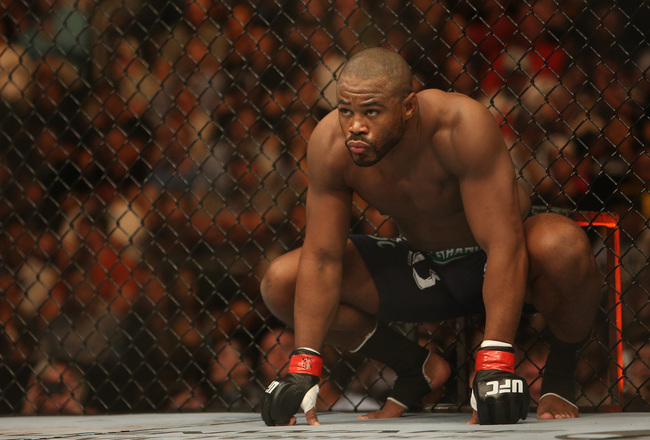 Tom Szczerbowski-USA TODAY Sport
Being an ex-UFC champion these days isn't easy. In a youth-injected era recently overtaken by evolutionary talent and skill, the ins and outs of being an elite mixed martial artist are becoming more intricate by the day.
So when you falter, things tend to fall apart, especially for a tenured titleholder.
Critics are the first to jump ship at the sight of a potential fall-off, followed by a fanbase often depicted by the always unfair "what have you done for me lately?" motto.
But through all of the hardship and experiences endured by ex-champions looking to reclaim their throne, the future is still bright. They still have a chance to reboot the system, work out the kinks, settle into a new mode of offense and aim for greatness.
Here's how each current ex-champion ranks amongst their peers. Enjoy.
Honorable Mentions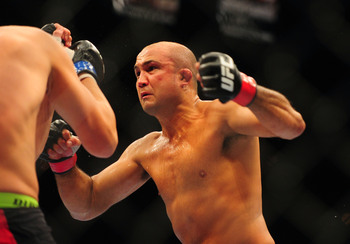 Photo courtesy of MMA Frenzy
Mark J. Rebilas-USA TODAY Sports
For these four names, the days of hoisting UFC titles above their heads seems more distant than ever.
Whether due to injury, age, a collapse of talent or the inability to maintain success inside the Octagon, these ex-champions merely command an honorable mention.
1. Mauricio "Shogun" Rua: Unable to string together relevant victories inside a top-heavy light heavyweight division, the Brazilian's days of fighting for UFC gold seem long gone. He's merely a stepping stone at this point.
2. Frank Mir: After dropping consecutive fights to former Strikeforce standouts, Mir looks more suited as a Bellator heavyweight than UFC top contender.
3. B.J. Penn: Whether Penn's hunger to win is rejuvenated or not as a head coach on the upcoming The Ultimate Fighter season remains to be seen. If it is, his new featherweight home may have to pay notice.
4. Rich Franklin: A recent one-punch knockout defeat at the hands of Cung Le may be Franklin's last image in a sport he's helped mold since Day 1.
10. Minotauro Nogueira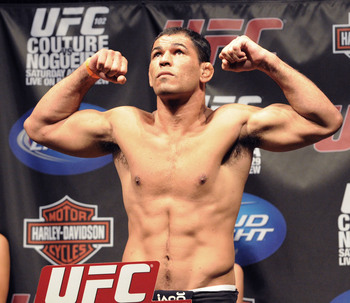 sports.espn.go.com
Jon Kopaloff/Getty Images
Heavyweight Title Defeat: UFC 92 to Frank Mir via TKO (interim title)

Even at the tenured age of 37, Antonio "Minotauro" Nogueira is still one of the best heavyweights in the world.
Sure, he's had his troubles against the very best in the division, but the Brazilian is so disciplined on his feet and on the mat that you have to consider him a threat until the day he retires.
The fact of the matter is that he's done more as an ex-champion over the past few years than the four names mentioned on the previous slide.
For now, Nogueira lands at No. 10. Don't be surprised if he makes one more run at the title.
9. Rashad Evans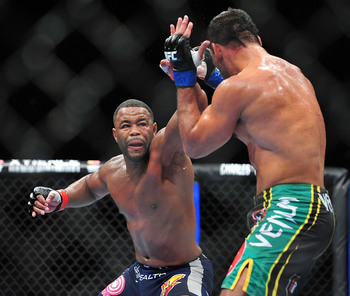 Photo courtesy of LowKick MMA
Gary A. Vasquez-USA TODAY Sports
Light Heavyweight Title Defeat: UFC 98 to Lyoto Machida via KO
Many people are starting to quickly write off Rashad Evans due in part to recent lackluster performances, but you have to remember "Suga" is still one of the most athletic light heavyweights around.
With what he brings to the cage skill-wise, Evans is capable of beating any divisional foe on any given night. He just has to have the focus and determination to do so.
An upcoming battle with a resurgent Chael Sonnen should fuel Evans in the right direction. If he impresses, listen for his name to be mentioned alongside other future title contenders.
8. Josh Barnett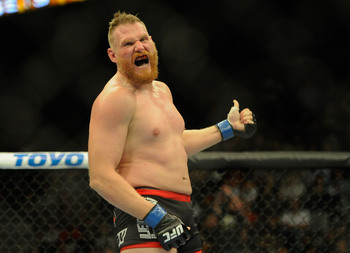 Benny Sieu-USA TODAY Sports
Heavyweight Title Defeat: Stripped of the championship following a UFC 36 victory over Randy Couture
As the only ex-champion on this list to not relinquish his title by actually losing a fight, Josh Barnett has a lot to prove in his second UFC stint.
After dismantling Frank Mir in a matter of minutes at UFC 164, Barnett is off to a sharp start.
The only problem is that he's already faced the unofficial next guy in line for a heavyweight title shot, Daniel Cormier, and he lost handily.
He'll have to remain in a war-master state of mind to overcome the divisional ranks and get his opportunity to reclaim UFC gold.
7. Vitor Belfort
Photo courtesy of MMA Maxim
Tom Szczerbowski-USA TODAY Sports
Light Heavyweight Title Defeat: UFC 49 to Randy Couture via TKO
If it wasn't for an Anderson Silva front kick to the face, Vitor Belfort would have already received a championship rematch.
The problem is that historic finish continues to plague the Brazilian's chances of fighting for a middleweight title.
It's still fresh in many minds around the sport, and with newcomers like Chris Weidman giving the division a run for its money, Belfort has been forced to wait in the wings.
It's only a matter of time before one of the hottest fighters in the game gets his chance to remind people of the phenomenal demeanor he truly encompasses.
6. Frankie Edgar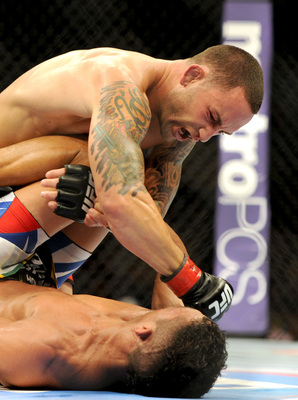 Photo courtesy of Balance Studios
Jayne Kamin-Oncea-USA TODAY Spor
Lightweight Title Defeat: UFC 144 to Benson Henderson via unanimous decision
Frankie Edgar is still at the top of his game. He still features world-class footwork, timely takedowns and unparalleled heart.
The only problem is that Jose Aldo currently runs things in the featherweight division.
Now, even though Edgar's battle with Aldo was closely contested, especially toward the latter half of the bout, the former lightweight champion is going to have to wait his turn.
The featherweight contender crop is currently stacked with worthy adversaries for one of the best pound-for-pound fighters in the world.
As long as Edgar can stay afloat in 2014, he should get one more shot to become an underdog crowned king.
5. Lyoto Machida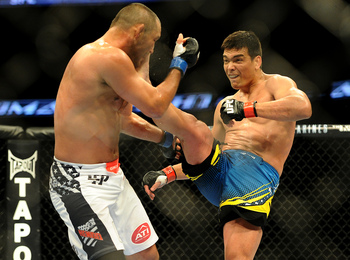 Photo courtesy of urDIRT.com
Jayne Kamin-Oncea-USA TODAY Sports
Light Heavyweight Title Defeat: UFC 113 to Mauricio "Shogun" Rua via KO
With a move to middleweight, former light heavyweight wizard Lyoto "The Dragon" Machida plans on making a return to perennial greatness.
Remember, before Jon Jones stormed onto the scene, it was Machida that people were talking about becoming the absolute future of a division that had recently lost the legendary Chuck Liddell.
He sported elite striking, sensational counter work, one of the best takedown defenses in the division and a knack for finishing the best of the best.
If he can get back to that state of mind, the Brazilian can push for a title shot sometime in 2014.
4. Benson Henderson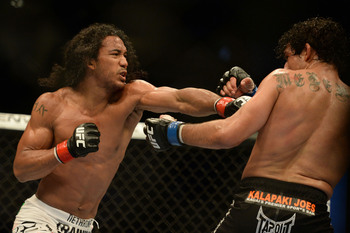 Kyle Terada-USA TODAY Sports
Lightweight Title Defeat: UFC 164 to Anthony Pettis via submission
Considering Benson Henderson now sports two defeats to current lightweight champion Anthony Pettis, it's going to be a very long time before he gets another shot at a UFC title.
His best chance is to hope that Pettis loses fairly soon so Dana White and company can pencil in the ex-champ for any title fight not named Pettis vs. Henderson III.
In any case, Henderson is young enough and obviously skilled enough to make noise for years to come.
He comes in at No. 4 for good reason. The kid is a beast.
3. Carlos Condit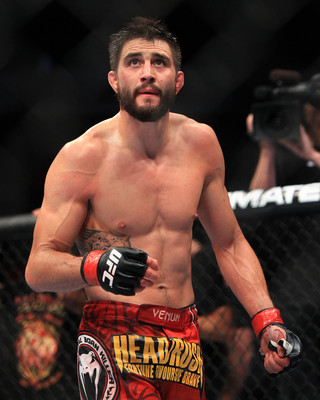 Pat Lovell-USA TODAY Sports
Welterweight Title Defeat: UFC 154 to Georges St-Pierre via unanimous decision (unified championship)
Yes, Carlos Condit was a UFC champion.
Now, it was only a interim title, and he actually never successfully defended it, but it still counts. Add in the fact that he admirably ran a division absent of one of the sport's most polarizing figures and his accomplishments become drastically more impressive.
The fact of the matter is that Condit is still one of the best fighters in the world. He's never been finished by punches, loves to stand and bang with anybody willing to absorb damage and still has what it takes to be a great future champion.
A rematch with St-Pierre or Johny Hendricks would make for a tantalizing welterweight showdown in 2014.
2. Junior dos Santos
Gary A. Vasquez-USA TODAY Sports
Heavyweight Title Defeat: UFC 155 to Cain Velasquez via unanimous decision
As it stands right now, Junior dos Santos is one of the most prolific heavyweights to ever step foot inside the Octagon.
His boxing might be the best of all time, and his skull is practically composed of ferrite. Bottom line, dos Santos is a killer.
The only problem is that he happened to run into an angrier-than-usual Velasquez at UFC 155. In that fight, one which went all five frames, the Brazilian took one of the worst beatings in human history.
But with a rubber match at UFC 166 in less than a month, the former heavyweight king will have his chance to reclaim what's rightfully his.
1. Anderson Silva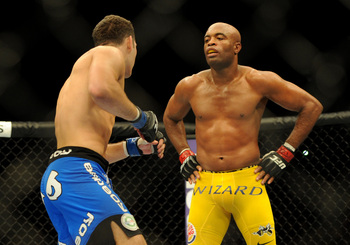 Jayne Kamin-Oncea-USA TODAY Spor
Middleweight Title Defeat: UFC 162 to Chris Weidman via KO
It's really difficult to put Anderson Silva's name and ex-champion in the same sentence. It just doesn't feel right.
But even though the best fighter of all time doesn't have a UFC title, he'll have his chance later this year to take it back from the man who knocked him out cold just a few months ago.
If Silva can finally refrain from his cocky stand-up games and understands that his chin isn't indestructible, the Brazilian should come out on top.
Although, Weidman is more than capable of capping off another mind-blowing victory.
For more UFC news and coverage, Follow @DHiergesell
Keep Reading