A report recently surfaced regarding the possibility of former MVP third baseman Alex Rodriguez getting traded to his hometown Miami Marlins this winter despite the five years and $114 million remaining on Rodriguez's contract (http://espn.go.com/new-york/mlb/story/_/id/8517121/alex-rodriguez-trade-discussed-offseason-new-york-yankees-miami-marlins-source-says). In this situation, the Marlins would likely rid themselves of Heath Bell's massive contract.
The Marlins would certainly not be responsible for all of this $114 million if such a blockbuster trade was executed, but nevertheless this move could prove too risky depending on how much of this contract the Yankees are willing to dissolve.
After being a fairly conservative team throughout its short history, the Marlins organization decided last winter to become big spenders in the free agent market, as they added shortstop Jose Reyes for six years at $106 million, reliever Heath Bell for three years at $27 million, and starting pitcher Mark Buehrle for four years at $58 million. They certainly had a different mentality going into the offseason. The Marlins were even in the running for expensive slugger Albert Pujols.
However, Miami's big plans completely backfired this season, as the team many predicted to reach the playoffs seemingly collapsed. Reyes bounced back from a slow start to have a solid year and Buehrle was reliable from the mound for the most part, but trading for washed up pitcher Carlos Zambrano proved to be a miserable maneuver. Hanley Ramirez could not produce after an off-year last season and never really adjusted to playing third base every day. On top of all of that, Heath Bell lost the closer role due to his lack of command, and was reduced to the role of an expensive reliever.
This unprecedented failure led to big changes in Miami, as Hanley Ramirez and Randy Choate were shipped to the Los Angeles Dodgers and starter Anibal Sanchez and second baseman Omar Infante were sent to the Detroit Tigers. They even dangled ace Josh Johnson at the trade deadline.
Do you think acquiring Alex Rodriguez would be a good decision for the Marlins?
The Marlins made some big investments this winter, but they didn't exactly get their money's worth over the course of the season.
This could be a familiar theme if they decide to acquire A-Rod.
Glancing at Rodriguez's statistics over the last few years, it is clear that he is in a state of decline. This season's stat-line of .272/.347/.436 is hardly impressive, especially given the fact that he is getting benched in the postseason because he has struck out in more than half of his at bats in October (12 out of 23). He's also missed time after breaking his hand due to a Felix Hernandez change-up and will likely miss more time in the future as his body begins to break down.
In 2011, he hit .276, and in 2010, he hit .270. He hasn't hit .300 since 2008. His numbers are trailing from that of a superstar to a fairly average player, who happens to be the most expensive in the game.
It's also worth noting that Alex Rodriguez will likely not be able to play third base for the next five years. In New York, this is a definite issue, as he cannot simply move across the diamond with Mark Teixeira and his eight year, $180 million contract playing there.
In Miami, he could play first and Logan Morrison could play in the outfield. But without a designated hitter spot in the lineup every day, it could eventually be difficult to fit A-Rod in the lineup consistently.
Moving away from the hitter-friendly Yankee Stadium isn't exactly helping his cause either.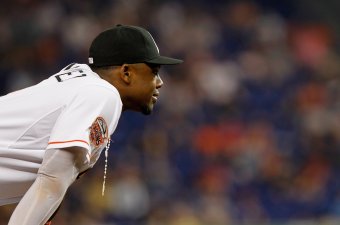 Mike Ehrmann/Getty Images
But even if the Yankees decide to pay a large portion of the contract (say, maybe half), the Marlins are still overpaying. Would you pay $11.4 million a year for a declining third baseman who would likely have to shift to first? Probably not if you ignore the fact that it's a big name and instead just looking at the stat line.
Although shedding the remainder of Heath Bell's contract does seem appealing, it is not worth the expense of Rodriguez. After having such a poor year, there is no guarantee that Bell will ever return to the dominant closer he was with the San Diego Padres. However, with a shorter deal that costs less, it seems like a better fit, and after just one miserable year, maybe he is more likely to return to form.
Unless the Yankees offer to cover a very large portion of the $114 million Rodriguez is owed over the next five years, it would not be wise for the Marlins to partake in such a trade. Heath Bell has a better chance of bouncing back after one bad year than A-Rod does of bouncing back after not hitting at an elite level since 2008. It might finally fill the seats in their flashy new stadium, but this acquisition wouldn't help the win column or the check books.