Toronto Maple Leafs: Their 5 Most Important Players Heading into 2012-13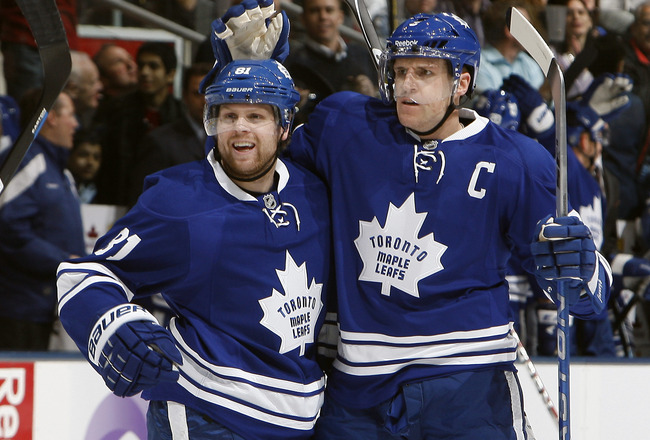 Abelimages/Getty Images
The Toronto Maple Leafs are coming off of yet another disappointing season, this one in particular featuring a massive collapse down the stretch. Now, they have not qualified for the playoffs since prior to the last NHL lockout in 2004, and despite their rich franchise history, they have not won a Stanley Cup since 1967. It's safe to say, Leafs fans are eager to get back to winning.
While they may not be ready to challenge for that ever-elusive Stanley Cup championship just yet, they certainly have a chance to take a step in the right direction this season and get back to the playoffs. That chance centers around some very key pieces to the puzzle, as GM Brian Burke continues to build the team.
Here are the Toronto Maple Leafs' five most important players heading into the 2012-2013 season.
5. Jake Gardiner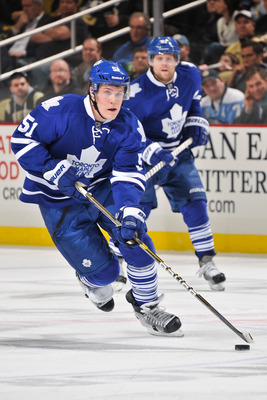 Jake Gardiner is among the NHL's top young prospects.
Jamie Sabau/Getty Images
Still a young prospect fine-tuning his high-potential NHL game, Jake Gardiner will have a significant role on the Toronto Maple Leafs' blue line this year.
By the end of last season, Gardiner had established himself as one of the Leafs' most productive and consistent defensemen. If his progression, over the course of one year at just 21 years old, is any indication, the sky is the limit moving forward.
Interestingly, amidst the Rick Nash trade talks leading up to last year's trade deadline, word was circulating that the Blue Jackets would insist on Gardiner being included in any potential deal with the Maple Leafs. As we know, there was no deal made, and Gardiner's immense potential is likely a big reason why.
With the Leafs' blue line being a man short following the summer trade of Luke Schenn, the rest of the unit will have to step up. Expect Jake Gardiner to do so the most, continuing to showcase why he has been so highly valued by the Leafs' brass so far in his young career.
4. James van Riemsdyk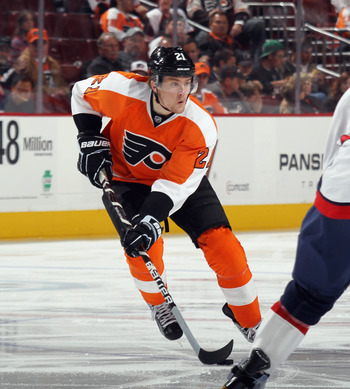 James van Riemsdyk gets a fresh start in Toronto, where he will have every opportunity to shine.
Bruce Bennett/Getty Images
New to the team for the upcoming season, James van Riemsdyk will be a key contributor for the Toronto Maple Leafs. He provides the Leafs with a physical, big-bodied forward, who's extremely capable of finding the back of the net.
To acquire him from the Flyers, the Leafs surrendered one of their most valuable trade chips in young defenseman Luke Schenn. Schenn was someone who many saw as the future captain of the Leafs, so, much like any new player to the Toronto hockey world, van Riemsdyk's arrival comes with high expectations.
Likely expected to play wing on the second line, JVR instantly makes the offensive attack both stronger and deeper. The fresh start that he is getting in Toronto may be just what he needs for his career to take off. If that is the case, the trade will become well worth the price.
3. Joffrey Lupul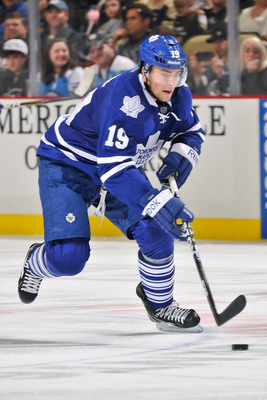 Despite missing 16 games, Joffrey Lupul had the best statistical season of his career in 2011-2012.
Jamie Sabau/Getty Images
The Maple Leafs' acquisition of Joffrey Lupul prior to last season proved to be one of their best in quite some time. By midseason, his play was impressive enough to earn him his first All-Star Game nod.
Despite missing 16 games due to injury by season's end, Lupul had set career highs in both assists and points, playing on the top line with Phil Kessel and Tyler Bozak. In Lupul's absence to end the season, the Leafs managed wins in just four of 16 games. While their slide had begun before his injury, losing him did nothing but make a rebound even less likely.
Expecting to return fully healthy this season, and playing with the same top line that clicked so well, Lupul should be just as valuable, if not more, to any sustained Maple Leafs success. If he can stay healthy for the full season, provided that said season is not cut down too much by the lockout, it is entirely likely that Lupul bests previous career highs in all scoring categories.
2. Phil Kessel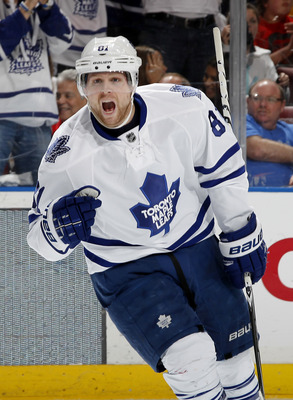 Phil Kessel should be the Leafs' leading goal scorer for a fourth straight season.
Joel Auerbach/Getty Images
The fifth overall pick of the 2006 NHL draft, Phil Kessel is still a young player at just 25 years old. Having already established himself as a dangerous goal scorer, the expectation is that he will continue to get better.
Since his acquisition from the Boston Bruins, Kessel has been the Leafs' leading scorer for three straight seasons, showing improvement with every year. In the 2011-2012 campaign, he tallied career highs in both goals (37) and assists (45).
This season, once again considered as the Leafs' star player, developing a necessary consistency will be the key. After a hot start to last season, where he was at one point leading the NHL in goals, Kessel cooled off. So much so that he was held off of the goal sheet in 12 of his last 15 games.
The Leafs will need both that progression and production to continue this season, as he continues to be a leader on the front line, and on the team as a whole. Developing that very consistency to go along with his ability could put him among the NHL's elite.
1. James Reimer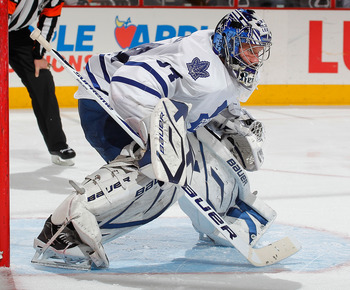 The play of James Reimer will be the biggest determining factor in the Leafs' playoff hopes.
Paul Bereswill/Getty Images
Especially considering their struggles in net last season, James Reimer will be the Leafs' most important player heading into this season.
Upon his arrival in the league, toward the end of the 2010-2011 season, Reimer impressed both the Leafs organization and the fans. Posting a 20-10-5 record with a 2.60 GAA and a .921 save percentage in his first NHL action, he looked to be the Leafs' goaltender of the future.
Reimer entered the following campaign as the starter, going 4-0-1 in his first five games, before suffering a concussion that forced him out of the lineup for over a month. Upon his return, he was splitting time in net with the now departed Jonas Gustavsson, and neither could not get on much of a roll.
This season, considering the Leafs did not make an offseason move to acquire any of the big-name goaltenders that they were rumored to have interest in, much of their playoff hopes will fall on Reimer's shoulders.
Being the unquestioned starter, and entering the season healthy, there is reason to believe that he can regain the impressive form that he has flashed thus far in his young career. If he indeed can, the Leafs' playoffs chances become that much more likely.
Keep Reading

Toronto Maple Leafs: Like this team?