Who Will Be the NFL's Best QB When the Last Game's Been Played?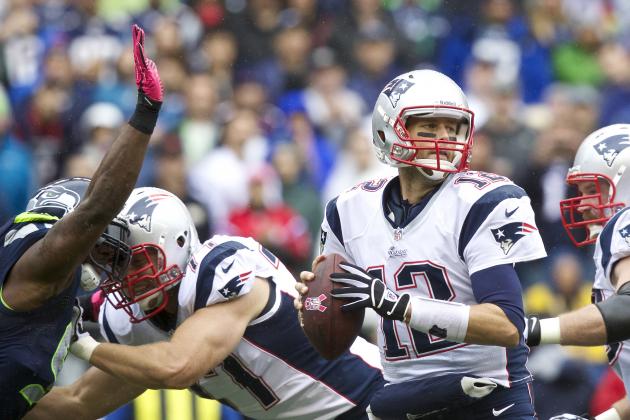 Stephen Brashear/Getty Images
Brady has not been at his best in the early part of the season.
The race to be the best quarterback in 2012 isn't as wide open as you may think.
Realistically, only Tom Brady, Eli Manning, Matt Ryan, Aaron Rodgers, Drew Brees, Peyton Manning and Robert Griffin III have a chance to call themselves the best by season's end.
Cam Newton, Matthew Stafford and Michael Vick have played their way out of the conversation, but Drew Brees is hanging tough despite his team's struggles.
The seven quarterbacks up for consideration are being judged based on their team's projected record and playoff performance at the end of the year coupled with the player's performance and impact to his team.
Let's take a look at these quarterbacks and which one will call himself the best at the end of the year.
Begin Slideshow

»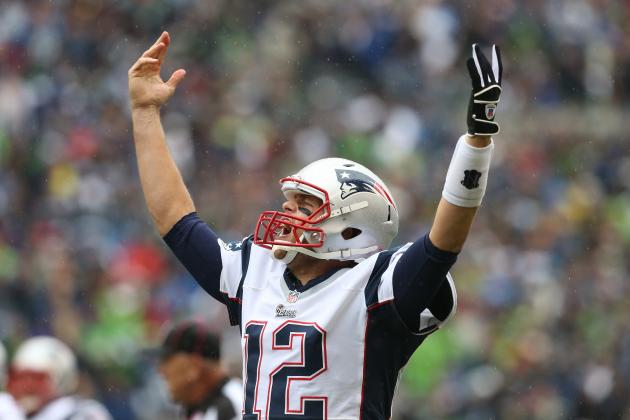 Otto Greule Jr/Getty Images
Brady has the potential to be the best by the end of the year.
Reasons to Believe
Despite Brady's early-season struggles, he is still on pace to throw for over 4,800 yards and 27 touchdowns, a number that will surely be higher at season's end.
The remainder of the schedule looks pretty easy for New England, aside from playing Houston and San Francisco in Weeks 14 and 15.
His QBR is a very good 97.2, and that number will only get better in the coming weeks as Brady takes out his frustration on bad defenses and leads his team into the postseason.
Reasons to doubt
Brady's Patriots are off to a 3-3 start and have lost those three contests by a measly four points.
The three-time Super Bowl winner has not been as sharp as usual and one has to wonder if he now has a propensity for losing these close games he seemingly should win.
Fans are wondering if the Pats' defense can make key stops on the defensive end of the ball late in games.
His stats have not been eye-popping, as he has completed 160-of-243 passes for 1,845 yards, 10 touchdowns and three interceptions.
New England's run game has been strong in the early going, so you have to wonder if offensive coordinator Josh McDaniels is a little timid to put the game totally on Brady's arm.
Brady will not call himself the best unless he wins his fourth Super Bowl ring.
Projected Regular Season Stats: 4,658 passing yards, 35 TD, 9 INT
Team Record: 11-5
Playoffs: Lose in AFC Championship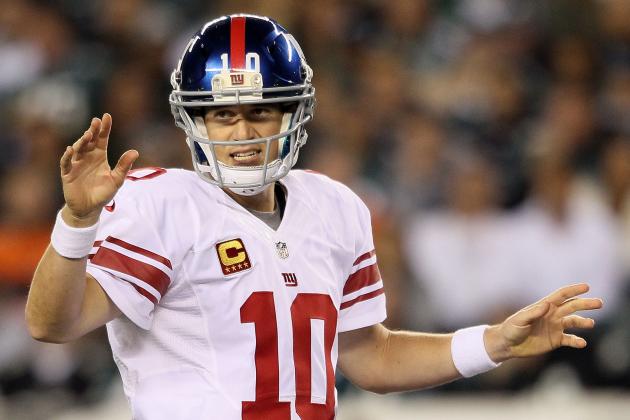 Alex Trautwig/Getty Images
Manning is now an elite quarterback with two Super Bowl wins.
Reasons to Believe
The two-time Super Bowl winner has his team playing good football after leading the Giants to a 26-3 beatdown of the 49ers.
Manning and company have a brutal schedule the rest of the way, but the Giants are starting to get healthy and Manning is not costing the team with turnovers.
His 94.9 QBR is eighth-best in the league, and he is on pace for 29 passing touchdowns.
A two-time Super Bowl MVP, Manning can lead his team deep in the postseason and prove he is the best with a third ring.
Reasons to Doubt
Manning has proved doubters wrong with some clutch throws in his two Super Bowl wins, but critics still find ways to scrutinize his passing ability.
He makes some questionable decisions by forcing balls into windows that just aren't there.
Most importantly, the Giants' schedule this season is brutal, with games against Pittsburgh, Green Bay New Orleans, Atlanta, Baltimore, and Philadelphia still on the horizon.
It will be very difficult for New York to even get into the playoffs, making it hard for Manning to be called the best at his position.
Projected Regular Season Stats: 4,537 passing yards, 30 TD, 15 INT
Team Record: 10-6
Playoffs: Lose in NFC Divisional Round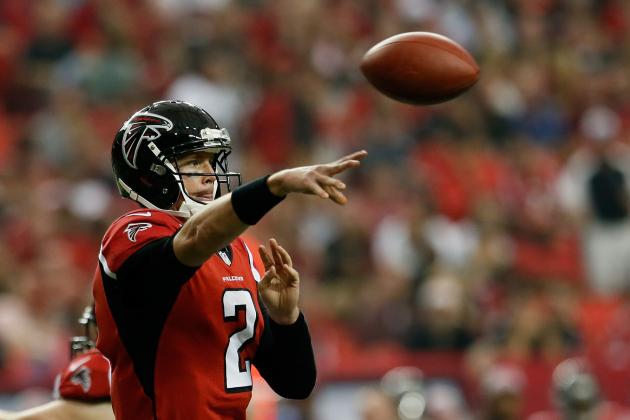 Kevin C. Cox/Getty Images
Ryan has the Falcons in firm command of their division.
Reasons to Believe
Ryan has led the Falcons to a perfect 6-0 start, and the team seems primed to move on from the last year's playoff disappointment against the Giants.
He has carved up opponents with his mastery of the hurry-up offense that has the Falcons scoring 28.5 points per game, good for sixth in the NFL.
Ryan has tossed 14 touchdowns in 2012 and is on pass for a career-high 37 scores. He won't need nearly that many to break his previous high of 29 set last year.
Matty Ice has been clutch late in games this year, orchestrating three game-winning drives to keep the Falcons unbeaten.
He has the offensive weapons to get the job done in Roddy White, Julio Jones, Tony Gonzalez, Michael Turner and Harry Douglas.
Reasons to Doubt
He struggled with three picks against the Oakland Raiders in Week 6. The Falcons have played close games in the last three weeks again Carolina, Washington, and Oakland, proving they are far from invincible.
Ryan has been in command of the offense, but what if defenses find a gameplan to stop the high-powered attacked? Will the Falcons be able to go back to their old roots of running the ball with an aging Michael Turner?
It is important that Atlanta finishes the regular season strong, but if they do not make a deep run in the playoffs, Ryan will always be considered a tier below the greats that play the position.
Projected Regular Season Stats: 4,385 passing yards, 34 TD, 14 INT
Team Record: 13-3
Playoffs: Win Super Bowl
Scott Halleran/Getty Images
Rodgers is quietly putting together an excellent season.
Reasons to Believe
Last year's NFL MVP has taken a lot of flack for the Packers' slow start, but he righted the ship with a six-TD performance against a good Houston defense in Week 6.
Even before the monster game, Rodgers still had 10 touchdown tosses in five games, and he now leads the league with 16.
Green Bay's schedule lightens beginning in Week 7, giving the quarterback a chance to put up big numbers, win games, and get the team back in the hunt for an NFC North crown.
With a healthy Greg Jennings, Rodgers can be even better and have the Packers in position to make a deep playoff run.
Reasons to Doubt
Great quarterbacks typically have help, and it's clear the Green Bay defense needs some serious work if the Packers want to make noise in the NFL playoffs.
Rodgers had a great year in 2011 and is well on his way to a big season in 2012, but none of it will matter if his team cannot win postseason football games.
The 48 total touchdowns Rodgers racked up last year were no doubt an astounding accomplishment. Even if Rodgers plays out of his mind for the rest of 2012, it may not be enough for him to be the best.
Projected Regular Season Stats: 4,550 passing yards, 41 TD, 10 INT
Team Record: 10-6
Playoffs: Lose in NFC Divisional Round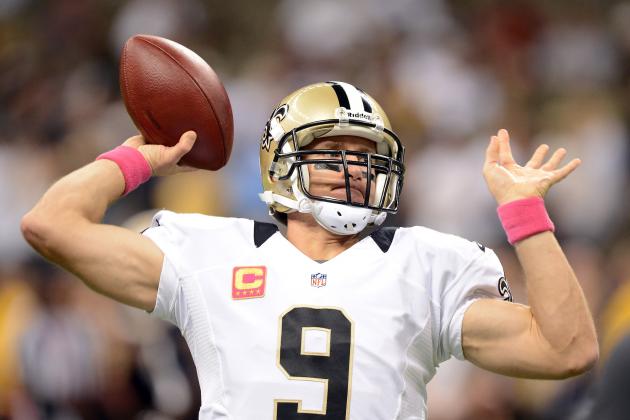 Harry How/Getty Images
If Brees can lead his team back from a horrible start, he may be considered the best.
Reasons to Believe
Brees is tied for the second in the league with 14 touchdown passes and has already had his bye week.
The veteran showed his resiliency in leading the Saints back from a 10-point deficit to beat the Chargers 31-24 in Week 5.
With a Week 6 bye, Brees and his teammates had extra rest and practice time to get on the same page and make a push in the standings.
Without Sean Payton calling the shots on the sidelines, Brees is still on pace for 5,504 passing yards, which would break the record he set in 2011. If he can somehow get the Saints into the playoffs, he may be considered the best quarterback for his efforts.
Reasons to Doubt
The Saints are off to a putrid 1-4 start and face an uphill climb to get back into playoff conversation.
The defense can take a lot of blame as it has been horrible for the entire season. Brees, however, hasn't been as sharp, completing only 58.9 percent of his passes. In comparison, Brees completed an NFL record 71.2 percent of his passes in 2011.
New Orleans has a pretty tough schedule going forward. The Saints and Brees may be regretting those early season losses to bad teams as they try to make their playoff push.
Projected Regular Season Stats: 5,312 passing yards, 42 TD, 15 INT
Team Record: 8-8
Playoffs: No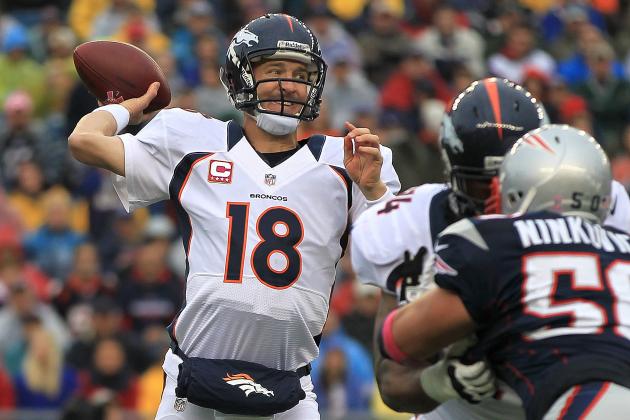 Jim Rogash/Getty Images
Manning has quieted naysayers with some excellent play.
Reasons to Believe
Manning has put up excellent numbers in his first six games (1,808 passing yards, 14 TD). He did not play a single snap in 2011 because of a career-threatening injury, but he has the Broncos at 3-3 and in first place in the AFC West.
Manning showed he still has it in Week 6's thrilling comeback victory in San Diego on Monday Night Football. He was exceptional in the second half, completing 13-of-14 passes for 167 yards and three touchdowns.
Manning evaded defenders and made some perfect throws into tight coverage, flashing his skills that made him a four-time NFL MVP and Super Bowl winner.
The AFC West is their for the taking and Manning seems to be building better rapport with his receiving corps.
Reasons to Doubt
This year, Manning has played a lot of good football in spurts, but he hasn't put together many strong full-game efforts. He's played some mediocre first halves of football and looked out of sync with his receivers.
His arm strength has been suspect and he doesn't seem to be willing to take shots down the field.
If the 36-year-old is not protected, he could take a potentially career-ending hit. Manning has taken 10 sacks in six games but has avoided the dangerous hit.
Projected Regular Season Stats: 4,423 passing yards, 34 TD, 15 INT
Team Record: 9-7
Playoffs: Lose in Wild Card Round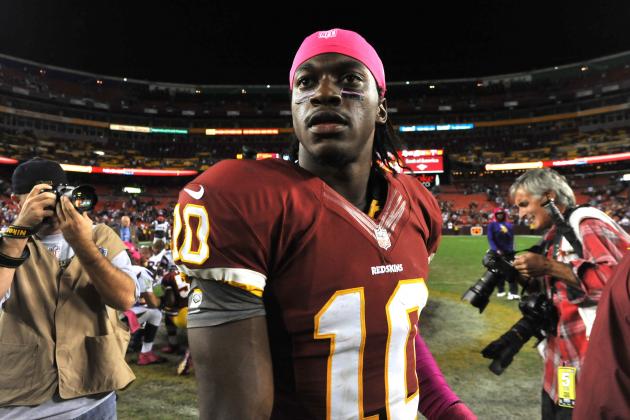 Larry French/Getty Images
RG III has brought hope to the Redskins.
Reasons to Believe
RGIII has given Redskins fans hope with his stellar early-season play. His five passing and six rushing touchdowns, including this stellar gallop in Week 6, have helped the Redskins to a 3-3 record.
If Griffin III can lead this Washington team to the playoffs and continue to put up big numbers, he will be the Rookie of the Year and may be anointed as the NFL's best.
He is completing passes at an astounding accuracy (70.2 percent) and his 100.5 QBR is third-best in the NFL. RGIII has battled through games in which he has struggled early and rebounded to put up good numbers while giving his team a chance to win.
Reasons to Doubt
The star rookie was knocked out of Week 5's game against Atlanta with a concussion, and you have to wonder if his style of play will lend itself to another concussion or other damaging injury.
If teams are able to bottle up RGIII on the ground, can he make the necessary plays through the air to win games? What makes him great is his duel-threat nature, but it seems it'll be difficult to win games with just one of those facets of his game working.
Finally, injuries have crippled the defense and he doesn't have too many weapons (aside from himself) to work with.
Projected Regular Season Stats: 3,613 passing yards, 18 TD, 912 rushing yards, 14 TD
Team Record: 8-8
Playoffs: No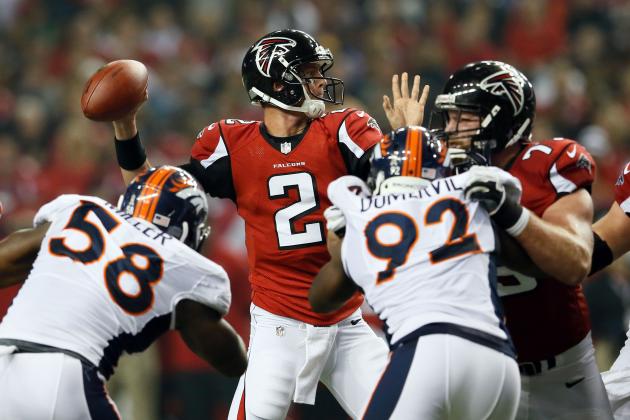 Kevin C. Cox/Getty Images
Ryan has the makeup to achieve great things in 2012.
Ryan will lead the Atlanta Falcons to a Super Bowl victory this season and establish himself as the best in the business.
His regular season numbers may not stand out as much as an Aaron Rodgers' or Drew Brees', but he will shine in postseason play and make doubters forget he was winless in three previous playoff games.
Matty Ice is in a system that suits him perfectly and gives him the reins to do what he wants. He will soar to new heights and be deserving of the title of best QB in the NFL at season's end.
The Falcons will not run the table in the regular season, but they will get a bye in the playoffs and give fans a Super Bowl championship in February of 2013.