Predicting the New York Mets' Lineup in 2 Years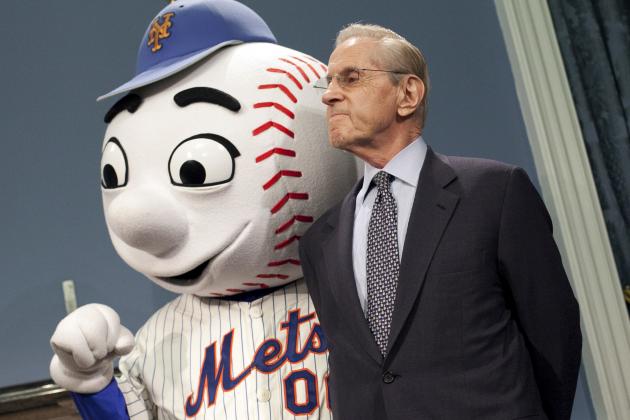 Allison Joyce/Getty Images

After four consecutive losing seasons and six straight seasons without a postseason appearance, the Mets have been trying to rebuild while trying to compete as much as they can. Many personnel changes have been made over the years, with David Wright being the only player left from the 2006 NL East Division champions.
With the Mets getting closer to being real contenders, even more changes will be occurring in the near future. Even if 2013 becomes a successful year with the Mets, even more changes will follow a year from now.
Here is what the Mets lineup could very well look like in two seasons, which would be in 2014. The players will be listed in an ideal batting order, with the ninth spot including all of the Mets' projected starting pitchers by then.
Begin Slideshow

»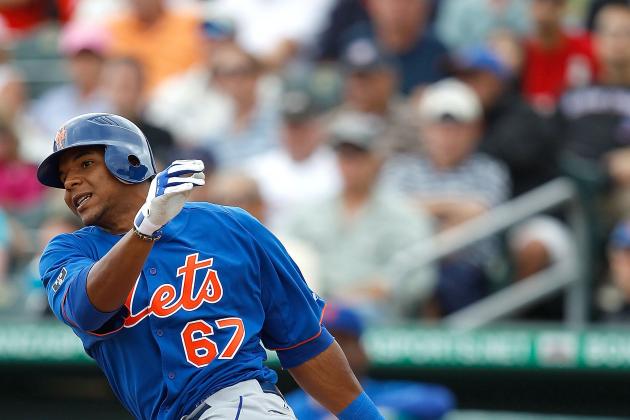 Sarah Glenn/Getty Images

Cesar Puello should be on the Mets' Opening Day lineup in 2014. If not, he will almost certainly get promoted midway through that season.
The 21-year old centerfielder has a lot of speed, as evidenced by the 45 stolen bases he had at Single A Savannah in 2010. He spent the 2012 season in High Single A St. Lucie and will most likely begin 2013 in Double A Binghamton.
This past season, Puello hit .260 with four home runs, 21 RBI and 19 stolen bases. He was limited to just 66 games and 227 at-bats though due to injuries. All in all, Puello has showed so far that he can put the ball in play, play well in the outfield and certainly run with great speed.
However, over a full season in 2011, Puello had just 18 walks. He will need to significantly improve his walk rate to really move up in the system.
Assuming he's healthy in 2013, Puello should improve in all aspects as he continues to work his way towards being the Mets' rookie centerfielder in 2014.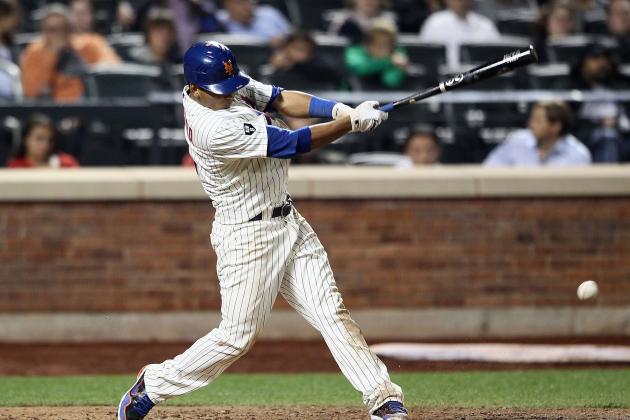 Alex Trautwig/Getty Images

After batting .289 with one home run, 25 RBI and a .333 OBP, Ruben Tejada is now the Mets shortstop for the future. With Gavin Cecchini having been drafted by the Mets in the 2012 MLB draft, Tejada could move back to second base once Cecchini gets through the minor leagues, but that is not likely to happen for at least another few years. So for now, he will remain the Mets shortstop.
Tejada is a great No. 2 hitter because he gets on base and can move runners over. He spent most of the 2012 season as the Mets' leadoff hitter, but he lacks the dynamic speed of his predecessor Jose Reyes. Thus, Tejada is much better suited at the No. 2 slot.
Hopefully, Tejada's average will improve even more in 2013 as he keeps developing as one of the most promising shortstops in the league.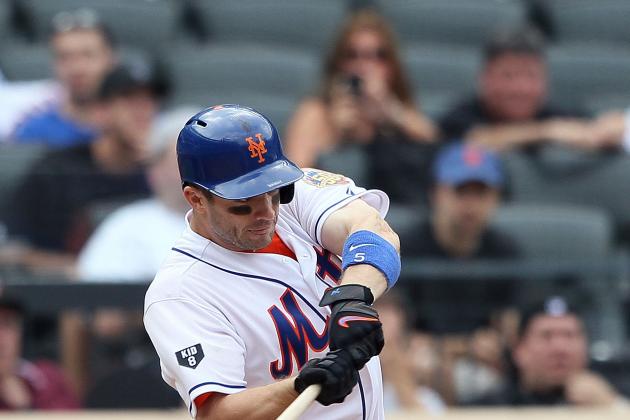 Alex Trautwig/Getty Images

The face of the franchise himself, David Wright will almost certainly get the big contract extension he deserves within the next month. As a result, he will likely be a Met for his entire career. With that being said, he will remain the Mets third baseman and No. 3 hitter until further notice.
Wright is the veteran leader of the Mets and by far their most proven position player. He had a sensational start to his 2012 season, but fell off noticeably in the second half. Nonetheless, there is nothing bad about a season that includes a .306 average, 21 home runs and 93 RBI.
Hopefully, Wright does even better in 2013 and beyond and can get back to hitting over 30 home runs and driving in well over 100 RBI.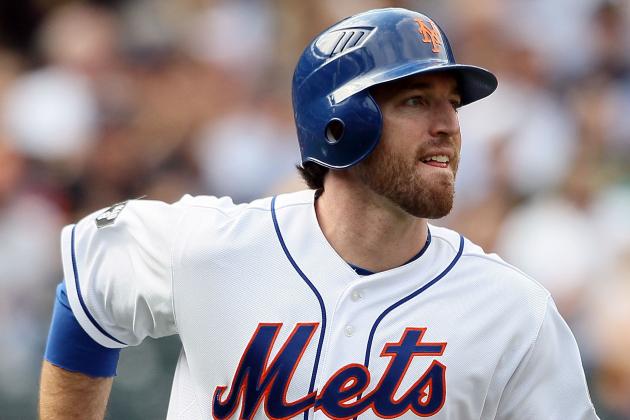 Alex Trautwig/Getty Images

Despite trade rumors, Ike Davis will remain a Mets first baseman of the future. Davis' resurgence in the second half of the 2012 season was good enough to make him a cornerstone player for the future.
The fact of the matter is that the Mets desperately need Davis' power, and he is the perfect young left-handed cleanup-hitting slugger to protect David Wright in the lineup. He also provides Gold Glove-caliber defense at first base and helps make the defense of his fellow infielders better as well.
Trading Davis in favor of Lucas Duda as the first baseman would not be smart because Davis is a noticeably better player than Duda both offensively and defensively. As a hitter, Duda has not proven himself as much as Davis. Duda has just as much potential to be a big slugger, but only hit 15 home runs in the 2012 season.
Defensively, Duda is not as good at first base as Davis. He is also larger and not as agile generally speaking.
Davis is someone that the Mets need to build around and not trade away. The Mets desperately need more power, and he was by far the Mets' best source of power in 2012.
Ezra Shaw/Getty Images

Here is the big shocker. At the end of the 2013 season, the Mets' financial situation will improve dramatically once Johan Santana and Jason Bay are no longer owed any more money from the Mets, as they will become free agents. This will give the Mets around an additional $50 million to spend in the 2013-2014 off-season.
Being that there is a pressing need for a veteran superstar outfielder, Sandy Alderson should definitely set his sights on Rangers right fielder Nelson Cruz. Cruz will be a free agent in the 2013-2014 offseason and will likely seek a three-year contract worth at least $30-40 million, if not more.
The Rangers are not guaranteed to re-sign him because of both his age (he will be 33 next July) and whether they re-sign Josh Hamilton this current offseason. With Hamilton seeking a long term contract in excess of $150 million, it will not be easy for the Rangers to commit a significant amount of money to Cruz down the road as well.
As a right-handed hitting superstar slugger, Cruz would give the Mets the third power bat they have been desperately seeking to protect David Wright and Ike Davis. Furthermore, with Wright currently as the Mets' lone right-handed power bat in the lineup, it would give the Mets another right-handed slugger that can drive in more runs and against left-handed pitchers in particular. The lineup would be a lot more balanced, and this is exactly what the Mets will need.
If Cruz does indeed become a Met by 2014, he would be reunited with the organization that originally signed him as a free agent in 1998. Unfortunately, the Mets traded him away late in the 2000 season for the forgettable backup infielder Jorge Velandia.
If the Rangers re-sign Josh Hamilton, this will significantly lower the chances they will have of re-signing Cruz as well. Thus, if Hamilton stays in Texas, look for the Mets to seriously pursue and pay a lot of money to Cruz in the 2013-2014 offseason.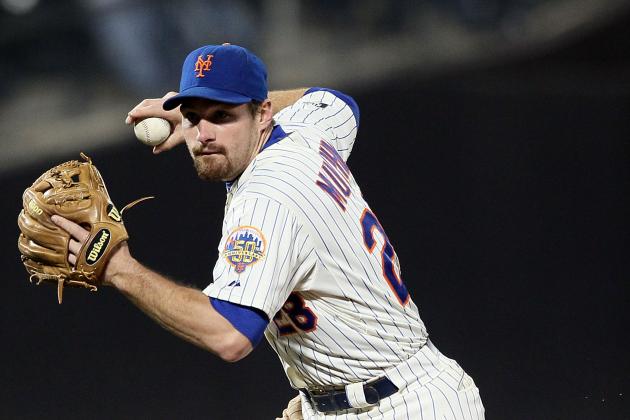 Alex Trautwig/Getty Images

Hard-working second baseman Daniel Murphy will remain a Met for the near future mainly because the market for a transitioned second baseman that is a doubles hitter is not particularly great. As a result, the Mets would find few takers for Murphy that would give a reasonable return package.
Coming off a season in which he batted .291 with six home runs and 65 RBI, Murphy will hopefully do even better in the next few years. At 27, Murphy is very close, if not already at his prime, and should continue to get on base, drive in runs, hit many doubles and maybe even double-digit home runs. Murphy is an ideal No .2 hitter, but between him and Ruben Tejada, he is better off lower in the order because he is much more of a run producer than Tejada.
Defensively, Murphy has improved a lot despite allowing 15 errors. Double plays are still a work in progress, but overall, the Mets have to be pleased with Murphy's defensive improvements. Hopefully, his defense will only get better going forward.
Murphy is under the Mets' control through 2016, and unless they find the right trade at the right price, he will continue to be the Mets second baseman.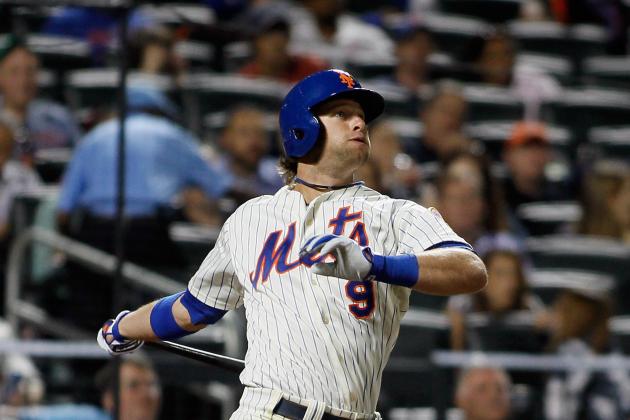 Mike Stobe/Getty Images

After an unexpected call-up on the second day of the season thanks to a calf injury sustained by Andres Torres on Opening Day, Kirk Nieuwenhuis impressed the Mets tremendously in April of the 2012 season with his hitting and steady defense in center field. His big month certainly helped him remain a starting outfielder for the first three months of the season.
Then July came, and Nieuwenhuis simply stopped hitting, which led to him being demoted to the minor leagues near the end of the month. He unfortunately got injured shortly afterward and was done for the season.
Nieuwenhuis will be competing to be the Mets' everyday centerfielder in 2013 and is the in-house favorite so far. He will likely remain the Mets centerfielder until Cesar Puello is ready for the major leagues, which could happen by 2014. Once that happens, Nieuwenhuis will shift to either left field or right field. And if the Mets sign someone like Nelson Cruz in the 2013-2014 offseason, Nieuwenhuis will be in left field.
The position itself is not an issue for Nieuwenhuis because he showed he can play very well in all three outfield positions this year.
Free-agent signings and various trades could certainly get in the way for Nieuwenhuis to be a starter, but with the way the Mets are currently set up, he can be a productive outfielder. Again, he has shown that he can get on base, hit some home runs, play very well in the outfield and maybe even steal a few bases as well.
On the other hand, Nieuwenhuis will have to get a lot more patient at the plate and cut down on the strikeouts significantly for him to stay in the lineup. Nieuwenhuis only had 25 walks in 2012, but struck out 98 times in 282 at-bats. If he can improve both statistics, the Mets could soon have a better outfield than anyone would ever expect.
With his lack of major league experience and young age, Nieuwenhuis will be a Met for at least the near future, if not longer. He is much better off playing every day than being a bench player, so he will likely be a fixture in the outfield for at least the next few years.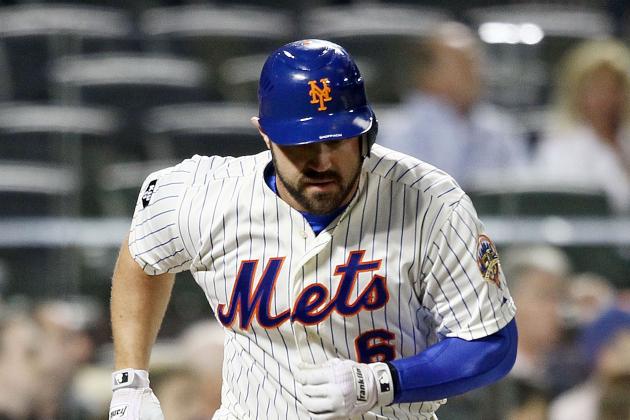 Alex Trautwig/Getty Images

If it comes down to Josh Thole and Kelly Shoppach for the Mets' everyday catcher, Shoppach would be a much better choice going forward.
With Thole having such an awful season both offensively and defensively, the Mets really need an upgrade behind the plate. If they can find a way to re-sign Shoppach for two years and have him start, the Mets will be in better shape, compared to staying with Thole as the starter.
At this point, Thole is best suited as R.A. Dickey's personal catcher because not many other catchers are as good with catching knuckleballs compared to Thole, who has now been doing so for the past few years.
Getting back to Shoppach, he batted just .203 with three home runs and 10 RBI after getting traded in the middle of August from the Red Sox. Those numbers might not sound particularly good, but Shoppach was clutch at times and hit more home runs as a Met than Thole, Mike Nickeas and Rob Johnson combined. That goes to show how much more productive Shoppach was among all Mets catchers in the 2012 season.
The free-agent market for catchers is very thin, and especially with Braves backstop Brian McCann very likely to re-sign and stay in Atlanta. Russell Martin could be another option, but with the Mets not having much money at all right now to spend on free agents, Martin will likely get a better deal elsewhere. These reasons are why it's imperative for the Mets to re-sign Shoppach just so they have at least one proven catcher at the start of the 2013 season.
Shoppach will much rather accept a multi-year contract than just a one-year deal. With that being said, he will very likely remain the Mets catcher in 2014, assuming that no signings or trades for better catchers are made any time soon.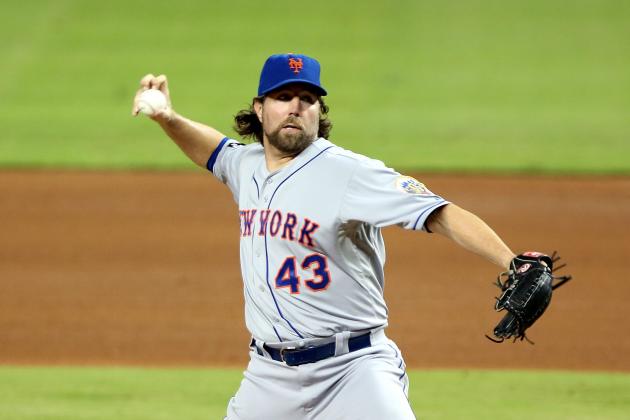 Marc Serota/Getty Images

Assuming he gets a new contract extension from the Mets this offseason, 2012 NL Cy Young Award favorite R.A. Dickey will still be the Mets' ace by the 2014 season. His next few seasons may not include the 20 wins and league-leading 230 strikeouts that he had this year, but there's every reason to believe he will still be one of the most elite pitchers in baseball for the next few years.
Jon Niese had a breakout season that included career highs in wins (13) and ERA (3.40) as he continues to improve as the Mets' most notable left-handed starter. Barring any potential trades going forward, Niese will remain a fixture in the Mets rotation. He will very likely be the Mets' No. 2 starter in 2013, but could fall as low as No. 4 by 2014 depending on the performance of two other pitchers.
Those two other pitchers include top prospects Matt Harvey and Zack Wheeler. Harvey came up in late July of this year and was very impressive in his first 10 major league starts. Despite a 3-5 record, he had a 2.73 ERA and got 70 strikeouts in 59.1 innings pitched. Harvey will begin the 2013 season as the Mets' No. 3 starter and could potentially become an ace or co-ace in 2014 if he does very well in his first full major league season.
Wheeler, though, is projected to be even better than Harvey and will probably start his 2013 season in the minor leagues at the Triple A level. If any Mets starter next season underachieves and/or gets hurt, though, look for Wheeler to be called up for good. This could happen in May, June or even July, but Wheeler will almost certainly make his major league debut sometime in 2013. By 2014, he will be yet another fixture in the Mets rotation and will likely move up in the depth chart.
With Dickey, Niese, Harvey and Wheeler all widely projected to continue to be in the Mets rotation for quite some time, the only real debate will have to do with who the fifth starter is. Depending on who the Mets sign, re-sign or trade for in both this offseason and the following offseason, many different pitchers could have a shot at rounding out the Mets rotation.
As of right now, the safest bet would be Dillon Gee. Veteran Johan Santana's 2014 option will most likely not get picked up, which would result in him becoming a free agent. If Santana gets hurt at some point in the 2013 season, the Mets would simply call up Wheeler for good, which would work very well for Gee to remain in the rotation.
However, if the Mets really feel Wheeler is ready for his major league promotion and one of the current starters will be forced out of the rotation, the most logical guess would be Gee. Dickey, Niese and Harvey are all better pitchers, while Santana is a two-time Cy Young Award winning veteran that will be getting paid over $30 million next season.
Because of all that, Gee would probably be the odd man out in such a scenario. Then, once Santana departs as a free agent in the 2013-2014 offseason, Gee would have security again as a back-end starter. Gee led the Mets in 2011 with 13 wins, though, so it's not like he is much worse than his teammates by any means.
All in all, the Mets rotation in two years will include Dickey, Niese, Harvey, Wheeler and Gee.