New York Yankees vs. Detroit Tigers: ALCS Game 4 Live Scores and Analysis
The sun has broken through this afternoon and Game 4 of the American League Championship Series is underway from Detroit's Comerica Park.
Max Scherzer will try and pitch the Tigers into the World Series while CC Sabathia will do his best to keep the New York Yankees alive.
SCORE UPDATE:
FINAL: Tigers 8 - 1 Yankees
Tigers Win Series 4-0
Tigers win 11th AL Pennant
W: Scherzer
L: Sabathia
Nix is the batter.
The crowd chants "SWEEP!"
A POP UP TO FIELDER ENDS THE SERIES!
THE TIGERS HAVE SWEPT THE YANKEES AND HAVE WON THE 2012 AMERICAN LEAGUE PENNANT AS "GO GET 'EM TIGERS" PLAYS ON THE SCOREBOARD!
Every one that can stand is.
A-Rod chops one to short and the Tigers need just one more out.
Teixeira loops one to Peralta.
Two outs away as A-Rod steps up to boo's.
Coke gets the nod to close this out.
Not a save situation as he faces Teixeira to start.
As Dirks strikes out, the Tigers have more hits tonight than they have ever had in a postseason game with 16.
Garcia flies out to center and Detroit is about to have a really good time.
Peralta homers into the Tiger pen in left and now there are smiles and cheers all over.
Detroit came ready tonight.
David Robertson gets the honor on the mound in the eighth and gets Delmon Young to ground out to second.
The odds of Robbie Cano going 3 for 40 in the postseason would seem ridiculous. But there you have it

— Pete Abraham (@PeteAbe) October 18, 2012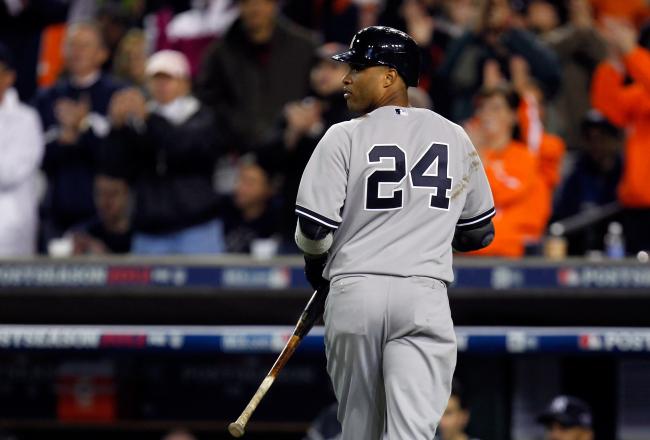 Cano hits a grounder to a running Prince Fielder's backhand-side towards second and Prince is able to flip to Coke for the out.
The Tigers need three outs now.
Cano would love to forget this postseason the the second that charter takes off from Detroit.
Swisher flies to left-center and the Yankees have less outs left than there are runs behind.
Phil Coke is the new Tiger pitcher and he knocks down an Ichiro liner for the first out.
Do you think Leyland will try and use Verlander for Games 1, 4 and 7 in the World Series?
"@sota1981 hey Dog..what do you think was the turning point of Det-NY series?" The first pitch of game 1.

— Chris Mad Dog Russo (@MadDogUnleashed) October 18, 2012
Prince Fielder grounds to third and the Tigers pen now has just six outs to go for the Pennant.
Jayson Nix is now at third and Chris Stewart is the new catcher for the Yankees.
Infante and Cabrera have been retired and the party has started in Detroit.
Derek Lowe comes in to pitch for the Yankees and Austin Jackson plays the rude house guest by greeting him with a home run to left.
Not only did Teixeira's two misplays lead to 2-0 run in third, it moved order around so Cabrera would be up early in 4th. He homered.

— Freep Tigers (@freeptigers) October 18, 2012
Nunez flies out to center and the Yankees are running out of outs.
They have not been swept in a best-of-seven series since the Reds did the deed in the 1976 World Series.
Brett Gardner strikes out and there are two out.
Benoit and Coke are warming.
Do we see Valverde tonight?
Deja vu? If Tigers clinch, would have common bond with 2006 clinching game vs Yankees. Jeremy Bonderman 0 H thru 5 IP that day.

— ESPN Stats & Info (@ESPNStatsInfo) October 18, 2012
Nix draws a walk and Granderson pinch-hits for Martin.
Yankees are emptying their bench in a last-ditch hope to get something going.
Granderson promptly strikes out on three pitches.
Drew Smyly actually threw his warm-up pitches before the seventh and Leyland then pulled him.
So, Dotel is now in and Jayson Nix is pinch-hitting for Chavez.
This is probablya good game for Leyland to get Valverde a relatively stress-free inning

— Pete Abraham (@PeteAbe) October 18, 2012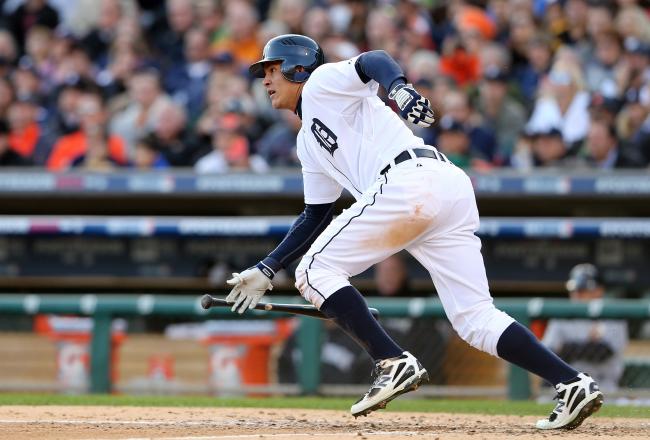 Garcia hits a ground-rule double to right-center that certainly cost them a run.
It hit on warning track and it bounced over the 15-foot wall in right-center.
Chamberlain works around it as Laird hits a comebacker that bounces off Joba and is retired.
Dirks denies the first perfect inning of the night for Yankee pitchers as he singles into the hole in left.
1-2-2 for the Yankees, 6-13-1 for the Tigers.
Stunning numbers off of Sabathia.
Unless the Yankees have a crazy comeback, this will be 1st postseason series in which they failed to hold a lead since the '63 World Series.

— Buster Olney (@Buster_ESPN) October 18, 2012
This article is
What is the duplicate article?
Why is this article offensive?
Where is this article plagiarized from?
Why is this article poorly edited?