Training Camp Battles That Will Shape the 2012-13 NBA Season
Soobum Im-US PRESSWIRE
The contending teams in the NBA are pretty apparent: the Los Angeles teams, the Miami Heat, the Oklahoma City Thunder, the New York squads, the Indiana Pacers and a few others. Many of them have positional battles that will determine their overall quality.
If an NBA team is calling itself a contender, nine times out of 10 its starting five is already set. However, we can't overlook the importance of the role players and key reserves that often shift momentum in the postseason.
Mike Miller played a huge role for the Heat in their NBA championship run this past season. Teams need spark plugs that ignite them offensively and defensively, and these guys aren't falling from trees. Finding the right guys to place in those situations is key.
Some teams have multiple players that appear to be capable of filling those roles, but there are only so many minutes to go around.
Here are six examples of top-flight NBA teams with players battling for what could be crucial minutes.
Reserve Minutes in the Memphis Backcourt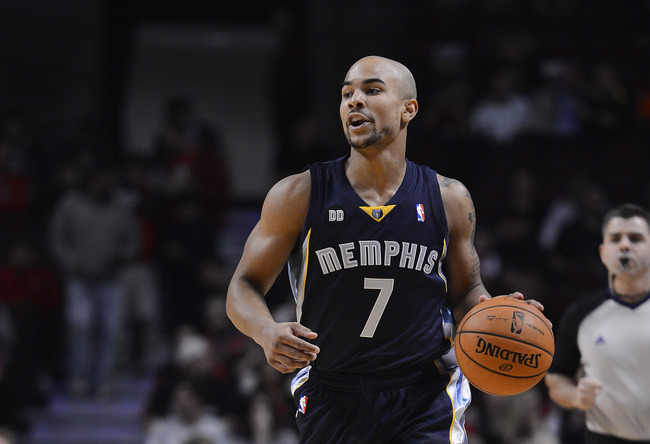 Mike DiNovo-US PRESSWIRE
A huge void has been left with the departure of O.J. Mayo. He was the Grizzlies' best bench player and a source of instant offense from the perimeter. There are a few players on the roster that have the talent to step up, but none are as proven as Mayo.
The Grizzlies also need someone to provide consistent minutes in relief of Mike Conley. Here are the contenders:
Jerryd Bayless
He is a lightning-quick combo guard, but he has struggled to find consistency as a point guard. That's because that's not what he is. Bayless is a scorer, and he's shown consistent improvement in that area. He's raised his scoring average in each of the four seasons he's played in the NBA.
Last season, he averaged 11.4 points in 31 games for Toronto. He comes to Memphis with the best shot at filling the void left by Mayo.
Josh Selby
Selby is similar to Bayless in that he's an undersized shooting guard. At 6'2", his position seems to be at the point, but his skill set doesn't match. He also doesn't shoot the ball from distance exceptionally well. In 2011, he only made 35 percent of his shots from the field and 13 percent of his three-point attempts.
Until he proves he can knock down the three consistently, he doesn't deserve to beat out Bayless for minutes.
Wayne Ellington
Shooting is supposed to be Ellington's forte, but his three-point percentage dipped a bit last season. While still with the Minnesota Timberwolves, Ellington made a career-low 32 percent of his threes. That isn't good for a guy that doesn't do anything else really well.
If he could knock down shots consistently, he'd drastically increase his chances for playing time.
Tony Wroten
Wroten can't shoot the ball at all, but he is an amazing athlete with the size and skills to play both backcourt positions. He can be a stat sheet stuffer, and if he commits to defending he'll get minutes. In his only preseason action he had seven points, four rebounds, four assists and two steals.
Unfortunately, he did it it on only 28 percent shooting from the field.
The Verdict
Wroten and Bayless deserve the opportunity to log the majority of the reserve minutes behind Conley and Tony Allen. They could be a nice tandem because Wroten's size and ability to handle the ball would allow Bayless to play shooting guard on offense and guard point guards on the other end.
This would be a nice, athletic and youthful reserve backcourt.
Do the Spurs Have Another Super Import?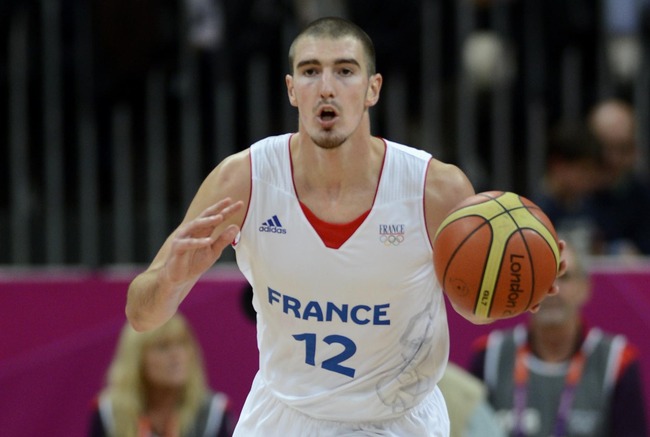 Richard Mackson-US PRESSWIRE
The San Antonio Spurs have always done an excellent job grabbing international players. Tony Parker, Manu Ginobili and others have come to San Antonio from other countries. The Spurs may have found their latest foreign impact player in Nando de Colo.
The 6'5" guard from France is extremely versatile. He had a notable preseason performance against the Atlanta Hawks. He scored 11 points, grabbed two rebounds and dished nine assists.
The 25-year-old could see time behind Parker, but one thing is for sure: The Spurs have to find some minutes for him. Patty Mills and Gary Neal figure to get time as Parker's backup, but neither offers the potential upside de Colo does.
Something tells me he's about to become a key member of the Spurs' bench and a popular figure in the NBA this season.
Don't Sleep on CDR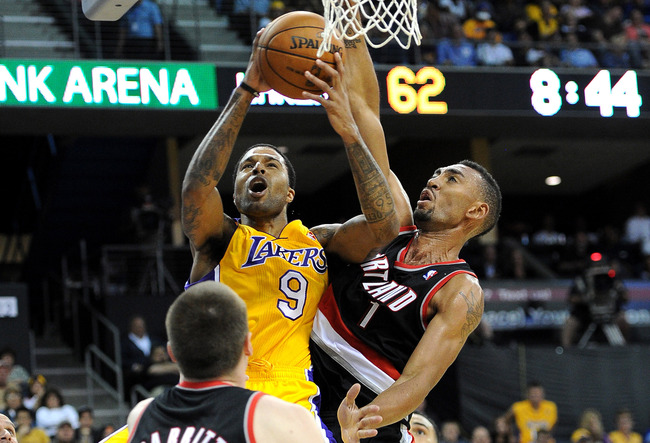 Jayne Kamin-Oncea-US PRESSWIRE
If there's one thing Chris Douglas-Roberts can do, it's score. He has a knack for getting to the rim and to the free-throw line. In many ways, I've always thought he was the perfect sixth man. He can come off the bench, heat things up and the coach has the option to play him at the end of the game if he stays hot.
CDR may get an opportunity to play that role for the Los Angeles Lakers this season.
In his career he has averaged just 7.7 points per game, but that has come with inconsistent minutes. He had a 30-point game in 2009, and during the preseason, he's scoring 5.3 points per game in just over eight minutes of action.
As Kobe Bryant or Metta World Peace's backup, he could pay huge dividends.
Here's his competition:
Devin Ebanks
He played the majority of reserve minutes at small forward last season, and he filled in for MWP while he was suspended for trying to permanently indent James Harden's head.
Ebanks is more of an all-around player than CDR, but off the bench, I'm not sure that's what this offense needs. He certainly defends better than CDR. Adding that factor and his time with the club could sway Mike Brown in his favor.
Jodie Meeks
Meeks is an undersized 2-guard, but he's a big-time three-point bomber. He has shot 37 percent from deep in his career. He's listed at a generous 6'4", but his primary ability is as a spot-up shooter. It's a skill that should be increasingly valuable playing with Dwight Howard, Pau Gasol and Kobe Bryant.
Meeks has struggled in the preseason. He was scoreless in his first two games, but he did break out a bit against the Jazz on Tuesday. He had 12 points, all on three point shots. He was 4-of-6 from distance, and that's what the Lakers want to see from him.
The Verdict
Meeks and Ebanks have the edge on CDR, but the Lakers would be smart to keep the latter on the roster. There is something to be said for a guy that can fill it up.
The Backup Bigs in South Beach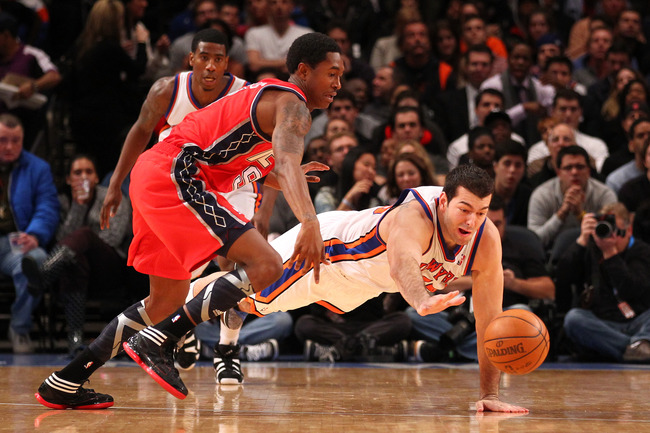 Al Bello/Getty Images
With Chris Bosh starting at center, the Miami Heat will not have a conventional center. That said, they'll need someone to provide consistent minutes off the bench in the post.
Joel Anthony is there, but he is undersized and not much of an offensive threat. Obviously, it was enough to win last season, but the Heat need to look to get better.
Here are the candidates to log minutes behind Bosh:
Joel Anthony
You know what you get with Anthony, good and bad. His defense and selfless approach is a plus for any team. That said, the Heat could benefit from getting some offense out of the 5 spot when Bosh isn't in the game.
That, of course, is Anthony's biggest weakness.
Josh Harrellson
Offense is not the biggest weakness for Harrellson. The big man from Kentucky isn't nearly as athletic as Anthony, but he can shoot the ball. At 6'10", 275 pounds, he isn't undersized, and he can stretch the defense to create mismatches. Imagine him on the floor with LeBron James and Dwyane Wade.
If he takes the big from the other team away from the basket, it makes James and Wade's drives that much easier. He shot 34 percent from distance last season with the Knicks, and he could be a Brad Miller-type for the Heat.
Dexter Pittman
Unless the Heat are looking for an enforcer, Pittman shouldn't be the first big off the bench. He proved to Lance Stephenson of the Indiana Pacers he lays the hammer on opponents to send a message.
However, his three points and two rebounds per game last season don't scream "give me more playing time."
The Verdict
There's no way the Heat turn their back on Anthony, and even Udonis Haslem can give the team minutes at center. That said, Harrellson adds an attractive dimension that could make the team's offense even more dangerous.
Erick Spoelstra has to get him some minutes.
The New Bench Mob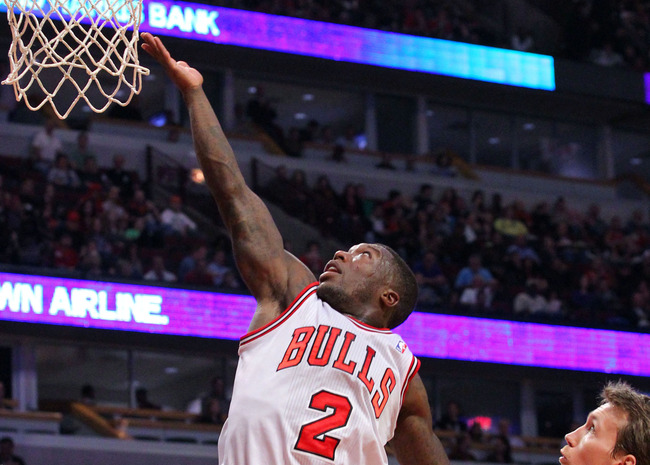 Dennis Wierzbicki-US PRESSWIRE
After Nate Robinson's huge game on Tuesday night, the first question that may need to be answered is whether he's even going to be a reserve. Veteran point guard Kirk Hinrich was a healthy scratch, and Robinson played 37 minutes.
He scored 24 points and dished out a surprising 14 assists. That's showing the ability to score and create for others, which is something Hinrich really can't do at this point in his career.
Assuming things stay as they are, Robinson will be a key part of the Chicago Bulls' new Bench Mob. Last season's reserves were one of the Bulls' biggest assets. Their plus-8.7 point differential was the sixth highest in the NBA.
This year, many of those players have moved on, and they've been replaced by Robinson, Marco Belinelli, rookie Marquis Teague and a few others.
The frontcourt rotations are pretty much set, but the backcourt looks to be undecided. As long as Derrick Rose is out, I'd think that Hinrich would start in his place. Robinson will be his backup, as Teague hasn't shown that he is ready for extended playing time.
If Robinson continues to play as he did in the last preseason game, he could become the starter. Tom Thibodeau has displayed in the past he will play the best player, no matter what.
At shooting guard, it's Rip Hamilton's starting job, but Belinelli and Jimmy Butler will both see time behind him. Butler is better suited at the 3, but Luol Deng generally plays a ton of minutes. If the Bulls are going to work Butler in, he'll get more opportunities at the 2-guard.
The Verdict
Hinrich will likely start until Rose returns, but a hot Robinson will play more minutes. Belinelli isn't the athlete, defender or rebounder Butler is, but he can handle and shoot the ball better.
Those skills will get him more playing time on a team that figures to struggle scoring.
Backup Bigs in Beantown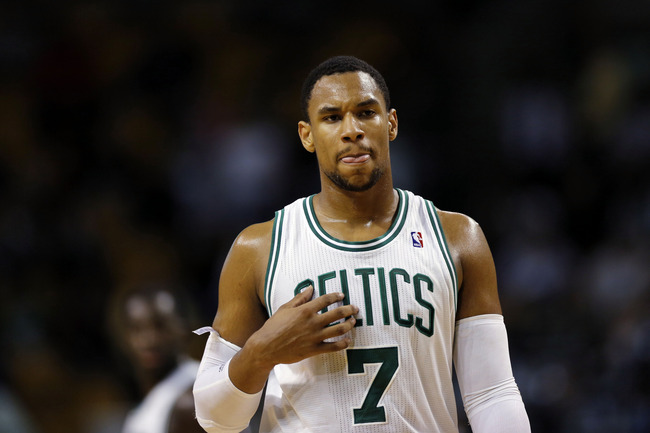 Greg M. Cooper-US PRESSWIRE
Kevin Garnett and Brandon Bass will play the bulk of the minutes at the PF and C spots, but the Boston Celtics have a wealth of bigs that will be vying for time behind them.
Which two players from this group will play the most minutes?
Jared Sullinger
The Celtics may have gotten a draft-day steal with Sullinger. In five preseason games, he's averaging 10.8 points and 7.2 rebounds per game. That's not bad for a player that slipped to the 21st pick in the draft. He's shaken off criticisms about his weight and health, and he's performed like he should have been a lottery pick.
Darko Milicic
Milicic is a true center with excellent size. He's free of the mammoth expectations he once carried, and now he can simply be a role player. That's a role he can flourish in with the Celtics. He'll have one simple primary job, and that is to protect the basket.
He's a good fit for the Celtics' defensive scheme, and Rajon Rondo will create easy scoring opportunities for him.
Fab Melo
He clearly doesn't look ready to play in the NBA. Through five games, he hasn't scored in the preseason, and he looks a bit lost. Expect to see him in street clothes all season or sent to the Developmental League.
Jason Collins
Collins can give the team minutes in spots when a big body is needed, but he doesn't threaten Milicic for minutes behind Garnett.
Jeff Green
The Celtics have to be happy with what they're seeing from Green. In the preseason, he's averaging 13.4 points per game. Green's versatility allows him to play the PF or SF positions, and he's apparently all the way back from the heart ailment that kept him out all of last season.
He's perhaps the single biggest x-factor on any team in the NBA.
The Verdict
Expect Sullinger, Milicic and Green to log most of the minutes in relief of Garnett and Bass. Those three will make the Celtics bench one of the strongest reserve units in the NBA.
There were quite a few people griping about Ray Allen's exit, but this Celtics team will be even better than the one that made it to the Eastern Conference Finals.
This is going to be a great NBA season.
Follow Brian Mazique and Franchiseplay on YouTube and Twitter for reactions, analysis and news from the world of sports and sports video games
Keep Reading