5 Tips the Yankees Can Learn from Red Sox's 2004 Comeback to Pull off Miracle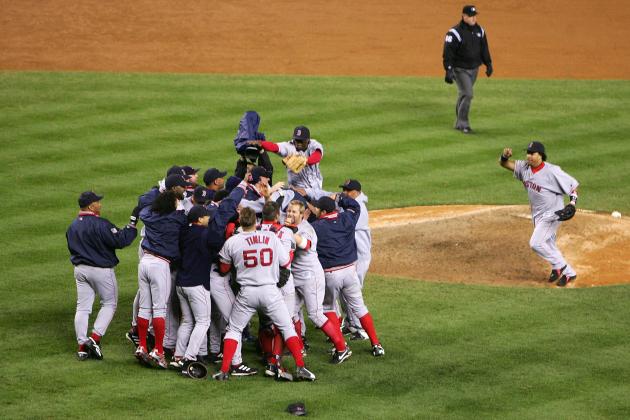 Ezra Shaw/Getty Images

With their 2-1 loss to the Detroit Tigers on Tuesday night, the New York Yankees have put themselves into a hole that only one team in Major League Baseball history has ever climbed out of.
Facing a 3-0 deficit in the ALCS, the Yankees must now do what the Boston Red Sox did to them just eight years ago.
The '04 Red Sox proved that no odds are insurmountable—next to impossible, but not insurmountable.
There is one major difference with this current Yankees group and the team that shocked the baseball world eight years ago—the Yankees have to do it without their captain, Derek Jeter.
Still, the Yankees are there and have a chance. If they can just channel the way the Red Sox felt heading into Game 4 not so long ago...
Here are five ideas for the Yankees if they want to repeat recent history.
Begin Slideshow

»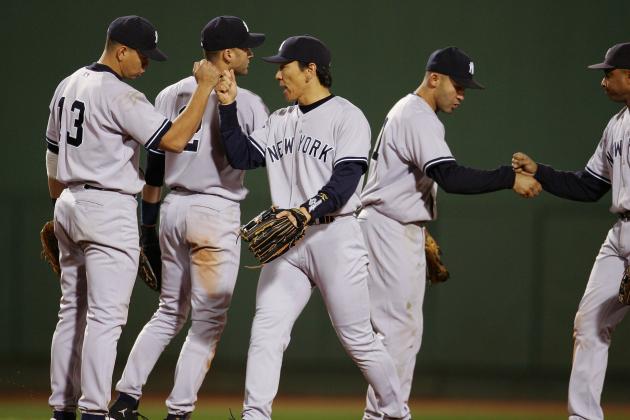 Al Bello/Getty Images
The Yankees were pumped after winning Game 3 in 2004.
When the Boston Red Sox got embarrassed by the New York Yankees in Game 3 of the 2004 ALCS, they simply didn't look like a team that was ready to accept defeat.
Sure, they just lost 19-8 to the mighty Yankees in their home park, but the Sox took an attitude of not looking at the totality of it all.
Current Yankees pitcher Derek Lowe was a member of that particular team. He ought to know what it takes to come back:
"Again, it's obviously hard. It's only happened one time in the history of baseball, but it definitely can happen again," Lowe said last night. "You just want that one victory, and as crazy as it sounds, there's more pressure on them because they don't want to go back to New York. Again, we have to accept where we are and try to win every single at-bat in every single inning and not think about how hard it's going to be."
And speaking of Derek Lowe...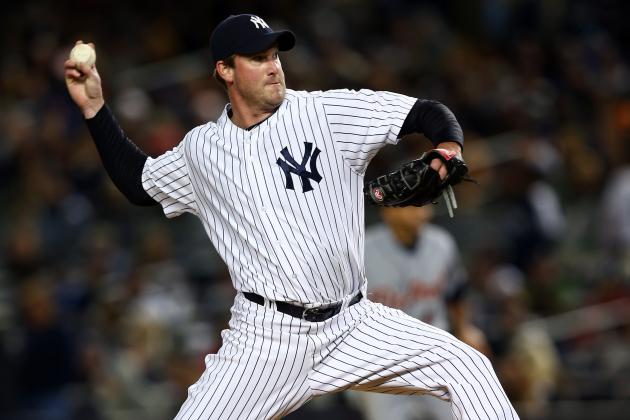 Elsa/Getty Images

The New York Yankees happen to have a player on their current roster who was intimately involved in sending the Yankees home eight years ago—starting pitcher Derek Lowe.
Lowe started Games 4 and 7 for the Red Sox in the 2004 ALCS. While he didn't factor in the decision in Game 4, he gave the Red Sox what they needed—a fighting chance.
Lowe is quite well-rested. The Yankees are coming back with CC Sabathia on short rest to try and save the Yankees' season.
Why not use a man who is not only well-rested, but can take that "I've got nothing to lose" attitude out to the mound with him?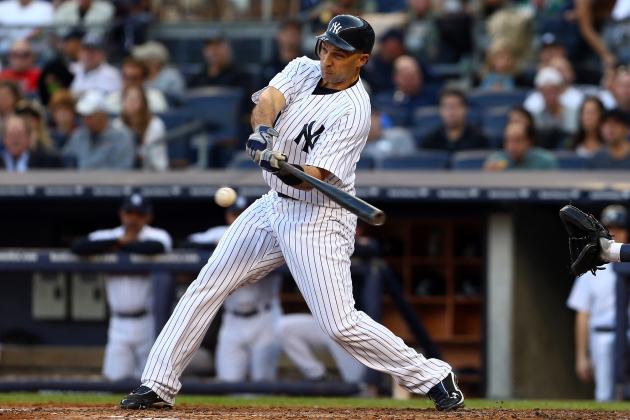 Alex Trautwig/Getty Images

The 2004 Boston Red Sox were well-known as a tight-knit group who fed off of each other and played with a care-free attitude.
Former Sox DH/first baseman/utility man Kevin Millar coined the term "Cowboy Up" as a sort of rallying cry for his mates—it certainly worked in the 2004 ALCS.
The Yankees need to identify that Millar-type guy and feed off the energy.
My pick is Raul Ibanez.
At 40-years-old, Ibanez has already delivered for the Yankees in this postseason. At this stage in his career, the only thing Ibanez wants is a ring—he doesn't have one of those yet.
Ibanez no doubt wants to saddle up and ride off into the sunset on top.
The Yankees need to follow his lead and saddle up along with him. He's done a pretty good job of delivering in the clutch so far.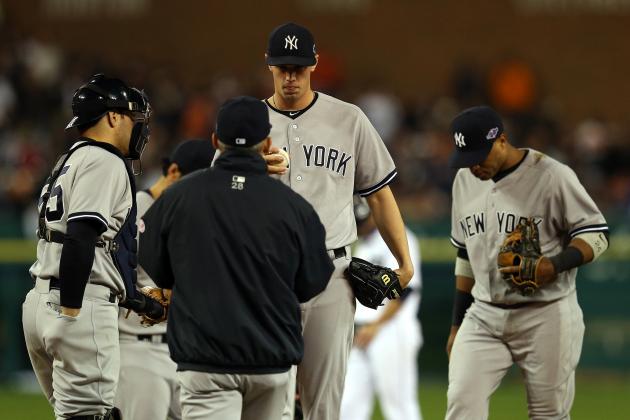 Jonathan Daniel/Getty Images

As discussed before, the 2004 Red Sox had a chemistry among their players that was palpable and obvious.
The 2012 New York Yankees do not.
The Red Sox used that chemistry eight years ago to fashion a comeback like no other—they climbed on each other's backs, not just one man.
The Yankees simply don't have that in their clubhouse. Sure, they have players who probably get along and hang out for a beer after a game, but a complete team chemistry?
Well, boys, it's time to fake it until you make it.
Putting together a roster loaded with multi-million dollar athletes is not the formula for building chemistry. What does build chemistry is attitude, and the Yankees now need to fake that attitude.
It's okay if it's not real, but at least make it look real. At this point, there's nothing left to lose and everything to gain.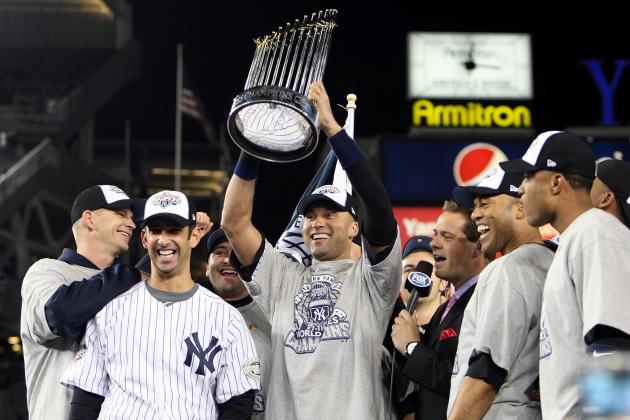 Jed Jacobsohn/Getty Images

This doesn't necessarily qualify as a tip from the 2004 Red Sox ALCS win, but it could add something historically to the New York Yankees' storied legacy.
The Yankees are without question the most successful franchise in North American professional sports history. With 27 world championships, no other team in any sport comes close.
It pains me to say that, considering I grew up in Boston.
However, the Yankees have done just about everything you could ask for in a franchise. They have won, and lost, in a variety of different ways.
Coming back from a 3-0 hole would only add to this team's storied legacy.
Think about it—we're talking about a team that pulled off the heist of the 20th century (Babe Ruth) to build a franchise that kept on winning and never looked back.
They've climbed to the top far more times than any other.
The one thing they've never done is come back from insurmountable odds. The 1958 Yankees fought back from a three games to one deficit to defeat the Milwaukee Braves in the World Series—only the second time in history that feat had been accomplished.
But that wasn't necessarily insurmountable. A 3-0 deficit is. Ask the Red Sox.
The Yankees have lost the first two games of a series to come back and win (1978 World Series), they've fought back from a 3-2 deficit (1952 World Series) and the aforementioned 3-1 deficit in 1958.
They can complete the superfecta by winning the next four games.
Doug Mead is a featured columnist with Bleacher Report. His work has been featured on the Seattle Post-Intelligencer, SF Gate, CBS Sports, the Los Angeles Times and the Houston Chronicle.