NFL Week 7 Picks: Game by Game Predictions & More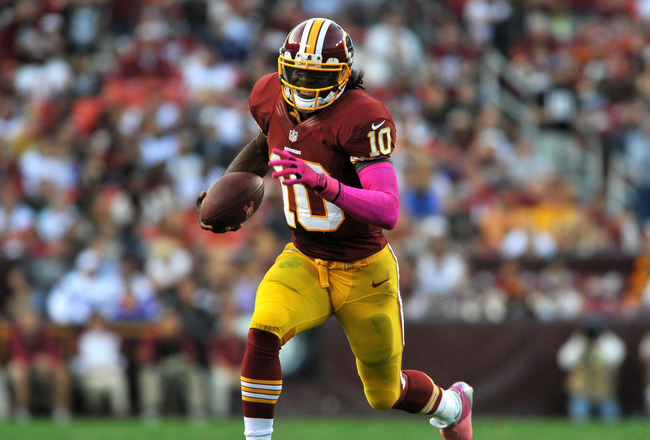 Larry French/Getty Images
Week 7 in the NFL has six teams on a bye, but there are some big games on the schedule.
We start with an NFC West battle royal on Thursday Night Football when the Seattle Seahawks travel south to face the San Francisco 49ers to see which team will sit atop the division.
The final game of the week is an NFC North tilt featuring the Chicago Bears and Detroit Lions in the windy city on Monday Night Football.
From start to finish, Week 7 will be full of big games with playoff implications.
Here are my predictions for every game, along with a little something extra for your enjoyment.
Seahawks at 49ers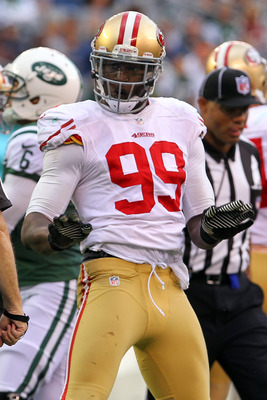 Ed Mulholland-US PRESSWIRE
Prediction: 49ers win at home, 23-17.
The score in this game might be even lower than what I've predicted here, as both teams feature top-six defenses and only allow opposing teams around 15.5 points per game.
Alex Smith will bounce back from his three-interception debacle against the New York Giants in Week 6 to put together a solid effort. Russell Wilson will need Marshawn Lynch to have a big game, or he will feel the 49ers pass rush breathing down his neck the entire night.
Jim Harbaugh and Greg Roman will not make Smith the focal point of the offense like they did last week. Frank Gore and Kendall Hunter will see at least 25 carries between them, and the No. 4 ranked 49ers offense won't get shut down two weeks in a row.
Something extra: Aldon Smith will come away with at least two sacks.
Titans at Bills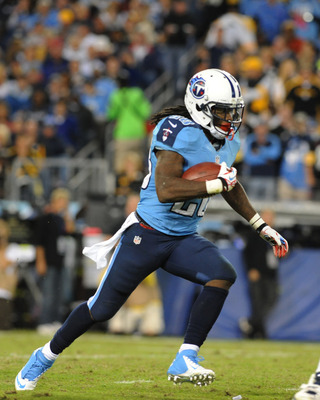 Al Messerschmidt/Getty Images
Prediction: Titans win on the road, 28-24.
These two teams are the two worst in the NFL at allowing points to their opponents, allowing 32 (Buf) and 34 points (Ten) per contest.
Both teams have also had issues generating offense for most of the year, meaning that the outcome of this game is highly unpredictable.
Chris Johnson had a solid outing in Week 6 against the Pittsburgh Steelers, and I predict he'll have another big game for the Tennessee Titans against the Buffalo Bills this week.
On the other side, given that the Titans were able to bottle up the running game of the Steelers, C.J. Spiller and Fred Jackson could be in for a less-than-stellar outing.
The bottom line for me in this game is this: I trust Matt Hasselbeck to have a better game than Ryan Fitzpatrick.
Something extra: Mario Williams and the Bills defensive line will not register a single sack.
Redskins at Giants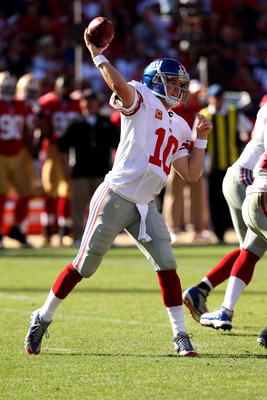 Stephen Dunn/Getty Images
Prediction: Giants win at home, 33-28
I have to be honest here and say that I'm not full of conviction about this pick.
The New York Giants have muddled through the first half of the 2012 season—like they seem to do every year—and it's hard to know which team will show up. If the same team that annihilated the San Francisco 49ers comes to play in this one, the Washington Redskins are doomed.
Eli Manning is truly unstoppable when he's on his game, and the Redskins' secondary has proven time and time again this year that it's not capable of shutting down the passing game (worst team in the NFL against the pass).
Robert Griffin III is going to keep his team in this game, though, and the outcome will be undecided until the bitter end.
Something extra: RG3 will run for two touchdowns, and Alfred Morris will rush for over 100 yards.
Saints at Buccaneers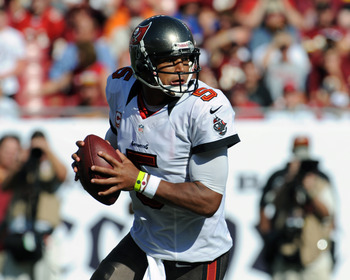 Al Messerschmidt/Getty Images
Prediction: Buccaneers win at home, 31-27.
As badly as Drew Brees and the New Orleans Saints need to win this game, the sad truth is that the team's defense is simply putrid (30.8 points allowed per game, No. 30 in the NFL).
And even though the Tampa Bay Buccaneers are one of the worst teams in the NFL at stopping opponents' passing games (312 yards per game, No. 31 in the NFL), the defense actually doesn't give up a ton of points (20.2 points per game, No. 12 in the NFL).
Brees is going to put up big numbers, but his offense will be extremely one-dimensional, as the Bucs defense is among the best in the NFL at stopping the run (75 yards per game, No. 4 in the NFL).
On the flip side, the Saints don't stop anyone from running wild (172.2 yards per game, No. 31 in the NFL), and I fully expect Doug Martin and Legarrette Blount to have a big impact on this game.
Something extra: Josh Freeman will hook up with Vincent Jackson for two touchdown passes.
Cowboys at Panthers
Ronald Martinez/Getty Images
Prediction: Cowboys win on the road, 28-27.
The Carolina Panthers have a slew of offensive weapons, especially in the running game, but from what I've seen so far the past two seasons, offensive coordinator Rob Chudzinski doesn't have the first clue how to utilize them.
Cam Newton won't find open receivers very often, either, as the Dallas Cowboys secondary has proven to be the best unit in the NFL to this point in the season.
Tony Romo and his receivers are starting to really click, even though Dez Bryant is proving to be no better than Greg Little in the dropsies department.
After getting burned on the road in Week 6 against the Baltimore Ravens, the Cowboys will pull out a gut-check win on the road this week.
Something extra: DeAngelo Williams will score two touchdowns in defeat.
Ravens at Texans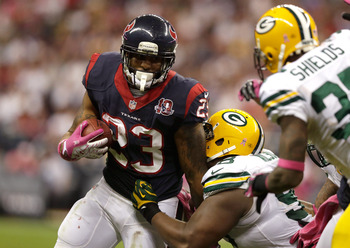 Scott Halleran/Getty Images
Prediction: Texans win at home, 31-24.
This game boils down to just a couple things for me.
First, the Baltimore Ravens can't stop the run, believe it or not. So far this season, opposing runners average 136.5 yards and over one touchdown per game against this once-dominant run defense.
Arian Foster is going to be the focal point of the Houston Texans offense, as usual, and he's in for a monster game after suffering his worst outing of the season last week against the Green Bay Packers.
Secondly, Joe Flacco will try to do too much against the Texans defense, resulting in at least two turnovers.
Something extra: Ray Rice will be held to under 75 total yards.
Browns at Colts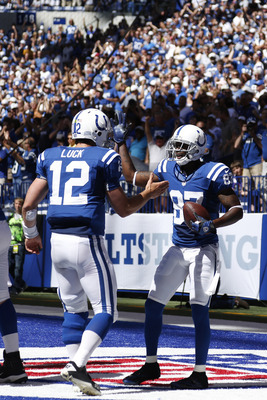 Joe Robbins/Getty Images
Prediction: Colts win at home, 27-20.
In a highly anticipated matchup between two rookie quarterbacks, Andrew Luck will come out on top over Brandon Weeden.
Luck and the Indianapolis Colts must still be smarting after getting destroyed by the New York Jets last week. Luckily (pun intended), the Cleveland Browns will provide the salve to soothe their wounds.
The Browns passing defense has been atrocious this season, with or without Joe Haden in the lineup. The front four isn't getting much pressure on opposing quarterbacks, and middle linebacker D'Qwell Jackson is the team's leading pass-rusher, with three sacks.
Weeden and Trent Richardson have proven to be good players, but they won't be able to generate enough offense to keep up with the Colts.
Something extra: Reggie Wayne will have another monster game, catching at least 10 passes for over 120 yards with two touchdowns.
Packers at Rams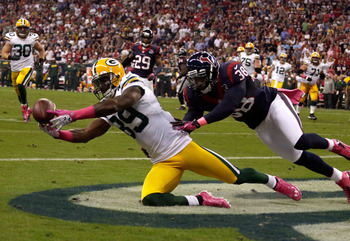 Scott Halleran/Getty Images
Prediction: Packers win on the road, 27-17.
Aaron Rodgers and his receivers exploded for six touchdowns against the Houston Texans in Week 6, and while I do expect the Packers to win this game, I don't expect a repeat performance.
The St. Louis Rams feature a stingy defense that can get to the quarterback (17 sacks) and create turnovers in the passing game (eight interceptions).
Unfortunately for the Rams, the Green Bay Packers are even better at getting to the quarterback (21 sacks) and have forced just as many interceptions.
The real difference in this game from my perspective is that the Packers have a plethora of options in the passing game, while the Rams are playing with receivers that wouldn't even make the Packers' roster.
Something extra: Clay Matthews will tally at least two sacks and force one fumble.
Cardinals at Vikings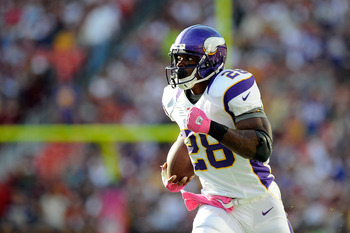 Patrick McDermott/Getty Images
Prediction: Vikings win at home, 23-17.
This predicted outcome is more a reflection of just how bad the Arizona Cardinals have been the past couple of weeks than it is a reflection of my faith in the Minnesota Vikings.
Christian Ponder has come back down to earth the past couple of weeks, throwing four touchdowns and four interceptions. The key to this game for the Vikings is Adrian Peterson. As long as Ponder isn't the focal point of the Vikings offense and Peterson is given at least 20 carries, this game is in the bag.
The Cardinals offensive line is in shambles, and I expect Jared Allen and the Vikings pass-rushers to have their way with this unit.
Something extra: Larry Fitzgerald will have over 100 yards receiving and one touchdown in defeat.
Jets at Patriots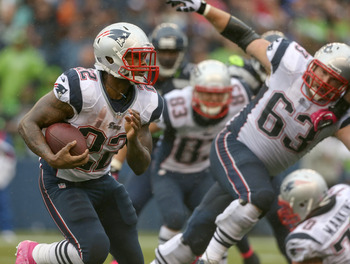 Otto Greule Jr/Getty Images
Prediction: Patriots win at home, 37-17.
Bill Belichick and his staff never pass up an opportunity to exploit an opposing team's weakness. The New York Jets have the No. 28-ranked run defense in the NFL, giving up over 150 yards per game.
Stevan Ridley and Brandon Bolden will both see plenty of action on Sunday, and the New England Patriots will run right over the Jets for an easy victory.
Conversely, the Patriots are one of the best teams against the run in the league, only allowing 83 yards per game. Shonn Greene had a big game against the Indianapolis Colts last week, but he's going to be shut out of this contest.
Something extra: Rob Gronkowski and Wes Welker will combine for over 200 yards and 2 touchdowns.
Jaguars at Raiders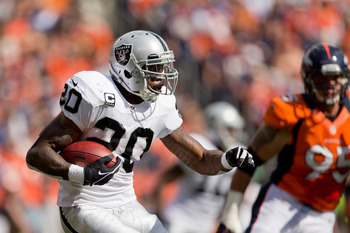 Justin Edmonds/Getty Images
Prediction: Raiders win at home, 28-14.
This game is the obvious stinker of the week. These two teams come into the game with a combined record of 2-8, and both teams are going nowhere fast.
But one team must win, and given that the Jacksonville Jaguars have no defense against opponents' running games, I'm taking the home team here.
Oakland Raiders running back Darren McFadden has been shut out most of the year, but he's going to bust out with a monster game in this one against the No. 30-ranked run defense in the league.
Furthermore, Carson Palmer is exponentially better than soon-to-be bust Blaine Gabbert.
Something extra: The Raiders will intercept Gabbert at least twice.
Steelers at Bengals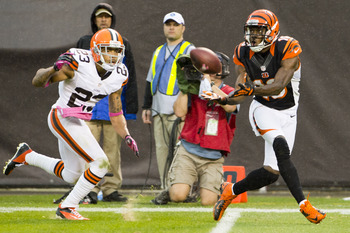 Jason Miller/Getty Images
Prediction: Bengals win at home, 24-20.
The Pittsburgh Steelers are seriously overrated right now.
This team can't stop the run, can't defend the pass, and Mike Wallace has a habit of disappearing for quarters at a time. Furthermore, the offensive line continues to be a big problem in pass protection, and Ben Roethlisberger can only do so much on his own.
On the other side, Cincinnati Bengals wide receiver A.J. Green is simply unstoppable—just ask Joe Haden.
Andy Dalton, Green and the rest of the Bengals receivers will be able to do enough through the air to keep the chains moving and keep Roethlisberger off the field enough to secure a much-needed victory at home.
Something extra: Andrew Hawkins will rack up 80-plus yards and a touchdown.
Lions at Bears (Oh, My!)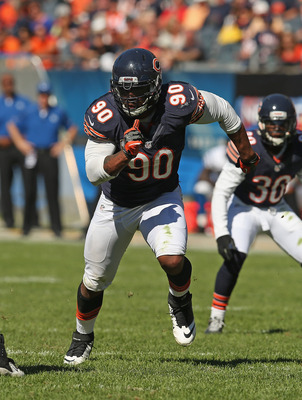 Jonathan Daniel/Getty Images
Prediction: Bears win at home, 33-17.
If you haven't watched the Chicago Bears much this year, then you may not know how incredibly good this team's defense is—especially against the pass.
Julius Peppers and the defensive line are getting a ton of pressure on opposing quarterbacks, and Tim Jennings, Major Wright and the rest of the men in the secondary have benefited by hauling in 13 interceptions through five games.
The Detroit Lions fought hard against the Philadelphia Eagles last week, but the Bears are a much better overall team.
Given the Lions on-again, off-again struggles on offense this season, I'm expecting the Bears defense to dominate.
Finally, Matt Forte is fully healthy, and he's due for a big game, both in the running game and as a pass-catcher out of the backfield.
Something extra: Brandon Marshall will catch at least five passes for 100-plus yards and one touchdown.
Follow me on Twitter @JesseReed78 and check out my weekly NFL picks at Pickfactor.com
Keep Reading