St. Louis Cardinals vs. San Francisco Giants Game 3: Live Score, NLCS Analysis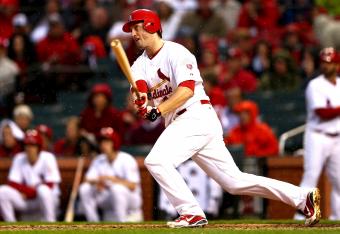 Game 3 of the NLCS between the San Francisco Giants and the St. Louis Cardinals at Busch Stadium is a pivotal matchup for both clubs.
The series is tied 1-1 after the Cardinals pounded Madison Bumgarner en route to a 6-4 victory in Game 1. The Giants bounced back with a 7-1 victory in Game 2 behind seven stellar innings from Ryan Vogelsong and a clutch bases-clearing hit by Marco Scutaro.
Stay here for Bleacher Report's post-game coverage.
FINAL SCORE

Cardinals 3, Giants 1
Cardinals lead the series, 2-1.

Sandoval flies to Jay in center to end it. Six up and six down for Motte, who gets the save. Cardinals win 3-1.
Scutaro grounds sharply to Carpenter at first, who makes a diving stop for the second out. The Giants are down to their last out.
Pagan fouls out to Freese, and the Giants are going quietly into the stormy night.
Molina bounces out to Crawford to end the eighth. The Giants are down to their final three outs with the top of the order due up.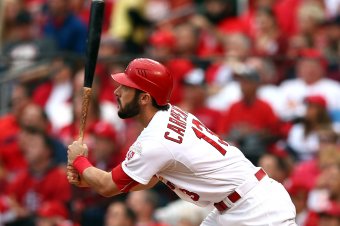 Elsa/Getty Images
Jose Mijares gets Carpenter, whose home run is currently the difference in the game, looking at strike three to open the bottom of the eighth. Holliday grounds to second for out number two. Adron Chambers, who entered for defense on a double-switch in the eighth, draws a two-out walk. Bochy is bringing in George Kontos to face Molina.
Motte jams Crawford, who breaks his bat while flying out to right. Aubrey Huff fouls out to Molina, and the Giants are three outs away from being down 2-1 in this series.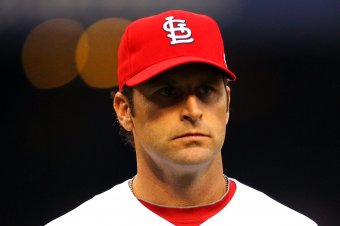 Dilip Vishwanat/Getty Images
Matheny brings on his closer, Jason Motte, for a six out save. Bold move, and I like it. He gets Blanco to open the eighth.
The 3 hour, 28 minute rain delay is over. Jay rolls to Belt at first to end the eighth. The Giants trail by two with two more chances to score.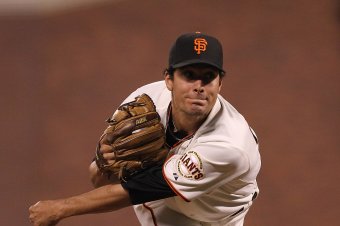 Tony Medina/Getty Images
The game is about to begin after the lengthy rain delay. John Jay is the batter with two outs and runners on second and third. Javier Lopez is coming in to face Jay. The Cardinals lead 3-1, with a chance to break it open here.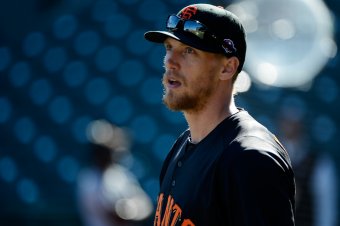 Thearon W. Henderson/Getty Images
Still no word on when this game will resume. However, it does sound like they want to resume it tonight, no matter how late that is.
All this rain delay is doing is giving me more time to get angrier at Hunter Pence.
He hit just .219/.287/.384 after being traded to the Giants from the Phillies, and he's followed that up with a .161/.188/.161 postseason by going 5-for-31.
The problem isn't just the results, it's the approach. He led the Giants in strikeout percentage because he can't lay off breaking balls down and away. He is pulling off the ball badly, which is leading to swings-and-misses and weak grounders to the left side.
The Giants don't really have a better option in right field at this point, though my guess is that we will see Hector Sanchez in the lineup in place of Brandon Belt (4-for-24, 9 strikeouts) in Game 4.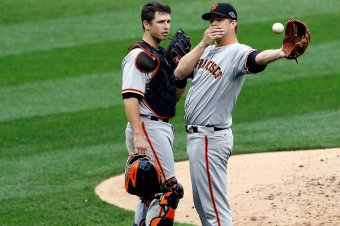 Kevin C. Cox/Getty Images
I haven't heard when they expect the game to resume.
The Cardinals lead the game 3-1 on a two-run homer by Matt Carpenter, who replaced the injured Carlos Beltran after the first inning, and an RBI grounder by Shane Robinson, who replaced Allen Craig on a double-switch.
The Giants have outhit the Cardinals 9-6, and put 14 men on base compared to eight for the Cardinals. However, they're 0-for-7 with runners in scoring position, they've hit into two double-plays and they've left 11 men on base.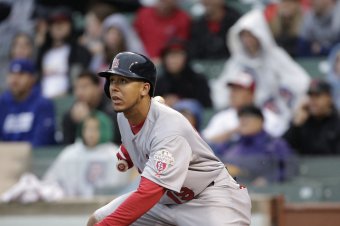 John Gress/Getty Images
The game is currently in a rain delay. When the game resumes, the Cardinals will have runners on second and third with two outs and John Jay at the plate.
Shane Robinson, who replaced Craig on a double-switch last inning, hits a ground-ball to Scutaro, who looks home, then throws to first for the second out, but a run scores. The Cardinals get their insurance run, and that's all for Cain. Javier Lopez is on to face Jay with two on and two out.
Cain intentionally walks Descalso to get to Kozma. Kozma smashes a single up the middle to load the bases with one out.
The Giants are 0-for-7 with men in scoring position. The Cardinals are 2-for-2.
The rain begins to fall in St. Louis here in the bottom of the seventh. If this were a regular season game, this would be an official game. However, in the postseason, all games must be played to their completion.
Molina grounds out to Crawford to open the inning. Freese ropes a one-out double through the rain, and the Cardinals have a chance to extend their lead.
Belt strikes out looking on a questionable call to end the threat.
The Giants have put 14 men on base, yet scored just once. Pence has come up with six men on base, and driven in zero of them.
Matheny replaces Mujica with Boggs to face Pence with two on and one out.
After a first pitch ball, Pence swings through three sliders. He has single handedly crushed the Giants today.
Mujica replaces Rosenthal. Scutaro lines out, but Sandoval and Posey hit back-to-back singles to set it up for Hunter Pence, who is 0-for-3 today, and 5-for-30 this postseason. Another huge opportunity for the Giants here in the seventh.
Cain retires Carpenter on a come-backer, then gets Holliday and Craig swinging for his first two strikeouts of the day.
Rosenthal comes in throwing 98-101 MPH gas. He gets Pagan to hit into a fielder's choice to end the inning. The Giants continue to squander their chances.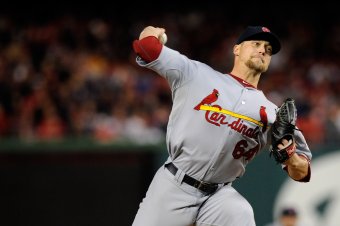 Patrick McDermott/Getty Images
Blanco flies to left for the second out. Crawford flips a single to right. He's 2-for-2 with a walk. Cain drills a single to right, moving Crawford to second with two outs.
Flame-throwing righty Trevor Rosenthal is coming on to face Pagan. Lohse put 11 men on base in 5.2 innings, but only one has scored thus far.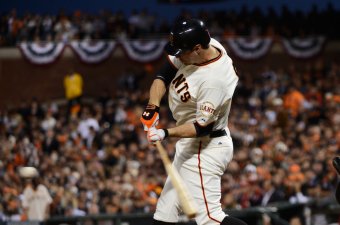 Thearon W. Henderson/Getty Images
Another poor at-bat from Belt to open the sixth. He gets jammed and hits a 50-hopper to second for the first out. Bochy may have to go back to Hector Sanchez behind the plate and Posey at first in Game 4. Maybe they can replace Pence with Melky Cabrera, too. Just kidding. Not really.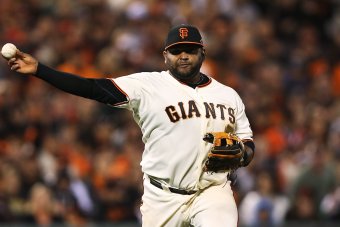 Ezra Shaw/Getty Images
Kozma slams a line drive right at Sandoval for the first out in the fifth on a hanging curve. Sandoval then retires Lohse on a diving stop at third. That's the best defensive play of the game thus far. Jay flies to left for Cain's first perfect inning of the night.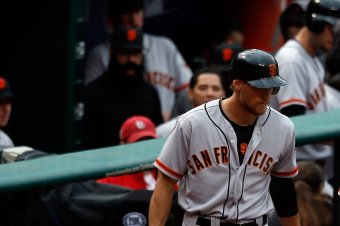 Kevin C. Cox/Getty Images
Sandoval rolls into a 4-6-3 double-play. Posey walks with two outs. Pence takes another awful swing and fouls off a slider. He hits another weak grounder to end the threat. He has zero balance at the plate.
The Giants have put 10 men on base, stranded seven, erased two on double-plays and driven one in. They've wasted plenty of chances
All Marco Scutaro does is hammer line drives. He smacks a single to right to open the fifth. What a great pickup by Giants GM Brian Sabean at the deadline.
This article is
What is the duplicate article?
Why is this article offensive?
Where is this article plagiarized from?
Why is this article poorly edited?