Ultimate Fighter 17 Media Call Live Blog with Jon Jones and Chael Sonnen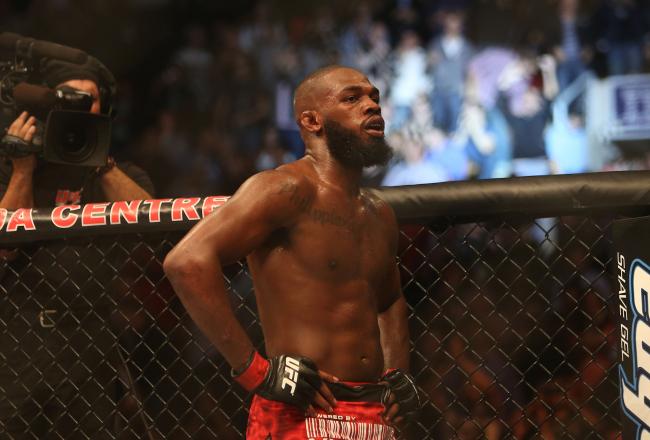 Tom Szczerbowski-US PRESSWIRE
UFC® MEDIA CONFERENCE CALL WITH UPCOMING THE ULTIMATE FIGHTER® COACHES
JON JONES AND CHAEL SONNEN
UFC PRESIDENT DANA WHITE TO ALSO PARTICIPATE
Wednesday, Oct. 17, 2012 – 4 p.m. ET/1 p.m. PT
Las Vegas – The Ultimate Fighting Championship® will host a media conference call with current UFC® light heavyweight champion Jon "Bones" Jones and top contender Chael Sonnen on Wednesday, Oct. 17, 2012 at 4 p.m. ET/1 p.m. PT. The two were recently announced as coaches for the upcoming season of The Ultimate Fighter®.
UFC President Dana White will also be available during the call.
WHO:
DANA WHITE, UFC President
JON JONES, UFC light heavyweight champion
CHAEL SONNEN, UFC contender
Dana White: Just because Chael Sonnen started saying bad stuff about Jon Jones, he was going to take this fight on eight days notice.
Chael Sonnen: There's really no change. I really struggle to get to 185 pounds. As an adult I had to compete at a weight lower than I competed at when I was younger.
Jon Jones: I think that TRT is terrible. TRT will be perfect for Chael Sonnen if he wasn't competing in the toughest sport in the world. I'm 25, if I take a drug and I get the energy of a 20 year old? Everyone would hate me. That's bullcrap.
Dana White: If people are saying we're doing this because they expect great ratings, that's good.
FX: They should be epic.
Dana White: No, no possibility of a live format. When Diaz gets off suspension, he'll have a fight against a top guy and then we'll see about the GSP fight.
Dana White: There will be some format changes.
Chael Sonnen: Of course I will take Jon down repeatedly.
Jon Jones: I've never been taken down because I have that. I've fought Rashad Evans. Matt Hammil. Jake O'Brien. Chael Sonnen is a good wrestler. He was an alternate, he wasn't actually on the Olympic team. I don't consider him an Olympic wrestler. I've never displayed my solid Jiu Jitsu off my back. I'm prepared to use my wrestling. I don't feel any threat off my back against Chael Sonnne. I know if I get him down, his face is going to open up. I just think that when it comes to wrestling, I have nothing to worry about. When it comes to Jiu Jitsu, I think I have the edge. I know that when it comes to kick boxing, I have the advantage.
I'm going to treat him like the biggest opponent I've ever had.
Dana White: The reality is that when we started making calls for 151, all the top contenders that we called turned down the fight. They all had the opportunity and turned it down. Chael Sonnen was the only one who wanted that fight. Jon got injured in the Vitor Belfort fight. Jon liked the idea of fighting Chael. It all just worked out this way.
Chael Sonnen: Of course there are things that are off limits. I'm not picking a fight, I have my fight. I'm not going offer any apologies. Of course though, there's limits for everything. As a wrestler, it's a fraternity and I'll always have a spot for him.
Jon Jones: I know who I am and I know who Chael is. He's a guy of very little class. If he tries to go too personal it won't work for him. I don't think he cares. It is what it is.
Chael Sonnen: Sure I want the title but I really just want to fight Jon Jones.
Jon Jones: Mike Winkle-John and Greg Jackson are busy guys so I may reach out to my original trainers. Give back to my original training staff.
Dana White: I don't have an update on Dan Henderson or Machida. We also have Gustafsson and Shogun in December. I'll start working on that this week. I don't know about Dan. We were talking about getting him to fight again after his injury. But then a few weeks later his knee wasn't ready. We have to pull the trigger and make decisions.
I don't even know if Dan would do the Ultimate Fighter. There's a lot going on here. Getting "shoulda done" around here is very difficult.
Chael Sonnen: It doesn't make any difference if Jon was the champ or wasn't the champ, I want to beat up Jon Jones. I want to fight Jon Jones. I'll take his belt right now if I wanted it. He's continuing to act like he's beaten guys. He may be the guy but he isn't yet.
Dana White: I think that people who said that didn't really know the situation. Now that all the facts are out there it makes sense. There's no clogging up the division. All the top contenders that are pissed off are the same guys that turned down fighting Jon Jones.
Jon Jones: I think the belt should be about legit number one contender but really, the sport is about the fans. Two months ago I had people questioning why I didn't fight Chael Sonnen. I'm over the fact if he deserves it or not and now I'm back to knowing that the fans really want it. That's what pushed me to the point of looking for this Ultimate Fighter opportunity. This has nothing to do with the belt to me. Chael's not getting close to the belt.
Dana White: I don't ever predict how fights will go. You never know in this sport, anything is possible. We'll see.
Chael Sonnen: I've been on both sides of an asswhipping and that's something that Jon hasn't had. He's also fought guys that have been timid and didn't want to fight. I'm also in better shape. I'll admit that he's better skill wise. He'll admit that I'm better with conditioning.
Jon Jones: On TRT or off TRT?
Chael Sonnen: I think that Jon Jones is the best fighter I've ever seen. I'd put Randy Couture above him but that's because he's Randy Couture. He's beat every one. I'm the man because I say I'm the man. Come do the heavy lifting.
Chael Sonnen will be the coach. Chael Sonnen will teach half of these guys and teach them to be fighters. The good news is that Jon will throw a helluva after-party.
Chael Sonnen: No one has said "Chael doesn't deserve any thing". Not one of those fighters said "let me prove I'm the number one contender". I have no problem getting a tune up fight and slapping these guys around. Not only do they not want to fight me, they also don't want to fight Jon Jones. These guys can say whatever they want but not one has stepped up. So what I talked my way into it? So what? Good for me. Chalk one more up for the bad guy.
FX: We want to put shows where they will work best. We're big fans of what Dana and Lorenzo have built prior to coming to FX. We want to find the best place for this product to work.
FX: Clearly Spike has been dogging us this year with the launch of the Ultimate Fighter with trying to show old episodes and pass them off as a current season. They're trying to launch their own reality show with their Bellator product. Just saying that we saw how they behaved and how they acted. We're certainly going to watch how they schedule and where they schedule.
Dana White: Dan Henderson had the opportunity for the fight and he got injured. Jones is injured till April. Every guy that is bitching about a title shot was offered a fight and turned it down. Chael offered to fight on short notice and now he gets to coach on the Ultimate Fighter. The we can have an absolute number one contender.
Dana White: The Finale will be at the Hard Rock. We're talking about New Jersey for the Jones/Sonnen fight.
This article is
What is the duplicate article?
Why is this article offensive?
Where is this article plagiarized from?
Why is this article poorly edited?