Power Ranking the NFL's 32 Best Quarterbacks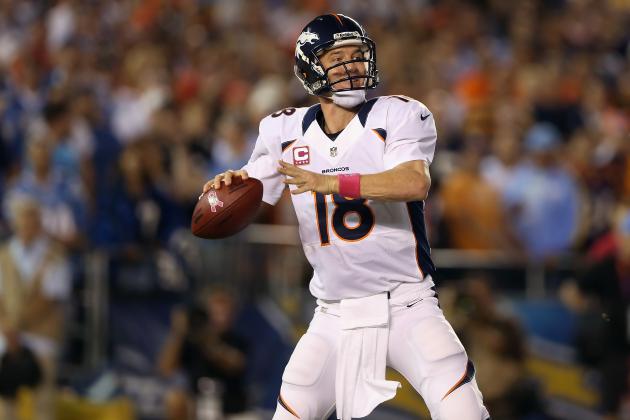 Jeff Gross/Getty Images
Peyton Manning has cemented his legacy as perhaps the greatest quarterback of all time.
The NFL is undergoing a period of immense change.
Joe Montana. John Elway. Steve Young. These names are in the annals of history as the great signal-callers of all time.
But make no mistake—quarterback play has never been better in the NFL than it is right now.
With future Hall of Fame players leading some of the best teams, and star rookies taking the league by storm in their first seasons, there is no question that we are in a golden age of quarterbacking.
While there is a general excellence under center in 2012, there are still teams that are dissatisfied with their quarterbacks. So from 32 to one, here are the best of the best that the NFL has to offer.
Begin Slideshow

»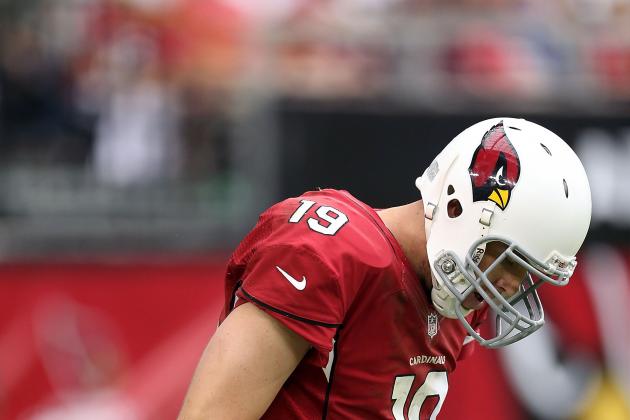 Christian Petersen/Getty Images
John Skelton will take over for the injured Kevin Kolb, but his inexperience and underwhelming play makes him the 32nd-best QB in the league.
The Cardinals are 4-2, but it's certainly not because of quarterback play. Frankly, the Cardinals wouldn't rank anywhere above the top 25 even if Kevin Kolb weren't injured. It's unfortunate because Skelton will hold back a team that has a very talented defense and can compete in one of the most physical divisions in the NFL.
Skelton played decently in spot duty last season, but he's far too inexperienced to lead a team against defenses like San Francisco and Seattle. He has career totals of 13 touchdowns and 18 interceptions. His QB rating is 64.2. It's going to be a long year in the desert.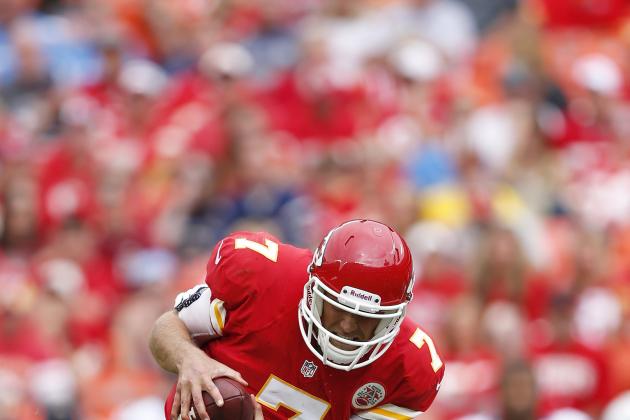 Joe Robbins/Getty Images
Matt Cassel is injured, and Brady Quinn wasn't very good in the replacement role.
As was reported on Wednesday, the Kansas City Chiefs find themselves in the middle of a quarterback battle. Matt Cassel hasn't been getting the job done, and backup Brady Quinn was thoroughly unimpressive last week in a 38-10 drubbing at the hands of Tampa Bay.
The sad part is, the Chiefs have talent all over the field. Dwayne Bowe is a superb receiver, and Jamaal Charles might be the best running back in the league. Defensively, this team could turn a corner on any given week.
But as long as the QB play remains dismal (Cassel has five touchdowns and nine picks in five games), the Chiefs will remain at the bottom of the AFC West.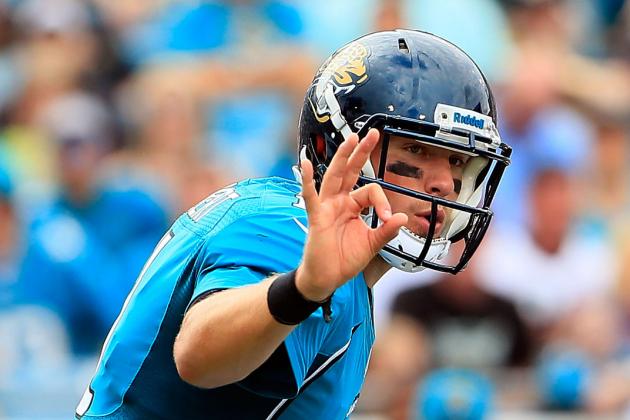 Sam Greenwood/Getty Images
Blaine Gabbert appeared to improve early in the season, but the second-year QB out of Missouri has failed to deliver on his promise so far.
Blaine Gabbert was thrust into a terrible situation last year, being called upon to save a team that had almost no talent on offense. While Maurice Jones-Drew occupies the backfield, the main issue is that Gabbert has no one to throw to. Cecil Shorts and Laurent Robinson don't scare anybody, and Justin Blackmon is developing.
That being said, I expected at least some improvement from Gabbert in 2012. Unfortunately, the Jaguars rank 32nd in the NFL in passing yards per game (142.8) and Gabbert is the only full-time starter in the league with less than 1,000 yards passing. He has 796. Things better shape up fast, or the Jaguars will be forced to give up on their young quarterback and turn to backup Chad Henne.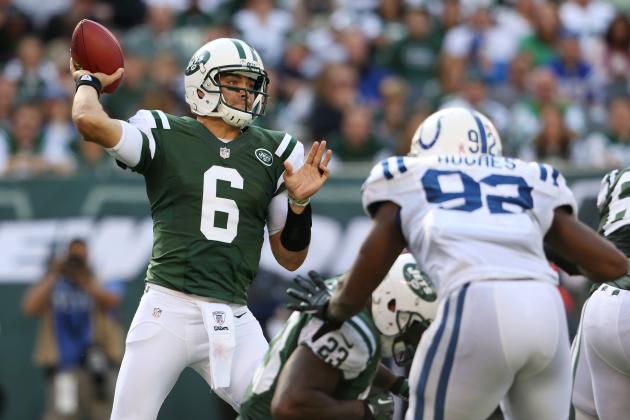 Nick Laham/Getty Images
There's a dearth of talent around him, but Mark Sanchez has still shown no signs of improvement from his rookie season.
You can say what you want about Mark Sanchez and the lack of solid wide receivers to throw to, but the truth is that he hasn't really given fans much hope for improvement at all. It's starting to look like Sanchez has hit his ceiling. After a pretty solid year last season, he's taken a major step back in year four.
The fact that Tim Tebow is even in the conversation as a possible solution to Sanchez's woes should tell you enough. Sanchez is completing less than half of his passes in 2012. What more needs to be said?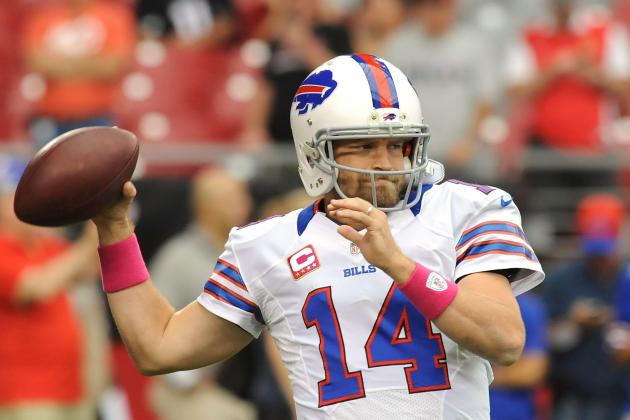 Norm Hall/Getty Images
Ryan Fitzpatrick has struggled for most of his career despite often showing promise. He has yet to solve his inconsistency issues.
Ryan Fitzpatrick has teased fans for years with early-season success and a lot of potential. The problem is, he's really nothing special. Fitzpatrick will never be anything more than a mediocre NFL quarterback. Now 29, time is running out for him to prove his worth.
Remember, this guy threw 23 interceptions last season, and he's thrown more interceptions than touchdowns in three of his seasons. He's as uninspiring a quarterback as there is in the NFL, and the Bills will probably look the other way by the end of the year.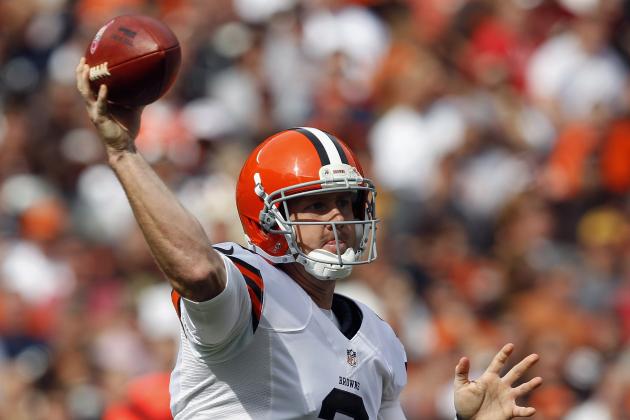 Matt Sullivan/Getty Images
Brandon Weeden had a historically bad rookie debut, but has played very, very well since.
Brandon Weeden is the first quarterback on this list who I am sure will rank higher by the end of the year. After his terrible NFL debut, Weeden has been borderline superb. He's 10th in the NFL in passing yards with little to no talent to throw to, and—most incredibly—has thrown the fourth-most passes in the league. It speaks to the 29-year-old rookie's ability that his team trusts him to throw the ball so much.
Weeden still needs to cut down on his turnovers, but it seems like the Browns made the correct choice taking him in the draft.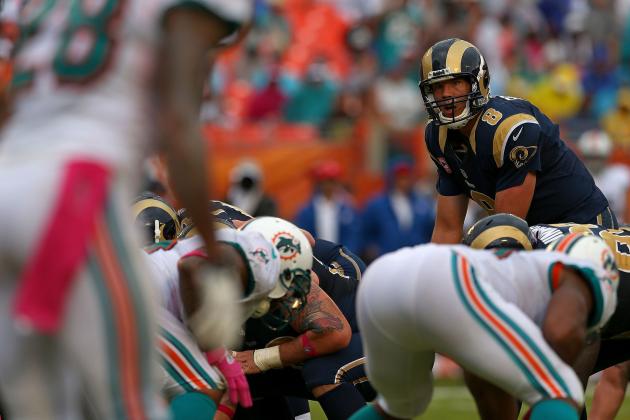 Mike Ehrmann/Getty Images
Sam Bradford has been better than last year, but is still looking to recapture the magic of his rookie season.
It's getting to the point where you feel bad for Sam Bradford because there's just no one for the guy to throw to. His only legitimately reliable target, Danny Amendola, is out for a long time and the Rams offense simply doesn't have enough players for him to be successful.
Bradford has been unable to build off of his 3,512-yard, 18-touchdown rookie year. But Rams fans can be happy about one thing: He's stayed healthy this year, even though the offensive line is still shaky. If they can get Bradford a reliable wide receiver, he could finally take the next step.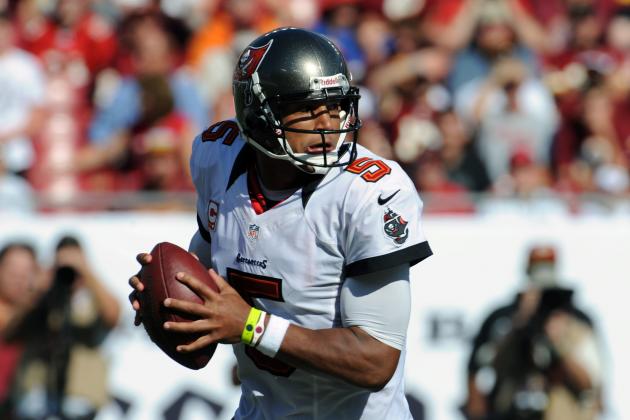 Al Messerschmidt/Getty Images
Josh Freeman has endured a few down years since his breakout season a few years back, but should get better with the talent that surrounds him.
After an 18-interception rookie season, Josh Freeman was the NFL's biggest surprise in 2010, tossing 25 scores against just six picks. But Freeman threw 22 more interceptions last year and has failed to take the next step in 2012.
It's unfortunate because Freeman is a physical freak who has all the tools to be a great, multidimensional quarterback. And unlike many of the quarterbacks before him on this list, Freeman has a wealth of talent around him on offense. Despite that, the Bucs rank 31st in the NFL in total offense, and the blame should be placed squarely on Freeman's shoulders.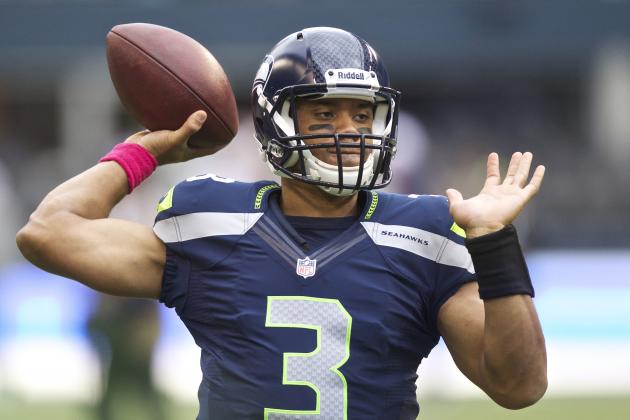 Stephen Brashear/Getty Images
Russell Wilson has had a solid, if unspectacular rookie year. His performances under pressure have stood out more than anything.
Russell Wilson came storming onto the scene and stole the starting job from big-money man Matt Flynn. Wilson has led the Seahawks to a 4-2 record, although he hasn't played incredibly well. That being said, Wilson has done one thing that cannot be overlooked: He has played spectacular football in the fourth quarter, which is the most impressive thing a rookie can do.
Ultimately, Russell Wilson may never be a statistically great quarterback. Nevertheless, his mere presence seems to be guiding Seattle to wins, and his aura will give this team three or four more wins than Flynn could have given them.
Chris Trotman/Getty Images
Like Brandon Weeden, Ryan Tannehill had a miserable rookie debut. But he has played with poise and confidence since that debacle, and has the surprising Dolphins in the heat of the AFC East division race.
Ryan Tannehill had a debut that was similarly terrible in comparison to Brandon Weeden. But like Weeden, Tannehill has been very good since then. He had a 431-yard game in Week 4 and has thrown just three interceptions since his three-pick showing in Week 1.
The most amazing thing about Tannehill is that he only started 19 games at quarterback in college. He has been the ultimate example of a young guy coming in and taking the league by storm. The future looks bright for this multi-talented young quarterback.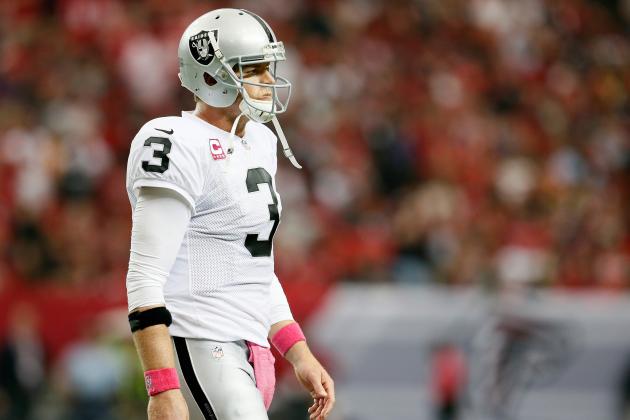 Kevin C. Cox/Getty Images
Carson Palmer hasn't played well, and his throwing ability are the only things preventing him from being lower on this list.
Carson Palmer probably shouldn't be ranked this high (Is 22 considered high?), but there's no question he's a capable NFL quarterback. The issue is the Raiders have been worse with him under center than they were with Jason Campbell, and that's despite having a very good running game and a decent defense.
Palmer's best days are very far behind him, but his immense talent as a passer is the reason why I still hold out hope for a return to form.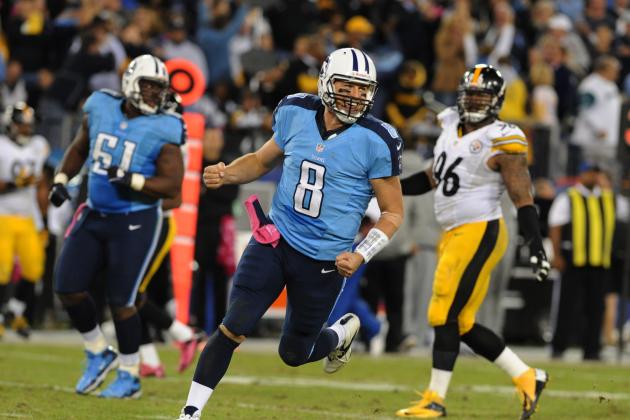 Al Messerschmidt/Getty Images
Matt Hasselbeck has played well since replacing Jake Locker a few weeks ago.
Jake Locker was playing very well before he got injured against the Patriots, but the Titans weren't worried. They had Matt Hasselbeck waiting in the wings.
Hasselbeck is a far cry from the gunslinger he was in Seattle, but he's still a very good NFL quarterback that is leading a team that has disappointed overall this year. He orchestrated a win against Pittsburgh last week, and he's still capable of tossing 300 yards and four touchdowns on any given week.
Hasselbeck's career is on its last legs, but he's still proving to be a valuable commodity in this league.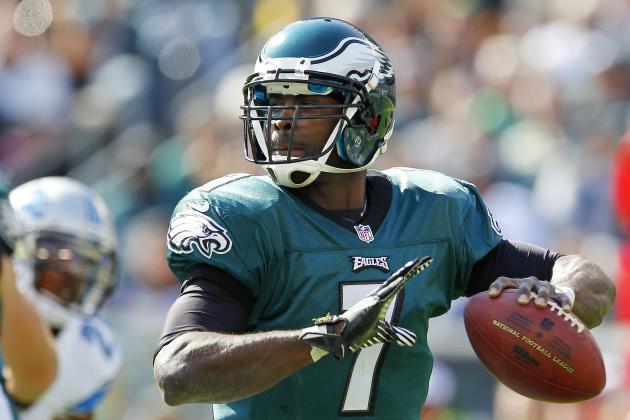 Rich Schultz/Getty Images
Michael Vick has failed to return to his 2010 form, turning the ball over more than any QB in the NFL.
Oh, Michael Vick. It's starting to seem like his incomparable 2010 was more of an anomaly than anything else, as Vick has really struggled in two years since. He turns the ball over far too often, he can't stay healthy, and he doesn't seem to know how to utilize his talent. He's trying to be a pocket passer, when he should try to be a threat to run in addition to being a pocket passer.
Vick's situation is a bit dire because he's been in the league for a long time and he still hasn't figured it out. Unless he learns how to protect the ball (and if the Eagles can finally learn to run the ball), this very talented quarterback will just be average.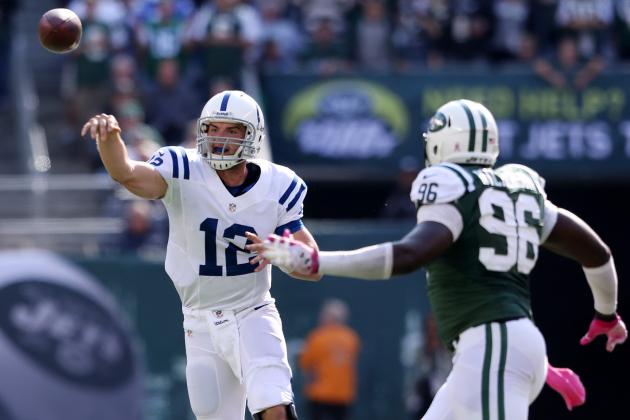 Nick Laham/Getty Images
Andrew Luck has played very well, but isn't ready for Canton yet. By the end of the year, he could be among the top 10 QB's in the league.
I have no doubt that Andrew Luck will rate as the No. 1 quarterback in the NFL at some point in his career. After seeing that comeback against the Packers two weeks ago, I feel as if Luck will be one of the best quarterbacks this league has ever seen.
That being said, he really has looked like a rookie at points this year. It's easy to blame the lack of talent, and that's probably the case. Luck is very fortunate to have a Hall of Fame receiver in Reggie Wayne, so he'll be learning a lot on the fly. He's the 19th-best quarterback today, but I can guarantee you he'll be the best within the next three or four years.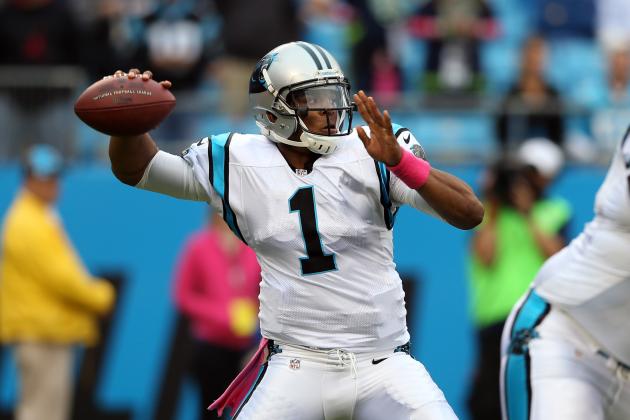 Streeter Lecka/Getty Images
Cam Newton is in the middle of a sophomore slump, but he should break out sooner rather than later.
It was silly to expect Cam Newton to produce numbers similar to his unbelievable rookie year. The sophomore slump is real, and Newton finds himself stuck in the middle of it. The only thing keeping him from being higher on this list is his well-documented attitude issues.
Newton may struggle for the majority of this season, but you can be sure he'll be back at some point. The guy is too talented to play poorly for long stretches of time. Like Luck, you can be sure that he'll be a top-10 talent within a couple of years. This guy is a physical freak, and when the play-calling is right, he can be downright impossible to defend.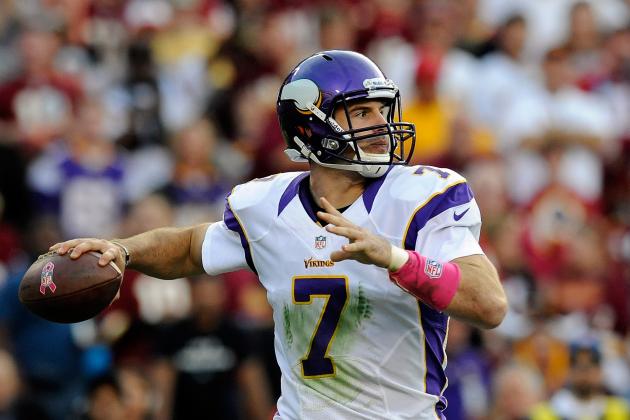 Patrick McDermott/Getty Images
In his second year, Christian Ponder has played very well. His improvement is part of the reason the Vikings are a surprising 4-2 in 2012.
No quarterback has made as marked an improvement in 2012 as Christian Ponder. Ponder wasn't terrible in 2011, but he wasn't that great. This season, he has been nothing short of superb.
Ponder operates under the stereotype as a game manager. Nothing could be further from the truth. He ranks 12th in the league in passing attempts and has only thrown four interceptions. This guy is for real. He has a good arm and he's very accurate. He also has a young quarterback's two best friends: a dominant wide receiver (Percy Harvin) and a dominant running back (Adrian Peterson). The future looks very bright for the former Florida State quarterback.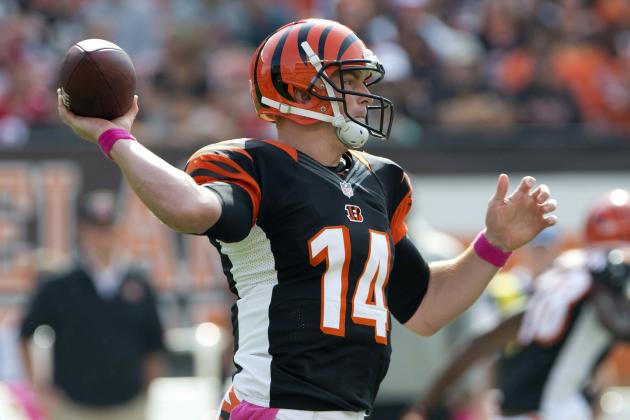 Jason Miller/Getty Images
Andy Dalton has continued his strong play. Though the Bengals are struggling, he is still the driving force behind one of the better offenses in the NFL.
Andy Dalton burst onto the scene last season, performing better than anyone thought possible. He has continued to play well in 2012. His one issue is turnovers, but there's no question that he is the leader of a Bengals team that has the potential to make the playoffs.
Dalton has a stronger arm than people think and is yet another example of a young quarterback who has been asked to take the reigns of the entire offense. He is ranked 11th in the league in passing attempts, and has a rapport with star receiver A.J. Green that few teams can match. Dalton has paid huge dividends on the Bengals' decision to draft him last year.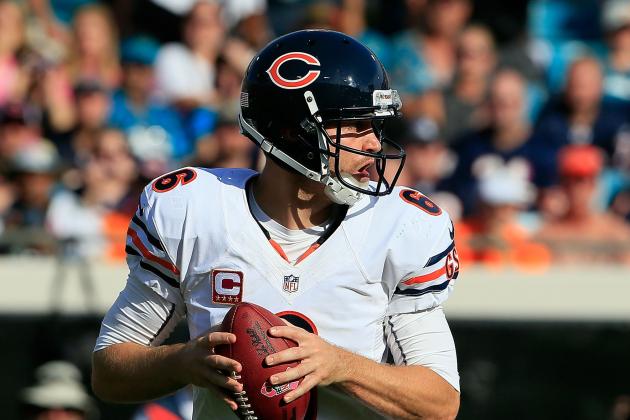 Sam Greenwood/Getty Images
Jay Cutler appears to have hit his talent peak, but he has played well this season and is trying to battle his inconsistency problems.
Jay Cutler has about as much talent as any quarterback in the NFL, and now that he has Brandon Marshal at his disposal, things are looking up. The problem is, Cutler is horribly inconsistent and has seemingly proven to Bears fans that he'll never be anything other than a more talented Rex Grossman.
Cutler will probably always be a gunslinger without a conscience. He'll have a few games where he throws four interceptions, but overall, he's the man for the Bears. We saw that last year when this team collapsed without their leader under center.
Cutler is the most important piece of the Bears' Super Bowl puzzle, and that's why he ranks No. 15 in the NFL.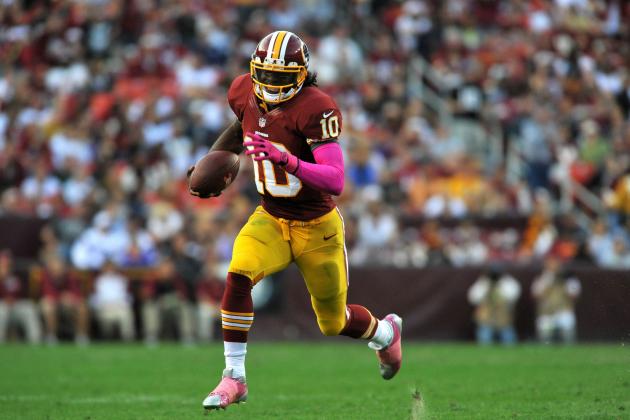 Larry French/Getty Images
Robert Griffin III has already ascended to the top ranks of the NFL. A threat to run and pass, he's virtually impossible to defend for four quarters.
We knew Robert Griffin III would be good, but did we know he'd be this good?
He's on pace to have one of the greatest rookie seasons in NFL history. No player in the NFL has been as dangerous as RGIII, who has thrown for 1,343 yards and run for 379. He had a 76-yard touchdown run to ice the game against the Vikings last week. The guy is a freak of nature.
The most amazing part is that Griffin isn't being held back in the passing game. He has executed plays to perfection and has the third-highest passer rating in the NFL. The injuries are a concern, but RGIII will be a top-five quarterback sooner rather than later.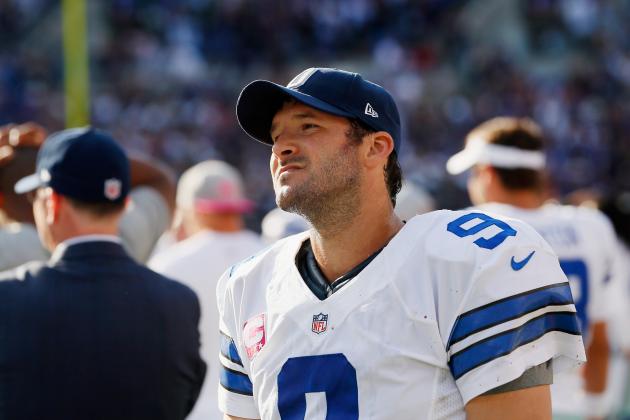 Rob Carr/Getty Images
Tony Romo has struggled so far in 2012, but it's impossible to deny his ability as a quarterback in the NFL.
Say what you want about Tony Romo, the guy is very good. He throws a lot of interceptions, but he doesn't throw as many as you might think. And don't forget—fans were calling for his job last year, even though he finished with 31 touchdowns and just 10 interceptions.
Of course, he's already thrown nine this year. Romo can be maddeningly inconsistent at times, but there's no denying that he is one of the best quarterbacks in the NFL. He's certainly the best Cowboys quarterback since Troy Aikman, and any Dallas fan who is dissatisfied with Romo really needs to reexamine his position.
Scott Halleran/Getty Images
Matt Schaub has been very consistent for the 5-1 Texans, helping lead the NFL's most balanced offensive attack.
Matt Schaub is one of the most consistently solid quarterbacks in the NFL. If not for injuries, he could have a Super Bowl on his resume. He's not spectacular, but he'd be a starter on any team that he went to and throws for a lot of yards.
Schaub will probably never be a 30-touchdown guy, but he leads one of the NFL's best offenses and has thrown for 4,000 yards twice in his career. He doesn't turn the ball over and can make a fourth-quarter comeback.
He's the key to the Texans' Super Bowl aspirations, and has the weight of a win-starved franchise on his shoulders.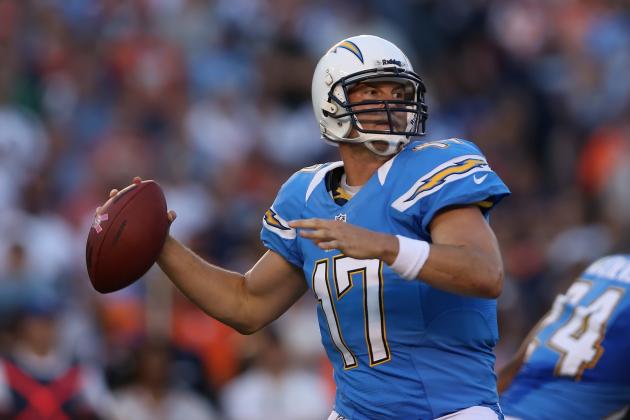 Jeff Gross/Getty Images
Philip Rivers hasn't played as well as he usually does, but he's still among the best QB's in the league.
There's no doubt that Philip Rivers has struggled in 2012, but there's also no doubt that he's still one of the premier quarterbacks in the NFL. He doesn't look graceful or pretty, and his attitude may rub you the wrong way, but Rivers has been solid gold for the Chargers since they traded for him after drafting Eli Manning.
Rivers has thrown for at least 4,000 yards and 27 touchdowns in four straight seasons. He will throw some bad interceptions at times, but any Chargers fan who thinks San Diego needs a new quarterback is simply uninformed. Rivers has put together a superb career and has played well despite being underrated for most of it. The only reason he's not higher on this list is because he's only been average in 2012.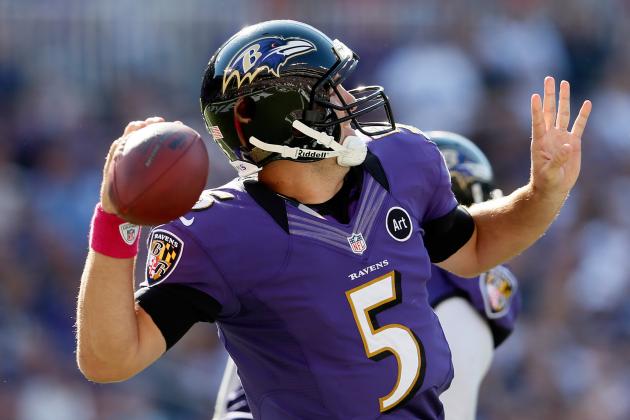 Rob Carr/Getty Images
Joe Flacco has won more games to start his career than any QB in history, and his play is finally catching up to his potential.
The self-proclaimed "best quarterback in the NFL" isn't there yet, but he's doing all the right things to get there. The Ravens are known for defense but Flacco has changed that perception. Baltimore now wins games on offense and the rocket-armed Flacco is a large reason for that.
The Ravens' perennially good defense usually gets the credit for Flacco's historically good start to his career, but that's no longer the case. Flacco will occasionally throw out a dud, but he's generally a very good quarterback and has taken the next step in 2012. The Ravens depend on him more than ever, and he has thrown for at least 3,600 yards and 20 touchdowns in four straight years. His completion percentage is 65.7 percent in 2012, and he's finally looking like an elite NFL QB.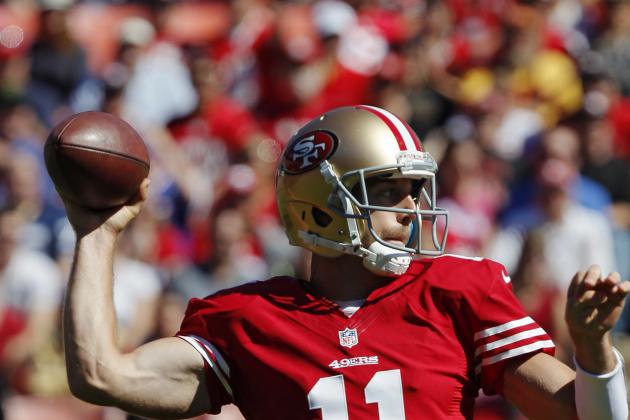 Brian Bahr/Getty Images
Alex Smith has never been one to produce mind-boggling stats, but he has vastly improved as a QB and has shown the ability to win games by himself.
Alex Smith's success will always be linked to the arrival of Jim Harbaugh, but it's unfair to say that Harbaugh is the only reason for the former No. 1 overall pick's success.
Smith was always nothing more than a game manager, but he has since done his part to shake that reputation. If you need any proof, just look at the game film from his amazing performance against the Saints last season in the playoffs.
Smith will never be Aaron Rodgers (who was drafted 21 picks after him), but he will have put together a very solid career by the time he retires. He doesn't turn the ball over and can orchestrate comebacks. He is the perfect quarterback for the what the 49ers want to do, and the fact that he can play very well within a system shows me that he is one of the best quarterbacks in the league.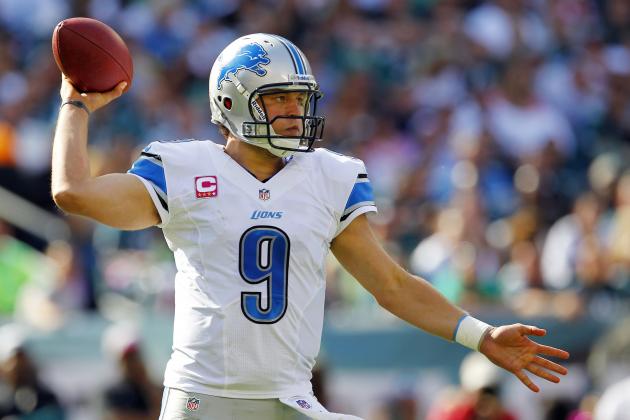 Rich Schultz/Getty Images
Matthew Stafford threw for 5,000 yards in 2011, and is averaging over 300 yards per game in 2012.
For some reason, people don't want to give Matthew Stafford his due. Why not? The guy threw for 5,038 yards and 41 touchdowns last season. If not for Tom Brady and Drew Brees, it would have been one of the greatest seasons in NFL history.
The knock against Stafford is that he turns the ball over too much. But the good outweighs the bad in this situation. The only reason he isn't ranked higher on this list is because he hasn't proven he can win a big game. Other than that, he has all the tools and can make all the throws. And don't let him have the ball too much in the fourth quarter because he can lead a comeback better than most quarterbacks in the NFL.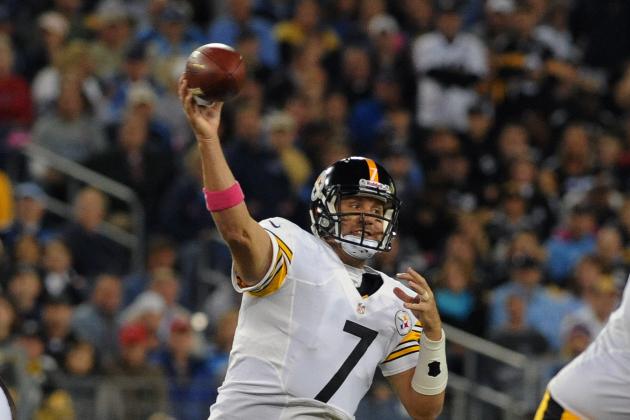 Al Messerschmidt/Getty Images
Ben Roethlisberger and the Steelers haven't played well this year, but Big Ben remains one of the game's elite gunslingers.
Yes, the Steelers are 2-4. Yes, they're pretty boring to watch. Yes, Ben Roethlisberger isn't the most graceful quarterback in the league.
But don't get it twisted: Big Ben has made a career out of playing ugly, and there are at least 25 other teams who would love to have him under center. By the end of his career, he could have a bust in Canton and he's looking for a third Super Bowl title.
Roethlisberger may never have another 30-touchdown season, but he is the main reason for the success of the Steelers in the past decade. He has 10 touchdowns against just two interceptions this year and has quite simply been one of the best quarterbacks in the league for the last 10 years. Hate him or love him, there's no denying that Big Ben Roethlisberger has been a great player for the Steelers.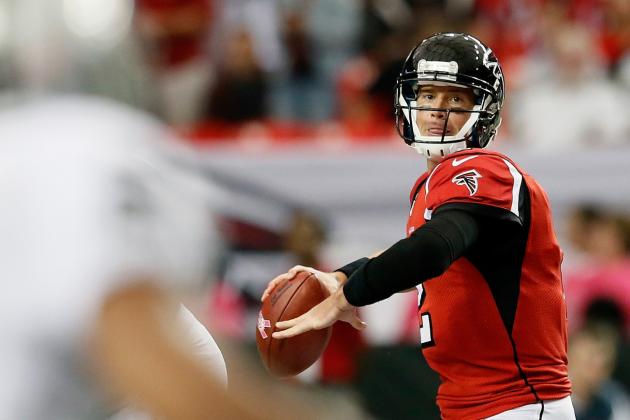 Kevin C. Cox/Getty Images
Matt Ryan is having the best year of his career and has entered the discussion for NFL MVP.
If Matt Ryan had won a playoff game at some point in the last four years, he'd rank higher on this list. As it is, he's still looking for that first postseason victory, and this season looks as good as any to get over that hump.
Ryan is a popular pick for MVP in 2012. He's fourth in yards, second in touchdowns and fifth in quarterback rating. He's won an enormous number of games in his short career, and has been one of the best young players to enter the league in many years.
But he'll always have that monkey on his back: He's never won in the playoffs. Joe Flacco has had a very similar career, and he has won in the playoffs. It's time for Matt Ryan to get to the next level. He's finally become an elite QB, so everything is in place for him to succeed and bring the Falcons a Super Bowl championship.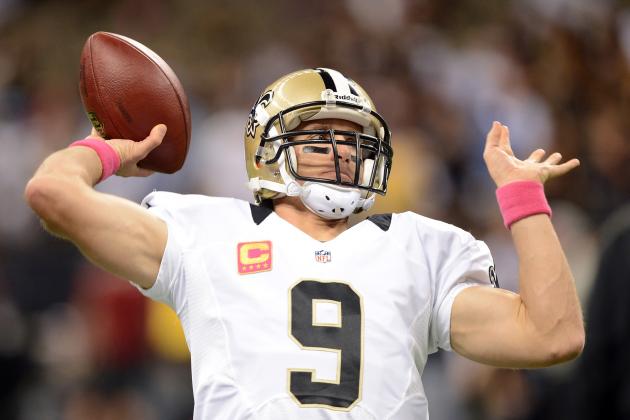 Harry How/Getty Images
Drew Brees has been one of the best quarterbacks in the NFL for several years now, and is the owner of multiple NFL records.
Drew Brees has been one of the best quarterbacks in the league for a long time, and you are never out of a game with him under center.
His No. 5 ranking is more a case of the guys above him being out-of-their-minds good than him being only great. Brees has thrown for 5,000 yards in his career twice and recently broke a record many considered unbreakable by throwing for a touchdown in 48 straight games.
Brees may end up in the Hall of Fame at some point. His importance to the Saints is probably bigger than any other player's importance to a team in NFL history. He's the most likable player in the league, and he has shown no signs of slowing down. He's on pace for another 5,000-yard season and is still one of the best in the game despite the Saints' struggles.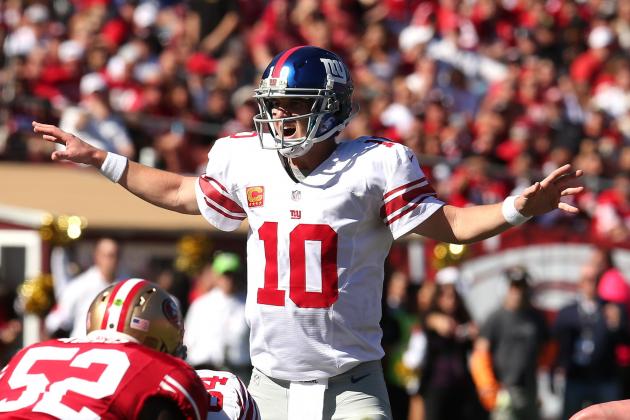 Stephen Dunn/Getty Images
Eli Manning has come into his own, and is now one of the premier players in the NFL.
Eli Manning has finally arrived. He's no longer in his brother's shadow. Two Super Bowl wins. The best road quarterback in NFL history. The accolades will never end for this future Hall of Fame player, who will never be underrated or questioned again in his entire career.
Manning threw for almost 5,000 yards last year and quite simply is the biggest reason for the Giants' success. How else can you explain winning two Super Bowls as an underdog and making it through the playoffs after average regular seasons? The man is unflappable and no quarterback has ever played as well away from home. Eli Manning is now one of the premier arms in the NFL, and should retire as one of the greatest to ever play the game.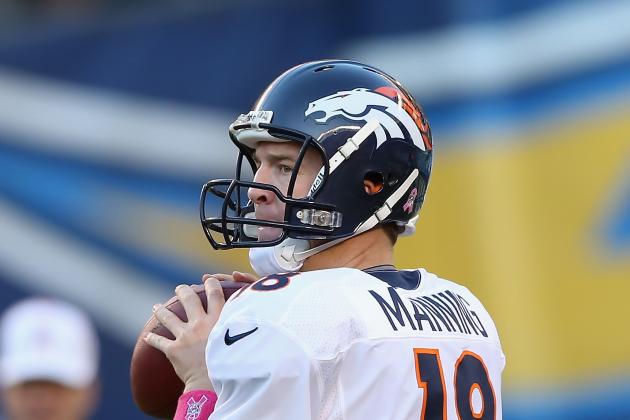 Jeff Gross/Getty Images
Many people doubted whether or not Peyton Manning could return to form, but the Broncos are leading the AFC West and Manning is on pace for the best statistical season of his distinguished career.
And just ahead of Eli is his brother, Peyton. I was a Peyton doubter before the season started. I thought he'd be good, but not this good. Peyton is on pace to crush every career high he has ever established and the people who want to talk about his "noodle arm" can just keep talking. If anything, we've learned in 2012 to never doubt Peyton Manning.
Yes, the zip on the throw isn't there. But that doesn't stop Peyton Manning. He's second in the league in yards, touchdowns and quarterback rating. What more could you want? He's arguably the greatest quarterback to ever get under center, and could add another Super Bowl before his career is over.
It's fun watching Peyton Manning. His career is nearing its end, so don't take him for granted. Greatness like this won't be around forever.
Stephen Brashear/Getty Images
Tom Brady continues to play quarterback as only few have ever played in history. His bust in Canton should be ready by now.
Will he ever decline? Now 35, Brady is playing better than he ever has in his entire career. He is leading one of the most unstoppable offenses in NFL history (and he's done that for the last several years) and has three Super Bowls to his name. Once a 26-touchdown, 14-interception guy, he now throws for 5,000 yards and 40 touchdowns a year. He's one of the greatest to ever play the game—if not the greatest—and shows no signs of slowing down.
Thirty-five seems old, but the Patriots are running a breakneck offense that ran 94 plays in a game this season (Is that even possible?). Tom Terrific will be around for a while longer, and there doesn't seem to be any sign of a fall-off. Greatness doesn't come often, so watch him as much as you can before it's over and he's enshrined in Canton.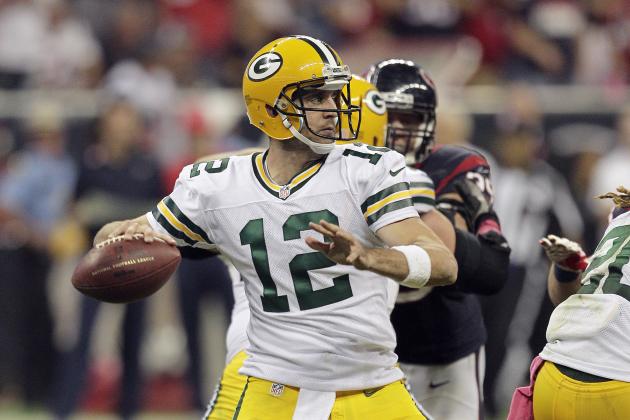 Bob Levey/Getty Images
Aaron Rodgers is playing the position of quarterback better than anyone right now, and is putting together a career that will rival any player in NFL history by the time he retires.
Aaron Rodgers is the No. 1 quarterback in the NFL and if you don't agree, you're not watching the right games. Rodgers is playing quarterback arguably better than anyone has ever played the position, and he has more talent and ability than anyone we have ever seen.
Seriously, if you were trying to make a quarterback in a lab, you would come up with Aaron Rodgers. He has size, strength, mobility, an incomparable arm and pinpoint accuracy. He led a team to a 15-1 record last year despite having the 32nd-ranked defense and the 32nd-ranked running game. How is that even possible?
Rodgers will win many more Super Bowls before his career is over, of that I am sure. The Packers found a gem when they drafted him. Just watch him play. He has no weaknesses and is the textbook example of what a quarterback should be. Green Bay is lucky to have such a great player under center. Rodgers may retire as the greatest to ever play the game if he keeps up this pace—he's only 28 and has so many skills that age probably won't cause him to decline.
Aaron Rodgers is truly greatness at work. In the golden era of quarterbacks, he stands out above the rest as the best in the game.