The Houston Rockets' Top Training Camp Storylines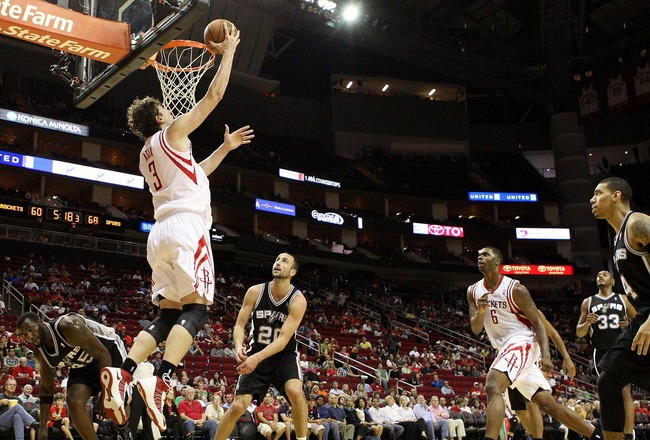 Troy Taormina-US PRESSWIRE
The roller coaster ride that many expect to see throughout the Houston Rockets' regular season is manifesting itself in the preseason.
After wins over the Oklahoma City Thunder and New Orleans Hornets, Houston ran into their in-state rivals, the San Antonio Spurs and Dallas Mavericks, and now have some wounds to lick.
Last night they righted things and picked up a 109-102 home win over the Memphis Grizzlies.
Undoubtedly, it's still very early, but the youth of the Rockets has really shown at times—something that the team will have to fight to overcome all season long.
Last night's game against the Memphis Grizzlies saw strong performances from Kevin Martin, Omer Asik, Patrick Patterson and Jeremy Lin.
Now they have a week until their next game to get back to the basics.
Let's look at some of the latest developments.
Lin Looking to Find His Groove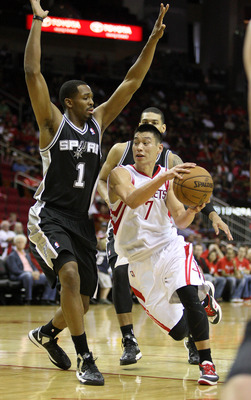 Troy Taormina-US PRESSWIRE
Let the game come to you, don't try to do to much. As always, this is much easier said than done.
Such is the case with Jeremy Lin as he looks to return to form following offseason knee surgery and shaky shooting thus far this preseason.
He talked about this with The Houston Chronicle's Jonathan Feigen after the game against San Antonio:
"It's frustrating," Lin said. "Any time you don't play as well as you think you're capable of, it's frustrating. I have to remember it's a process. It's not just going to happen overnight for me. I'm going to have to build and build step by step, brick by brick. As long as I get an upward progression of improvement over time, I think I'm happy."
Head coach Kevin McHale had some advice for Lin as well:
"He's just getting his confidence back, trying to get his mojo going, which is very common," McHale said. "I said, 'Just go out and relax and play. It's going to come.' Anybody who has ever played and come back has gone through a period (when) it's kind of odd. All of a sudden, things click, and he's back to playing well and confident."
Lin had 12 dimes and 4 steals in the win over the Grizzlies and showed that he can still have an impact even when the shots aren't falling.
Another factor that goes along with letting the game come to you and trying not to do to much is being one's own worst critic, which is an quality possessed by Lin. Having said that, Lin also needs to avoid beating himself up.
Again, much easier said than done.
Omer Asik Is Hungry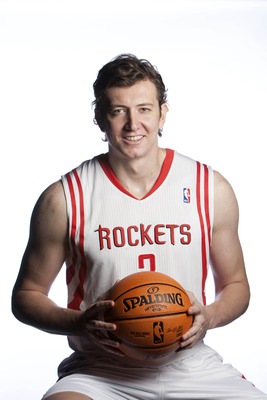 Brett Davis-US PRESSWIRE
Omer Asik's tireless offseason work and consistent improvement have been well-documented.
He is a beast on the boards and an imposing defensive anchor. Offensively, he will continue to develop and see dramatic returns on all his hard work.
Here's an indicator of just how bad he wants it. Jason Friedman of Rockets.com wrote:
Omer Asik, meanwhile, simply claimed ownership of the few shots that either team actually missed during the frantic first half. Originally slated for an off day as a reward for his tremendous preseason play and as a way to ease the load on Houston's indispensable big man during the club's three-games-in-four-nights stretch, Asik instead begged the coaching staff to allow him to play. Little surprise, then, that he took full advantage of the opportunity by continuing to dominate on the glass at a rate that has put him head and shoulders above his peers during the preseason to date. Asik finished the night with 11 boards—five on the offensive glass—in 26 minutes of action, while chipping in with four points and three assists as well.
The big man begged the coaching staff to play, begged them.
This shows just how badly he wants it. He wants to get as many reps as possible, continue to improve his offensive skills, and get himself acclimated to game speed when the games really count.
The Rockets have themselves arguably one of the hardest working centers in the league.
He will be more than a pleasant surprise to watch this season.
White Is Playing Catch Up, Must Diversify His Game
Royce White was able to get his first run on Monday against the Dallas Mavericks. All seemed to go well with his ride to Dallas, so that's a positive.
As for issues on the court, he's kind of where most thought he would be at this young stage of his rookie season.
Jonathan Fiegen shared his observations.
White goes coast-to-coast for a three-point play. He can do things with the ball in his hands. Has to find ways to help when it's not.

— Jonathan Feigen (@Jonathan_Feigen) October 16, 2012
This echoed the almost prophetic sentiments of assistant coach Kelvin Sampson from last month:
"Royce, when the ball is in his hands it is happy birthday, Fourth of July and Merry Christmas all rolled into one," Sampson said during this Q&A. "Now when the ball is not in his hands, where is he – is he in the witness protection program – I cant even find Royce sometimes when he doesn't have the ball, so he's got to learn to play without the ball at a high level.
That's the book on White. It was the same way during the summer league, it was the same when he was at Iowa State.
The other aspects of the game will click for him in due time.
Focus on Being Focused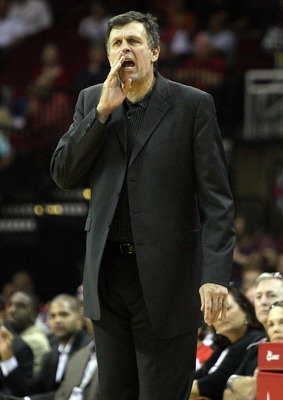 Troy Taormina-US PRESSWIRE
One of the most telling signs of Houston's youth is the fact that they make mistakes due to a lack of concentration.
This was not lost on Kevin McHale. Via Rockets.com:
"You can be bad because you don't have experience," he said. "But when you're bad on stuff that we've worked on over and over again, you're just not concentrating, so I'm more concerned that we had a lousy concentration level last night for whatever reason."
The good news: after Wednesday's matchup with the Memphis Grizzlies, the Rockets won't play another preseason game for a week, providing them plenty of time on the practice court to fine-tune their familiarity within the system and with each other.
That stretch will effectively offer Houston a second training camp of sorts, something that should prove invaluable to a team still very much in search of its on-court identity.
This will be valuable time to instill basic fundamentals into this young team before the grind of the season is upon them. The stronger their foundation the better.
The win over Memphis will be a nice building block for the team heading into the upcoming week of practices.
Roster Battles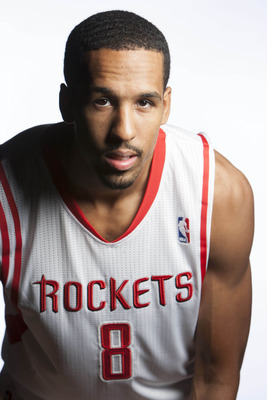 Brett Davis-US PRESSWIRE
There isn't much as far as position battles are concerned, but there is a fight for the 15th and final roster spot.
Jason Friedman predicts that it will come down to a post player and a wing player.
Shaun Livingston and Greg Smith may be the last two vying for the final spot on the team.
The overabundance of depth at the post positions may be too much for Smith to overcome, while Livingston's versatility and ability to play both guard positions may tilt things in his favor.
Injury Update
Jeremy Lin sat out Monday against the Mavericks, which was planned so he could rest his knee. It served him well against Memphis.
Terrence Jones and Marcus Morris have also sat in order to rest ankle injuries. Jones bounced back and played 24 minutes against Memphis, scoring 9 points and grabbing 5 boards.
Keep Reading

Houston Rockets: Like this team?