Yankees vs. Tigers: 9 Biggest Matchups in Game 4 of ALCS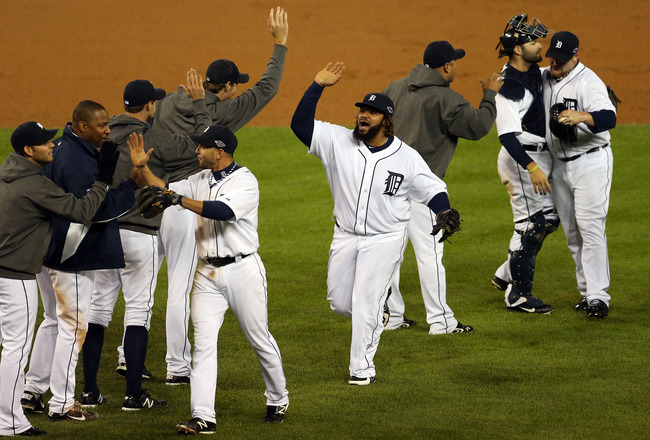 Leon Halip/Getty Images
Justin Verlander proved again in Game 3 why he is the reigning American League MVP and Cy Young Award winner.
The Tigers ace pitched into the ninth inning and allowed just a single run (in the ninth) on three hits.
So far in this series, the Yankees lineup has been no match for Detroit pitching, but the Yankees will send their ace to the mound in Game 4 to try to neutralize the Tigers offense and give themselves a chance to climb back into the series.
Several Yankee hitters will need to break out of their slumps against a very tough pitcher in Max Scherzer for this to happen, but Detroit has also shown that it can struggle in series-clinching opportunities.
It will be CC Sabathia on the hill tonight against Scherzer with a 4 p.m. (ET) start in Detroit.
Will the Tigers sweep the New York Yankees and advance to the World Series, or will the Yankees' bats awaken and push the series to Game 5?
Max Scherzer vs. Curtis Granderson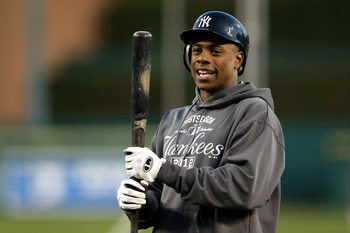 Leon Halip/Getty Images
Curtis Granderson has been slumping all postseason, batting just .103 combined in the ALDS against the Baltimore Orioles and the ALCS against Detroit so far.
Granderson is an 0-for-10 slump against Detroit this series.
However, against Max Scherzer for his career, Granderson is a .333 hitter (4-for-12) in the regular season, though that average drops to .267 when you factor in the 0-for-3 against Scherzer in last year's playoffs.
There have been calls for the Yankees to bench Granderson because of his slump, and he was slated to sit before Game 4 was rained out. However, if the Yankees intend to rally from their current 3-0 deficit in this series, they will need Granderson's bat to heat up, whether against Scherzer in a starting role or as a replacement later in the game.
Max Scherzer vs. Nick Swisher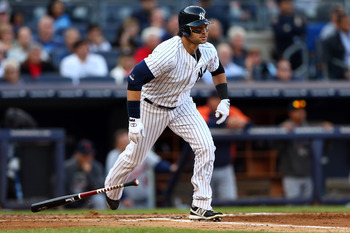 Elsa/Getty Images
Nick Swisher is another Yankee that finds himself in a postseason slump, batting just .154 for the 2012 playoffs.
Swisher is doing better than Granderson in this LCS, batting .250 (2-for-8), but found himself on the bench against Justin Verlander in Game 3.
Against Scherzer, Swisher is a career .286 hitter (2-for-7) in the regular season, though similar to Granderson, he went 0-for-3 against Scherzer in last year's playoffs.
It's not the greatest average for the Yankees to hang their hopes on to stave off elimination, but considering that Mark Teixeira is a career .176 hitter against Scherzer, Ichiro a career .267 hitter, Robinson Cano a .231 hitter, Russell Martin a career .176 hitter and Alex Rodriguez a career .083 hitter, Swish gives them as good a chance as anyone.
Scherzer is a strikeout pitcher though, and he has five against Swisher in their 10 career matchups.
Eric Chavez vs. Max Scherzer and the Detroit Bullpen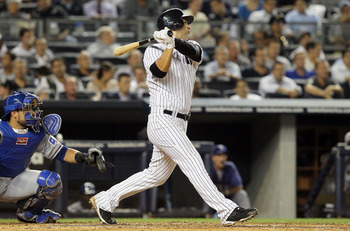 Jim McIsaac/Getty Images
At the time of this writing we are still several hours away from lineups being posted for Game 4, but considering that Alex Rodriguez is just 1-for-7 (.143 average) in this LCS series and 3-for-23 overall these playoffs (.130), it's probably pretty safe to say that Joe Girardi sits his aging, slumping slugger yet again in favor of Eric Chavez.
Add to that decision Rodriguez's career .083 average against Detroit starter Max Scherzer, and it seems like an almost absolute certainty.
Chavez has a small sample size against Scherzer, just two at-bats actually, but he boasts a perfect 1.000 average with a walk to go along with his two hits.
Chavez will look to add to those totals in Game 4, while Scherzer will look to reverse the trend.
It's worth noting that if/when the game goes to the bullpen, Chavez boasts a .500 average against Octavio Dotel (just 1-for-2), while Rodriguez is 3-for-10 for a .300 average with a pair of homers. Rodriguez may get the edge in that matchup.
While it's unlikely Jim Leyland would go back to Jose Valverde in a tight game considering his pair of meltdowns already this postseason, Chavez and Rodriguez both hold a .333 average against the Tigers closer.
CC Sabathia vs. Delmon Young
Jonathan Daniel/Getty Images
Delmon Young delivered a big blow to the Yankees in Game 3 with a homer off Phil Hughes in the fourth inning.
For the series Young is batting .308 (4-for-13) with a pair of homers and a team-high five RBI.
For his career Young is a .235 (8-for-34) hitter against CC Sabathia.
The odds are in favor of Sabathia being able to shut Young down, but Young was able to get to Hughes, who he had fared only slightly better against for his career (.294 average, 5-for-17).
He's not as highly hyped as the combo of Miguel Cabrera and Prince Fielder, but Young is every bit as dangerous to Sabathia and the Yankees' hopes of pushing this game to a Game 5 and beyond.
CC Sabathia vs. Miguel Cabrera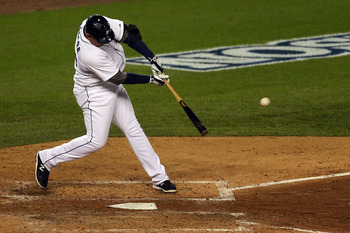 Leon Halip/Getty Images
Triple Crown winner Miguel Cabrera is having himself a nice series against the Yankees so far, batting .364 (4-for-11) at the plate with a pair of RBI so far.
Sabathia will look to shut down the probable MVP, although history has not been on Sabathia's side against Cabrera.
For their careers, Cabrera has a .357 average against the Yankee ace. He has 10 hits in 28 at-bats with a pair of homers and 12 RBI.
Sabathia has actually fared better against Cabrera than most of the Yankee bullpen, though, so (obviously) it would be a huge boost to New York for Sabathia to go deep into the game and limit Cabrera's opportunities against the Yankee bullpen.
Cabrera has a .500 career average against Joba Chamberlain and a .500 average against Cody Eppley.
Should Sabathia get it to his closer, Rafael Soriano, Cabrera is just 1-for-9 for a .111 average against the Yankee closer.
CC Sabathia vs. Prince Fielder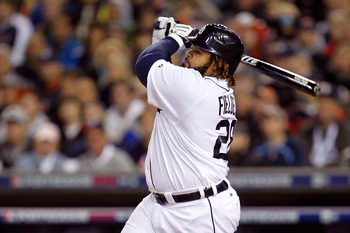 Gregory Shamus/Getty Images
Prince Fielder, the other Tigers slugger in the lineup, also boasts a solid career line against Sabathia.
Fielder has collected four hits in 11 at-bats against Sabathia for a .364 career average. He has homered off Sabathia once and has three RBI against him.
Fielder is slumping in this ALCS, batting just .167 on a 2-for-12 showing at the plate.
The Oakland A's also were able to limit Fielder's impact on the game, although they saw late in the series that his bat could not be silenced forever, as he connected for a key homer in Game 4 of that series (the A's wound up coming back to win but lost in Game 5).
Fielder will look to take advantage of his prior success against the Yankees ace and steal the spotlight in a series-clinching game tonight.
It's worth noting that Fielder has not had much success against some members of the Yankees bullpen, batting just .167 against Boone Logan, .000 against Clay Rapada and .222 against Derek Lowe.
However, Fielder has a 1.000 average against Joba Chamberlain (1-for-1), a .500 average against David Robertson (1-for-2) and a .333 average against David Phelps (1-for-3).
Against Rafael Soriano, Fielder is 2-for-4 for a .500 average. Both of his hits against Soriano are homers.
Jim Leyland vs. Joe Girardi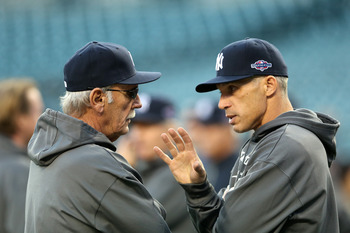 Leon Halip/Getty Images
In what should shake out to be a low-scoring contest between the Yankees and Tigers in Game 4, this game could wind up coming down to which manager pushes the right buttons and helps his team manufacture enough runs while optimizing the pitching matchups to keep the other team off the scoreboard.
The 2012 ALDS showed that the Tigers under Jim Leyland's watch are very good at playing small ball and moving runners into scoring position to generate runs.
The Yankees have been unable to get their offense going enough to have the opportunity for Girardi to show his aptitude for the same task so far in this LCS.
Girardi has shown already that he is willing to ignore the egos of star players and bench them for the betterment of his offense (see: Alex Rodriguez taking up residence on the bench the past few games).
Leyland showed a little of the same in staying away from Jose Valverde in last night's save situation in Game 3 to preserve Justin Verlander's gem, allowing Phil Coke to earn the save as he did in Game 2.
Yankee Batters vs. Their Own Self-Doubt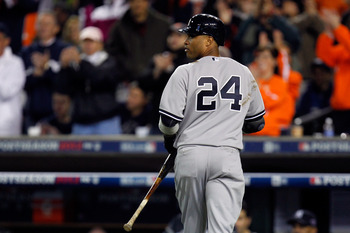 Gregory Shamus/Getty Images
You'd imagine that the New York Yankees hitters are impervious to the pressure of the national media spotlight considering they play under a microscope all season long.
That said, it's hard to ignore the attention that has been placed on the Yankees' struggling bats.
Robinson Cano is batting just .071 in this ALCS, Alex Rodriguez is batting .143, Mark Teixeira is the proud owner of a .250 average and Curtis Granderson does not have a hit through 10 at-bats.
Facing Max Scherzer is no easy task for any hitter, especially as a slump-buster, but the Yankees will need these bats to get going tonight just to advance to another elimination situation in Game 5.
Detroit Tigers vs. Series-Clinching Games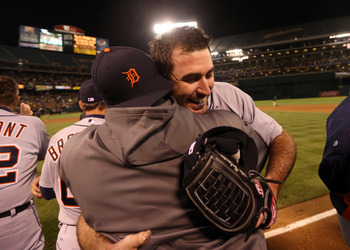 Ezra Shaw/Getty Images
The Tigers find themselves in a series-clinching situation tonight against the New York Yankees. However, they were just 1-for-3 in their past series in potential elimination games.
The A's managed to squeeze out a win in Game 3 of the ALDS against the Tigers to push the series to a Game 4 against Scherzer.
Despite a gem by Scherzer, the A's came back to walk off against Jose Valverde, who imploded in the ninth inning to allow the series to go to a deciding Game 5.
Were it not for a complete-game shutout by Justin Verlander in Game 5, the Tigers may not even be in this situation against the Yankees now.
This is the Tigers' fourth opportunity at eliminating an opponent this postseason.
They need to win just one of the next four games, suggesting that a trip to the World Series is inevitable for Motown, but they need to not take a slumping Yankee team lightly and beat them without giving them a chance to regain any confidence and momentum in this series.
Keep Reading