The 12 Biggest Fantasy Games Through Week 6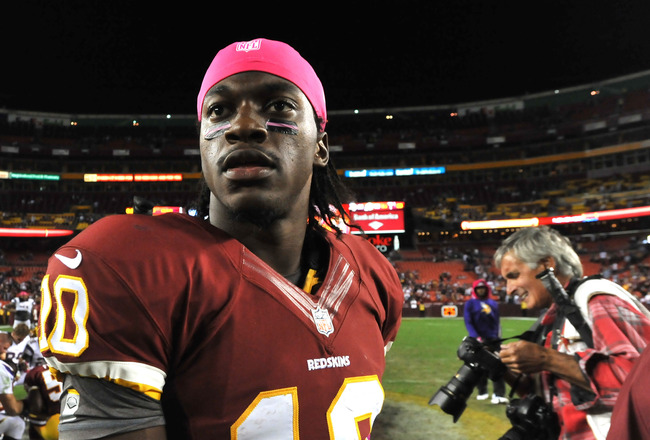 We are all witness.
Larry French/Getty Images
Six weeks into the season and we've already seen some astonishing fantasy score lines from a lot of unexpected players.
We've seen rookies blow up for huge points, veterans lay massive eggs, young players live up to their fantasy potential and backups step right in.
There's still a long season ahead of us, but let's take some time to look back at some of the special performances thus far.
There are a number of players we could choose from each week, but we're going to focus on two each. These players may not have scored the outright most points, but their performances in that week were spectacular nonetheless.
Week 1: Matt Ryan (31 Points)

Matt Ryan and the Falcons' offense put the league on notice right out of the gates.

The Falcons didn't take long to flex their offensive muscle. New offensive coordinator Dirk Koetter had this unit running like a finely oiled machine in Week 1.
The chief beneficiary of that was Matt Ryan. He's been a stud ever since and is proving to be one of the best value picks of the draft.
Ryan put up 299 yards and three touchdowns through the air, as well as 25 yards and another touchdown on the ground. Combine that with zero turnovers and you get a stellar 31 points.
Not bad for a mid-to-late round quarterback. Not bad at all Matty Ice. Stay clutch.
Week 1: Kevin Ogletree (23 Points)

Tony Romo went to Kevin Ogletree early and often in Week 1, and hasn't since.

Who? That's right. No one besides Kevin Ogletree's mama had him on their fantasy team, and if she was smart, she had him on the bench.
Well, Ogletree pulled a fast one on the entire fantasy football community. He hauled in eight catches for 114 yards and two scores giving him 23 points in Week 1, leading all fantasy receivers.
Tony Romo targeted him 11 times, and it looked like Ogletree was finally going to live up to his potential and be that No. 3 wideout for Dallas.
How long was it before you dropped Ogletree from your lineup after picking him up after Week 1? Two weeks? Three?
He's been nothing but a disappointment since, but like they say, every dog has his day.
Week 2: Reggie Bush (31 Points)

This was a particularly scintillating run in Week 2.

Reggie Bush answered last season's critics. He proved he could be an every-down back and run between the tackles.
What he did in Week 2 of this season was face-melting. Bush carried the rock 26 times for 172 yards and two spectacularly skillful scores. He added another 25 yards through the air and finished atop the fantasy charts with 31 points.
He's been a solid RB2 or flex option since, but he hasn't been able to replicate the kind of day he had against Oakland.
The take away from this? Oakland proved to be a good fantasy matchup for running backs.
Week 2: C.J. Spiller (28 Points)

C.J. Spiller stepped right in for Fred Jackson and the Bills haven't looked back.

C.J. Spiller was a revelation in Week 2. Everyone knew his potential, and he had a pretty big day after Fred Jackson went down in Week 1.
No one saw this type of performance coming out of him. Spiller put up a combined 170 yards and two touchdowns for a total of 28 points.
Not only did Spiller expose the Chiefs as a decent run game matchup, but he's been consistent for the Bills ever since.
To those who drafted Spiller in the late rounds, you might have the steal of the year. If you scooped him off the waivers just after his big day, your league hates you.
Week 3: Jamaal Charles (34 Points)

Jamaal Charles shredded New Orleans for one of the upsets of the season.

Jamaal Charles had perhaps the most dominant display of the season thus far in Week 3 in the Super Dome.
He silenced critics after a slow first two weeks and took that awful New Orleans defense for all it was worth.
Charles put up a combined 288 yards from scrimmage, including a sensational 91-yard scoring run for 34 points, leading all fantasy players in Week 3.
No one bounces to the outside like J.C. from K.C., and no one makes you pay more if you lose contain.
Week 3: Torrey Smith (24 Points)

Here's an interesting look inside the Ravens locker room after beting New England.

To be fair, there were 10 players with higher scores than Torrey Smith in Week 3. He wasn't even the top wide receiver. That was A.J. Green.
What Smith did on that Thursday night transcends football and fantasy. His brother had passed away in a motorcycle accident the night before. He left the team that morning to be with his family and returned that evening to leave nothing on the field.
Smith caught six passes for 127 yards and two scores and proved to be the difference on an evening where emotions were running high for the entire team.
Sometimes there's more to it than just points and winning or losing. It's about giving your heart to your teammates and trusting in them in the darkest of times. Hats off to you, Torrey Smith.
Week 4: Brian Hartline (31 Points)

Brian Hartline was already having a career day before this 80 yard catch and run.

Brian Hartline had the game of his career in Week 4. Heck, he had two or three games of his career in one on that Sunday.
I would say that there's no way anyone started him in Week 4, but I know better from experience having lost to a Hartline-led team that week. I'm not even mad.
Hartline hauled in 12 catches for 253 yards and a touchdown in a loss to Arizona. What's more is that he made Ryan Tannehill look like a decent quarterback. Sorry, I'm not sorry Miami fans.
Week 4: 49ers D/ST (27 Points)

Everyone loves a good beat down, especially when it's the team Tim Tebow is on.

The Jets would have done better statistically if they took a knee every down. That's all that needs to be said about the world of hurt the 49ers defense put Mark Sanchez and crew through during this Week 4 beatdown.
Patrick Willis and the rest of the marauding San Francisco defense led the team to a 34-0 shutout on the road.
You give the ball up four times to this defense and it'll make you pay at home, on the road, on the moon—you get the idea.
Lesson learned? Mark Sanchez is garbage, and Jets fans are delusional if they think he is the answer. Fact.
Week 5: Drew Brees/Marques Colston (59 Points)

Marques Colston didn't get the record breaker, but he did get the next three.

On a memorable evening for the Saints franchise, Marques Colston was one of the brightest stars.
The Saints notched their first win hosting the San Diego Chargers in Week 5, but the occasion was much more than your average Sunday night affair.
Drew Brees needed one touchdown pass to surpass the legendary Johnny Unitas for most consecutive games with a touchdown pass thrown.
Well, in typical Easy Breesy fashion, he threw four. Three of them went to Colston for 131 yards. Colston and Brees were the top two fantasy scorers in Week 5.
Week 5: Reggie Wayne (27 Points)

Reggie Wayne put in a Herculean effort in Week 5.

Reggie Wayne put the team on his back for head coach Chuck Pagano in Week 5.
Coach Pagano had been diagnosed with cancer the week before and had to watch the game from a hospital bed (he's slated to make a full recovery). On top of that, the Green Bay Packers and Aaron Rodgers were coming to town. Not a rosy Sunday afternoon.
Andrew Luck targeted Wayne 20 times on the day, and Reggie managed to haul in 13 catches for 212 yards and the game-winning touchdown.
It was a special day for Wayne, who's known Pagano most of his professional career, and he proved to everyone there's still plenty of gas left in the tank.
Week 6: Aaron Rodgers (38 Points)

Aaron Rodgers silences the critics. Literally. Just watch the interview.

Aaron Rodgers has had good games in the past. None quite like this.
He went into Reliant Stadium against what was considered the best team in the NFL at that point and just unloaded. Discount Double Check takes no prisoners.
Rodgers threw for a stupefying six touchdowns. Three of them to Jordy Nelson and another pair to James Jones.
All week long critics were asking what was wrong with the Packers. Rodgers, to his credit, took a lot of the blame on his shoulders. Well go'n brush your shoulders off big fella.
Week 6: Shonn Greene (34 Points)

Let Marshall Faulk break this one down for you.

Shonn Greene finally blew up for the Jets offense. It was about time, and the Colts never had a chance.
Greene racked up 161 yards and three touchdowns on the ground to give the Jets a much-needed victory.
It'll be interesting to see how much Rex Ryan leans on Greene this week against the Patriots, who have an uncharacteristically good run defense this season. Hopefully he doesn't lean on him too much. I mean he's lost a lot of weight, but he's still no small guy.
Robert Griffin III for President

Robert Griffin is a revelation. We are all watching the birth of the next great.

If you've managed to make it this far without hating me for not seeing Robert Griffin III at least four times in this list, here is your reward. I had to tease you with the opening shot.
RGIII has been the absolute best player in the National Football League through six weeks, bar none. There is no debate. Period. We're not talking fantasy here folks, we're talking real life.
When you take into consideration that he's a rookie and the team he plays for, you can't possibly make a case for anyone else.
The things this young man is doing to our beloved league are unprecedented. Cam Newton had tremendous numbers last season, but he wasn't leading his team anywhere. RGIII has the Redskins believing they have a shot at winning the NFC and getting to the playoffs.
RGIII is currently the leading fantasy scorer in football with 136 points through six weeks. He's shown no signs of slowing down and is actually upping his pace.
His biggest test will come this week against the Giants. Welcome to the NFC East RGIII. Show me what you got.
Keep Reading