8 San Francisco Giants Who Hold Postseason Glory in Their Hands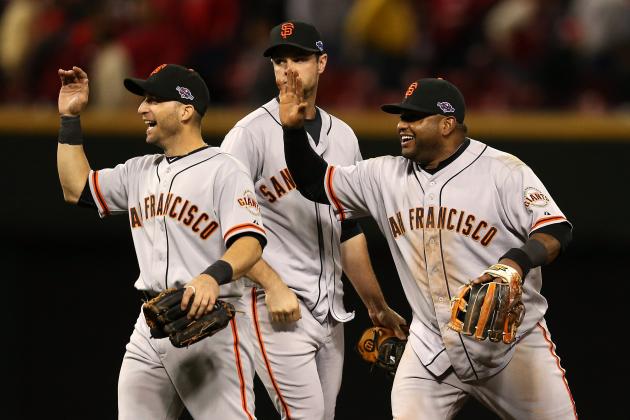 Jonathan Daniel/Getty Images
Scutaro (left) obviously qualifies, but will Belt and Sandoval as well?
Glory is an achievement that many San Francisco Giants have experienced in the recent past.
It was just two years ago that the 2010 postseason transformed into a 2010 World Series title for several players still on the club.
But professional athletes don't revel in the past; they live in the here and now. And coaches wouldn't allow them to operate that way even if they wanted to.
So the Matt Cains, Tim Lincecums and Buster Poseys of the world will have to take the Giants to the proverbial mountain top for the second time to qualify for this list. Guys like Angel Pagan, Joaquin Arias and, well, George Kontos have their first opportunity to do so.
However, let's restrict the parameters to the NLCS. As with not living in the past, baseball players certainly don't look beyond the immediate task at hand.
And for the 2012 Giants as of this moment, that task is winning the National League Championship Series.
Follow along as we identify the eight Giants who hold postseason glory in their hands.
Begin Slideshow

»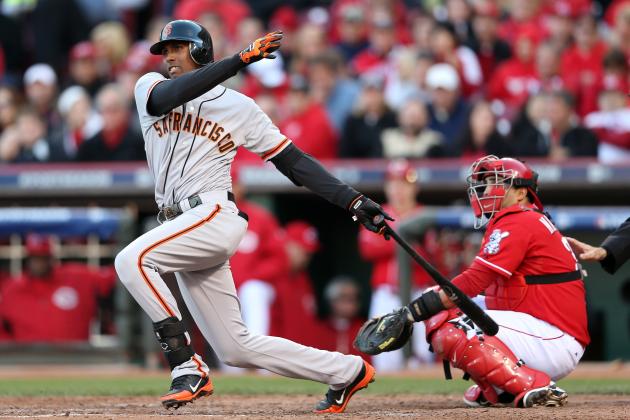 Andy Lyons/Getty Images
Arias' swing in action.
Just think: A mostly reserve player who registered only 344 at-bats was actually worth a win in the standings.
Joaquin Arias is the quintessential example of a role player who would shock everyone but the home-team fans with a key hit in a clutch moment.
Those bleeding Black and Orange are cognizant of Arias lighting it up in August with a .417 average and .717 slugging percentage. They realize that he's 3-for-6 in the postseason and can provide a spark off the bench at any given moment.
God forbid anything happen to Marco Scutaro's ailing hip, but Arias would be the man for the job in his stead. He could drive that ball in the left-center field gap for a three-run single (whether aided by an error or not).
Watch for the Dominican national to do something fairly legendary if and when the opportunity presents itself.
Ezra Shaw/Getty Images
Wilson (right) did it in 2010; the bearded Romo can do it in 2012.
As the baseball world has witnessed this season, hairy—and eccentric—looks manifest themselves in more than one human form.
Brian Wilson was the original manifestation of The Beard in 2010. Now, Sergio Romo can fulfill that role of lock-down bearded closer in 2012.
Romo has already earned MVP consideration in the NLDS against the Reds. When the Giants faced elimination in Game 3, Romo shut down Cincinnati over two innings to extend the series for San Francisco. He then extended the Giants' playoff lives into the NLCS by courageously saving Game 5 in a severely tense final inning.
Now in Round 2, Romo has a shot to add to his essential contributions.
Unlike Arias, Romo will undoubtedly find himself in a critical situation for the Giants. He'll emerge victorious by closing things out and attaining glory for him and his teammates.
Time to put the kibosh on the Cardinals' World Series hopes.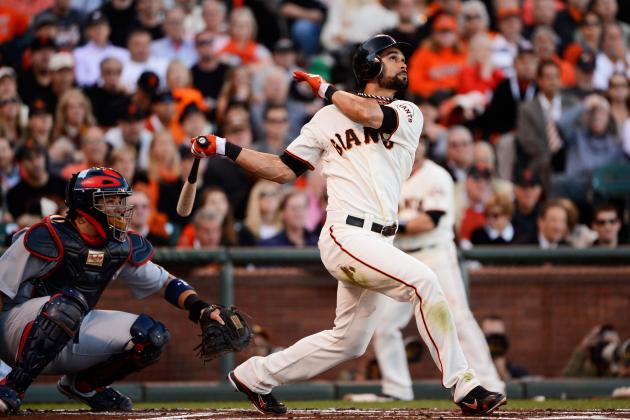 Thearon W. Henderson/Getty Images
The Giants' center fielder watches this leadoff jack fly out to right.
First and only two leadoff homers in Giants' postseason history, huh?
Doing not one, but two things for the first time in the history of the Giants franchise—New York included—is utterly special in and of itself.
But Pagan accomplished two additional feats that actually had more impact on a positive outcome for this team's playoff experience. In the NLDS, he provided a lead for the Giants from the get-go in a crucial Game 4 with his leadoff jack (first in team history). They went on to secure the victory and push the series to five.
In the recently completed Game 2 of the NLCS, Pagan's second leadoff HR gave the Giants their first lead at home in the entire postseason. They went on to win this game as well.
So really, Pagan has already felt glory during his team's ongoing playoff run. And more importantly, he'll feel even more of it as the G-Men move forward.
Stay tuned for a possible one—or two—more timely big flies from the Giants' leadoff hitter.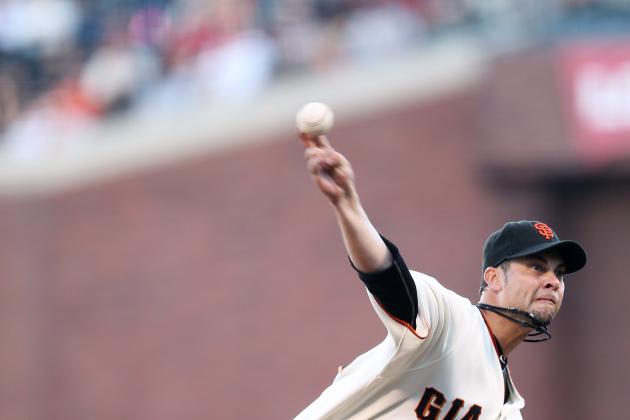 Christian Petersen/Getty Images
This Giants' starter has actually been the best of the bunch thus far.
Similarly, Vogelsong has already achieved temporary glory in the Giants' postseason cause.
He made possible the Giants' Game 3 victory over Cincinnati and Game 2 win over St. Louis. Both times he saved San Francisco from certain demise.
"Vogeltron" has been the Giants' best pitcher through the first seven games of the playoffs. He'll have a chance to cement that legacy in a potential series extender—or victory—at home in Game 6 of this NLCS.
For a pitcher that has traversed the globe from Japan to Venezuela in search of purpose, playing the hero role on one of the biggest stages would serve as a beautiful development in his baseball journey.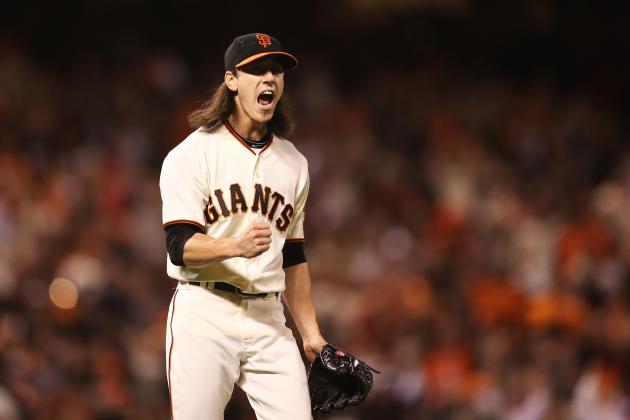 Ezra Shaw/Getty Images
Always great to see this fiery look on ol' Timmy's face.
Tim Lincecum's own baseball journey went south really quickly in 2012.
The two-time Cy Young Award winner posted the fourth-highest ERA among qualified pitchers in the majors this season. He lost 15 games and even cost his team two wins in the standings in terms of Wins Above Replacement.
Giants' manager Bruce Bochy then informed the former ace that he'd be removed from the rotation and put in the bullpen for the NLDS. This was a role he had not officially been given during his career.
But as if the 2012 regular season was more of an apparition than an actual transpired reality, "Big Time Timmy Jim" has been simply unconscious in his relief appearances.
He's pitched 8.1 innings of three-hit, one-run ball with a dominating nine strikeouts next to just one walk. He stabilized things in Game 4 against the Reds with four-plus innings of work after Barry Zito lasted just over two.
Lincecum will either save the Giants once again in relief if Matt Cain goes down early on Wednesday, or he will pitch them closer to a series' clincher in Game 4.
The baseball universe can't anticipate enough Lincecum's next appearance.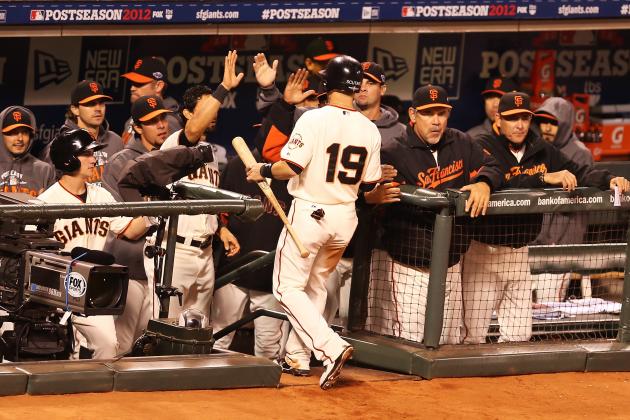 Christian Petersen/Getty Images
Marco Scutaro is beloved among his Giants teammates.
If a player ever capitalized on the favor of the baseball gods, Marco Scutaro would be the poster boy—and well deserved at that.
The Giants' second baseman recovered from a devastating slide by Matt Holliday to propel his team to victory in Game 2 against the Cardinals. He did so in the form of a three-run base knock that extended a tenuous 2-1 lead into a crushing 5-1 advantage.
Scutaro's been the driving force for San Francisco ever since he landed with the club in a mid-season trade. One could argue that he was the best free-agent pickup in all of MLB.
One way or another, Scutaro is a source of supreme motivation that accomplishes glorious things in the name of his team.
A game-winning hit at the plate or game-saving glove work in the field is in the future for this former unlikely hero.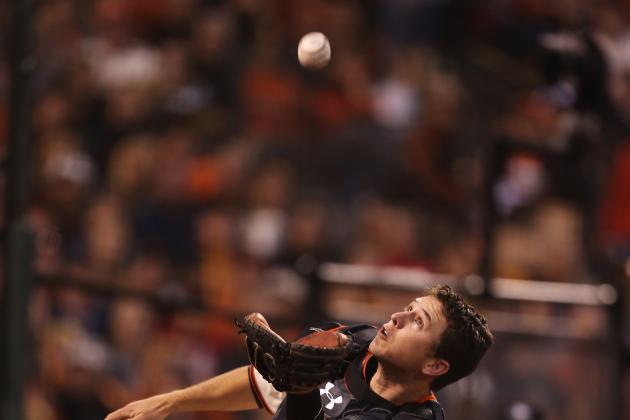 Ezra Shaw/Getty Images
What a great shot of the Giants' All-World catcher following a pop-up into his glove.
Sometimes it's necessary to include the vastly obvious.
Posey, the presumptive 2012 MVP of the National League, held a similar capacity in the NLDS. His grand slam off the hated Mat Latos gave the lead the Giants would never relinquish in the clinching game.
His role in harnessing the pitching staff so far has been commendable as well.
However, what may not be so apparent to the naked eye is his combined .185 average in the postseason. One would never think a player of his caliber would fall below the Mendoza Line.
So as the series continues on, Posey has a chance to forget that batting average and match his production from the 2010 NLCS. He has a shot to once again advance his city closer to a World Championship.
Not a bad continuation to an already noteworthy career.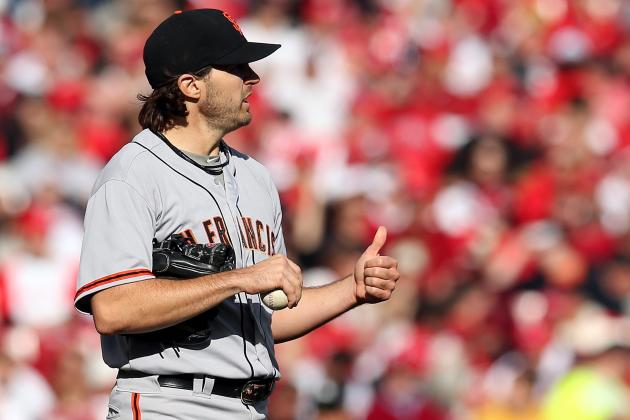 Jonathan Daniel/Getty Images
Zito hopes to use this positive gesture later in the series.
To those who were expecting Cain, my sincere apologies, because he is completely deserving as well.
But let us move in a more compelling, if not storybook direction.
Barry Zito was a member of the 2010 WS Champion Giants—but not quite. He was on the team but did not make the postseason roster.
He and his seven-year, $126 million underachieving-self had to ride the pine while his teammates enjoyed the fruits of their crowing achievement.
Zito can now bring his tumultuous journey full circle by pitching the game of his life Friday in St. Louis. He can potentially help secure the National League Pennant for his Giants brethren.
This would qualify as the ultimate comeback story for a man given the title Public Enemy No. 1 at times by the Giants fanbase during his tenure with the team.
In other words, Zito can make reparations for the past and have postseason glory within his grasp.
Wow, is it a trip reading that sentence out loud!
Follow me on Twitter @jlevitt16