Boise State Football: Midseason Report Card for the Broncos Offense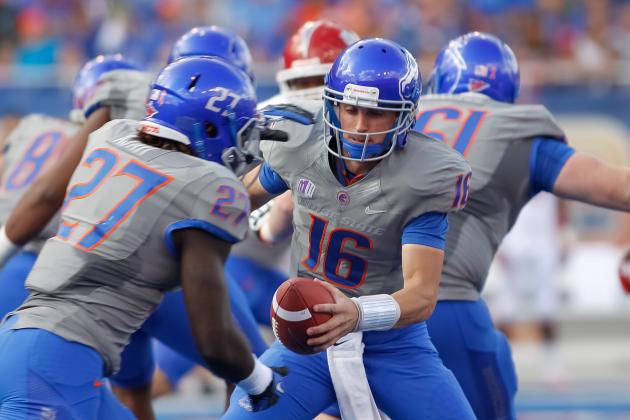 Otto Kitsinger III/Getty Images

It is officially the halfway mark for Boise State this college football season. The Broncos are currently ranked No. 22 in the BCS with a 5-1 overall record and 2-0 in the Mountain West Conference.
The record alone is surprising for some who thought Chris Petersen and his team would fall off the radar after losing more starters (15) from last season than any other team in the FBS.
However, Boise State is looking to complete its goal of taking the MWC in its last season as a member, and they even have an outside chance at another BCS game. Of course, there is still half a season to go with lots of football to be played, and the Broncos know all too well that anything can happen.
Let's look at the report card for the offense and find out which players made the honor roll and which ones need study hall.
Begin Slideshow

»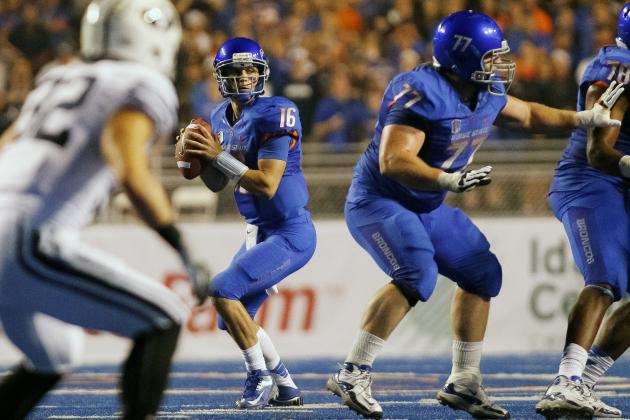 Otto Kitsinger III/Getty Images

The once high-powered Boise State offense has taken a considerable amount of criticism this season because of their lack of production. Fair or not, new offensive coordinator Robert Prince has been the target of many of those critiques.
However, when you look at the job Prince has done, it really isn't all that bad. In fact, a closer look reveals that he is doing a solid job with the challenges presented to him.
Yes, the Broncos are only averaging 25.2 points per game. Yes, the quarterback play has not been what Boise State fans are used to.
Still, Boise State is 5-1 and they are finding ways to win.
As far as players go, quarterback Joe Southwick has been the most criticized. Although his stats haven't been that bad for a first-time starting quarterback, every Bronco fan knows how high the bar was set by Kellen Moore. So, deserving or not, many fans continually compare Southwick to what used to be.
That's like comparing an old boyfriend or girlfriend to the current one. Sure it might make you feel better for a moment, but it really doesn't help the situation. In fact, it probably hurts the relationship quite a bit.
In the case of football, the fan base of Boise State is used to winning—and winning big. Now that the Broncos are simply winning, some in that fanbase are not happy at all.
We have all seen that kid in the candy isle at the store—screaming, demanding, stomping their feet and falling to ground simply because a parent won't buy them what they want.
What did you think of that child? Exactly.
There is nothing wrong with criticizing a football team or its players, but there is a tasteful way to do it. In fact, part of what makes Bronco Nation so great is the high expectations of the coaches, players, administration and the fanbase.
In saying all of that, let's get to the grades.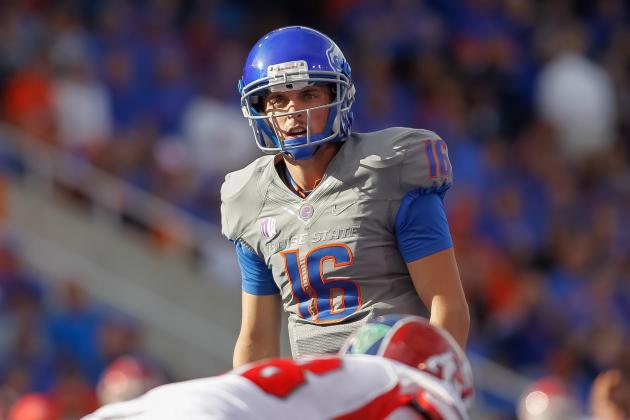 Otto Kitsinger III/Getty Images

Quarterback Joe Southwick
Positives: Making progress every week. Managing the offense. Making decent decisions. Not turning the ball over too much. Seems to have a strong arm, and can throw on the run when needed.
Areas that need work: Touch on the ball, especially down close. Throwing a better deep ball. Accuracy and consistency.
Overall Grade: B-
Joe Southwick gets a B- for three reasons.
First, the Kellen curve. Any quarterback following Kellen Moore gets an automatic one-grade upgrade. Second, he is progressing and getting better every week. Lastly, a B- was given just to make some of the critics angry.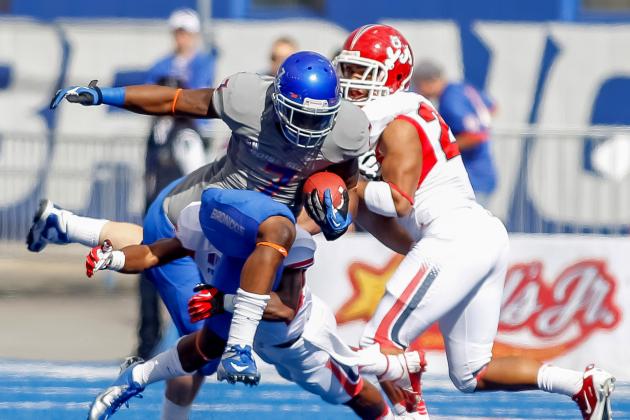 Otto Kitsinger III/Getty Images

Running back D.J. Harper
Positives: Shifty runner with a spin move that makes a defense look silly. Strong, powerful, fast and agile.
Areas that need work: He needs to petition the NCAA for a seventh year of eligibility
Overall Grade: A
The only reason Harper doesn't get an A+ is because he needs another goal for the second half of the season.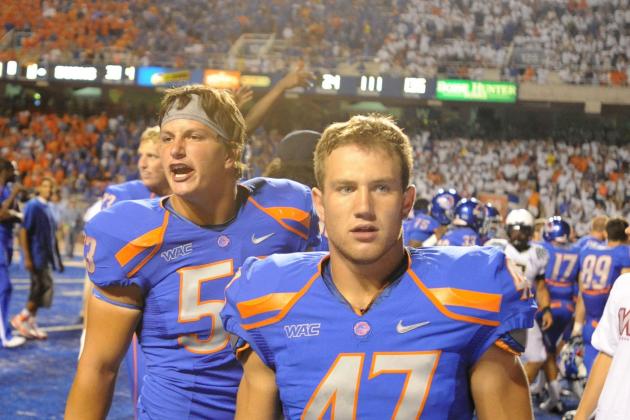 Steve Dykes/Getty Images

Fullback Dan Paul
Positives: Big, strong and knows how to block.
Areas that need work: His powers to convince Coach Prince to give him the ball at the 1-yard line are sorely lacking.
Overall Grade: B+
He gets a B+ because he has two first names. Oh, and he really knows how to block.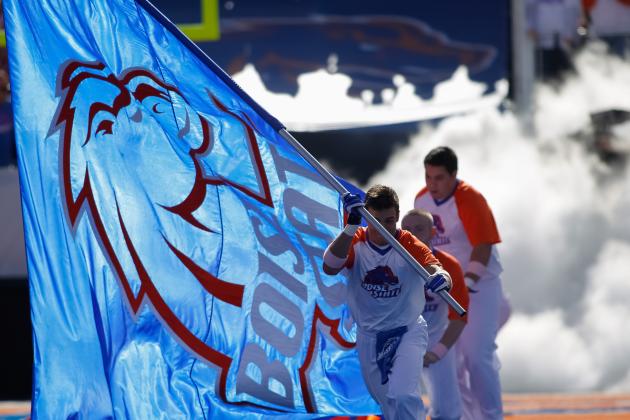 Otto Kitsinger III/Getty Images

Tight end Holden Huff
Positives: He is a freshman, but he seems to be grasping a rather complex position for the Broncos.
Areas that need work: Needs to learn even more of the Boise State offense so that the tight end can be better utilized (or quarterback Joe Southwick just needs to throw to him more).
Overall Grade: B-
The reason Huff gets a B- is because he averages 14.7 yards per catch, but he needs to be more involved in the game. Even if that isn't his fault, he is a freshman so he automatically loses five percent of his grade just to keep him humble.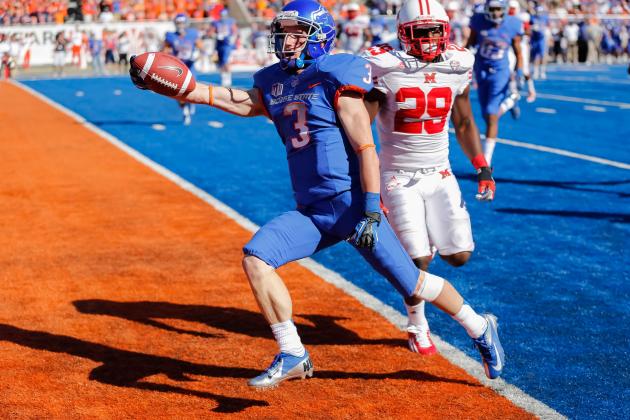 Otto Kitsinger III/Getty Images

Wide receiver Chris Potter
Positives: Veteran player with speed and quickness.
Areas that need work: He should never embrace the "Harry Potter" comparisons.
Overall Grade: A-
The reason Potter gets an A- is because he gets extra credit for his three receiving touchdowns.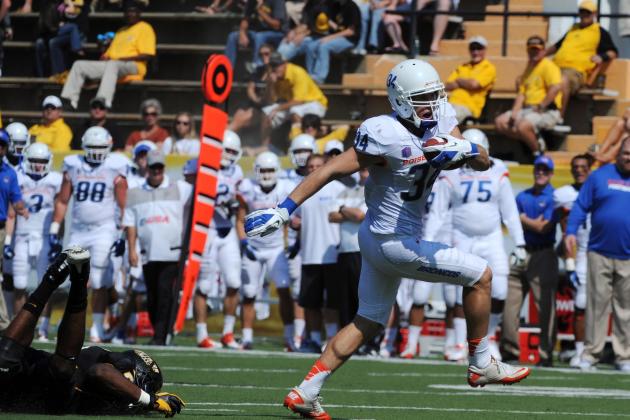 Chuck Cook -US PRESSWIRE

Wide receiver Kirby Moore
Positives: Big, strong, and makes plays when the Broncos need it most.
Areas that need work: He needs to find more relatives who can play for Boise State.
Overall Grade: A
The reason he gets an A is because he is second on the team in receptions and receiving yards. He also has a touchdown, and a handful of really important and impressive grabs.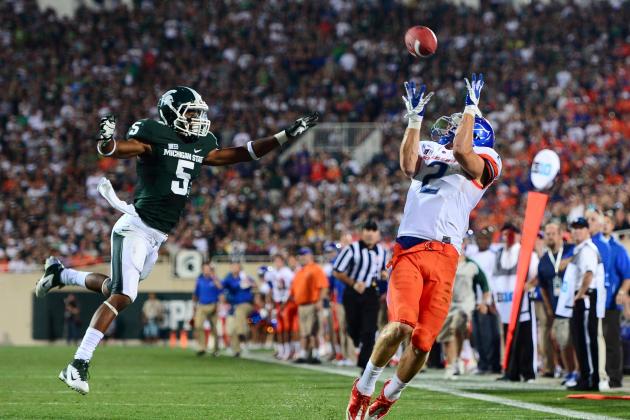 Andrew Weber-US PRESSWIRE

Wide receiver Matt Miller
Positives: Shifty, good hands and knows how to get open.
Areas that need work: He needs a good nickname, and he needs to stop dropping a pass now and giving the other team false hope.
Overall Grade: A
The reason Matt Miller gets an A is because he leads the team in receptions and receiving yardage. He also has a pair of touchdowns.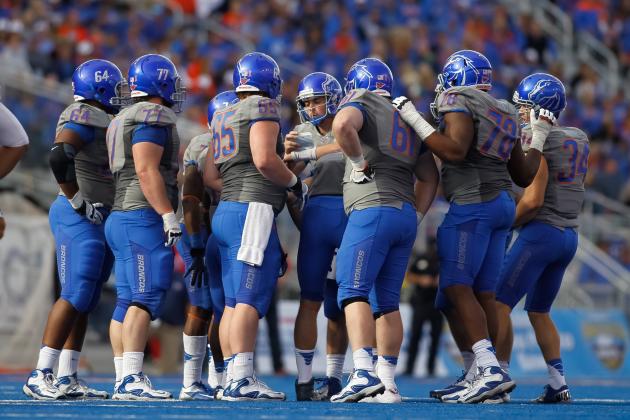 Otto Kitsinger III/Getty Images

Offensive Line
Positives: The line this season has proven they can pass-block, and they have improved in run blocking as the season has progressed.
Areas that need work: They have struggled at times run-blocking and in short yardage situations, especially near the goal line.
Overall Grade: B
Since they play as a unit, they get one grade. However, in the second half of the season look for that grade to go up. The offensive line of the Broncos is probably tired of losing battles at the goal line. Look for a renewed toughness and much more success when it comes to getting in the end zone in the next six games.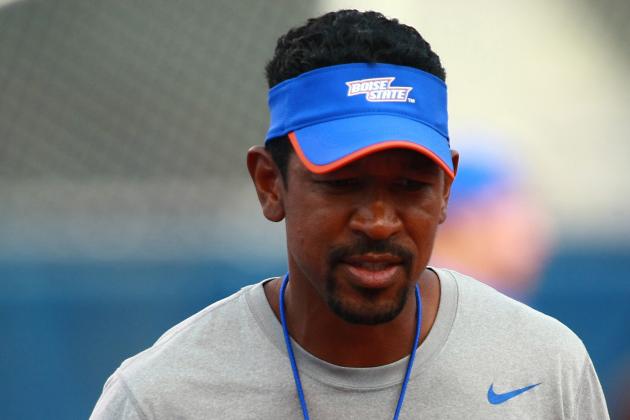 Brian Losness-US PRESSWIRE

Offensive Coordinator Robert Prince
Positives: Play calling has been great the last four games. He is mixing things up well and getting several players involved.
Areas that need work: Oh yeah, just what he needs—another talking head telling him where he needs to improve. He probably has enough of that already.
Overall Grade: B
Robert Prince had a bit of a rocky start, but his offense has made steady gains. His play calling has been great in the last four games and he is getting several players involved in the action.
Look for the fruit of his labor to produce a crop of excellence in the second half of the season.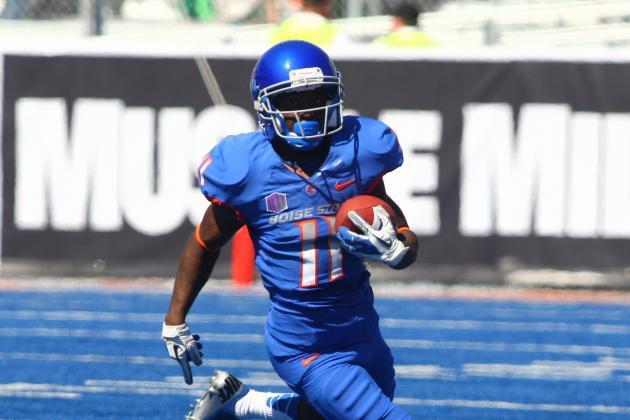 Brian Losness-US PRESSWIRE

Honorable Mention
The Broncos have had some new players make a bit of a splash.
Shane Williams-Rhodes, a.k.a. SWR, a.k.a. Shake-n-bake, is fun to watch for most fans. He has great moves and is quick and elusive. Bronco fans are probably looking forward to more from this true freshman in the second half of the season.
Redshirt freshman Jay Ajayi has added a second threat at running back. D.J. Harper is lightning and Jay Ajayi is thunder. The two running backs combined are poised for a great second-half storm.
Other true freshmen who have contributed this season on offense are running back Jack Fields and tight end Hayden Plinke.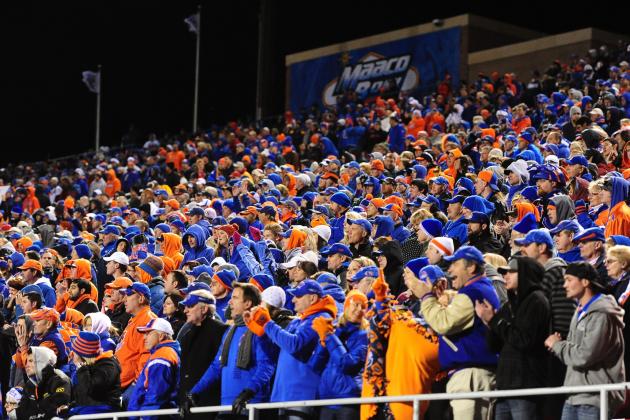 Mark J. Rebilas-US PRESSWIRE

The Fans
Overall Grade: B
This grade was based on three criteria.
First—selling out home games.
For fans of the Broncos, stepping up to the big time is something most say they desire. However, there hasn't been an official sell-out of Bronco Stadium so far this season. The game against BYU was closest, but it was still short.
The stadium holds 37,000, but the BYU game had 36,864 in attendance. The Miami Ohio game, which was the home opener had just 34,178 and the Fresno State game saw an attendance of 35,742.
Second, the amount of unwarranted complaining and whining going on this season.
It seems that this has been at an all-time high. Sure, there are valid criticisms, but that's not what is being spoken of here. The Broncos are 5-1 and getting better all the time. However, from the sound of some fans you would think that Boise State was losing every contest.
Lastly, for those faithful fans who bought a record number of season tickets and who show up, support and cheer louder than ever, you know that Coach Petersen and his team appreciate it very much. You are a big part of what makes Bronco Nation so special.
The players have commented about how loud the expanded stadium is, and that has been obvious as visiting offenses have struggled all season.
Look for the mid-season report card for defense and special teams coming soon here on Bleacher Report.