Grading the Brooklyn Nets' Current Two-Deep Depth Chart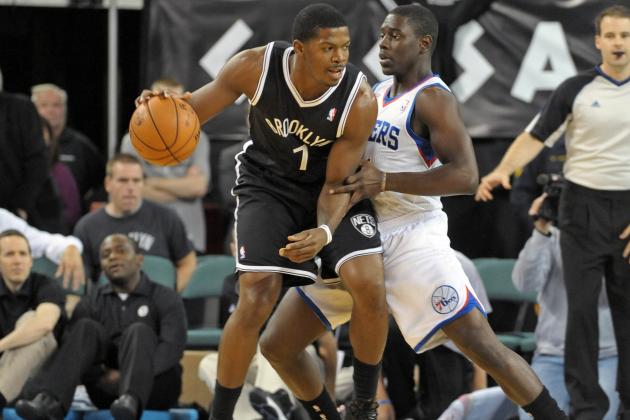 Eric Hartline-US PRESSWIRE

It may be early on in the preseason, but it's never too early to shell out some grades on the Brooklyn Nets' depth.
The Nets and general manager Billy King made major changes this offseason in hopes of bolstering a very weak squad from last season. Through three games thus far in the preseason, the moves are paying off.
In the first game, the Nets ousted the Philadelphia 76ers in overtime by a score of 108-105. The Washington Wizards were unable to come back in the fourth quarter of the Nets' second game, leading to a 98-88 Brooklyn victory.
Brooklyn squared off against the Boston Celtics in the first game at the new Barclays Center on Tuesday night, a game which ended in a 97-96 win for the Nets.
The bench have played exceptionally well in each game thus far, and it goes without saying that their play as a unit will determine how far the Nets make it during the 2012-13 season.
Begin Slideshow

»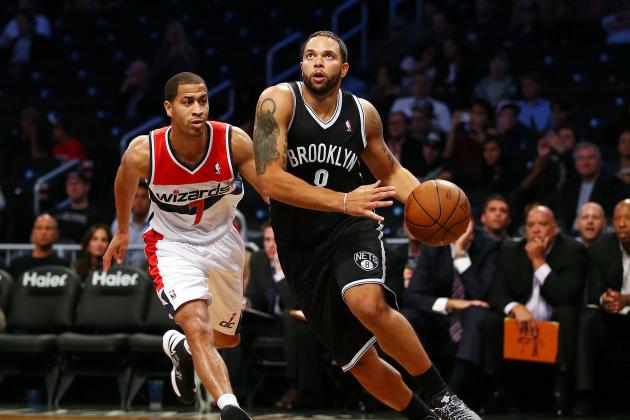 Alex Trautwig/Getty Images

Deron Williams
Deron Williams surprised many in the NBA community by re-signing with the Nets, and he even earned a spot on the 2012 Men's Basketball Team in the Olympics.
Williams is a pure-scorer at the point guard position—evident by his 21.0 points per game last season—but also plays a huge roll in orchestrating the offense. His 8.7 assists per game led the team and placed him fifth in the NBA.
Williams has posted a very well-rounded line so far in the preseason. The line is highlighted by 7.5 assists per game, but his 3.0 rebounds and 12.5 points per game are also impressive.
He'll be the team leader on the floor this season.
C.J. Watson
C.J. Watson represented a huge pickup for the Nets and Billy King. Last season's performance in place of Derrick Rose as a member of the Chicago Bulls (11.1 points per game and 4.6 assists per game as a starter) helped him to quickly emerge as one of the league's top reserve point guards.
While Williams will receive most of the minutes, head coach Avery Johnson won't have to worry about who comes in to spell him from time to time.
Watson can provide quality minutes while providing a spark off of the bench.
He's done so during the preseason. Watson has played a lot of minutes and has taken advantage. With 14.0 points per game, he's quickly setting himself up to play a big role this season.
Grade: A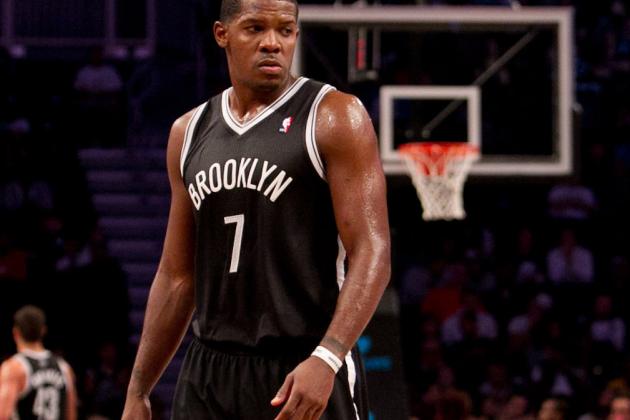 Debby Wong-US PRESSWIRE

Joe Johnson
Joe Johnson was King's most unanticipated acquisition this offseason, but it was a move that seems as if it will pay off for at least the next few seasons.
Johnson gives the Nets a bona fide No. 2 scoring option behind Williams. His career average of 17.8 points per game is impressive, and his average of 18.8 per game last season is even better. Throw in the fact that he averaged 3.9 rebounds and 3.7 assists per game last season, and you've got yourself a complete two-guard.
Nets starters really haven't played many minutes in the preseason, but Johnson has still managed to average an impressive 13.5 points per game. If he averages that during the regular season, though, the Nets shouldn't be so impressed.
While he may be a bit overpaid, Johnson has routinely been considered one of the most underrated scorers in the game. He'll be a valuable asset to the Nets offense in 2012-13.
MarShon Brooks
As a rookie last season, MarShon Brooks averaged 29.4 minutes per game. He was a very impressive scorer (12.6 per contest), but his turnovers (2.1 per) and his low assist totals (2.3 per) needed some improvement.
Brooks definitely has the potential to be an above average NBA player, but the depth at shooting guard in Brooklyn could leave Brooks with a decrease in playing time from last season.
Still, he'll likely be the first guy off the bench, making him very important to the team this season.
He has yet to play this preseason, though. This may prevent him from playing important minutes during the regular season until a month or so into the season.
Grade: A-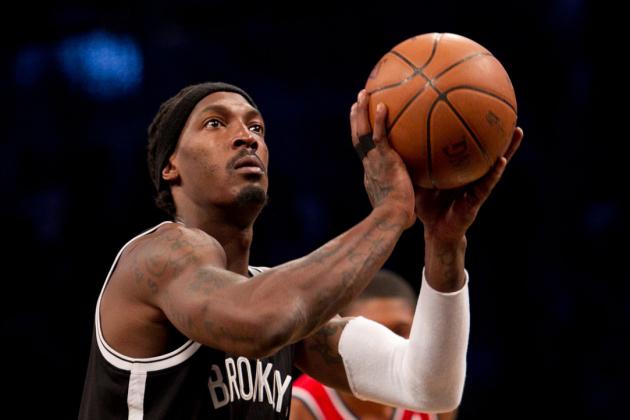 Debby Wong-US PRESSWIRE

Gerald Wallace
Small forward may be the thinnest position for the Nets, but they have several options should the first reserve falter.
Gerald Wallace is the clear-cut starter, and he'll look to start the season strong after playing just 16 games with the Nets last season.
Wallace is a strong rebounder for a small forward (6.7 per game in 2011-12) because of his physical style of play. This will bode well for the Nets as Brook Lopez has had rebounding troubles in the past.
His rebounding has been strong so far, averaging 6.5 per game in the preseason. I wouldn't be surprised if he averages near 7.5 in the regular season.
He is a semi-reliable scorer (13.5 per game and 47.3 percent for his career), and could potentially be the fourth scoring option on this team.
That's scary.
Josh Childress
Josh Childress never really panned out after being drafted sixth overall in 2004 by the Atlanta Hawks. He's scored just 9.5 points per game in his career with just 1.0 assists and 2.8 rebounds.
A few lackluster seasons in the NBA and a few seasons overseas brought Childress back to the NBA with the Phoenix Suns before he landed with the Nets.
Not much will be expected of him this season, so he will have plenty of opportunities to exceed the predictions. Should he falter, there's help waiting in the wings.
He hasn't impressed much during the first few games of the preseason. With just 2.0 points and 3.5 rebounds per game, he may already be setting himself up to be moved down the depth chart.
Should this happen, Tornike Shengelia would take his place.
Grade: C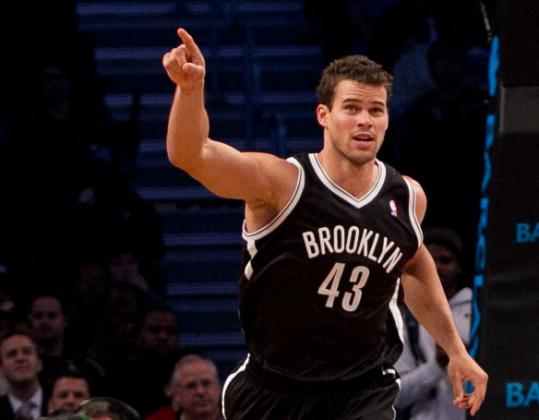 Debby Wong-US PRESSWIRE

Kris Humphries
Despite all the flack Kris Humphries gets for his off-the-court happenings, he has established himself as a very solid player for the Nets.
He averaged a double-double last season with 11.0 rebounds and 13.8 points per game. There's a good chance his scoring numbers will drop this season with the acquisition of Joe Johnson, but all the Nets really need him to do is defend and rebound.
As the fifth scoring option on offense, Humphries will have to capitalize on open opportunities. Otherwise, don't look for him to have a huge impact on the offensive end of the floor.
Even if he doesn't average double-digit points this season, he should be around double-digit rebounds.
His preseason statistics show that he would be on pace to average double-digits if he were playing his usual minutes. He's played an average of 19.5 minutes per game and grabbed 5.5 rebounds per.
Reggie Evans
Power forward for the Nets this season will be inhabited by guys who like to work hard on the glass. On a team that has high-scoring potential like the Nets, that skill is invaluable.
Reggie Evans has always been an animal on the glass. In just 13.8 minutes per game last season, he grabbed 4.8 rebounds. Project that over starter's minutes, and Evans would finish with around 15 rebounds per game.
That's just absurd.
With just 5.5 minutes per game so far in the preseason, we really haven't had the chance to see much from Evans. Avery Johnson likely knows what to expect from him at this point in his career.
Evans will likely play around 15 minutes per game in the regular season. Expect those to be 15 quality, hard-nosed minutes from the 10-year veteran.
Grade: B-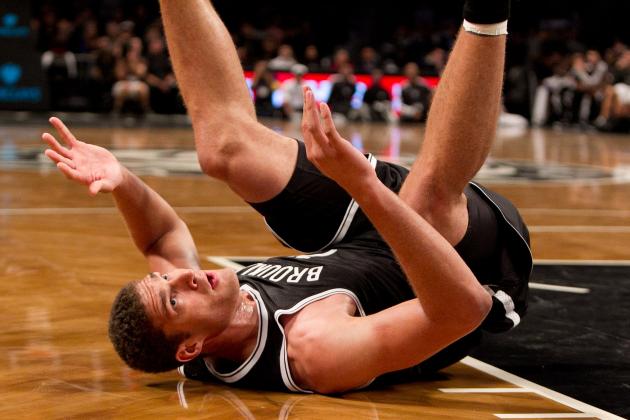 Debby Wong-US PRESSWIRE

Brook Lopez
Brook Lopez played in just five games last season due to injury, so it's unfair to judge Brooklyn's depth at center based on last season alone. Let's take a look at Lopez's career numbers.
His average 17.4 points per game make him a reliable option in the paint for the Nets. He'll more than likely be the third scoring option behind Williams and Johnson.
The problem with Lopez has always been his rebounding. His average 7.5 rebounds per game over the course of his career isn't terrible, but he'll need to step it up and get that number to near 9.0 this season.
The Nets will be taking a lot of shots this season. This should lead to more opportunities for Lopez to grab some boards on the offensive end. Keeping possessions alive will be a key for Lopez this season.
He's done a good job on the glass in two games this preseason, pulling down 10.0 per game. He's also averaged over 18 points.
Andray Blatche
After a falling out in Washington, Andray Blatche made his way to Brooklyn this past offseason.
He's not exactly your prototypical center. Blatche sometimes loves his jump shot too much. Last season, he shot an atrocious 38.0 percent from the floor. Couple in his low rebounding total of 5.8 per game, and he's not really an attractive option off the bench.
Blatche has actually performed very well so far in the preseason, hitting the go-ahead jumper in overtime against the 76ers and dropping 23 points against the Celtics.
Maybe this represents a second wind for Blatche.
Grade: C+ (with the potential for more)