5 Improvements Kansas City Chiefs Must Make During the Bye Week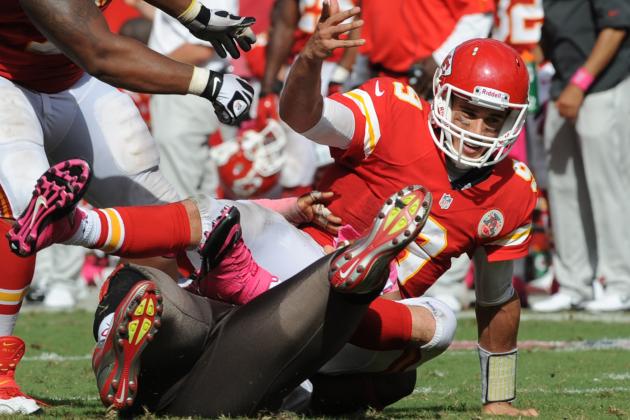 Al Messerschmidt/Getty Images

After six weeks of the regular season, no team in the NFL should be more excited about the bye week than the Kansas City Chiefs.
Small wonder, either. After getting the players' choice Romeo Crennel as head coach and returning four of their top players from season-ending injuries, the Chiefs looked poised to challenge for the AFC West divisional title.
Instead, Kansas City's put together one of the most embarrassing stretches of play in recent memory.
The Chiefs have yet to lead in a game despite winning against the New Orleans Saints. Four of their five losses were by double-digit deficits and half of their 10 meager touchdowns came in the fourth quarter with the game out of reach.
So what can the Chiefs do to turn things around and at least finish the season looking like a competitive team?
It relies on more than just better play at the quarterback position, though Matt Cassel's taken plenty of flak in the media this year. Similarly, it doesn't just come down to Clark Hunt and Scott Pioli breaking out their checkbook; Kansas City moved on multiple high-profile free agents this year and brought in playmakers like Justin Houston and Eric Berry through the draft.
But all that talk doesn't make the Chiefs play better, and there's a lot of better to be had before they can restore faith in their fan base.
Here are five areas that can get them back on the right track.
Begin Slideshow

»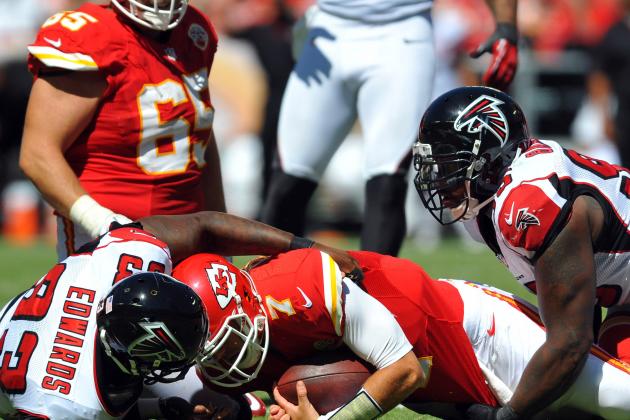 Denny Medley-US PRESSWIRE

The Buccaneers might not have sacked Brady Quinn, but don't credit Kansas City's offensive line for that feat.
Quinn spent the better part of his time in Tampa Bay running for dear life. The Buccaneers' front four manhandled the Chiefs at the line of scrimmage; from snap to whistle Quinn couldn't stop moving.
The Chiefs' offensive line isn't supposed to be like this. ESPN and others predicted a breakout year for Jon Asamoah. The year 2012 is a contract year for Branden Albert, and landing Eric Winston was the steal of free agency in March. Kansas City even spent two early draft picks on their line to add depth.
But Rodney Hudson broke his leg, forcing Ryan Lilja to move over to center. And Eric Winston looks no better than his predecessor Barry Richardson. Defenders regularly find Winston out of position or committing penalties; Winston currently has five penalties, more than any other Chiefs lineman.
This year's offensive line looks much different from last year, which could be messing with the unit's chemistry. But the overall talent of this position group takes away any excuse they might have for how poorly they've played so far this season.
If the Chiefs' front five can't get it together, it won't matter who runs or throws the ball.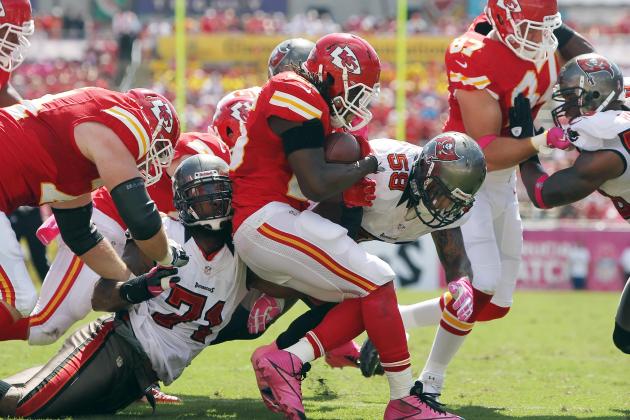 Kim Klement-US PRESSWIRE

Dexter McCluster futilely trying to pound the ball up the middle ranks was one of the most painful things to watch last season.
With teams knowing McCluster's best served using flares and screens to get into space, Todd Haley and Bill Muir apparently thought it best to try surprising opponents rather than play to their players' strengths.
Brian Daboll seems to be doing the same thing. With Peyton Hillis still out of the lineup, Jamaal Charles and Shaun Draughn find themselves taking more carries between the tackles.
This wouldn't be as bad if the offensive line was actually opening running lanes; Charles especially works well on draw plays. But that's not happening, and two players with smaller frames keep barreling into a meat grinder of defenders and outmatched blockers.
Daboll could be getting the hint here, though. Against Tampa Bay, Nate Eachus saw an increase in carries and should see more work between the tackles. His smaller, heavier body should do a better job of absorbing hits and save Charles and Draughn for more of the counters and off-tackle runs that make best use of their speed.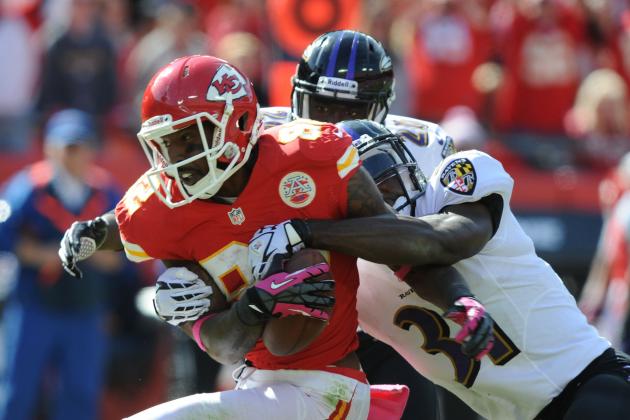 John Rieger-US PRESSWIRE

For a team that has not had a lead all season, the Chiefs look miserable in the passing game. Kansas City ranks 23rd in passing yards, 24th in completion percentage and dead last in passer rating at 63.9.
To further hammer the point home, the Cleveland Browns rank 31st in passer rating at 68.1; no other team scores under 70.
But that's not the only passing stat that sees Kansas City grace the bottom of the list. The Chiefs are the only team who haven't thrown a pass for over 40 yards this season. Matt Cassel hooked up with Dwayne Bowe for a 33-yard touchdown pass in Week 2 against Buffalo, but that's as close as the Chiefs get to a vertical passing game.
Kansas City seems to have abandoned the idea of stretching the field. This and their complete reliance on the run game keep their opponents' linebackers close to the line of scrimmage so they can plug running lanes.
Jonathan Baldwin, Steve Breaston and Bowe all can get downfield and win one-on-one matchups against most cornerbacks. The Chiefs need to remind their opponents of that more often if they hope to avoid seeing eight men "in the box" defending the run for the rest of the season.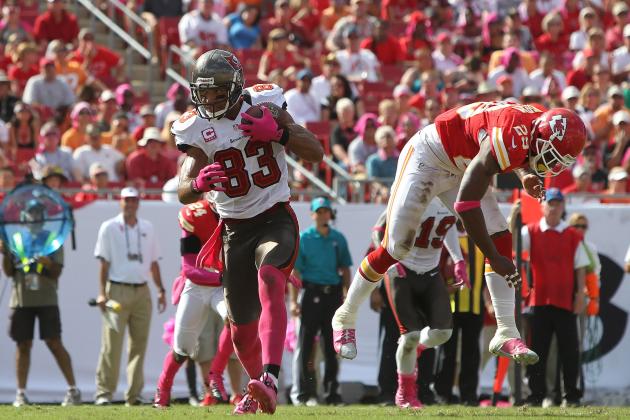 Kim Klement-US PRESSWIRE

While the Chiefs languish at the bottom of the league in offensive passer rating, the Tennessee Titans own the distinction of allowing the best passer rating.
Kansas City shouldn't feel too good about it, though. The Chiefs rank just above the Titans; their opponents' combined passer rating sits at a staggering 106.5. Romeo Crennel's defense makes guys like Josh Freeman and Ryan Fitzpatrick look like Peyton Manning and Aaron Rodgers every week.
A large part of this is the large cushion the defense gives to opposing wideouts. The Chiefs play soft against the pass, possibly because of injuries in the secondary. Brandon Flowers hasn't been 100% all season, and Kendrick Lewis just returned to the lineup.
Then Eric Berry, arguably the lynchpin to Crennel's defensive scheme, appears to be a shadow of his former self. His performance in one-on-one coverage against Antonio Gates in Week 4 tells it all. In five pass attempts to Gates, three went for completions. The other two drew pass interference calls. The logical conclusion is that Berry has not fully recovered from last year's ACL tear.
If injuries are the reason for Kansas City's lax coverage, the Chiefs should look at benching their walking wounded rather than risk further injury. At 1-5, the distant possibility of a surprise turnaround does not outweigh the value these players bring to Kansas City's future.
And if the secondary is healthy enough to play full speed, Crennel needs to get aggressive with his coverage and start disrupting his opponents' passing game.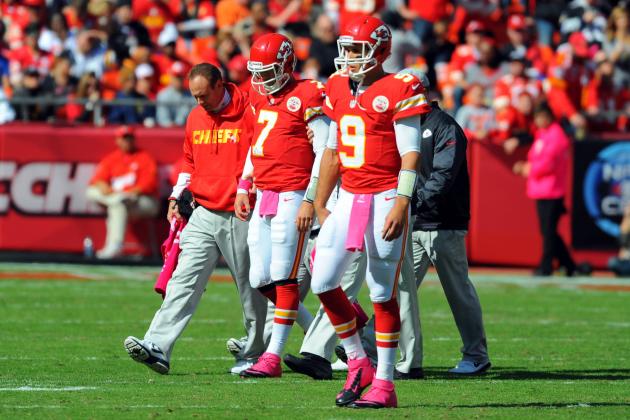 Denny Medley-US PRESSWIRE

Contrary to their record, the Chiefs have plenty of talent on their roster. First-round picks and Pro Bowlers fill nearly every starter position on defense. When Kansas City has the ball, they have immense depth at running back, receiver and tight end. Their offensive line isn't anything to sneeze at either, at least not on paper.
And before you get ready to throw the Chiefs' quarterbacks under the bus, keep in mind that Brady Quinn was a first-round pick only five years ago. Matt Cassel is only two years removed from a Pro Bowl appearance after throwing 27 touchdowns and only seven interceptions.
But who is the leader in Kansas City's locker room? Who brings focus to the offense when executing the two-minute drill? Which voice echoes over everyone else's when the defense digs in on fourth and goal?
More than anything else, that's the difference-maker for the Chiefs. They need a Peyton Manning or Ray Lewis to bring it all together. Scott Pioli brought in plenty of former collegiate team captains through the draft, but no one appears to have claimed that top "alpha male" position.
Someone in the locker room needs to rally the troops, and the Chiefs can't afford to wait for it to be later rather than sooner.
Or considering Kansas City already looks like a front-runner for the top pick in the 2013 draft, maybe it can.