Yankees vs. Tigers: What We Learned from Bombers 2-1 Game 3 Loss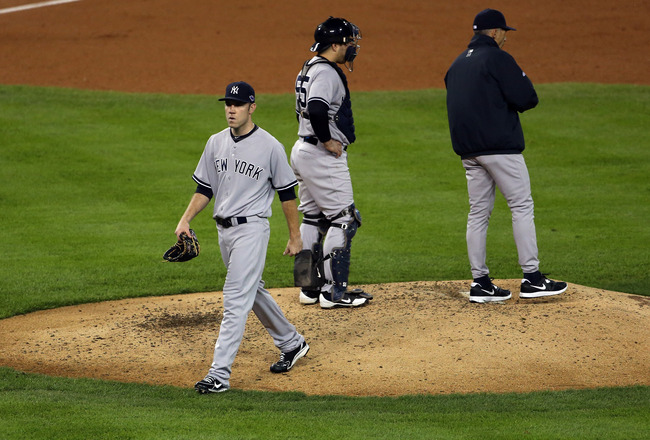 Leon Halip/Getty Images
Well, the Yankees are now on the brink of elimination.
The Detroit Tigers were able to take Game 3 behind Justin Verlander's 8.1 performance, winning 2-1 and taking a 3-0 lead in the ALCS over the Yankees.
Phil Hughes left in the middle of the fourth inning due to what was called as a stiff back, and the Yankees bullpen had to piece together five innings.
On Thursday night, the Yankees will come back to Comerica Park where they will send up their ace in CC Sabathia to attempt to save the season and get a victory, while the Tigers will counter with Max Scherzer and look to end the Bombers season.
What did we learn from Game 3 at Detroit on Tuesday night?
Click through to find out.
Justin Verlander Was Beatable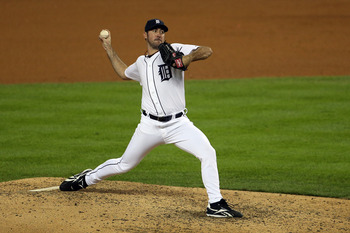 Leon Halip/Getty Images
Don't get me wrong, Justin Verlander was good on the mound.
But was he un-hittable? No, the Yankees certainly could have hit him.
That's if they knew how to hit right now, which they don't.
Verlander only had three strikeouts in 8.1 innings of work, and what ended up happening was the Yankee hitters were getting themselves out with terrible swings.
It took the Yankees until the top of the ninth inning to even get to Verlander with the solo home run by Eduardo Nunez that got them on the board, but the Yankees can't keep trying to come back in the ninth inning all the time.
I never expected the Yankees to win Game 3 with Verlander on the mound, but I also didn't expect a 2-1 score. I honestly expected more the lines of a 6-1 final score with him on the mound.
If the Yankees were hitting, they could have gotten to Verlander, but they didn't, and the Tigers ace took advantage of the lineup.
Miguel Cabrera's RBI Double Turned out to Be Huge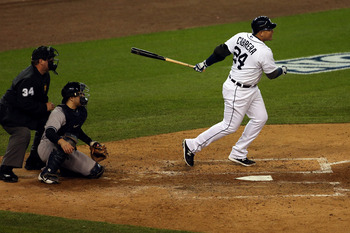 Leon Halip/Getty Images
We all know Miguel Cabrera is likely going to win the 2012 AL MVP this year following his triple-crown winning season of 2012.
Every time he touches a bat, you're just waiting for him to do dangerous things with it.
And in the bottom of the fifth inning with David Phelps pitching, Cabrera did just that by smashing a pitch over the head of Curtis Granderson into right center field for a double which scored Quintin Berry and put the Tigers ahead 2-0.
That RBI double ended up being a really big hit, considering Eduardo Nunez's solo home run in the top of the ninth inning could have tied the game if not for Cabrera's big hit.
This is just another shining example of why every run in baseball is so important.
Ichiro Suzuki Continues His Solid Series in ALCS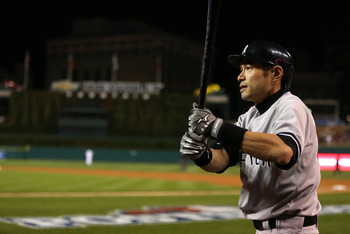 Jonathan Daniel/Getty Images
Heading into the ninth inning, the Yankees had all of two hits off Justin Verlander.
Both of them belonged to Ichiro Suzuki, who went 2-for-4, both hits were singles.
That improved Ichiro's average in the ALCS to .428 (6-for-14) with a home run and two RBI.
He's one of the few Yankees who are actually doing anything in this series at the plate, and unfortunately, they are missing opportunities to get big RBI hits with Ichiro on base.
In the fourth with one out after Ichiro singled off Verlander, Mark Teixeira and Robinson Cano both had chances to do something with the bat and failed with him on.
In the seventh, Ichiro led off the inning with another single and Teixeira, Cano and Raul Ibanez couldn't do anything against Verlander.
It's just another case of the Yankees not doing anything with a runner on base in this series.
Despite that, Ichiro is still having a solid series for the Yankees.
Eduardo Nunez Just Earned More Starting Time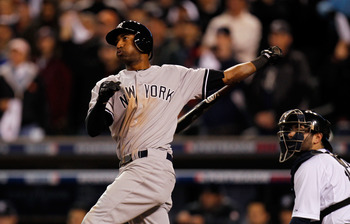 Gregory Shamus/Getty Images
For Game 3, Joe Girardi decided to go with Eduardo Nunez as the starting shortstop instead of Jayson Nix in place of the injured Derek Jeter.
I saw a lot of my fellow Yankee fan friends were petrified of the lineup with Nunez listed as the starting shortstop because they thought he was going to have a terrible outing in the field.
Nunez didn't have any errors in the field and didn't do anything to cost the Yankees any runs against Detroit.
In the ninth inning, Nunez was the lone Yankee to be able to get to Verlander when he challenged him to a nine-pitch at-bat and ended it with a solo home run to left field, which cut the Tigers lead to 2-1.
When the Yankees play Game 4 on Wednesday night, I fully expect Nunez to be starting again at shortstop.
Nunez isn't going to replace how important Jeter was to this lineup, but if Nunez can work a count like he did against Verlander and then get a big hit, he could end up being a big part of the lineup.
You Can't Blame Raul Ibanez for Striking out to End the Game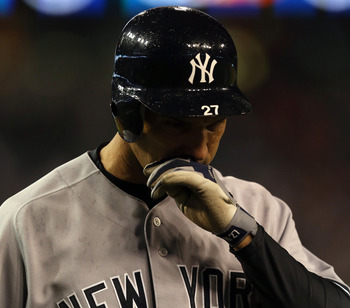 Jonathan Daniel/Getty Images
The Yankees had a chance in the top of the ninth inning.
With Phil Coke on the mound trying to close the game, he was having trouble getting the third out and allowed singles to Mark Teixeira and Robinson Cano, giving Raul Ibanez a chance to swing the bat in the ninth inning.
Ibanez has already been a postseason hero by hitting three huge home runs for the Yankees that came in the ninth inning or later.
And on Tuesday night, Ibanez had a chance to get another big hit, and after a seven-pitch at-bat in which Ibanez worked the count to 3-2 and battled Coke, Ibanez struck out swinging at a slider to end the game.
If it were Alex Rodriguez or Nick Swisher, I probably would have been screaming mad. But I couldn't get mad at Ibanez.
Because if it weren't for Ibanez, the Yankees probably wouldn't have even gotten past the ALDS and the Baltimore Orioles, but the Yankees are playing baseball right now because of him.
Sure, it wasn't a great feeling to see Ibanez strike out with an opportunity to tie the game in the ninth, but you can't have him being the only guy who tries to get a big hit every time he's at bat.
I'll admit, I even thought he would get a home run in the ninth inning off Coke, but in all fairness, that's really not fair to him putting those kinds of expectations on him in every single at-bat that's in the ninth inning or later.
Can CC Sabathia Even Overcome the Yankees Offensive Failures?
Leon Halip/Getty Images
With the Yankees now down 0-3, their season is one game away from ending.
And now, they will put the fate of their season in the hands of their ace, CC Sabathia.
But honestly, can even Sabathia do anything to help the Yankees chances?
Andy Pettitte and Hiroki Kuroda both gave great performances in Games 1 and 2, yet they were betrayed by the offense who didn't score a single run for them.
The same goes for the bullpen in Game 3, as they held the Detroit offense to two runs and were in the game, despite Justin Verlander being out there, yet the offense couldn't muster up a couple of hits in an inning.
So yes, Sabathia could give the Yankees another masterful performance on the mound, and it might end up getting wasted if the offense doesn't do anything against Max Scherzer.
Despite that, Sabathia still has to go on the mound and pitch his rear-end off in order to save the Yankees' 2012 season and keep them from elimination.
Sabathia is 2-0 for the Yankees when pitching in an elimination game; the last one was Game 5 against the Orioles last Friday.
On Wednesday night, Sabathia has to show everyone why he's getting paid $23 million a season to be the big-game pitcher for the Yankees.
Stay tuned, Yankees Universe.
Keep Reading

New York Yankees: Like this team?