Boston Celtics Possible Free-Agent Targets to Back Up Rajon Rondo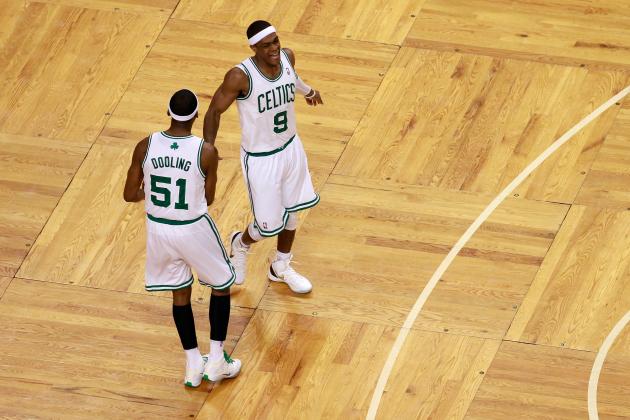 Jared Wickerham/Getty Images

Lost amidst all the excitement of the depth that the Boston Celtics have added is that they are still lacking a legitimate backup point guard.
On October 16, CSNNE's Gary Tanguay broke the news that Boston was releasing both Dionte Christmas and Jamar Smith. This comes as a minor surprise as Christmas was impressive in the NBA Summer League and had signed a partially guaranteed contract. The move will cost the Celtics around $250,000, according to ESPNBoston.com's Chris Forsberg.
This move also means that, until Avery Bradley can return to full strength, Jason Terry's services are going to be needed at the shooting guard spot. Rajon Rondo will be playing big minutes this season, but some sort of presence behind him is necessary.
The Celtics' preseason roster currently sits at 16 players, with two more non-guaranteed players, Rob Kurz and Micah Downs, biding their time. With a roster at 14 players and two of them injured for some time (Bradley and Chris Wilcox), Boston could be hitting the free-agent market.
WEEI.com's Paul Flannery tweeted as such prior to Tuesday's preseason contest:
With a roster spot open, look for the Celtics to bring in some outside help.

— Paul Flannery (@Pflanns) October 16, 2012
The market is pretty slim right now, but if the Celtics do their homework they might find someone they like who can come in and provide relief for their star point guard.
Begin Slideshow

»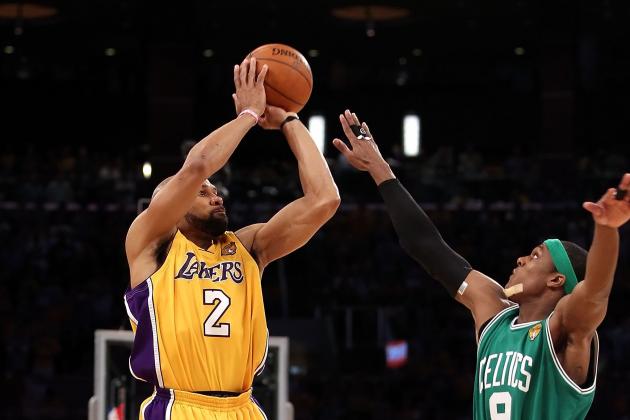 Christian Petersen/Getty Images

The most polarizing option on the market is longtime Laker Derek Fisher.
While on two separate stints in Los Angeles, Fisher was a part of five championship-winning teams. That includes the emotional and tightly contested 2010 title that was won over Boston in seven games.
Fisher spent the 2011-12 season backing up one of the NBA's other elite young point guards in Oklahoma City. After 43 games with the Lakers, he was traded to Houston and subsequently waived by the Rockets, paving the way for the Thunder to scoop him up.
With Oklahoma City, he took part in his eighth NBA Finals before his team fell to the Heat. Fisher played 22 minutes a night in all 20 of the Thunder's playoff games. He raised his regular-season average of 5.0 points per game to 6.3 in the postseason.
Fisher would obviously provide the Celtics with additional veteran leadership and more championship experience. However, one of the last things Boston needs to do right now is sign another player on the wrong side of 30, especially a point guard who just celebrated his 38th birthday.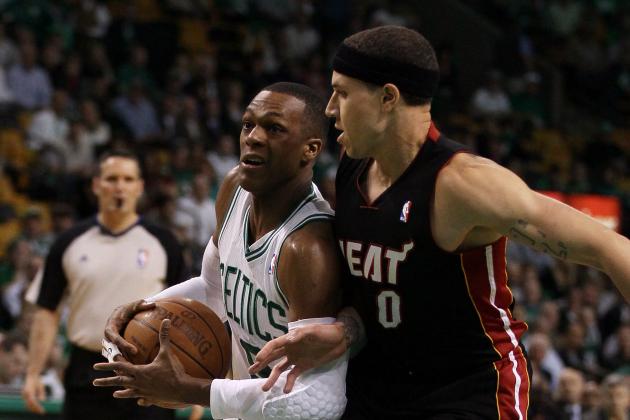 Elsa/Getty Images

Another veteran option still on the market is Mike Bibby.
The 34-year-old point guard has seen it all over the course of a 14-year NBA career. He was the starting point guard on the 2010-11 Miami Heat that went to the NBA Finals and spent last season as a part of the New York Knicks. He saw time in just 39 games for New York in mostly a reserve role.
Bibby was a step above awful, shooting just 28 percent from the field in 14 minutes per game. Jumping back a year, Bibby was productive with the Heat, but still inconsistent.
The Celtics would have to be fairly desperate to bring in this former second overall pick. Bibby, while experienced in years, has only played a handful more postseason games than Rajon Rondo. If he isn't bringing that added championship experience and he is taking away from the product on the court, as he did in New York, then he isn't the answer.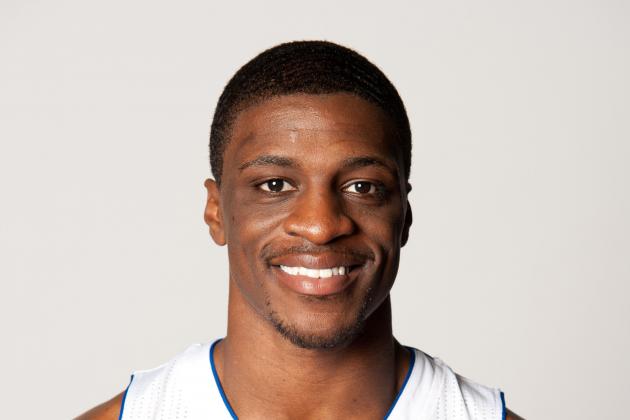 Tim Fuller-US PRESSWIRE

Flipping the switch here on the "aging veteran backup" is Jonny Flynn. Currently with the Detroit Pistons after receiving an invite to their camp, it appears he won't be there too much longer.
Flynn has been a space-saver for the Pistons throughout the preseason. He has been kept on the bench for two full games, and in the two he has seen the court, it was for just 24 minutes total.
In those two games, while he hasn't lit it up, Flynn has done a serviceable job. He posted four assists in 12 minutes against Orlando and five points and two assists against Toronto.
The story of Flynn's career has been the failure to live up to his draft spot. Out of Syracuse, Flynn was misjudged and taken sixth overall in 2009. He has been unable to score at the clip desired of someone with that track record.
The Celtics, however don't need an offensive player to fill this role. Flynn has never had the opportunity to play on an above-average team. The chance to play with an offensively talented second unit in Boston could bring out the best in Flynn.
The issue is, this late in the game, trying to make it work with an unproven young player is a stretch. A more proven commodity is obviously the safer bet, if one exists.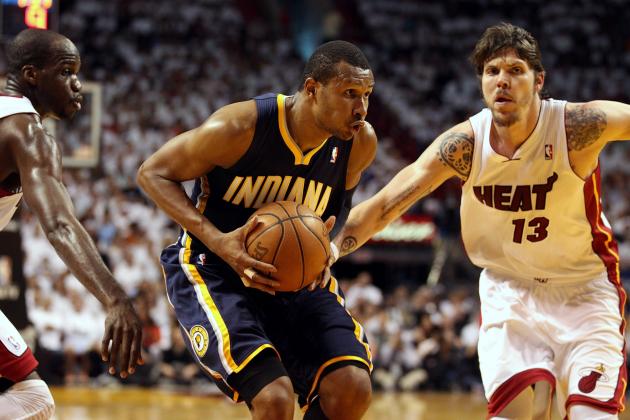 Marc Serota/Getty Images

Less of a pure point guard, Leandro Barbosa could be the sure thing the Celtics are looking for.
As a backup guard he is a proven commodity, though only twice in his nine-year NBA career has he surpassed five assists per 48 minutes. Barbosa has always been known more for his quick-scoring ability off the bench, averaging better than 12 points per game for his career.
Barbosa has some postseason experience, but that wouldn't be his most appealing trait for the Celtics. They would, instead hope that his up-tempo style would mesh with the athletic second unit they have put together. Barbosa's abilities as a point guard would allow Boston to do some interesting things with Rondo on the bench.
Still, the Celtics are fairly loaded with combo guards, and it is unclear if Barbosa could do a better job running the point than either Jason Terry or Avery Bradley.
His cost is still up in the air as well. While the he won't be making the $7.6 million he hauled in last season, the Celtics aren't able to spend a whole lot at this stage.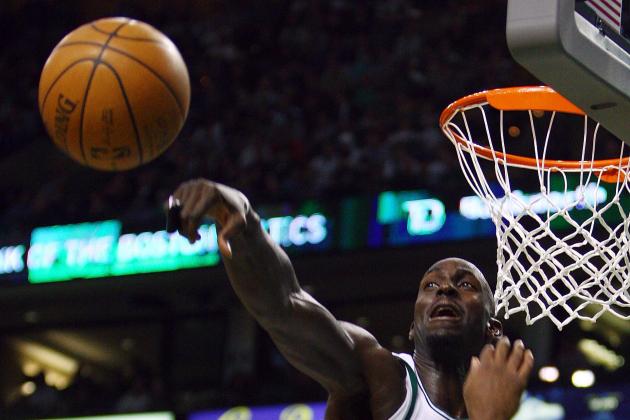 Elsa/Getty Images

This is a move I was advocating for last season, but does it still make sense?
Boston was in desperate need of offense in 2011-12, especially off the bench and when Arenas may have been of some help there. Though Arenas was the definition of a volume scorer during his best years in Washington, he was able to distribute the ball with fair consistency.
Despite struggling through some injuries in his youth, he managed to play in 70 games between two teams in 2010-11. Arenas isn't as old as one might think. He'll turn 31 in January and presumably has some game left in him. In just 17 games with Memphis, Arenas popped four points, a dime and a board in 12 minutes per game.
Now, Arenas comes with some baggage, but may have the biggest upside of any available option. The issue is, Boston isn't looking for upside. It is seeking the simplest possible solution to this minor hole. The possible hassle a person like Arenas can cause may not be worth it in the Celtics' eyes.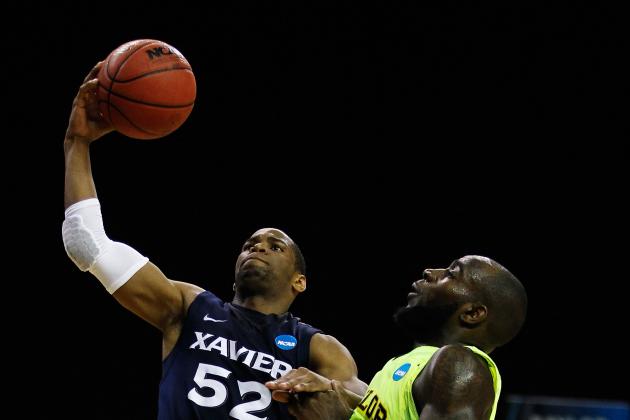 Streeter Lecka/Getty Images

With Scott Machado playing well in Houston after signing a partially guaranteed three-year deal, Tu Holloway is the top undrafted point guard without a home.
Some other undrafted rookie point guards are already under contract overseas like Casper Ware, Ashton Gibbs and Jordan Taylor. This could make Holloway's stock rise.
After a stellar four-year career at Xavier, highlighted by an Atlantic 10 Player of the Year award, Holloway was passed over in June's NBA draft. He has since been invited to play with Toronto's NBA Summer League team and to Dallas' training camp.
The Mavericks released Holloway at the beginning of the month, and to date he remains unattached.
Holloway averaged 18.5 points and five assists per game in his final two college seasons. He is an explosive guard who could really provide a spark off a NBA bench some day. He is a bit undersized, at just 6'0" and 190 lbs, and was considered more of a combo guard. Both of those factors weighed in on him being passed over in the draft.
Holloway needs some seasoning before being able to consistently contribute to a NBA team. The Celtics carried E'Twaun Moore on their roster for much of last season, and Holloway is a similar player. While the precedent is there, Boston needs a player who can be on the court more than Moore was in 2011-12.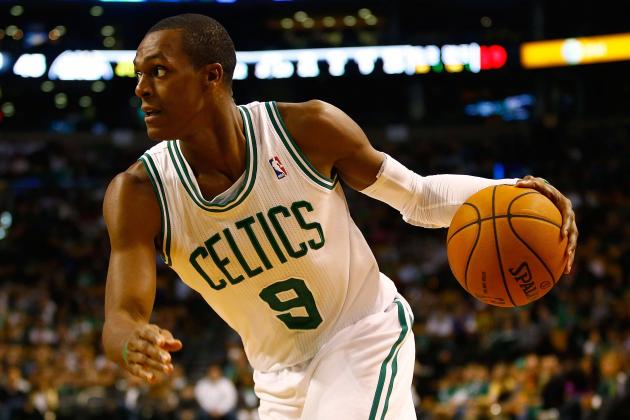 Jared Wickerham/Getty Images

Prepare for a whole lot of No. 9. Rajon Rondo is going to be seeing some big minutes in 2012-13, as the cupboard of free-agent point guards is relatively bare.
A lot of the younger players who could be serviceable backups are signing lucrative deals in Europe, while some of the older players have too many miles or too much baggage to be worth it.
None of the second-rounders from June's draft appear to be available, with Tomas Satoransky returning to Europe and Marcus Denmon testing the waters in France. Tyshawn Taylor appears to have found a role in Brooklyn.
Even jumping to Boston's D-League ranks, it appears that Maine Red Claws star Kenny Hayes is moving across the Atlantic to play in Israel.
The Celtics are unable to sign E'Twaun Moore back for a full year after they included him in the deal for Courtney Lee. Boston may just stand pat for now with its current set of guards, unless Keyon Dooling is already growing weary of retirement.
The bottom line is: are the Celtics willing to trust any of these players with the keys to their second unit?