8 MLB Managers We Always Look Forward to Hearing at Postgame Press Conferences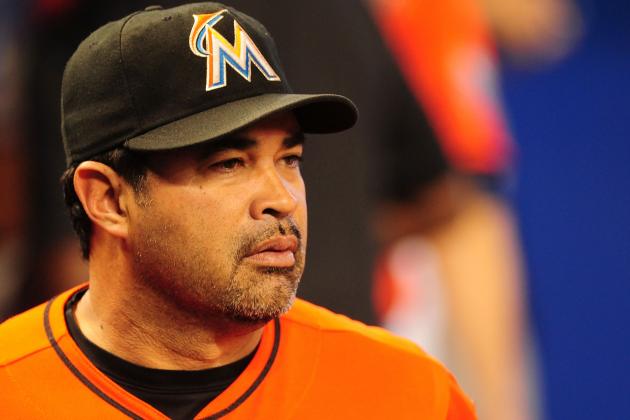 Jason Arnold/Getty Images

If there is anything a sports fan loves, it's a good quality sound byte from a coach or manager going off at the post-game press conferences.
Think about it. How many times have we seen some guy sitting at the bar (or in his basement) scream at the top of his lungs "They are who we thought they were!" or "Playoffs!? Don't talk about playoffs!"
This concept carries over when it comes to managers of Major League Baseball. While some managers can put us to sleep, there are others who can unleash such rants that could make even the most casual baseball fan to sit through 30 minutes of over analysis to see a grown man melt down.
Here's a look at eight Major League Baseball managers who make the post-game press conference an art form.
Begin Slideshow

»
When Ozzie Guillen takes the microphone, the dump button better be ready in the production truck.
While Guillen is not a part of the 2012 postseason, his legend still remains as one of the greatest interviews in the history of baseball.
The Miami Marlins manager is worth the price of admission alone because of his colorful comments before and after a game.
Some of his comments (such as "I love [Fidel] Castro."; via Matthew Rosenbaum of ABC News) have landed Guillen on the hot seat, but he still has a job and the media keeps shoving a microphone in his face. That's a winning situation for all parties involved.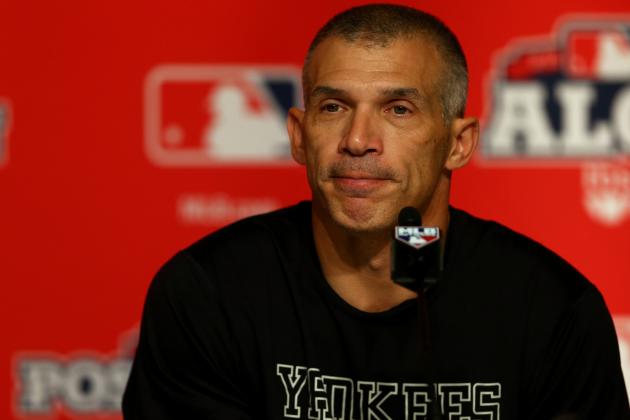 Alex Trautwig/Getty Images

Joe Girardi isn't the most colorful guy at postgame pressers, but he certainly has had a lot of explaining to do recently for what he does during the game.
Girardi has shown some intestinal fortitude by pinch hitting for Alex Rodriguez and then watching his replacement (Raul Ibanez) hit the two clutch bombs to pick up a victory.
If benching a player getting paid $30 million for one that just celebrated his 40th birthday in June doesn't make you want to know what he was thinking, nothing will.
Girardi also has some experience in television with his days as a color analyst with the YES Network, so he knows how this operation works.
It's not the greatest show in the world, but it's something that gets us talking.
Like Girardi, a lot of times the press wants to talk to Joe Maddon to see why he tinkered with something in his lineup (ex. hitting Carlos Pena leadoff). However, Maddon is perfectly capable of unleashing a gem at any moment.
Unlike Guillen, Maddon is more of a smooth talker that doesn't have the same bite when he criticizes an opposing team (as seen above). However, his words do have an edge to them that tends to get his message across loud and clear.
The Tampa Bay Rays have had a different attitude since Maddon took over in 2006, and it's clear to see that it is a result of the personality of their manager.
Bobby Valentine may no longer be with the Boston Red Sox, but his managerial career has been filled with gems from various postgame platforms.
Valentine's most recent barrage came when a WEEI host asked if he had checked out toward the end of the Red Sox' disastrous 2012 season.
The response from Valentine may have been the final nail in the coffin for his stint with Boston, but it shows the same style he carried over from his days as manager of the New York Mets.
It's likely that Valentine's managerial days are over, and while he will likely return to the broadcast booth, his postgame rants will be missed by all sorts of baseball fans.
I always seem to think that Jim Leyland would do a great job in starring in another version of Grumpy Old Men. Of course, that would be a baseball version of the film, but I digress.
As Leyland leads the Detroit Tigers into the ALCS, it's important to note that Leyland is capable of dialing it up when it needs to be dialed up.
Although it's not a postgame presser, this clip of Leyland going nuts on Barry Bonds shows how angry Leyland can get if his players are not performing.
Perhaps, that's why the Tigers have made the playoffs three times during Leyland's tenure.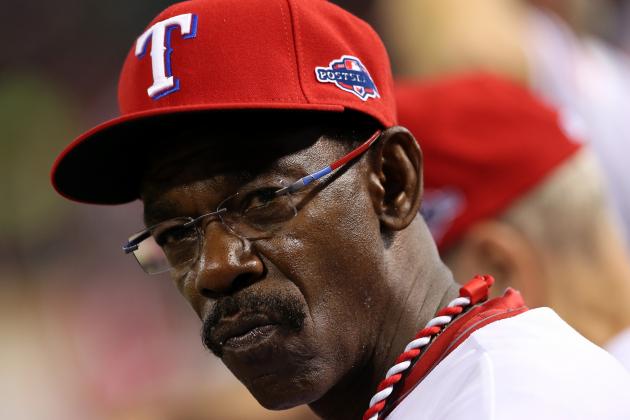 Ronald Martinez/Getty Images

One of the things that most baseball managers lack is personality. Texas Rangers manager Ron Washington does not fall into that category.
Washington is one of the most charismatic managers in baseball, and he even has his own dugout dance to prove it.
Even his pregame speech from Game 7 of the 2011 World Series is easy on the ears, so why wouldn't he be good when the press asks him a couple questions.
Washington is still chasing that elusive World Series rings for the Rangers, but he knows how to work the press after a game.
Baseball is sometimes referred to as a game of stories, and Charlie Manuel has plenty of them to go around.
The 68-year-old manager of the Philadelphia Phillies sounds a lot like a grandpa who sits his grandchildren in front of him and rants on about his glory days. However, these stories are much more interesting.
If there's a situation in baseball, Manuel has probably seen it before or has a way to deal with it.
During the "Rally Squirrel" episode in last year's playoffs, Manuel went back in time to reveal that he was an excellent squirrel hunter in his youth. Manuel continued to say that if he had a gun, the St. Louis Cardinals' new mascot would have never existed (and perhaps, the Phillies would have won the series).
Whether it's squirrel hunting or talking about how he taught Jim Thome to stick his bat in front of him to help ease nerves, it's always interesting to hear Manuel talk.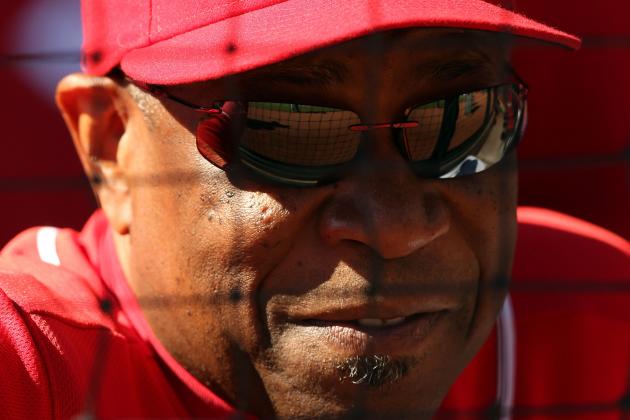 Jonathan Daniel/Getty Images

Cincinnati Reds manager Dusty Baker isn't quite a sound-byte machine, but a lot of his managerial decisions usually have the media second guessing.
Baker's biggest accomplishment has been the blame he's taken for destroying two of the brightest young pitching prospects to hit baseball in Mark Prior and Kerry Wood when he was with the Chicago Cubs.
There's also the massive choke that the Reds endured by blowing a 2-0 lead to the San Francisco Giants in this year's National League Divisional Series.
It's always the head scratchers who want us to hear what Baker has to say, and as frequently as those happen, we usually get our wish.