Titans vs. Bills: 3 Things Buffalo Must Do to Get Win It Must Have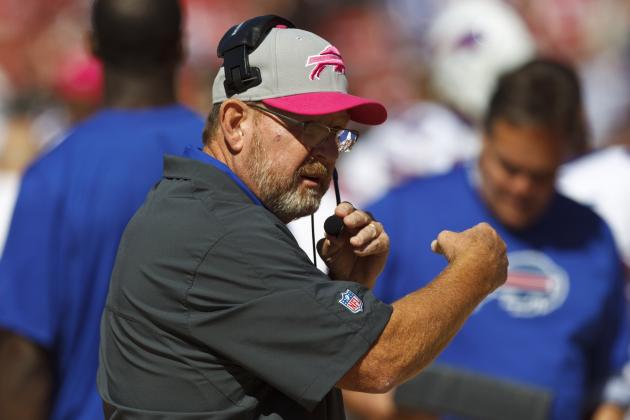 Jason O. Watson/Getty Images
Chan Gailey knows this week's game against Tennessee is a must-win.
The Buffalo Bills and Tennessee Titans are both coming off huge wins that may have salvaged their seasons. And with the way the AFC looks like right now, each of these mediocre squads has a shot at the playoffs. So what do the Bills have to do to get a win they must have before their bye week?
Buffalo, like the other three teams in the AFC East, sits at 3-3.
Their 19-16 OT win in the desert against Arizona last week resuscitated a Bills team that looked downright pathetic in their blowout losses to New England and San Francisco. Buffalo returns home after splitting two games out west.
The Titans, currently at 2-4, pulled off an improbable win versus Pittsburgh last Thursday night. Because of the injury to starter Jake Locker, though, Tennessee has been forced to go with veteran Matt Hasselbeck.
Coming up, we're going to look at a few things the Bills will have to accomplish on Sunday to head into their week off at 4-3.
Begin Slideshow

»
Norm Hall/Getty Images
Spiller is still averaging an insane 7.6 YPC.
Every NFL team wishes they had the problem the Bills have at RB.
When healthy, Fred Jackson and C.J. Spiller are the best tandem in the league. Their running styles complement each other perfectly.
When Jackson went down with a knee injury in Week 1, Spiller stepped into his shoes, and then some. He was leading the NFL in rushing at the time of his injury during their Week 3 game in Cleveland.
Since coming back, he's been hampered more than anything by the Bills' inability to stop anyone on defense. Only last week was he able to show us glimpses of why many Bills fans feel like he should be starting over Jackson at this point.
His 88 yards on 12 rushes left him with 453 yards for the year, on only 60 carries. Once you realize that's not a misprint, you have to make the case for Spiller to get more touches than Jackson.
He's the most explosive open-field runner in the game today, and he needs the ball in his hands as much as possible going forward.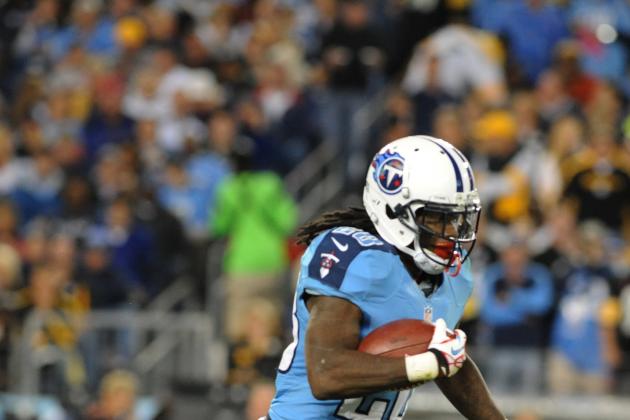 Al Messerschmidt/Getty Images
Johnson started the season slowly, but he's begun to pick it up as of late.
The Bills come into this game ranked last in the league at stopping the run. Buffalo's defensive line, which was so hyped up in the offseason, has disappointed all the way around.
The QB pressure has been spotty at best.
But with Hasselbeck filling in for Locker for the third week in a row, the Bills need to focus all their attention on Chris Johnson.
He's coming off a solid game against the Steelers. His 91 yards rushing was his second-highest total of the year.
Johnson has to be licking his chops for this matchup. The Bills allowed Arizona to rush for 182 yards, even though both of their top RBs weren't in the lineup.
You don't give up 173.5 YPG and then all of a sudden stifle one of the best backs in the league. For Buffalo, it's more about damage control.
Keep Johnson right around 100 yards and don't let him take over the game.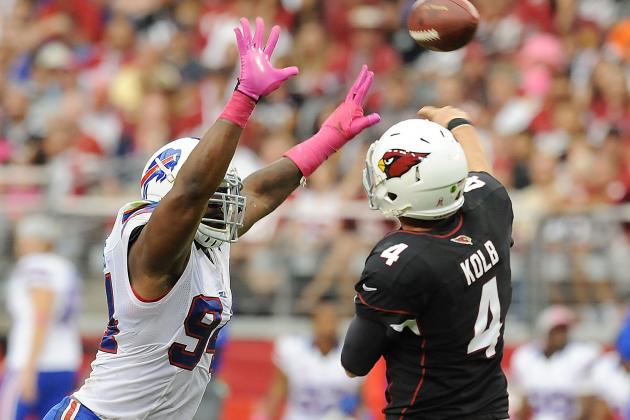 Norm Hall/Getty Images
Mario Williams played his best game as a Bill versus the Cardinals.
As bizarre as their win against Arizona was, the biggest positive to come out of that game for Buffalo was the play of Mario Williams.
He sacked Kevin Kolb twice and was a presence in the pocket almost every time the Arizona QB dropped back. Generating pressure from the front four like that on Hasselbeck will allow the Bills to stack the box in an attempt to limit Johnson.
Tennessee's veteran QB is prone to interceptions as well. With all of this said, though, there's no telling what Bills D-line you'll see this week.
They've looked dominant in spurts this year, but have not found any level of consistency. If Buffalo can't generate a pass rush, the Titans will have an excellent chance at improving their league-worst rushing attack.
Something's going to give on Sunday. Buffalo's just hoping it's not their interior defense again.