BYU vs. Notre Dame: Complete Game Preview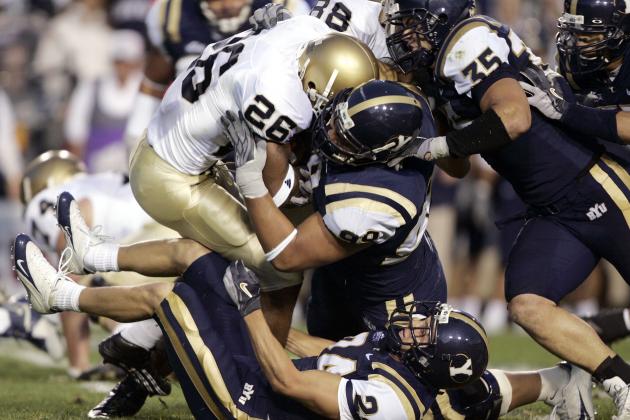 George Frey/Getty Images

On Saturday, the BYU Cougars will make their first trek to South Bend since 2005, renewing a rivalry that remains in its infant stages.
On that October day seven years ago, the Fighting Irish defeated the Cougars, 49-23, en route to a berth in the Fiesta Bowl.
This season seems to be a reincarnation of that 2005 season, as the Irish are sitting pretty at 6-0, with a clear path to a BCS bowl game. BYU presents yet another obstacle on that path.
How do the Irish and Cougars match up? For that answer and more, let's get started with my game preview.
Begin Slideshow

»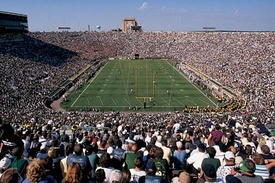 http://grfx.cstv.com/schools/nd/graphics/facilities/facilities-ndstadium-a-lg.jpg
Who: BYU at Notre Dame
When: Saturday, 3:30 p.m. (EDT)
Where: South Bend, Ind.
Stadium: Notre Dame Stadium
TV: NBC
Radio: IMG Notre Dame Radio Network
Internet Stream: NBCSports.com (http://nbcsports.msnbc.com/id/38985841)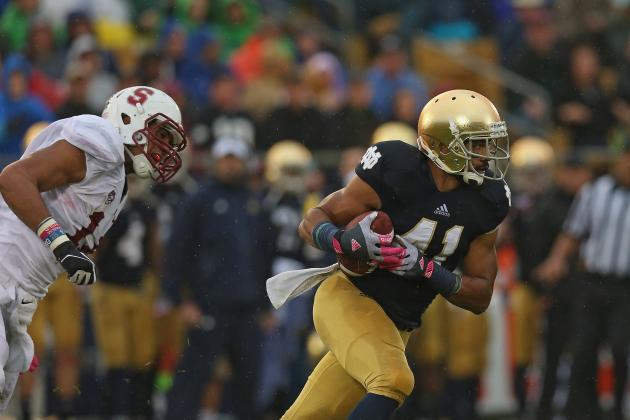 Jonathan Daniel/Getty Images

Position—Starter, Backup
OFFENSE
QB—Everett Golson, Andrew Hendrix OR Tommy Rees
RB—Theo Riddick OR George Atkinson III OR Cierre Wood, Cam McDaniel
WR—TJ Jones, DaVaris Daniels
WR—Robby Toma, Davonte' Neal
WR—John Goodman, Daniel Smith
TE—Tyler Eifert, Ben Koyack
LT—Zack Martin, Ronnie Stanley
RT—Christian Lombard, Tate Nichols
C—Braxston Cave, Mike Golic, Jr.
LG—Chris Watt, Conor Hanratty
RG—Mike Golic, Jr., Nick Martin
DEFENSE
DE—Kapron Lewis-Moore, Sheldon Day
DE—Stephon Tuitt, Tony Springmann
NG—Louis Nix III, Kona Schwenke
LB—Prince Shembo, Ishaq Williams
LB—Dan Fox, Carlo Calabrese
LB—Manti Te'o, Jarrett Grace
LB—Danny Spond, Ben Councell
CB—Bennett Jackson, Jalen Brown
CB—KeiVarae Russell, Josh Atkinson
FS—Zeke Motta, Nicky Baratti
SS—Matthias Farley, Chis Salvi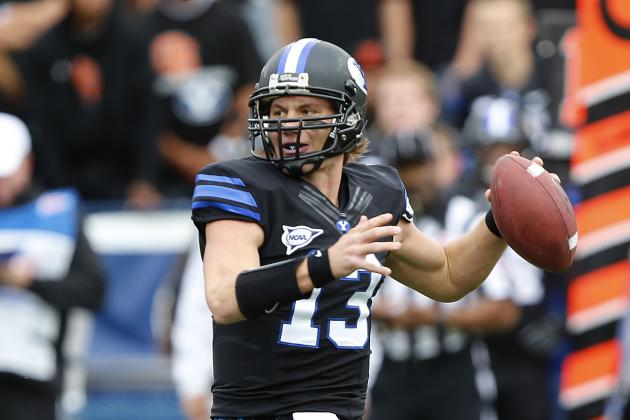 George Frey/Getty Images

Position—Starter, Backup
OFFENSE
QB—Riley Nelson, James Lark
RB—Jamaal Williams, David Foote
SLOT—JD Falslev, David Foote
WR—Cody Hoffman, Mitch Mathews
WR—Ross Apo, Skyler Ridley
TE—Kaneakua Friel, Devin Mahina
LT—Ryker Mathews, Michael Yeck
LG—Solomone Kafu, Brock Stringham
C—Braden Hansen, Blair Tushaus
RG—Manaaki Vaitai, Brock Stringham
RT—Braden Brown, Solomone Kafu
DEFENSE
LE—Ezekiel Ansah, Bronson Kaufusi
NT—Romney Fuga, Simote Vea
RE—Russell Tialavea, Remington Peck
SLB—Spencer Hadley, Alani Fua
MLB—Uona Kaveinga, Uani 'Unga
BLB—Brandon Ogletree, Manoa Pikula
WLB—Kyle Van Noy, Jherremya Leuta-Douyere
FC—Jordan Johnson, Adam Hogan
BC—Preston Hadley, Robbie Buckner
KAT—Daniel Sorensen, Matt Hadley
FS—Joe Sampson, Craig Bills
Last Saturday, the Fighting Irish defeated the Stanford Cardinal in, perhaps, the most enthralling finish to a game in college football this season.
After Stanford running back Stepfan Taylor was ruled short of reaching the end zone in the first and only overtime period, the Irish escaped with a 20-13 victory that kept their national championship hopes alive.
Notre Dame's defense continued to prove why it among the nation's elite, limiting Stanford to just 272 total yards on the afternoon. It forced Cardinal quarterback Josh Nunes into throwing two interceptions, which were crucial in Notre Dame's quest to victory.
The Irish offense struggled to move the ball against Stanford's stonewall defense, but were able to gain critical yards late in the game, when they averaged roughly seven yards per play.
For a full recap of Notre Dame's win over Stanford, click here.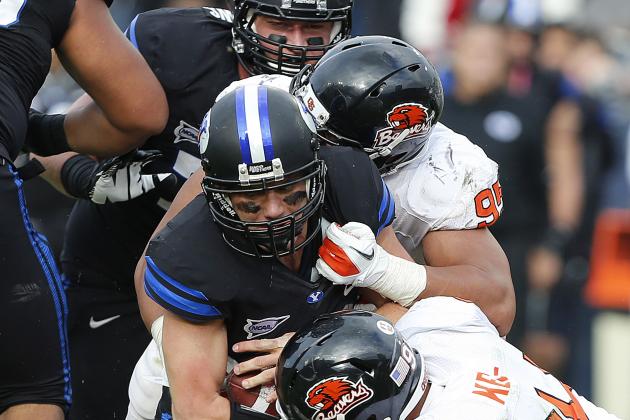 George Frey/Getty Images

At LaVell Edwards Stadium in Provo, Utah, last Saturday, the then 10th-ranked Oregon State Beavers were put on upset alert against BYU, but proved that alert to be silly by defeating the Cougars, 42-24.
Despite being without starting quarterback Sean Mannion due to a left knee injury, the Beavers rolled up 332 passing yards from backup quarterback Sean Vaz, who hadn't started a game since 2010.
Meanwhile, the Cougars struggled to get anything started offensively, as they were limited to 81 rushing yards on the day, forcing quarterback Riley Nelson to throw the ball 51 times. Nelson completed just 28 of those passes in an attempt to mount a comeback effort.
The loss dropped BYU's record to 4-3, which is highly disappointing to a fan base that had monumental expectations entering the season.
For a full recap of BYU's loss to Oregon State, click here.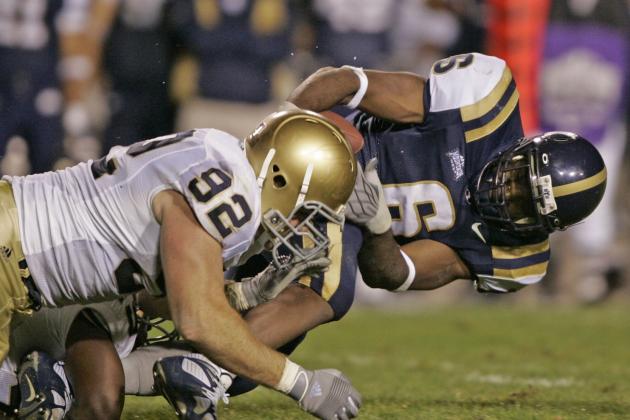 George Frey/Getty Images

Beginning with the Fighting Irish, the matchup with BYU presents an opportunity to continue to mold an offense that has struggled to move the ball down the field through six games.
Redshirt freshman quarterback Everett Golson—who suffered a concussion against Stanford—will face another stiff challenge from a BYU defense that will dare Golson to beat them with his arm. That's a risk the Cougars are more than willing to take, considering Golson competed just 50 percent of his passes for 141 yards last week against Stanford.
Golson and his squad cannot afford to look ahead to the impending showdown at Oklahoma, as BYU is an opponent who has the capability to catch a disinterested Irish team off-guard.
For BYU to steal a victory over a top-five team on the road on national television would do wonders for a program desperate for a spark, after a sluggish 4-3 start to the 2012 campaign.
Doing so without injured quarterback Taysom Hill will be difficult, but with a stingy defense, a win is a realistic possibility for the Cougars.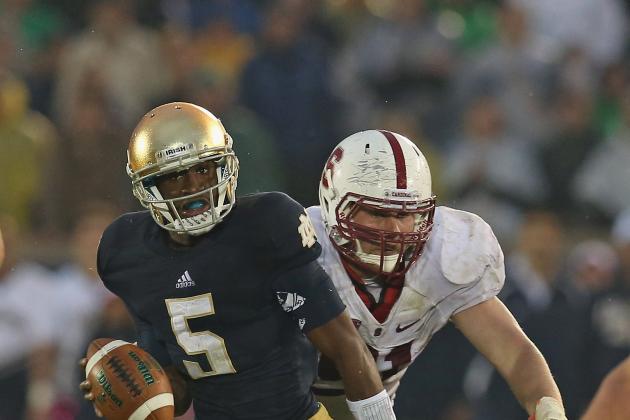 Jonathan Daniel/Getty Images

Key Player: Everett Golson, QB
For the Irish offense to move the ball, Everett Golson must prove that he can consistently distribute the football through the air. Golson is currently listed first on the depth chart at quarterback, but hasn't been cleared medically, after having suffered a concussion last Saturday.
Should he play, his challenge is much the same as one week ago.
The Cougars present a rushing defense that ranks third nationally, allowing just 67.86 yards per game.
I'll discuss this matchup further as we move on.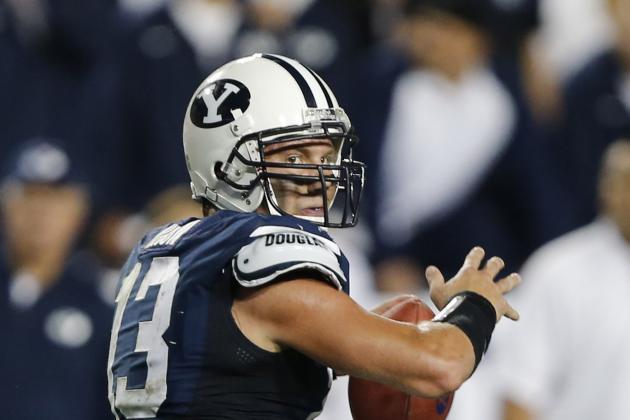 George Frey/Getty Images

Key Player: Riley Nelson, QB
Much like Notre Dame quarterback Tommy Rees a season ago, BYU quarterback Riley Nelson has come under fire from the Cougar faithful.
One month ago against Boise State, Nelson was benched in favor of Taysom Hill, who has since been lose for the season due to a left knee injury. Cougar fans were devastated by this news, as Nelson's six touchdown to eight interception ratio will hold his offense back for the remainder of his time atop the throne.
I'll discuss how he matches up against the Irish defense in the following slides.
Jonathan Daniel/Getty Images

Notre Dame will win if Everett Golson can make BYU pay for loading the box against the run.
Golson needs to prove that he has enough of a grasp of the offense to hit open receivers down the field. If he's able to do so, running lanes for the Irish running backs will begin to open up.
Against a very similar defense one week ago, Golson struggled to read through his progressions, often rolling out of the pocket much too early, exposing himself to crushing hits, two of which resulted in lost fumbles.
If he can show enough composure and confidence to sit in the pocket and find the open receiver, BYU will back off against the run, allowing the offense to function at a maximum efficiency.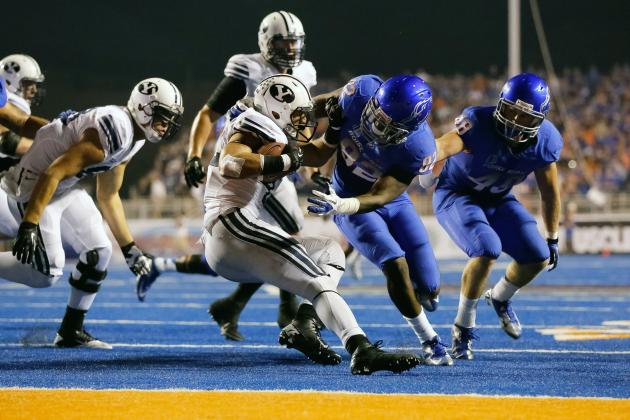 Otto Kitsinger III/Getty Images

BYU will win if its defense can force Notre Dame quarterback Everett Golson into untimely turnovers.
Golson has shown a tendency to carry the football loosely with one hand, so if BYU's defenders can swat the ball away, the Irish defense will be in for a long day.
Golson also tends to roll out of the pocket inexplicably early, leaving himself susceptible to bone-crushing hits from larger defenders. Stanford linebacker Chase Thomas haunted Golson for four quarters, likely inducing sweet dreams of monstrous tackles for the Cougars' linebackers this week.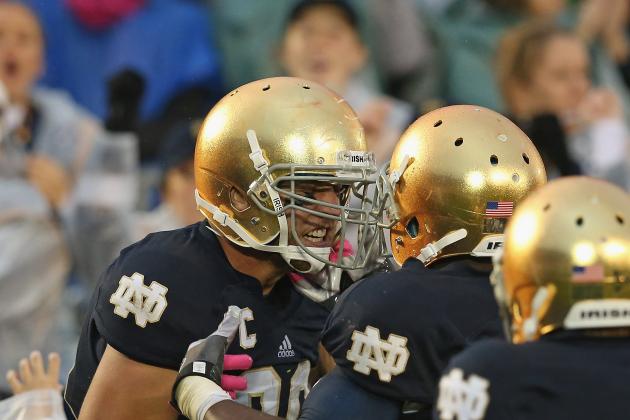 Jonathan Daniel/Getty Images

Much to the chagrin of college football fans, Saturday's matchup between BYU and Notre Dame has all the makings of another defensive slugfest.
Both defenses rank among the nation's elite, while both offenses are stuck in knee-high mud.
Because Notre Dame's offense has the upper hand over BYU's, I'm going with the Irish in this game.
My Prediction: Notre Dame 21, BYU 10