The Best Realistic Comparison for Every Top 10 2012-13 NBA Rookie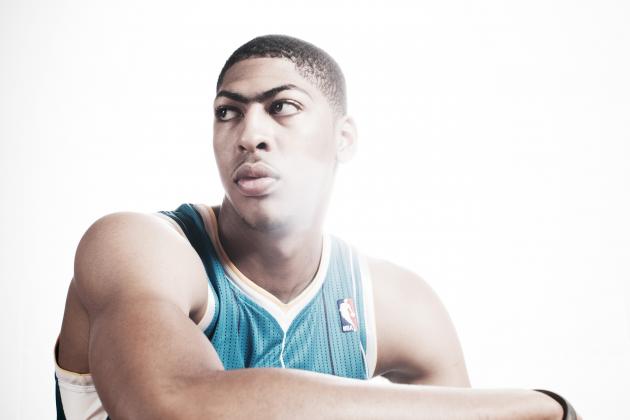 Nick Laham/Getty Images

In the relative world of sports, there is no greater method of determining a player's worth, or potential worth, than making a comparison to another athlete.
Tom Brady is no Joe Montana.
LeBron James can't touch Michael Jordan.
Derek Jeter will never be Mickey Mantle.
But before a player has come into his own, when the world of professional sports is still just one big fuzzy blanket of glory without a single turnover or nagging injury, hopefulness and potential stream together with beautiful optimism.
Then reality hits.
The next Hakeem Olajuwon becomes today's Greg Oden. The promising hope of Hasheem Thabeet becomes a career 2.2-point and 2.7-rebound journeyman. And...Michael Olowokandi.
Usually, it's the hopes of superstardom resulting in simple mediocrity.
When dealing with NBA rookies, it's important to let realistic expectations do the navigating. Here's a sensible list of realistic comparisons for the Top 10 picks of the 2012-13 NBA rookie draft class.
Begin Slideshow

»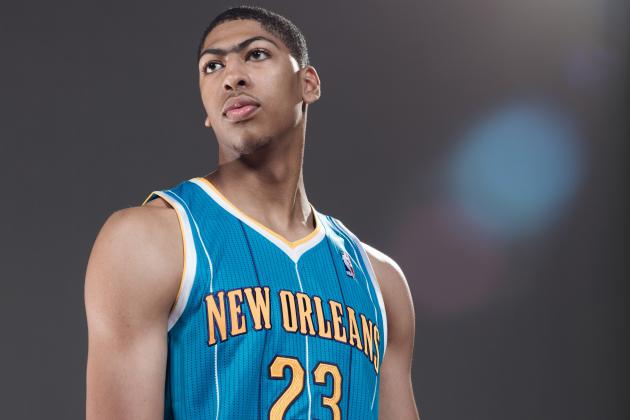 Nick Laham/Getty Images
Anthony Davis
No. 1 overall pick Anthony Davis could become Hall of Famer Kevin Garnett. Or he might just become the next great superstar journeyman, Anthony Randolph.
And so goes the range for most NBA rookies, but the risk seems to heighten when dealing with post players who haven't proved capable of playing offensively in the post. But there are few knocks on Davis other than his narrow frame and inability to position in the post.
His length and versatility as a 19-year-old draw comparisons to the all-time great skinny post, Garnett, who entered the league at a similar height and weight in 1995, when Davis was going through his "terrible twos."
You can't overlook weight, though, and you can look to the increased production of Garnett as a result of becoming stronger into his mid-20s and averaging more than 20 points per game and double-digit rebounds. So for now, unless Davis follows suit of the many 19-year-olds currently gaining weight by way of Pabst and dorm-room Madden, he's still too weak to deserve such a comparison.
The likeness to Garnett may also be limited to simple physical similarities anyway; other than a similar mid-range and defensive style, Davis and Garnett are different players. Garnett's level of ferocity has always allowed him to battle.
It's hard to imagine the lackluster post offense of Davis that showed up in the national championship to find success in the NBA against the likes of a DeMarcus Cousins. While the NBA game has evolved from a low-block, bang-'em-up style, there is still enough of that to push Davis out of his comfort area.
It will end up being the defense of Davis that makes him special and worthy of a top selection. It's also what makes a clear comparison to Marcus Camby.
Just as Camby was out of UMass, Davis is quick to the ball and often in the right spot to make a defensive play. Watch his UMass highlights, and you'll see a similar-looking, lanky forward still finding comfort on offense but exuding confidence on defense.
By sprinkling in an enhanced smoothness with the ball and extra perimeter ability, Davis becomes a slightly better version of Camby, and that's certainly not a bad thing. New Orleans got a guy capable of double-doubles and strict paint security.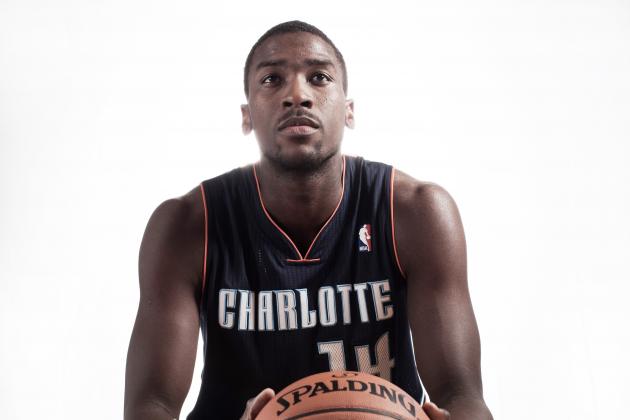 Nick Laham/Getty Images
Michael Kidd-Gilchrist
He's the intense, bullying defender with a wingspan as wide as his level of intensity that borders on insanity. He's the glue guy willing to do the dirty work for a winner and isn't ashamed of his something-is-a-little-off jump shot.
He's Michael Kidd-Gilchrist and he's the guy you'd take first in a blacktop, pickup game, even if Anthony Davis was playing. The 6'7", 233-pound Kidd-Gilchrist has the intangibles of Metta World Peace (formerly Ron Artest), including the ability to cover up fundamental shortcomings with desire. He won't take long to begin contributing for the Bobcats.
Like World Peace, Charlotte will never contend for a championship if he's leading the offense. But he's the type of supporting player that every championship contender needs on the court.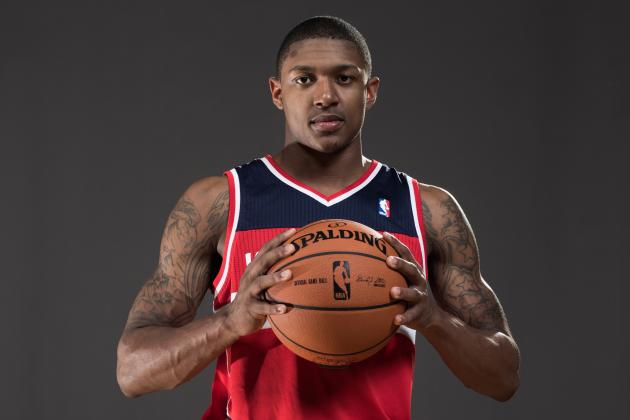 Nick Laham/Getty Images
Bradley Beal
The Wizards opted for even more backcourt firepower when they drafted an Eric Gordon type in Bradley Beal. Like Gordon, the 6'4" rookie out of Florida is a talented scoring guard with size.
Despite endless draft-day highlights of Beal hitting deep three-pointers, he's actually similar to Gordon in the regard that he doesn't connect for a high percentage from behind the arc. But that doesn't mean he doesn't like to shoot them.
In Florida last season, Beal connected on an average of just 1.7 of his 5.0 (33.9 percent) shots from long range. Gordon is a career 37 percent three-point shooter. (As a point of reference, Golden State's Stephen Curry has averaged 44.1 percent from three-point range in his three seasons.)
Both Beal and Gordon still shoot a high field-goal percentage for guards, though, each hovering around 45 percent. But Beal wasn't taken with the third overall pick just because he's got a dagger for a jump shot.
With Beal, there is an understanding of when to become explosive and attack an out-of-position defender. While he doesn't have the utter athleticism of Gordon, he still carries the ability to burst through the lane to the basket.
Despite that crashing-the-rim mentality he shares with Gordon, Beal hopes to remain healthy. He'll need to stay on the court for Washington with John Wall out until possibly December, as he will be asked to do like Gordon did in Los Angeles and be the team's top scorer as a rookie...at least early on.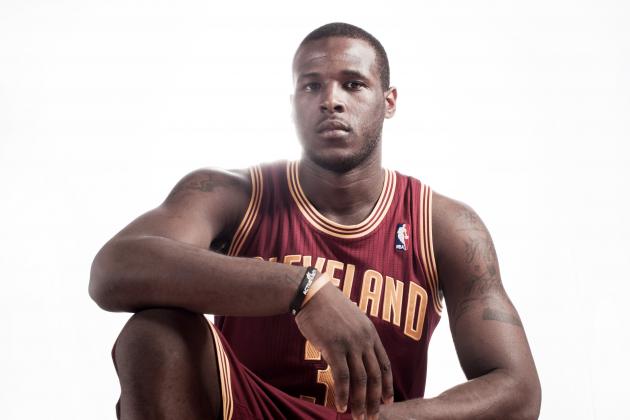 Nick Laham/Getty Images
Dion Waiters
The Dwyane Wade comparisons are unfair. Those are big expectations to fill for Dion Waiters, a guy who never even proved he could handle the pressure of college basketball. He'll need to first show maturation beyond his college reputation.
Waiters could be the most likely of the Top 10 picks of this year's rookie class to flop. His style of athleticism matches Terrence Williams, with more points given to Waiters for a better jump shot. But it might be maturity issues that ultimately have pushed Williams all but off the NBA radar.
Waiters is a combo, slashing guard, an identity that requires complete dedication to conditioning. Check with Jim Boeheim regarding how dedicated Waiters is to the hard-working portions of basketball. He claims he has matured, but that's a routine rallying cry for most young players too stubborn to relinquish bad habits.
He's athletic and strong, no doubt, but he could quickly hit his ceiling if he doesn't embrace the role he'll be given in Cleveland. He cannot fall into the trap of thinking that all rookies will have the success of former Cavaliers rookies LeBron James and Kyrie Irving.
Byron Scott pulled the rookie last week in a preseason loss to Milwaukee because of a lack of focus. That's not a good start. The Latrell Sprewell comparison is a stretch for now, but it's waiting on Dan Gilbert's desk. Williams is probably more fair.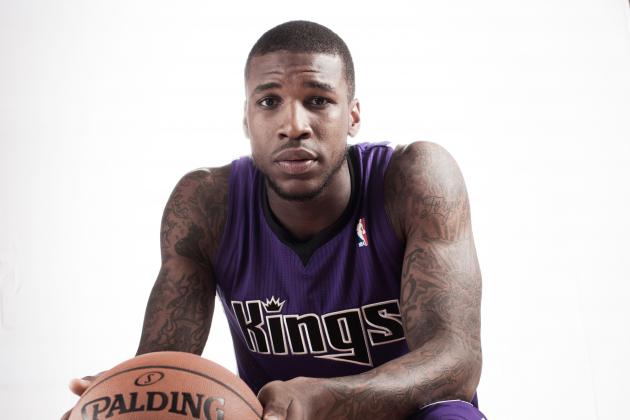 Nick Laham/Getty Images
Thomas Robinson
The Kings' latest big man will help create a powerful young frontcourt along with DeMarcus Cousins. Athletic and a gifted rebounder, Thomas Robinson creates explosiveness from the power-forward position in a way that models 16-year pro Antonio Davis.
Davis opted to play in Europe before coming to the NBA in 1993 to play for the team that originally drafted him, the Indiana Pacers.
Perhaps best known for jumping into the stands to address an obnoxious fan, Davis was also an athletic post player during his lengthy career that included playing mostly for the Pacers and Raptors with stints for the Knicks and Bulls.
Similar to Robinson, Davis was an athletic, somewhat lean power forward with plenty of strong dunk finishes and highlight shot-blocking. Davis averaged double-digit points and near double-digit rebounds during the prime of his career in the late '90s and early 2000s.
Like Davis, Robinson is geared for power and quickness, and brings an additional forceful mentality to Sacramento's low post. Robinson will need to develop a more refined post game if he wants to surpass what Davis did offensively in the NBA, though.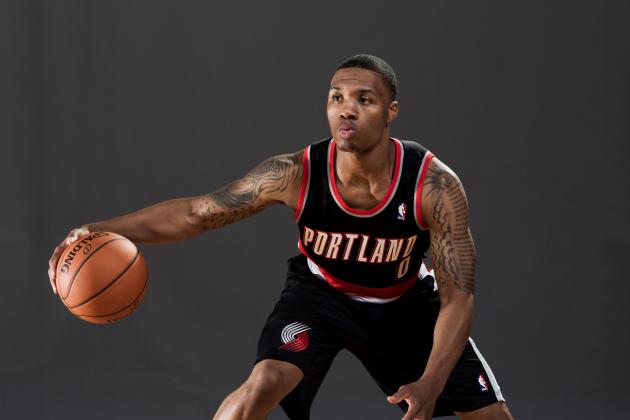 Nick Laham/Getty Images
Damian Lillard
Damian Lillard cannot be stopped. The 6'3" point guard is more than just a scrapper from Weber State; he was one of the nation's most creative scorers. Lillard is exactly what Bobby Jackson always had to prove he was—a smaller guard who will find the most interesting ways to get to the basket.
Lillard, a premier shooter, doesn't settle for the jump shot and will attack the defense, going hard to the basket with little regard for the presence of opposing bigs. Paralleling Jackson, Lillard is quick with an ability to finish under, over and around a defense, or with an even quicker pull-up jumper.

Lillard can use his swiftness as a defender for good and bad. Just as Jackson was, he can be prone to risk-taking on defense. Jackson was able to mature in this area as his career grew, and there's no reason to think Lillard can't do the same.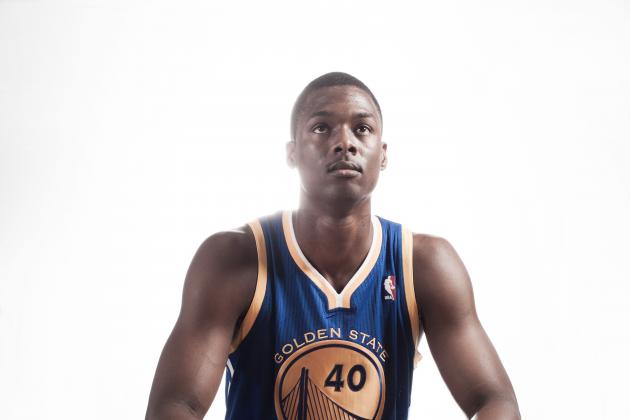 Nick Laham/Getty Images
Harrison Barnes
The Warriors may have made a lateral move this offseason when they drafted Harrison Barnes and traded away Dorell Wright to Philadelphia.
In drafting Barnes, the Warriors added an athletic 6'8" wing who can shoot and handle the ball. In trading Wright, the Warriors lost almost an identical player, albeit one who is seven years older with a much lower ceiling at this point. Both Barnes and Wright can be inconsistent on the offensive end, but are reliable as defenders.
It will be the NBA shooting range of Barnes that determines his fit with Golden State as a replacement for Wright. Barnes was a bit exposed at North Carolina for not being able to create his own shot, but that shouldn't be a problem in Golden State.
Last season, Wright was the recipient of plenty of open looks as defenses shifted attention to Monta Ellis and Stephen Curry.
Despite the departure of Ellis, it is likely that Barnes might get the same treatment if Klay Thompson continues to emerge as a scoring threat and the frontcourt tandem of Andrew Bogut and David Lee performs.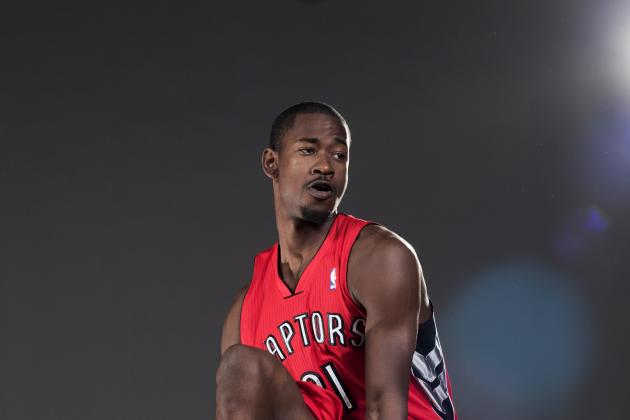 Nick Laham/Getty Images
Terrence Ross
Flash bulbs are no longer lighting up the backdrop of Jason Richardson's acrobatics these days, but they may soon begin to catch the glimpse of another athletic finisher in Terrence Ross.
The University of Washington shooting guard may not convert quite the same emphatic dunks of a young Richardson, but his athleticism and inventive finishes over defenders draw a close resemblance.
Like Richardson, it will be the ability of Ross to find his jump shot at the professional level. He's confident from three-point and mid-range, but like Richardson, he will need to create more of a wing repertoire to ever be a big-time scorer.
An even greater resemblance of Ross to Richardson is the fact that they both are streaky shooters.

Ross could also become a more consistent scorer than Richardson if he develops a post game, an element that Richardson was never able to truly master.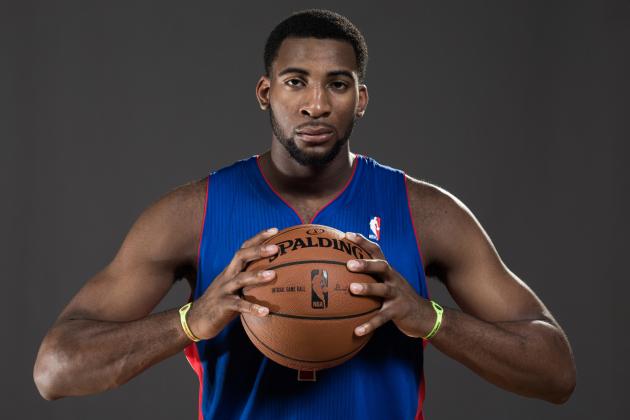 Nick Laham/Getty Images
Andre Drummond
Extreme athleticism. Andre Drummond is the freak of the draft, combining ability with mammoth size and even greater potential. Drummond is 275 pounds, just under 7' tall and has a wingspan of 7'6".
Unfortunately, incredible size and ability is not always a recipe for NBA superstar success. Just ask JaVale McGee, who is still battling mediocrity despite his freakish size and talent. Like McGee, it takes some time before the basketball skills fully develop. It's a reminder of how special Shaquille O'Neal truly was.
Drummond is a finisher with some touch close to the rim, but he still hasn't shown signs of developed post moves. His willingness and ability to create a low-post repertoire may dictate the path of his career.
To make an impact, Drummond will need to add maturity to his game like McGee has begun to do. McGee has averaged 8.6 points and 6.0 rebounds in his four-year career, but finished with a career-best season last year between Washington and Denver.
If you are Detroit, how could you not take a shot with this guy? It's hard to match the potential of a 19-year-old seven-footer who can explode out of the gym (maybe literally).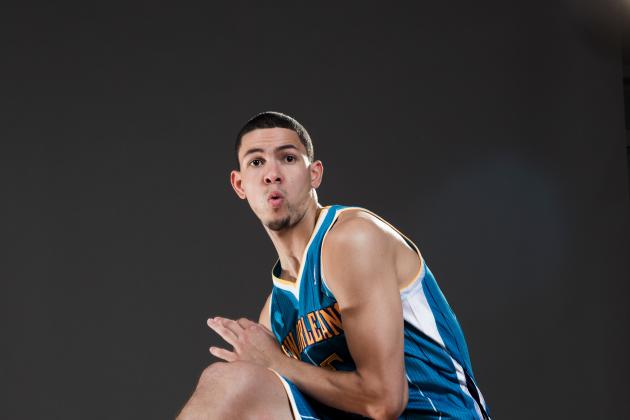 Nick Laham/Getty Images
Austin Rivers
Doc's son is one of the most intriguing players moving into this 2012-13 season. He's a Duke guy whose popularity may have already exceeded realistic expectations for his NBA career. He could be destined to resemble that of disappointing 2008 11th overall pick Jerryd Bayless.
Austin Rivers is a lively scorer, a guy who can create off the dribble and then step back and drill a jumper from just about anywhere on the court. But there's the more unpleasant side of the 19-year-old guard; the part of Rivers that goes into tunnel-vision mode. He needs the ball in his hands and struggles to see the larger role of his position.
His field-goal percentage is on the high end, but he averaged just 2.1 assists at Duke. Rivers may fall into the same trap as Bayless and never fully develop other portions of his game. Bayless was never a true point guard, but he was never a true scorer, either.
Rivers has the opportunity operating alongside Anthony Davis, but he needs to work to become great as a scorer while improving other parts of his game. This includes the mental aspect of making teammates better.
Rivers might fall the furthest trying to handle the expectations on him and Davis to carry the franchise in New Orleans.
Have your own impressions or comparisons? Let Jimmy Spencer hear about it on Twitter @jimmypspencer