Why the Oregon Ducks Should Not Take Arizona State Lightly...And Why They Should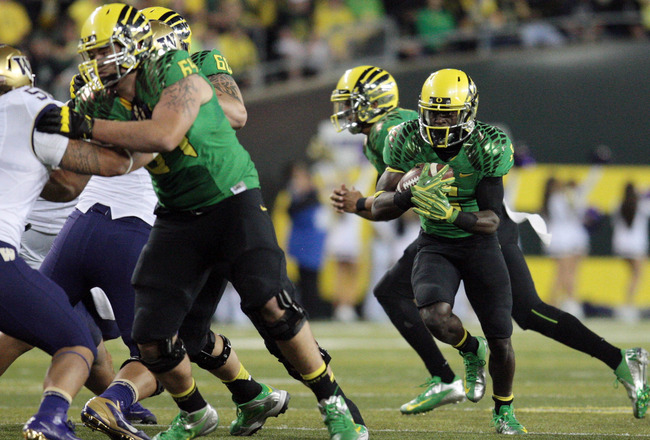 Scott Olmos-US PRESSWIRE
What a great Thursday night game we will all be treated to this week when the Oregon Ducks take on Arizona State in Tempe.
While ASU did not make the BCS Top 25, the Sun Devils are No. 24 in the USA Today poll. The Ducks come in at No. 2, er, No. 3 in the BCS.
Whatever the rankings, these are two very good football teams, and it should be a great game for the ESPN audience. Perhaps our friends on the east coast might even make it to the end of this one—I'm talking to you, poll voters.
The Ducks are a 9-point favorite in this one. Does that mean they should take ASU lightly?
Maybe. Maybe not.
Here's why.
Hostile Environment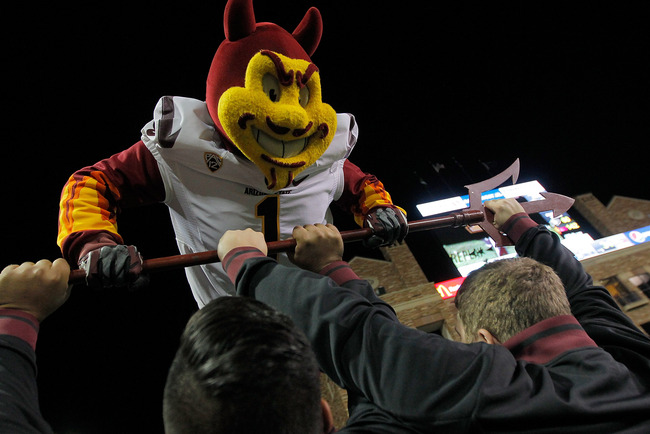 Doug Pensinger/Getty Images
We may be halfway through the 2012 season, but Oregon has not yet played a game in another team's home stadium. The Washington State game at Seattle's Century Link Field could hardly be called an away game.
So, how will this young Oregon team respond to what is likely to be a very hostile environment at Sun Devil Stadium? Arizona State is going all out to pack its stadium.
The Sun Devils understand that a night game on ESPN against the No. 3 team in the nation is a terrific opportunity to strut their stuff.
This game will be as far from the friendly confines of Autzen Stadium as you can get. If the Ducks can't handle the first hostile environment they've encountered this season, it could be a close game.
Taylor Kelly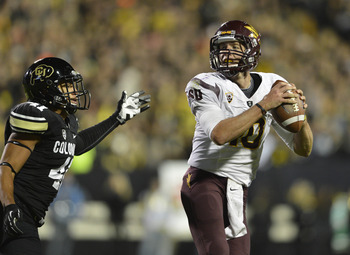 Ron Chenoy-US PRESSWIRE
Oregon fans love their new quarterback, Marcus Mariota.
Arizona State fans love their new quarterback, Taylor Kelly.
As good as Mariota has played—and he's been very, very good—Taylor Kelly is the No. 1 rated QB in the Pac-12 (Mariota is No. 2). Furthermore, Kelly is currently the No. 4 rated QB in the nation.
Think about that for a minute, Duck fans. Your QB is calm, cool and collected, and has played good enough to get your team to the elite levels of college football—but Kelly has played even better.
Taylor Kelly is good. He might be the difference in this game if Oregon's defense can't put sufficient pressure on him.
Will Sutton
Doug Pensinger/Getty Images
No. 90 for the Sun Devils scares me. Defensive tackle Will Sutton is a mountain on ASU's defense. He has 39 tackles so far this year, 26 of those being of the solo variety. Sutton is also tied for second in the country with 8.5 sacks.
The Sun Devils have issues on defense, make no mistake, but Sutton often makes up for his teammates' shortcomings. If Oregon's O-line doesn't manage—please notice that I did not say "handle," because you will not handle Sutton—him and try to mitigate his presence, Mariota and the running backs will face trouble.
Sutton will play in the NFL. Oregon fans just hope he doesn't advance his draft status Thursday night.
Heat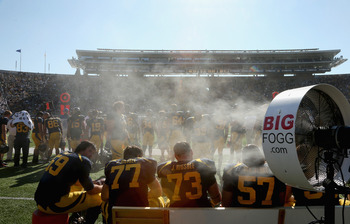 Ezra Shaw/Getty Images
I'm in the desert right now as I write this, and I can tell you, folks, it's hot. The projected temperature at kickoff for this duel in the desert is 90 degrees.
I'm sure that Chip Kelly has moved the Ducks inside the Moshofsky Center and cranked up the heat. But I'm not sure you can really prepare in advance for the heat when you don't practice in it regularly.
Oregon's depth will be important in this game, but watch for players cramping or running out of gas.
Up-Tempo Approach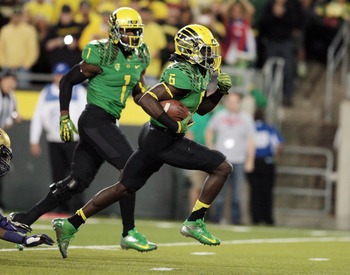 Scott Olmos-US PRESSWIRE
Chip Kelly has changed the face of college football, and nowhere has his contribution been more significant than in the pace at which his Ducks play.
With success comes imitation.
When Todd Graham took over as head coach at Arizona State, he instituted an up-tempo offense and worked hard on conditioning his team. The Sun Devils' results speak volumes; this team has responded well to up-tempo play.
Is ASU as fast and deep as Oregon?
Guess we'll find out Thursday night.
ASU's Weaknesses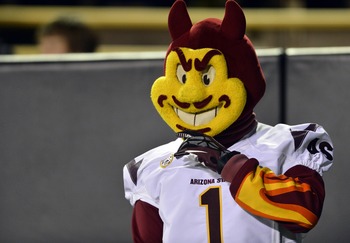 Ron Chenoy-US PRESSWIRE
Aside from its hideous mascot—sorry Sparky, but you creep me out—Arizona State does have some problems in this game.
First, the Sun Devils have not played a team with a winning record, so we don't really know how good ASU is. The Sun Devils are on a roll, but they are about to run into a buzz-saw of a team.
Two, if Oregon gets a fast start—like the 21-0 debacle for the Washington Huskies—ASU's amped-up fans will lose interest faster than I lose interest in a light beer.
ASU is very thin at cornerback, as it is down to only three guys. If Oregon is successful at maintaining its up-tempo offense, Mariota and the Duck receivers could have a field day.
These two teams should put on a fun show, but the Ducks will win it and cover the 9-point spread easily.
Then we will all wait to see how, ahem, No. 2 Florida fares against South Carolina on Saturday.
Keep Reading

Oregon Ducks Football: Like this team?