Giants vs. Cardinals: 4 Biggest Matchups in Game 3 of NLCS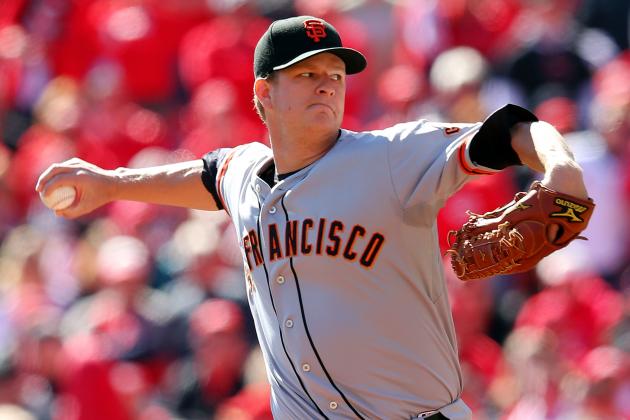 Andy Lyons/Getty Images
Matt Cain takes the hill in Game 3 for the Giants.
Matt Cain and Kyle Lohse are going to have their hands full in Game 3 of the NLCS between the San Francisco Giants and St. Louis Cardinals.
With the series tied 1-1, both pitchers will be trying to give their team a leg up in the series.
To do that, they're going to have to keep their pitch count low and control various matchups with good hitters. If either hurler struggles, it could spell doom for their team in Game 3.
Here's a look at four matchups that will decide the winner.
Begin Slideshow

»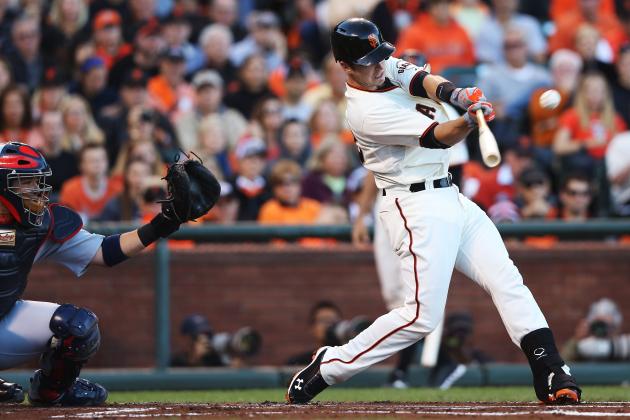 Ezra Shaw/Getty Images
Buster Posey must come up big in Game 3.
If Buster Posey doesn't get things going, the Giants will not beat the Cardinals.
Having gone 1-for-8 in the first two games of the NLCS, Posey has not been the same kind of factor he was in the NLDS against the Cincinnati Reds.
While the Giants were able to take Game 2 from the Cardinals, they're going to need more from Posey if they are to win the series.
During the regular season, Posey was 10-for-21 with two home runs and six RBI against the Cardinals. However, that magic hasn't shown up yet.
In the playoffs, cornerstone-type players come up big in big situations. He did so against Cincinnati. He must now follow suit against St. Louis.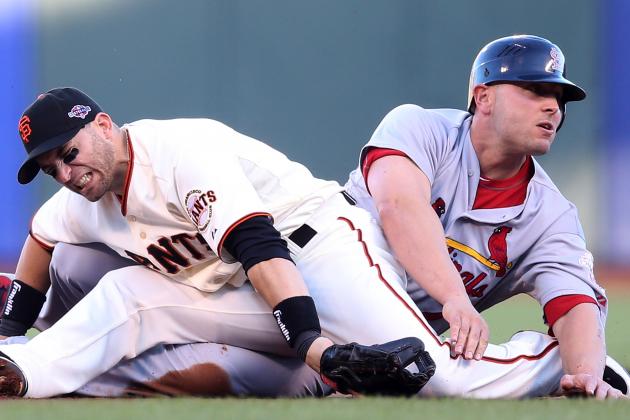 Christian Petersen/Getty Images
Marco Scutaro's status for Game 3 is still up in the air.
The biggest question mark for the Giants heading into Game 3 is Marco Scutaro's status.
UPDATE: Scutaro is reportedly in Wednesday's lineup.
-- End of Update --
If he plays, which seems like the more likely scenario at this point, it will be interesting to see how he performs in the No. 2 hole after the takeout slide by Matt Holliday in the second inning of Game 2. Some will point to his two-run single in the fourth inning as a sign that he should be able to perform well, but it's worth noting that he was removed from the game two innings later with a left hip strain.
Should Scutaro not go, then it could either be Ryan Theriot or Gregor Blanco filling in at the No. 2 spot. Whoever is there will be under pressure to set things up for Pablo Sandoval, Posey and Hunter Pence.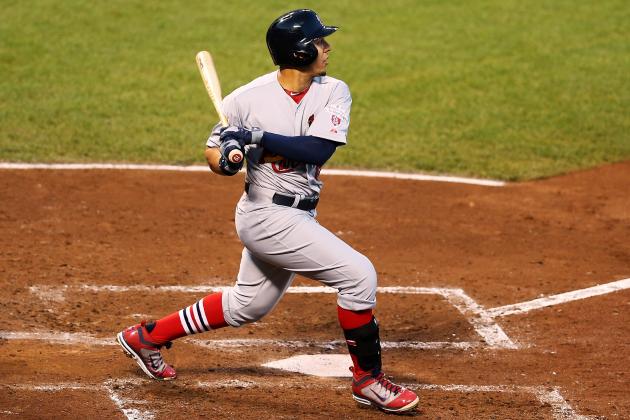 Christian Petersen/Getty Images
Jon Jay is 1-for-9 in the NLCS.
Jon Jay hasn't gotten it done in the NLCS. For that matter, he hasn't gotten it done in the playoffs at all.
Jay has gone 5-for-33 in the playoffs and has not been the table-setter he should be. While he did have two-hit games in Games 2 and 3 against Washington, Jay hasn't shown up otherwise.
What the Cardinals need out of their leadoff hitter is the guy who had a .305 batting average in the regular season.
If St. Louis can get that type of production in Game 3 from their leadoff guy, then the Cardinals will be in a good position when guys like Carlos Beltran and Holliday come up.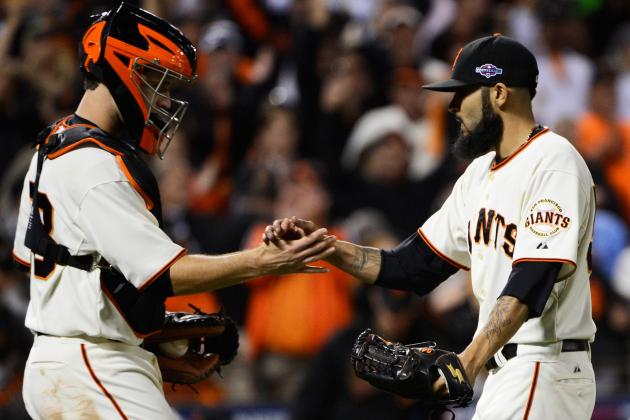 Thearon W. Henderson/Getty Images
The bullpens should again be a major storyline in Game 3.
In the first two games of the series, neither manager has been afraid to go to his bullpen, although a few times it was out of necessity.
In Game 1, Lance Lynn gave up four runs in 3.2 innings, prompting manager Mike Matheny to bring on the bullpen. In the following 5.1 innings, the St. Louis bullpen gave up two hits and no runs to slam the door on San Francisco.
The Giants countered with 5.1 innings of bullpen work of their own after starter Madison Bumgarner gave up six runs in his 3.2 innings of work. The Giants' bullpen, however, gave up no hits and allowed one walk the rest of the way.
In Game 2, the St. Louis bullpen went four innings and gave up two runs. San Francisco didn't have to rely on its bullpen as much, as starter Ryan Vogelsong went seven innings and gave up one run.
The San Francisco bullpen had mop-up work in the final two innings, easily preserving the 7-1 victory.
Game 3 could come down to the bullpens depending on how Cain and Lohse pitch. While both pitchers are the aces of their respective teams, anything can happen in the playoffs.