Week 7 Fantasy Football Rankings: Sleeper Plays Who Will Come Up Huge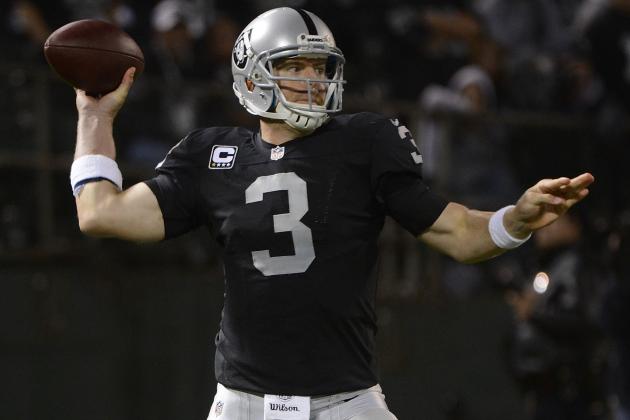 Thearon W. Henderson/Getty Images

Each week becomes more important than the last in fantasy football.
And because of the increase of implications, that only makes the fantasy sleepers more valuable.
Regardless of your league's size and format, everyone has a few stud players and busts. Well, those who remain consistent find the overlooked favorable matchup to score big and improve the postseason odds.
The tough part about each new week, though, are certain teams being on a bye which significantly reduces the number of sleepers capable of making an impact. Carson Palmer of the Oakland Raiders, however, is one of those guys.
For one, the guy can still launch a football and Oakland provides some of the NFL's fastest receivers. In addition, the Raiders play host to the Jacksonville Jaguars in Week 7. And Palmer isn't the lone sleeper to count on, although he is among a short list.
To that end, let's see where Palmer ranks among the best sleepers this weekend in pro football.
Begin Slideshow

»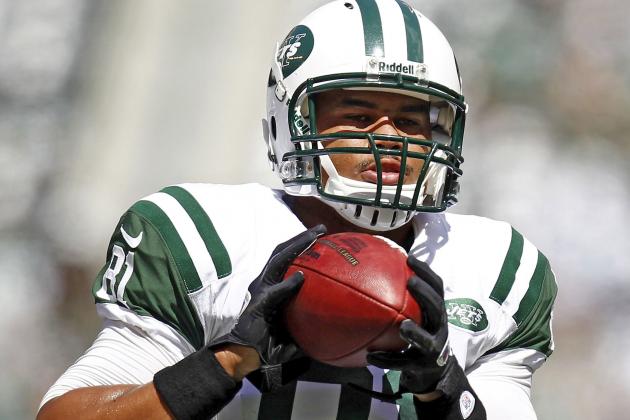 Jeff Zelevansky/Getty Images

Dustin Keller may have only caught one pass for six yards against the Indianapolis Colts on Sunday, but it was his first game action since Week 1.
What Keller has developed into, however, is the most consistently reliable receiving target of Mark Sanchez the past few years. And facing the New England Patriots on the road this week, Sanchez will need to find Keller early and often.
To win, the Jets obviously have to keep Tom Brady and Co. off the field and score whenever an opportunity is presented. Interestingly enough, New England ranks No. 28 against the pass and gives up an average of 8.1 yards per attempt.
Not to mention Bill Belichick's defense has not recorded an interception since Week 4.
As for Keller, no Pats linebacker can cover him one-on-one. Since Gang Green ran so well on Sunday, expect New England to honor the ground game more. One thing Sanchez normally does consistently well, though, is not getting sacked and possesses a fairly quick release.
With Keller sitting between zones over the middle, he'll pile up some nice yards after the catch.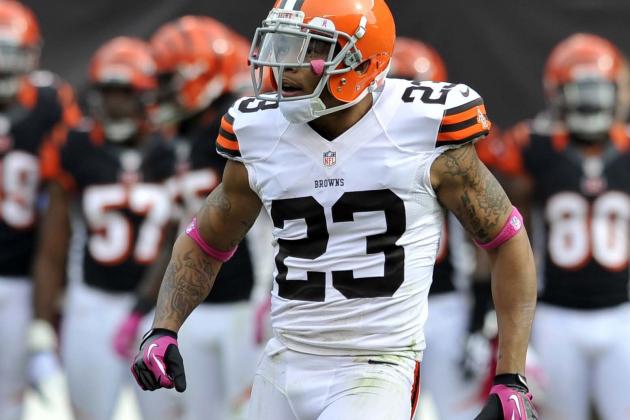 David Richard-US PRESSWIRE

Yes, the Cleveland Browns defense in Week 7.
Although the Browns allow an average of 425.5 total yards per game, Cleveland has recorded 15 sacks, 10 interceptions and recovered four fumbles. If we're seeing anything from Dick Jauron's defense in 2012, it's an increased aggression at being opportunistic.
Because the offense still needs to prove greater consistent explosion each week, the Cleveland defense must attack more regardless of the game's situation. Sitting at 1-5 anyway, it's not like the Browns have much to lose.
In short, any coverage defender can risk giving up a big play to make an interception. The same can be said for front seven players in trying to strip the ball and force fumbles. Taking on the Indianapolis Colts this week, Andrew Luck's offensive line was exploited by the New York Jets.
Cleveland presents just as strong of a pass rush and the Browns can be suffocating against the run. Plus, Indy is arguably the weakest offense Cleveland will have seen to this point. Therefore, anticipate Jauron to bring the pain quite often as trying to force multiple turnovers is Cleveland's best odds at winning.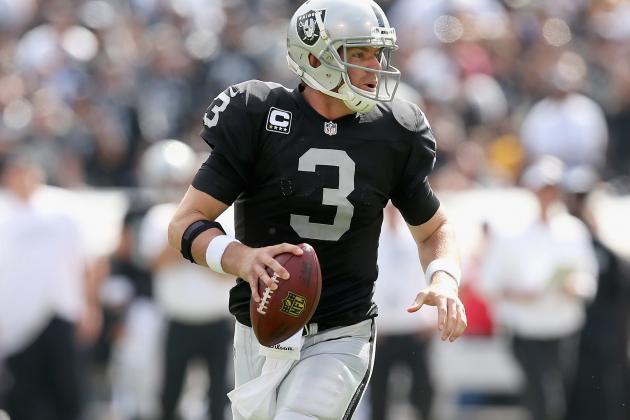 Ezra Shaw/Getty Images

Courtesy of Darren McFadden, Carson Palmer is going to tear up the Jacksonville Jaguars in Week 7.
Even though the Jags are coming off a bye week, Jacksonville's defense is incredibly susceptible against the run and pass. Currently, the Jags rank No. 30 against the rush and allow an average of 4.7 yards per carry.
SRun DMC must be fed from the get-go to force Jacksonville up in the box. The matchup alone will make the Jags honor Oakland's ground game regardless, which in turn takes a vehement amount of pressure off Palmer.
Well, Jacksonville also ranks just No. 23 against the pass and are vulnerable because there is no pass rush. Through five games in 2012 the Jaguars have collected a mere three sacks. That's not only a testament to pass protection, but also to the coverage breaking down quickly from the snap at a decently high rate.
Palmer then will enjoy ample time to throw and his explosive receiving corps will dominate all game long against any coverage.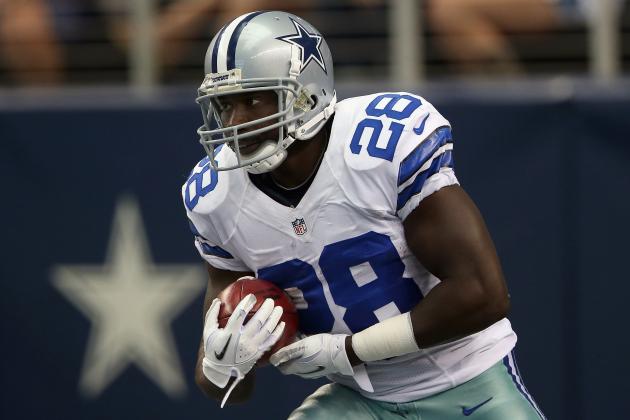 Ronald Martinez/Getty Images

According to Brandon George of the Dallas Morning News:
Running back DeMarco Murray won't play Sunday at Carolina, but the Cowboys expect rookie cornerback Morris Claiborne to play against the Panthers, team owner Jerry Jones said Tuesday morning on his weekly radio show on KRLD-FM 105.3.
That said, enter Felix Jones and the Carolina Panthers defense.
Last week Jones amassed 92 rushing yards on 18 carries and one touchdown versus Baltimore. It was easily his best performance of the season and this week is an easier challenge. Despite Carolina coming off a bye, the Panthers have allowed an average of 4.4 yards per carry.
From an all-encompassed perspective, the Cats rank No. 23 against the run and give up 127.4 rush yards per game. Well, if Dallas racked up 227 against the Ravens in Baltimore, surely Jones will produce in Week 7.
For as much as Carolina can prepare, it still must respect Big D's potential in the passing game. Make no mistake about Tony Romo and Dallas' overall talent, because yards can rack up quickly when this offense finds a rhythm.
That prevents the Panthers from stacking the box and Ron Rivera's defense isn't stellar against the pass, either.
Follow John Rozum on Twitter.