Seahawks vs. 49ers: Final Game Grades, Analysis and More for Seattle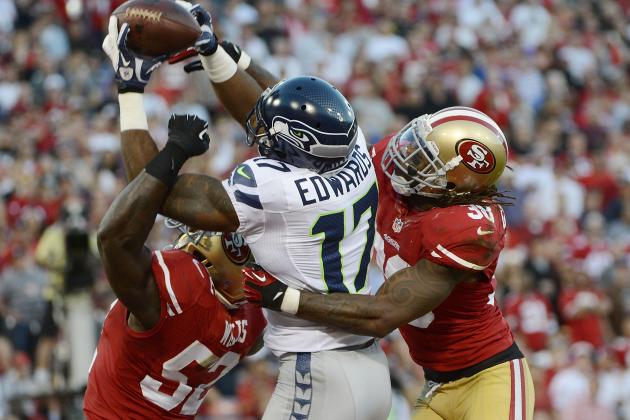 Thearon W. Henderson/Getty Images

Final Score: San Francisco 13, Seattle 6
The San Francisco 49ers were defending their home turf against the Seattle Seahawks on Thursday night. As promised, it was a tight defensive struggle.
Play was physical and Seattle got the best of San Francisco in the first half. However, they squandered scoring opportunities and took just a 6-3 lead into the locker room.
Life changed in the third quarter.
The 49ers moved the ball at will after the half, scoring a touchdown on their opening drive.
They added a field goal in the final quarter and throttled the Seahawks on their final two drives.
Begin Slideshow

»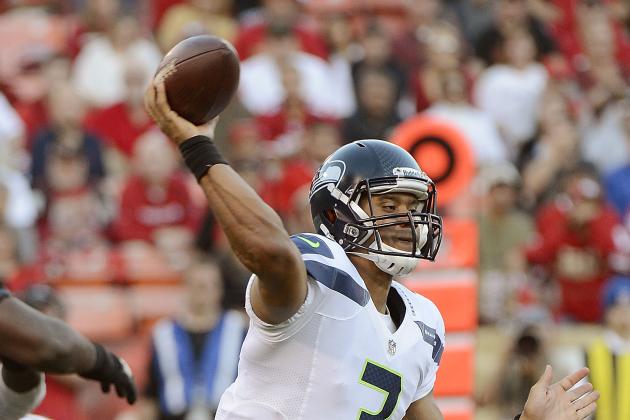 Thearon W. Henderson/Getty Images

Final Grade: C-
I'm not about to pin this loss on Russell Wilson. He didn't do enough to help them win, but for the first time in 2012 his wide receivers really did let him down.
There were a half-dozen dropped passes and receivers didn't have the hustle they showed against the New England Patriots.
Wilson ended the game completing just nine of 23 passes for 122 yards. With an interception on a poorly thrown ball, he ended up with a passer rating of just 38.7. That is almost a 100-point drop from last week's effort.
Fourth Quarter: D+
The Seahawks were plagued by poor play from their receivers. They lacked hustle at time and dropped too many balls.
Still, that is when the quarterback needs to find some magic. Wilson didn't have any on Thursday.
The primary issue was dropped balls but some of his passes could have been better-placed.
Third Quarter: C
The first big mistake on the game came at the arm of Russsell Wilson. He had showed no fear airing the ball out and it finally caught up to him.
His deep ball for Braylon Edwards was intercepted by Dashon Goldson.
The bigger issue for Wilson was missing an open Sidney Rice on the prior play. The other issue has been dropped passes.
Wilson is extending plays with his feet and giving his receivers time to get open. Seattle needs to look for a few underneath routes in the final quarter.
Second Quarter: B+
Russell Wilson showed he isn't afraid to make throws into tight coverage or down the field. He put a pin-point pass in the hands of Braylon Edwards in the end zone and found Sidney Rice down the sideline.
He moved well from the pocket when needed and didn't seem as uncomfortable staying behind his blockers as he had in prior games.
The biggest issue for Wilson so far is dropped passes. If the receivers can make a few more catches they could have more cushion on the scoreboard.
First Quarter: A-
Wilson did all he could do through the first 15 minutes. He delivered good passes and would have had a touchdown pass if Robert Turbin could have made a difficult catch.
The only other incomplete pass on five attempts was a ball he had to throw away.
Pregame Summary
Russell Wilson has his work cut out for him if he's going to repeat his stellar performance from Week 6.
Yes, I said stellar.
I've questioned the decision to start him over Matt Flynn. Pete Carroll opted to have him learn on the job instead of while holding a clipboard.
Wilson did almost everything one would want from a veteran quarterback against the New England Patriots. The 49ers post a more difficult matchup with a strong front seven that will attempt to pressure him.
Wilson's mobility may be tested, but the Seahawks would prefer to see him remain in the pocket.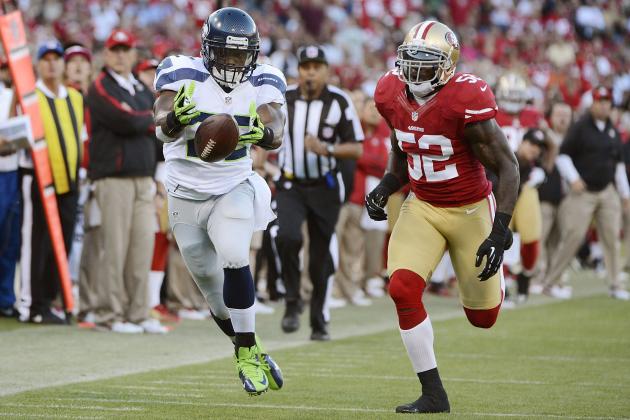 Thearon W. Henderson/Getty Images

Final Grade: B+
Marshawn Lynch did what he could on Thursday night but it wasn't enough.
Actually, he did most of what he could. Lynch and Turbin both had costly dropped passes in this game that could have helped lead to a different outcome.
49ers 13, Seahawks 6. Final stats: Wilson, 9/23, 122 yards, 1 INT; Marshawn Lynch, 19 carries, 103 yards; Obomanu, 3 rec., 50 yards.

— Seahawks RReports (@CBSSeahawks) October 19, 2012
Fourth Quarter: B+
Lynch, Robert Turbin and Micheal Robinson had a very good game. They all pitched in and kept the Seahawks competitive.
Unfortunately, they couldn't do it all. Lynch did drop a pass early in the quarter that kept the Seahawks from converting on third down.
Third Quarter: B+
Yards weren't quite as plentiful in the third quarter but the ground game is still working for Seattle. The Seahawks need to get them more involved in the passing game.
Second Quarter: A
It's Beast Mode time! Marshawn Lynch somehow finds a way to run harder. His yards after contact is incredible, picking up important yardage.
Robert Turbin came in to relieve Lynch and provided a nice speed burst.
Marshawn Lynch has 84 yards on 13 carries in tonight's game.@ Candlestick Park instagr.am/p/Q8mX3_Nu3y/

— Seattle Seahawks (@Seahawks) October 19, 2012
First Quarter: B
Boom! That is the best way to describe the hit Lynch put on Dashon Goldson in the open field. He gained extra yards and ran right over the 49er Safety.
More important, it led to a frustration penalty on Goldson later in the drive. Goldson came to the pile late and dropped a shoulder and a few words on Lynch.
Turbin hurt the team with a dropped pass that would have give the Seahawks a touchdown on the opening drive, driving the grade from an "A."
Pregame
Marshawn Lynch took a backseat in Week 6, as the team opted to test the Patriot secondary.
This was a great decision. Not only did the receivers find a lot of room to make big plays, the team kept Lynch fresh for a quick turnaround for a Thursday night game.
Seattle will need Lynch to pound out yards if they are going to take command in the NFC West.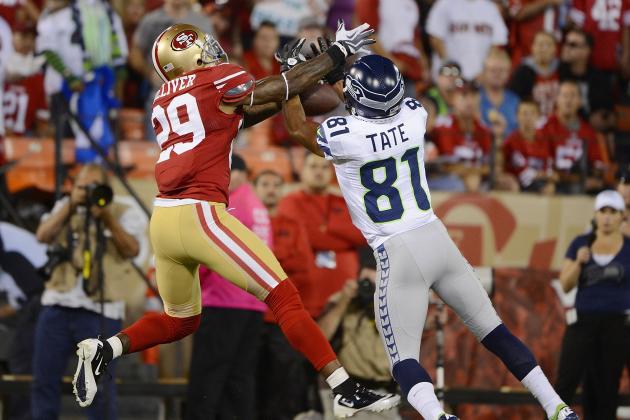 Thearon W. Henderson/Getty Images

Final Grade: E
There is no excuse for the lack of execution by the Seahawk receivers.
Evan Moore had a critical drop with room in front to run. Sidney Rice couldn't catch a critical pass, but the defender did make contact with Rice's hand before he was able to grab the ball. Golden Tate had a big drop on a slant route and couldn't come up with a pair of deep balls.
Wilson certainly didn't have a good game, but it would have looked much better if his targets would have held onto a few more passes.
Fourth Quarter: D
The 49ers played good defense but the receivers still squandered opportunities. Dropped passes and a lack of hustle is the best summary for the unit on the game and the quarter.
Golden Tate was perhaps the biggest culprit. He couldn't haul in a few deep passes, dropped a slant route that would have kept the offense on the field and wasn't hustling to hit blocks.
The outcome of this game could have been very different with better play from the receivers.
Third Quarter: D
I'd been a bit too kind with some of the earlier dropped passes. This had been a strength of this team but not on Thursday night.
Second Quarter: B-
The receivers got a bit more involved. Rice made a great catch-and-run and Edwards almost made a big catch in the end zone.
Edwards had the ball but a golden dome dislodged it as he was coming down.
Golden Tate had a great move to get free down the right sideline. Goldson got over late and threw his body into Tate. The absence of a flag for pass-interference was surprising.
Tate still had an opportunity to catch the ball but couldn't come up with the ball. He had the same issue on the following play, leading to a punt instead of first-and-goal.
The team as a whole needs to do a better job of pulling in Wilson's passes in the second half.
First Quarter: B+
The Seahawks receivers weren't overly involved to this point but Doug Baldwin did pick up a big first down on Seattle's opening drive.
Pregame
The Seahawks have been questioned relative to their talent at the receiving positions. I've been supportive, seeing opportunities Wilson had failed to exploit.
The difference in Week 6 wasn't that receivers finally got open or that they kept fighting for position. The difference was Wilson actually saw them and felt comfortable airing the ball out.
Week 7 brings a talented 49er defense, but one that I've repeatedly said doesn't feature great play in the secondary. The unit gets a bump from a tough front seven that speeds up quarterback decisions and forces mistakes.
The receivers will get open if Wilson has time to find them and deliver the ball.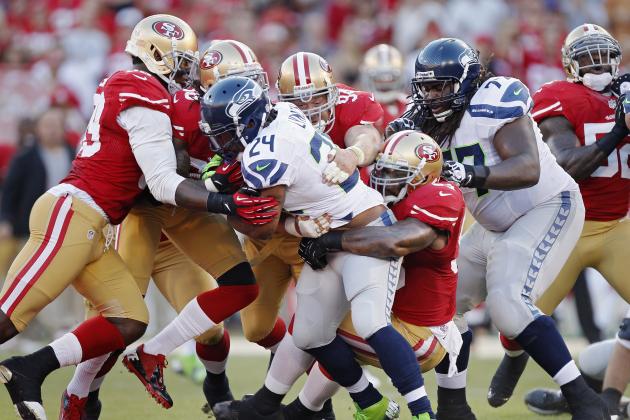 Brian Bahr/Getty Images

Final Grade: B
San Francisco has a very good front seven. They apply pressure on quarterbacks and stymie ground games.
They didn't do nearly as much of that against the Seahawks as they do against other teams.
The biggest concern on the day was a pair of penalties on Russell Okung.
Seattle's interior line was getting a great push, often moving the line of scrimmage several yards down the field. They helped pave the way for Lynch, particularly in the second half.
Fourth Quarter: B-
First, I'm ignoring the chop block call on Paul McQuistan. The rules require the second block to be in the thigh-area or below and he was clearly at the waist and above.
The pass blocking could have been better and Russell Okung's false start penalty pushed Seattle near the end zone. Those five yards could have made a difference in the outcome.
Third Quarter: B+
The Seahawk offensive line is moving the 49er defenders down the field. While Lynch had become accustomed to being hit in the backfield early in his tenure with Seattle, the line of scrimmage was often moved five yards down the field in the third quarter.
The line has also given Wilson adequate time to throw.
Second Quarter: B
The Seahawks found some more room in the ground game, allowing Lynch and Turbin to pound out some yards. Some of it was hard running, but there were better holes being opened.
Russell Okung had a hold that turned a third-and-short into a second-and-16.
First Quarter: B
Seattle found some room to run and provided adequate protection for Wilson. The front-five could create more running lanes, but the 49ers have been consistently stacking the box.
Pregame
Mitigate penalties. Period.
That is the difference between this being an acceptable starting unit and a bad one.
Seattle has to avoid the holding and false-start plays to help the team keep the sticks moving. Personal foul penalties, particularly against one often-maligned player, will likely lead to an extended stint on the bench.
The unit is very good at run-blocking and does enough to establish a pocket. The key is Wilson needs to keep from getting happy feet and give his offense time to develop.
The 49ers present an incredibly tough matchup. They have one of the best front-seven units in the NFL; if the line can neutralize its pass rush, the offense can have a big game in San Francisco.
If not, then offensive coordinator Darrell Bevell will need to find ways to move the pocket or get Wilson mobile to find time to throw.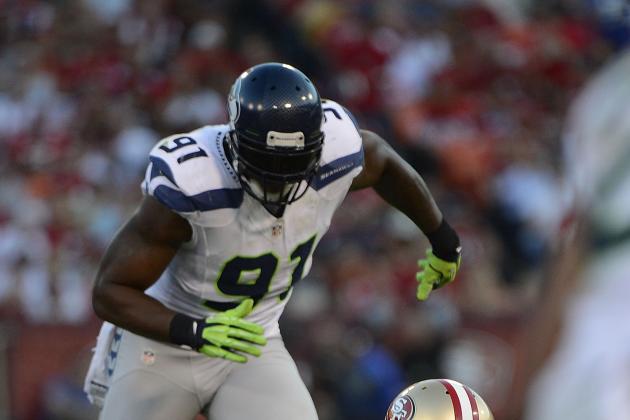 Thearon W. Henderson/Getty Images

Final Grade: D
The best opportunity for the Seahawks to win involved stopping San Francisco's ground game. They did that well in the first half but seemed to run out of gas over the final 25 minutes.
Frank Gore became the first runner to have a 100-yard game against Seattle this season.
On Gore's 37-yard run, Bobby Wagner allowed himself to get engaged and Leroy Hill got too close to the line of scrimmage. It didn't allow him to collapse on Gore and left a huge running lane.
Seattle wasn't able to mount a solid pass rush, either.
Alex Smith routinely had ample time in the pocket. Smith can be forced into making penalties when pressured, as seen when he was flushed from the pocket and threw his only interception on the day.
Fourth Quarter: D
The big failure in this game was the inability of the line and linebackers to hold the ground game in check in the second half. Linebackers were getting too close to the line and getting caught up in the wash and linemen couldn't hold their gaps.
The 49er offensive line did a good job, but more is expected of this unit.
Third Quarter: D
And they're back. The front seven didn't maintain gap integrity on run plays and left tight ends and running backs open over the middle and in the flats.
If they can turn things around in the last frame the Seahawks still have a chance to pull out the win.
#Seahawks linebacker Smith out with concussion king5.com/sports/seahawk…

— KING 5 Sports (@KING5Sports) October 19, 2012
Second Quarter: A
What a difference a quarter makes. The coaching staff made some adjustments and the Seahawks came out and stuck a three-and-out on San Francisco's first drive of the quarter.
Bruce Irvin made his presence known. Joe Staley was concerned with Irvin's speed and tried to get a head-start before the snap.
The 49ers had three possessions in the quarter and gained just 12 yards and no first downs.
Seattle still isn't get as much pressure on Smith as they need to force him into mistakes, but the secondary isn't allowing him room to throw the ball.
First Quarter: D-
Brandon Mebane was caught inside several times, losing gap integrity. The linebackers failed to fill running lanes inside and on the edges.
K.J. Wright wasn't doing enough to fend off blockers, even with the difficult task of working off Vernon Davis and Delanie Walker.
The most glaring issue was allowing a 15-yard completion on a 3rd-and-10 play. It was a dump pass to the running back and signifies an area where Seattle has to get better.
The team also had issues generating a pass rush.
Jason Jones registered a coverage sack. He excelled in an area Seattle struggled in 2011; he stopped Alex Smith from escaping up the middle following outside pressure.
Pregame
The biggest thing that was missing in Week 6 was a consistent pass rush.
Seattle will need to turn up the pressure on a 49er team that will be short-handed on the offensive line. The way to stop San Francisco is to shut down the run and not allow Alex Smith time to get comfortable. Hit him early and often and the passing game will wilt.
Add in some pressure from the secondary and all the better.
The 49ers should be at full-strength, as Joe Staley is on the active roster.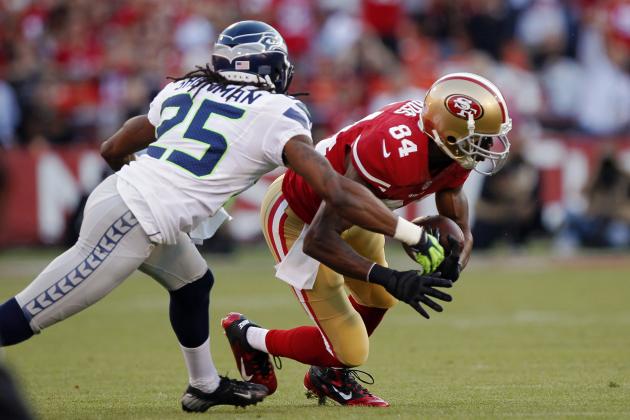 Brian Bahr/Getty Images

Final Grade: B+
The 49er receivers had a quiet day. They just had six receptions for 63 yards. That was the result of heavy pressure from Seattle's secondary.
It was also the result of Gore being able to run almost at will in the second half.
Kam Chancellor seemed to disappear in run support and the corners missed a few opportunities to make stops.
Aside from run support, there was very little to find issue with relative to the secondary.
Fourth Quarter: B+
The Seahawks allowed some long plays in the final quarter. The secondary helped in the ground game but needed to do more.
The Brandon Browner interception helped keep Seattle in the game.
Third Quarter: B-
There was a bit more room for receivers but the secondary is still doing an adequate job.
Second Quarter: A
TRUUUU! The secondary played tight and Marcus Trufant made a great open-field tackle on a third-and-short to get the defense off the field.
Richard Sherman and Brandon Browner played tight press-coverage and Alex Smith couldn't find open receivers down the field.
First Quarter: B+
Sherman attempted to lay a hit on Michael Crabtree instead of wrapping the receiver up. Earl Thomas also missed, allowing a first down.
Their coverage has been good, particularly in press coverage. The big gain was when the corners were playing well off the line.
Pregame
The Week 6 game, at least relative to Seattle's defense, came down to Richard Sherman vs. Tom Brady. The Seahawks may have surrendered almost 400 yards, but Brady threw the ball 58 times. That is two games' worth for Russell Wilson.
It was feast and then famine. After Earl Thomas dropped a pair of passes, one of which seemed destined for a long TD return, Thomas and Sherman each had an interception.
What was missing in this game was a consistent pass rush. Seattle will need to turn up the pressure on a 49er team that will be short-handed on the offensive line.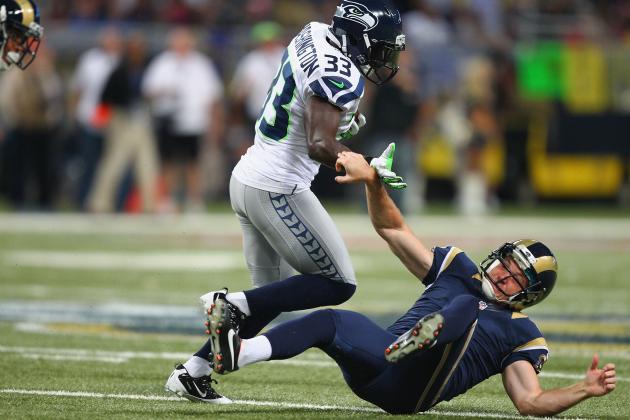 Dilip Vishwanat/Getty Images

Final Grade: B
Two field goals made and one missed, a few long returns from Ted Ginn Jr. and very little to show with their own returns. The unit didn't cost the Seahawks, but they also failed to step up and make a positive impact in the game.
Fourth Quarter: B
Another quiet quarter for the special teams, but the punt unit allowed a pair of 16-yard returns. Granted, one of those followed a 64-yard punt by Jon Ryan.
Third Quarter: B
There was little asked of them in this quarter, but they kept Ted Ginn, Jr. in check on punt coverage.
Second Quarter: C
Ginn made a big impact on the game in San Francisco last season. He attempted to do the same on Thursday, making a huge return to give the 49ers the ball in Seattle territory.
This could have been a big momentum swing. San Francisco failed to convert a first-down on their first two possessions of the quarter.
Fortunately, the defense shut down the 49er offense and forced a punt.
Leon Washington mishandled a punt and almost led to a costly turnover.
More important in this quarter was a huge tackle by Baldwin in kick coverage. Good hustle and a textbook tackle pinned the 49ers inside their own 20 following Steven Hauschka's second field goal on the day.
Hauschka also proved he isn't perfect. Seattle missed out on what could be an important field goal, missing a 51-yard attempt.
First Quarter: A
Steven Hauschka hit a long field goal and kept the 49ers at their 20-yard-line on both kickoffs.
Pregame
With the exception of allowing a touchdown on a fake field goal, Seattle's special teams play has been superb in 2012. They drop teams inside the 20-yard-line when they try to run kicks out of the end zone and Jon Ryan is one of the most underrated punters in the NFL.
Leon Washington has had some big, timely returns. All this unit is missing is a return or two for touchdowns.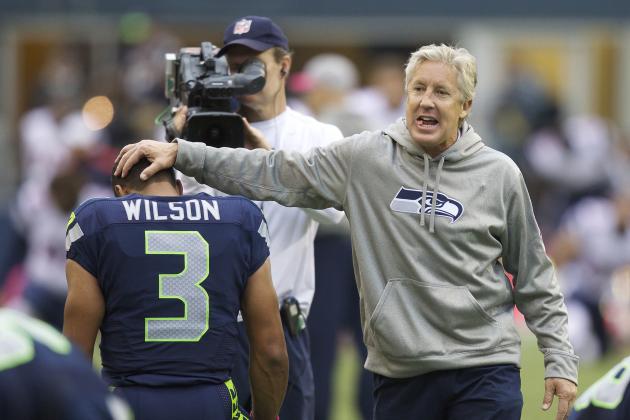 Stephen Brashear/Getty Images
Pete Carroll and his staff deserve a pat on the back for sticking with Wilson
Final Grade: C+
The coaching staff came in with a good game plan. It worked almost to perfection in the first half, particularly in the second quarter.
San Francisco made adjustments at intermission and Seattle was slow to respond. There were no apparent changes made to the coverage schemes after Gore started to find ample room to run.
Fourth Quarter: B-
The Seahawks coaches didn't have an answer to the 49er offense in the second half. They also failed to find a way to get the offense moving.
Third Quarter: D+
The Seahawks were out-coached in the third quarter. San Francisco came out with a different look on offense and Seattle had no response.
Second Quarter: B-
While the adjustments made on the defensive side of the ball were effective, one has to question the run-play on third-and-10. The two-yard pickup didn't make the Haushka attempt any easier.
Seattle needs to keep the pressure on the 49ers. Going for the first-down and trying to find the end zone would have opened up a two-possession game.
Seattle also had an opportunity to get the ball back at the end of the half but chose not to call a timeout prior to San Francisco's punt. It would have been nice to see if Lynch could have broken a play on first or second down.
First Quarter: A
Seattle made a great decision starting on defense. The call from their own 5-yard-line was perfect, finding Michael Robinson on a swing pass following play-action.
The only complaint is the corners have spent some time playing off the line. The 49er receivers need to prove they can excel when Seattle is playing press-coverage.
Pregame
The Seahawks coaching staff is somehow improved in 2012. There were close losses last season that had those "why did they go for a touchdown there?" moments.
But this year coaching decisions are leading to wins. Aside from the personnel moves and believing in Russell Wilson, there was the intentional safety in Carolina and pushing the ball deep against the Patriots. What will Week 7 bring?
Darin Pike is a writer for Bleacher Report's Breaking News Team and a Featured Columnist covering the NFL and Seattle Seahawks.