LSU vs. Texas A&M: Complete Game Preview
Chris Graythen/Getty Images

LSU will travel to College Station on Saturday to take on the No. 18-ranked Aggies in a rematch of the 2010 AT&T Cotton Bowl, which the Tigers won 41-24.
A lot has changed since then. For starters, Texas A&M is now in the SEC, and this game marks the first of a grueling four-game stretch for the Aggies.
For LSU, this game is a chance to build on what is looking like another special season for Les Miles' team.
After a disappointing loss to Florida, the Tigers bounced back with a win over a very good South Carolina team that was ranked No. 3 in the nation.
What can we except from this SEC clash on Saturday?
Let's go ahead and find out, right here, right now!
Begin Slideshow

»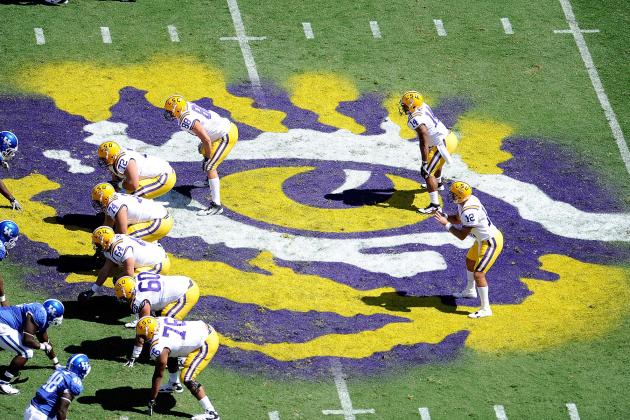 Stacy Revere/Getty Images

Who: LSU @ Texas A&M
When: Saturday, Oct. 20, at noon. (EDT)
Where: College Station, Texas

Stadium: Kyle Field
TV: ESPN, ESPN3D
Radio: Eagle 98.1 WDGL (LSU)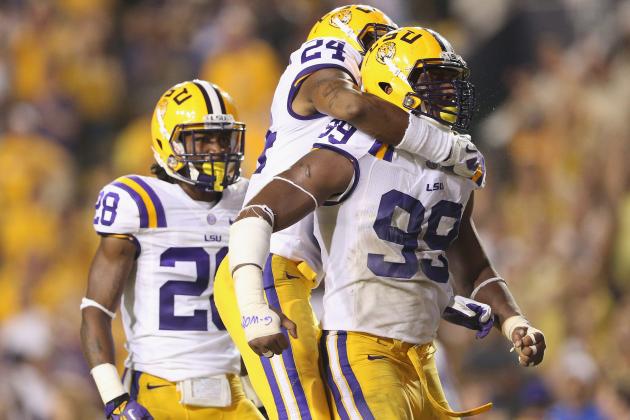 Ronald Martinez/Getty Images

QB: 8 Zach Mettenberger
17 Steven Rivers
RB: 27 Kenny Hilliard
42 Michael Ford
11 Spencer Ware
33 Jeremy Hill
FB: 44 J.C. Copeland
43 Connor Neighbors
X: 86 Kadron Boone
82 James Wright
Z: 3 Odell Beckham Jr.
10 Russell Shepard
3-Wide: 80 Jarvis Landry
LT: 68 Alex Hurst
RT: 72 Vadal Alexander
LG: 70 La'el Collins
RG: 74 Trai Turner
C: 64 P.J. Lonergan
Defense
LE: 49 Barkevious Mingo
LT: 77 Josh Downs
RT: 18 Bennie Logan
90 Anthony Johnson
RE: 99 Sam Montgomery
LB: 52 Luke Muncie
LB: 46 Kevin Minter
LB: 57 Lamin Barrow
CB: 32 Jalen Collins -or- 28 Jalen Mills
CB: 24 Tharold Simon
FS: 1 Eric Reid
SS: 6 Craig Loston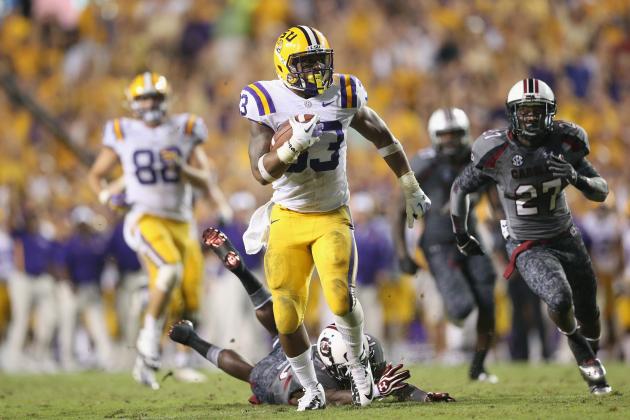 Ronald Martinez/Getty Images

Les Miles' team put itself back in the National Championship conversation with a gutsy 23-21 win over South Carolina last weekend.
The loss marked the first for South Carolina, who was ranked as high as No. 3 in several polls heading into the game.
With the big SEC victory, LSU moved up to No. 6 in the polls and in the BCS Standings, which were released for the first time this season just this past weekend.
The Tigers got back to basics in this game, relying on a dominant rushing attack and a suffocating defense.
LSU's backfield ran for a combined 258 yards in the victory, with 133 of those yards coming from freshman back Jeremy Hill.
On the other side of the ball, the Tigers held South Carolina All-American Marcus Lattimore to just 35 yards on 13 carries, which was by far his lowest output of the season.
This is the type of game that gives this LSU team the needed confidence to compete for yet another National Championship this season.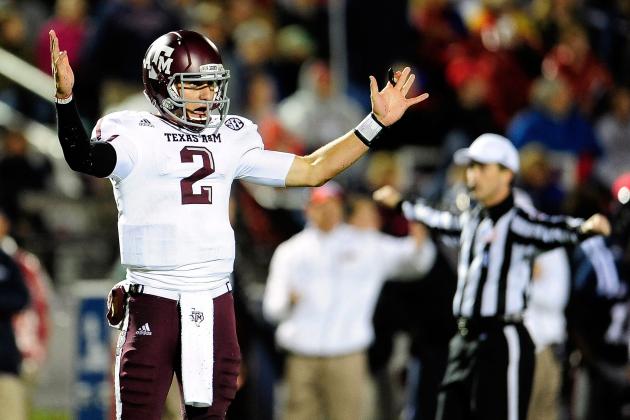 Stacy Revere/Getty Images

Texas A&M came out on top in one of the wildest college football games of the season, defeating Louisiana Tech by a score of 59-57 last weekend.
The win marked the fifth straight victory for the Aggies and improved their SEC record to 2-1.
Texas A&M's freshman quarterback, Johnny Manziel, was brilliant in this game. He passed for 395 yards and three touchdowns, but that wasn't it.
Manziel also added 181 yards and three more scores on the ground, giving him near 600 yards and six total touchdowns in the win.
This is a team that is playing really good football right now, and LSU will need to be on its A-game to leave College Station with a victory.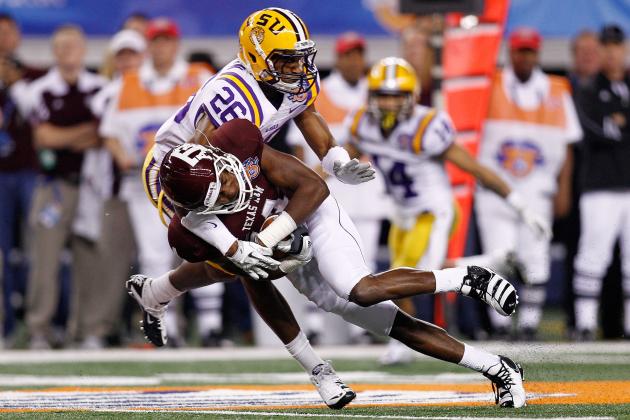 Chris Graythen/Getty Images

For starters, both of these teams are 2-1 in the SEC.
However, LSU is in the midst of its SEC grind, while Texas A&M is just starting it right now, with this game being the first of four tough games for the Aggies.
LSU's big win over South Carolina has put the team back into the National Championship picture, and a big road win here would only boost their ranking and confidence going forward.
Texas A&M has gotten off to a nice start this season, but this is a team that is still searching for that first big win of the season. Beating an exceptional LSU team at home would certainly fit the bill for that "big-time" win.
With a win here, Texas A&M could jump into the Top 10 in the nation.
With a win for LSU, the Tigers could climb into the Top 5, despite already having a loss on the season.
Either way, this has the makings of another great SEC game.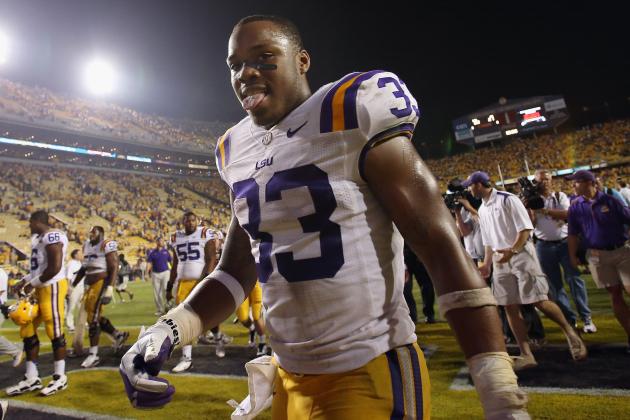 Ronald Martinez/Getty Images

Why not go with the star from last week that helped lead LSU to that impressive victory over South Carolina?
That's right ladies and gentlemen, I'm talking about LSU freshman running back Jeremy Hill.
This first-year back rushed for a career-high 124 yards and two touchdowns last week in the Tigers' SEC win.
What is even more impressive is that Hill totaled just 71 yards in the Tigers' first six games this season, and then had his coming-out party last weekend.
If LSU is going to beat a good Texas A&M team on the road this weekend, the Tigers are going to have to establish the run game early and often.
Right now, it looks like the leader of that run game is freshman back Jeremy Hill.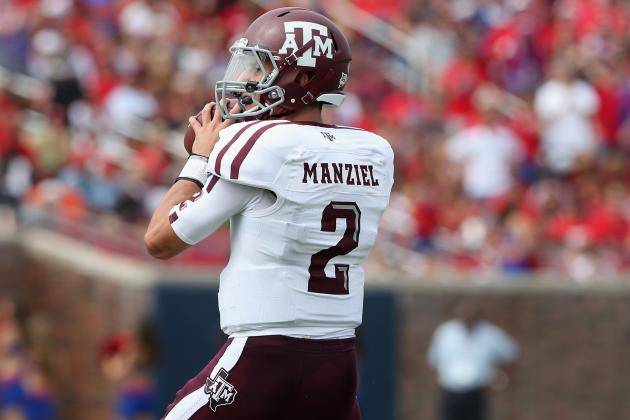 Ronald Martinez/Getty Images

Freshman quarterback Johnny Manziel leads Texas A&M in passing and running, and if he got the opportunity to play wide receiver, he would probably lead the Aggies in receiving yards as well.
Yes, I'm serious, this kid is that good.
Through six games this season, Manziel has already thrown for more than 1,600 yards and 14 touchdowns. He has rushed for 676 yards and has also punched in 10 touchdowns on the ground.
No this is not a typo. And neither is the fact that Manziel is doing this all in his freshman season.
As Manziel goes, so does this Texas A&M football team.
If LSU can contain him, the Tigers should win this football game. If not, well, that could be a different story.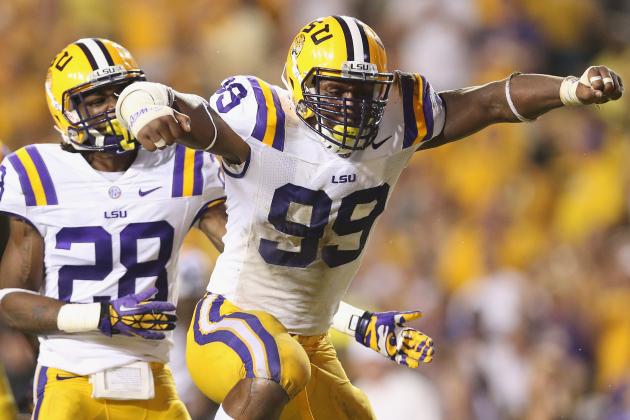 Ronald Martinez/Getty Images

There are two things that LSU needs to do in order to win this football game.
The No. 1 thing is to establish the run on the offensive side of the football. When LSU runs the ball effectively, they win football games. It really is as easy as that.
Don't believe me?
Take a look.
In LSU's six victories this season, the Tigers have rushed for more than 150 yards as a team in all six wins. The team has rushed for more than 240 combined yards in four of those six wins.
Now on the flip side, in LSU's one loss this season, against Florida, the Tigers managed just a measly 42 yards on the ground.
The No. 2 thing that LSU needs to do in order to win this game is to contain Texas A&M quarterback Johnny Manziel.
In the Aggies' five wins this season, Manziel has combined to pass for 1,507 yards and 14 touchdowns, which is an average of 301 yards and just under three touchdowns per game. In the Aggies' lone loss this season, which also came against Florida, Manziel threw for just 173 yards and no touchdowns.
It's the same story for Manziel in the running game. He has averaged more than 120 yards rushing in each of Texas A&M's wins this season, but managed just 60 yards on the ground in the team's one loss this season.
If LSU can establish the run and contain freshman sensation Johnny Manziel, then you have to like the Tigers' chances in this SEC matchup.
No doubt about it.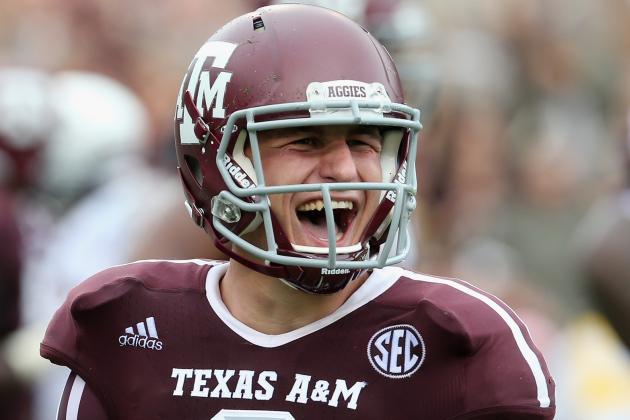 Ronald Martinez/Getty Images

Texas A&M will win if they can stop LSU's rushing attack.
Teams have tried to stack the box and stop this dominant rushing attack, in return, daring quarterback Zach Mettenberger to beat them with his arm.
Up to this point, Florida is the only team that has executed that plan to perfection, but that's not saying it can't be done again.
Heading into this season, the word on the street was that LSU was going to air it out more this year and be more of a complete team with a pro-style quarterback.
It has been anything but that up to this point, as Mettenberger has struggled with turnovers throughout this season.
If Texas A&M can find a way to slow down that dominant LSU backfield and make Mettenberger beat them with his arm, then you have to like the Aggies' chances in this contest.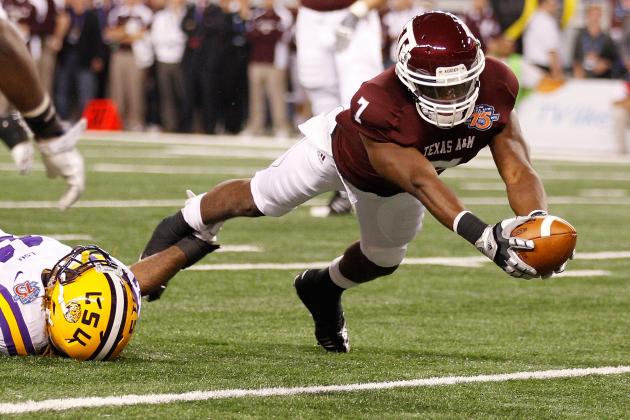 Chris Graythen/Getty Images

This is going to be a good college football game.
If this were in Tiger Stadium, I would put LSU as a double-digit favorite, especially after how impressive that defense looked against South Carolina last weekend. But being in College Station is a huge boost for this Texas A&M team and gives them a real chance in this SEC clash.
I think that LSU will get that running game going, but will the Aggies be able to answer with a running game of their own?
We know that freshman quarterback Johnny Manziel can run the ball, but what about the actual running backs?
Can junior back Ben Malena have another breakout game like he did two weeks ago against Ole Miss?
Texas A&M needs someone else other than Manziel to step up in this game, and against a dominant LSU defensive front, I just don't see that happening.
Make it LSU 42, Texas A&M 27.