Michigan State Spartans vs. Michigan Wolverines: Complete Game Preview
Gregory Shamus/Getty Images
The Michigan Wolverines appear to have re-discovered their explosive offense, but will it be good enough to top the Michigan State Spartans?
The in-state rivalry between the Michigan Wolverines and Michigan State Spartans has reached a boiling point after four consecutive victories in the series by the green-and-white has the maize-and-blue faithful pining for a win this Saturday at the Big House.
The Spartans are in desperate need of a record-setting fifth straight win over the Wolverines in order to keep their Big Ten Conference title hopes alive, while Michigan is looking to remain atop the Legends Division and put an end to the trash talk coming out of East Lansing.
Everything you need to know about this weekend's rivalry clash between the Wolverines and Spartans is only a click away.
Begin Slideshow

»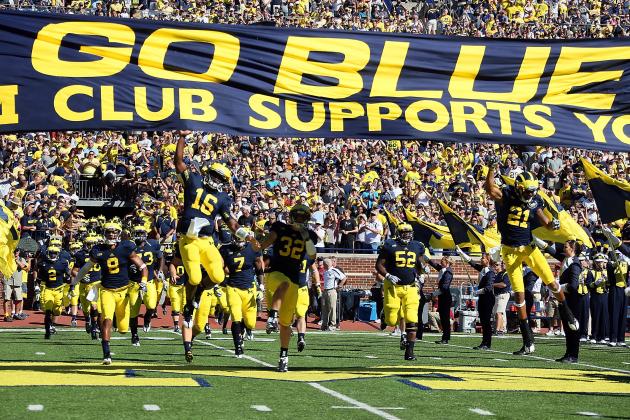 Dave Reginek/Getty Images

Who: Michigan State Spartans (4-3, 1-2 Big Ten) vs. Michigan Wolverines (4-2, 2-0)
When: Saturday, 3:30 p.m. (EDT)
Where: Michigan Stadium, Ann Arbor, Mich.
TV: Big Ten Network
Radio: XM Radio 196, WWJ 950 (Detroit)
Internet: BTN2Go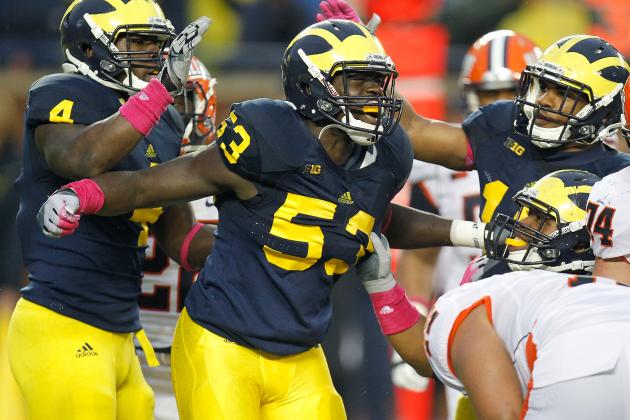 Gregory Shamus/Getty Images

Depth chart information obtained from TheWolverine.com.
Offense:
QB: Denard Robinson, Russell Bellomy, Devin Gardner; RB: Fitzgerald Toussaint, Thomas Rawls, Vincent Smith, Justice Hayes; FB: Stephen Hopkins, Joe Kerridge, Paul Gyarmarti; WR: Roy Roundtree, Devin Gardner, Jerald Robinson, Amara Darboh; WR: Jeremy Gallon, Drew Dileo, Jeremy Jackson; TE: Brandon Moore, Mike Kwiatkowski, AJ Williams, Devin Funchess; LT: Taylor Lewan, Erik Magnuson; LG: Ricky Barnum, Joey Burzynski, Kyle Kalis; C: Elliot Mealer, Jack Miller; RG: Patrick Omameh, Burzynski; RT: Michael Schofield, Erik Gunderson, Ben Braden
Defense:
DE: Frank Clark, Brennen Beyer, Mario Ojemudia; DE: Craig Roh, Keith Heitzman; NT: Quinton Washington, Ondre Pipkins, Richard Ash; DT: Will Campbell, Jibreel Black; SAM: Jake Ryan, Cam Gordon; WILL: Desmond Morgan, James Ross III, Brandin Hawthorne; MIKE: Kenny Demens, Joe Bolden, Mike Jones; CB: J.T. Floyd, Raymon Taylor, Delonte Hollowell; CB: Taylor, Courtney Avery, Terry Richardson; SS: Jordan Kovacs, Marvin Robinson, Floyd Simmons; FS: Thomas Gordon, Jarrod Wilson, Josh Furman
Special Teams
PK: Brendan Gibbons, Matt Wile; P: Will Hagerup, Wile; Kick Off: Wile, Seth Broekhuizen; LS: Jareth Glanda, Curt Graman; Holder: Drew Dileo, Jeremy Gallon; Kick Return: Dennis Norfleet, Vincent Smith, Josh Furman; Punt Return: Gallon, Norfleet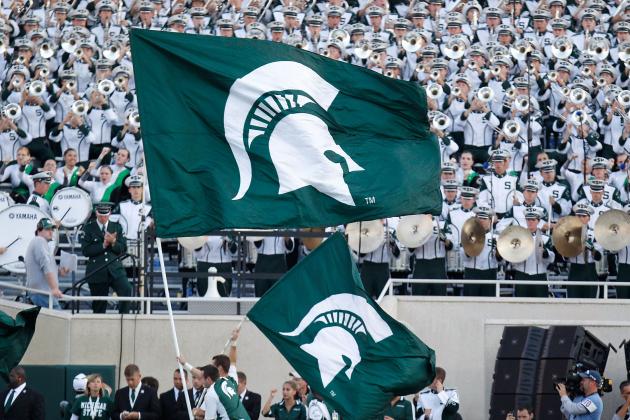 Gregory Shamus/Getty Images

Depth chart information obtained from SpartanMag.com (Current as of Oct. 6th, with latest update).
Offense:
QB: Andrew Maxwell, Connor Cook; RB: Le'Veon Bell, Larry Caper, Nick Hill, Jeremy Langford; WR: Tony Lippett, McGarrett Kings Jr.; WR: Aaron Burbridge, Bennie Fowler; WR: Keith Mumphery, Andre Sims, DeAnthony Arnett; TE: Dion Sims (Questionable), Paul Lang, Andrew Gleichert, Derek Hoebing; OT: Dan France, Donovan Clark; OT: Skyler Burkland, Michael Dennis; OG: Jack Allen, Blake Treadwell; OG: Chris McDonald, Nate Klatt, Connor Kruse; C: Ethan Rudland, Allen
Defense:
DE: Marcus Rush, Shilique Calhoun, Jeremy Gainer; DE: Will Gholston, Joel Heath, Denzel Drone; NT: Anthony Rashad White, James Kittredge, Damon Knox; DT: Michajah Reynolds, Tyler Hoover; LB: Chris Norman, Taiwan Jones, Darien Harris; LB: Denicos Allen, Ed Davis, Steve Gardiner; LB: Max Bullough, Kyler Elsworth, TyQuan Hammock; CB: Darqueze Dennard, Mitchell White; CB: Johnny Adams, Arjen Cloquhoun, Trae Waynes; S: Isaiah Lewis, RJ Williamson; S: Kurtis Drummond, Jairus Jones, Demetrious Cox
Special Teams:
PK: Dan Conroy, Kevin Muma; P: Mike Sadler; LS: Steve Moore; Kick Return: Nick Hill, Bennie Fowler; Punt Return: Hill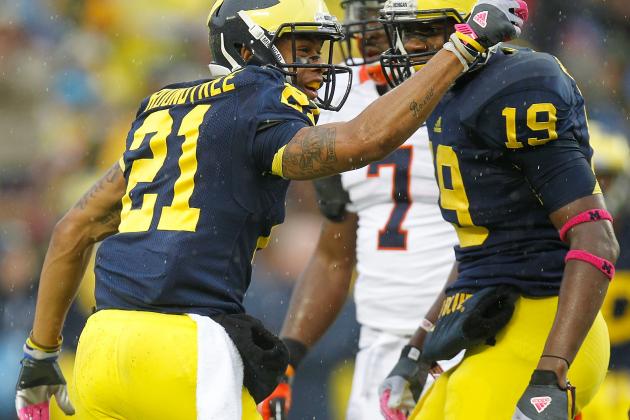 Gregory Shamus/Getty Images

For the second week in a row, the Michigan Wolverines dominated their opponent from start to finish and came away with a Big Ten Conference victory.
Denard Robinson had nearly 300 total yards of offense and racked up four total touchdowns in the Wolverines 45-0 rout of the Illinois Fighting Illini at the Big House in Week 7.
The Wolverines' rushing offense looked better than it has all season long against Illinois. In addition to Robinson's 128-yard effort running the ball, three other Michigan players rushed for over 60 yards, which could be a great sign of what is ahead for the Wolverines' offense this year.
Michigan's defense looked fantastic once again and held the Fighting Illini to 134 total yards. Although Illinois managed to move the ball effectively on the ground, which Michigan's last two opponents were not able to do, the Fighting Illini finished the game with only 29 passing yards.
Fifth-year senior linebacker Kenny Demens also managed to intercept one of Riley O'Toole's 10 passes during the early goings of the third quarter for Michigan's only turnover of the game.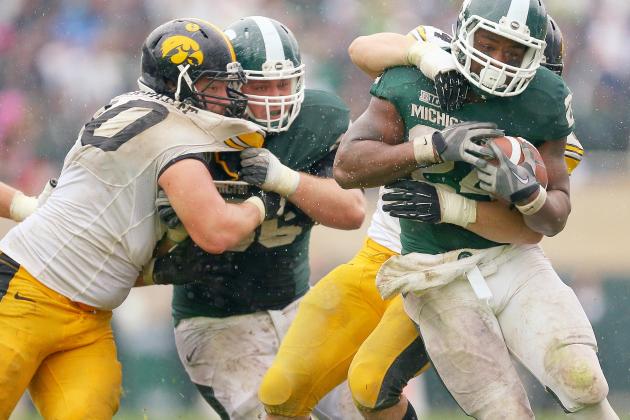 Mike Carter-US PRESSWIRE

The Michigan State Spartans were outlasted by the Iowa Hawkeyes 19-16 in double overtime despite accruing over 300 yards of total offense and Le'Veon Bell's 29-carry, 140-yard, one-touchdown performance.
Junior quarterback Andrew Maxwell completed just 12 of 31 pass attempts for 179 yards along with the game-ending interception in the second overtime. Maxwell missed on seven of his final eight passes, which allowed the Iowa defense to load up in the box and slow down Bell in overtime.
Not all of the blame for Michigan State's offensive struggles can be attributed to Maxwell though. The Spartans' offensive line gave up two sacks and allowed the Hawkeyes to pressure Maxwell for much of the game.
Additionally, Michigan State's receiving corps is struggling to get open and appears to only have one natural play maker in Aaron Burbridge. The Spartans were without star tight end Dion Sims for the entire game, which certainly did not make matters any better for the Michigan State offense.
Michigan State's rushing defense looked vulnerable for the first time this season as converted fullback Mark Weisman plowed over and ran through green and white tacklers all afternoon en route to 116 rushing yards and one touchdown.
Weisman also broke off a 37-yard run on a critical third down on Iowa's final drive of the game, which he finished off with a five-yard touchdown run three plays later.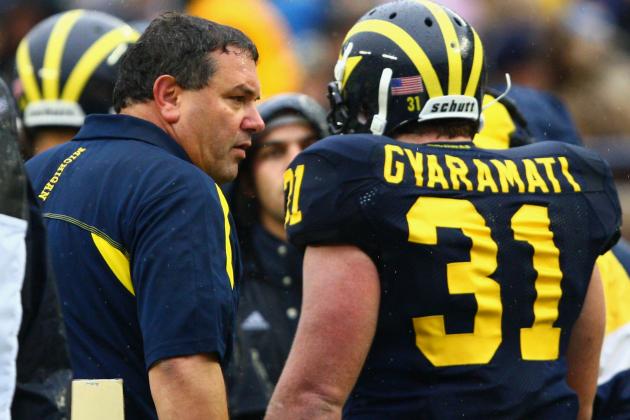 US PRESSWIRE

It is hard to say which team needs this victory more as it is equally important for very different reasons to the Michigan Wolverines and Michigan State Spartans.
The Wolverines have lost four straight games to the Spartans, which has Michigan fans up in arms and is one of the primary reasons this is the most pivotal match up for the Maize and Blue this season.
Michigan head coach Brady Hoke has made winning the Big Ten Conference the program's most important goal since he took over in 2011, and a win over the Spartans would help the Wolverines keep pace with the Iowa Hawkeyes, Nebraska Cornhuskers and Northwestern Wildcats in the Legends Division.
Meanwhile, Michigan State is 1-2 in Big Ten play and desperately needs a win in order to remain in the hunt for a second consecutive Legends Division title. The Spartans' top priority coming into the 2012 campaign was to win the Big Ten and a loss to the Wolverines this Saturday would be a devastating blow to their primary goal.
The Spartans had high expectations for this season, but now Michigan State fans would simply be happy with a victory over Michigan to right the ship in East Lansing for at least one weekend.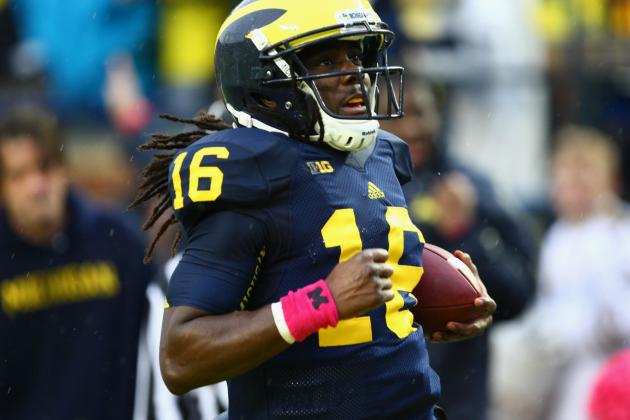 US PRESSWIRE

If the Michigan Wolverines hope to defeat the Michigan State Spartans for the first time since 2007, senior quarterback Denard Robinson will have to be efficient in the passing game and avoid turning the football over.
Robinson has piled up 627 total yards and five touchdowns in Michigan's last two victories. The Wolverines have also run the ball well enough over the past two weeks to limit Robinson's passing attempts, which is something Michigan would like to continue doing this week against the Spartans.
Unfortunately, Robinson's numbers in the Wolverines' two losses this season, which both came against defenses ranked No. 11 or better in total yards allowed, are significantly worse, and the Spartans currently boast the No. 7 defense in the country.
The Deerfield Beach, Fla., native only accrued 455 total yards, two touchdowns and had seven giveaways against the Alabama Crimson Tide and Notre Dame Fighting Irish.
Robinson's numbers in Michigan's last two losses to the Spartans have not exactly been dazzling either. In the last two head-to-head contests between the in-state rivals, Robinson only totaled 466 yards, four touchdowns and threw four interceptions.
Michigan's entire offense has revolved around Robinson for the past three seasons and the Wolverines will need its most valuable player to put up solid numbers to top the Spartans in Ann Arbor this weekend.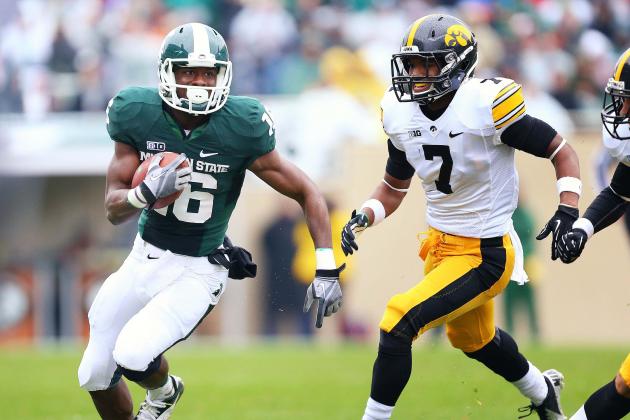 Mike Carter-US PRESSWIRE

Although the Michigan State Spartans have struggled to establish a consistent aerial attack this season, true freshman Aaron Burbridge has emerged from a mediocre group of wide receivers over the past two weeks.
Burbridge caught eight passes for 134 yards in Michigan State's victory over the Indiana Hoosiers and last Saturday the Farmington Hills, Mich., product hauled in five receptions for 89 yards against the Iowa Hawkeyes.
The Michigan Wolverines have a solid run defense and should be able to slow down Le'Veon Bell enough to force junior quarterback Andrew Maxwell to make plays in order to pick up a fifth straight victory in the series.
Maxwell will undoubtedly be looking to Burbridge to make plays against the Michigan secondary to help the Spartans pull off the upset, especially if junior tight end Dion Sims is unable to suit up for the Green and White this Saturday.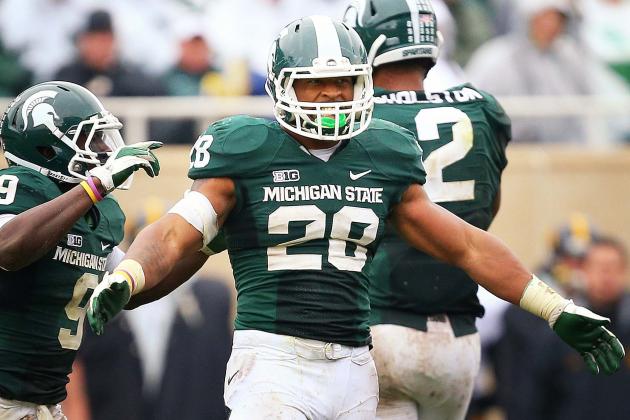 Mike Carter-US PRESSWIRE

This game is going to be much closer than the oddsmakers expect it to be and will be a hard fought battle between two of the top teams in the Big Ten Conference.
The Michigan Wolverines are a 10-point favorite, but Denard Robinson's performances against nationally ranked opponents and stout defenses over the past three seasons has to irk Maize and Blue fans more than a little bit heading into this weekend's game.
On the other hand, the Michigan State Spartans have been exposed as a completely one-dimensional team on offense due to an average group of wide receivers and a banged up offensive line.
The Wolverines have been impressive the last two weeks, but no one will really know if Michigan's recent turnaround on both sides of the ball is truly something to marvel at, or if it is simply a result of the Illinois Fighting Illini and Purdue Boilermakers being much worse than expected.
Michigan State has one of the nation's best defenses and have kept Robinson in check the last two times they have played Michigan, and this year's defensive unit should be able to force a couple of turnovers to help out the Spartans' sluggish offense.
Le'Veon Bell will carry the load for Michigan State and junior signal caller Andrew Maxwell will simply need to complete 50 percent of his passes to keep the Michigan defense from loading up the box to stop the run, which may not even be necessary if Robinson is struggling.
This game will come down to turnovers and whether or not Robinson can keep the chains moving for the Wolverines.
By the time the sun sets in Ann Arbor this Saturday, Michigan State's defense should be able to put enough pressure on Robinson to force him into making mistakes like years past and emerge with their fifth straight win of the series.
Prediction: Michigan State 20, Michigan 17